"I'm often asked what I think about as I run. Usually the people who ask this have never run long distances themselves. I always ponder the question. What exactly do I think about when I'm running? I don't have a clue."
― Haruki Murakami, What I Talk About When I Talk About Running
The West Highland Way Race 2018
TIME: 21 Hours 2 Minutes and 51 Seconds
OVERALL : 31st/198 finishers
GENDER: 4th/46 females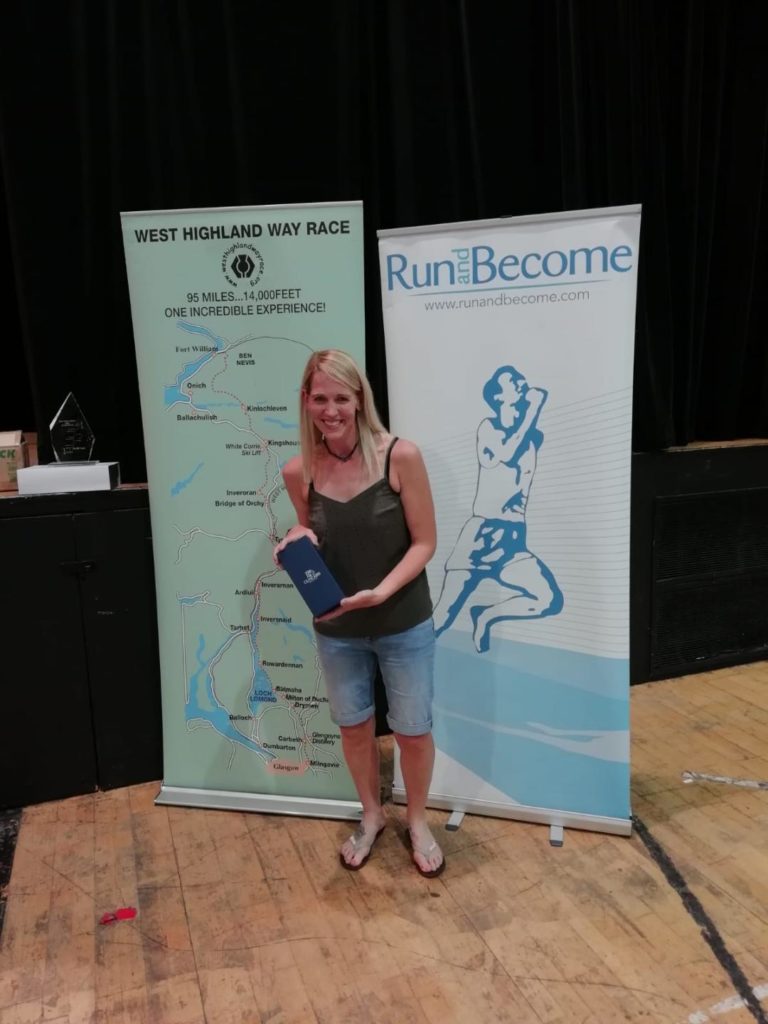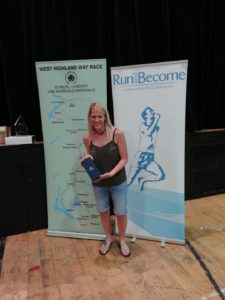 The West Highland Way race 2018 was a race unlike any other. Once again the magic of the race, along with 21 hours racing, being awake most of the day before added on to a few nights post race insomnia, has mangled my already fragile end of term brain. Trying to put it into words has been a struggle up until now, but I think the story is finally ready to fall out of my fingers…

Let's rewind to last year. I'd crewed for Derek at the race and support ran the last 36 miles with him, helped him push through terrible weather and was delighted for him when he smashed his 2016 time after a pretty rough start to the race. I'd always been keen to give the race another go but knew 2017 wasn't going to be my year as I'd really wanted to race the Great Glen Ultra. With a brilliant training plan being well executed, a fantastic build up and the best last long run before my race being at the West Highland Way race, I went on to smash that Great Glen race and knew I'd (hopefully!) be back to destroy my 2016 time at the West Highland Way race in 2018.
The email confirming my place in the 2018 race arrived and I went straight to following the plan to a T through the drizzly winter months only to be knocked sideways with a foot injury in late December. I had no idea what I'd done so took a week or so off during the festive season to rest it and then feeling less pain I went for a hill run up the Ochils with Jo in early January. We had deep snow and little traction and this confirmed my foot had not healed. I was in quite a bit of pain and ended up going to the physio a few times to find out I'd damaged my posterior tibial tendon and it was going to be a good few weeks until I was to run again. Not the news I wanted to hear, but it was early doors and I knew if I wanted to heal fully for my upcoming races I'd have to sit out some of the long runs with friends, drop out some of my planned races and stay strong by doing more gym based work and force a grin whenever I saw my running friends and try and not be too jealous.
Before too long I was back to it. I'd lost speed and endurance, but I was determined I was going to do well at my first big race of the year, which was to be the 53 mile Fling ultra marathon in late April. I wasn't fully fit going into the race, still carrying a bit more weight than I would have liked and feeling a bit nervous as it was a test for the foot strength for the big one, but I gave it my all and after getting a bit carried away and going out a bit too fast, I was delighted to still managed to take 30 minutes off my time from 2016. Job done, the big one was definitely on.
I've been coached by Neil MacNicol for just over a year now and since taking on a coach I'm not sure how I managed to wing the race the first time round! My monthly plans are based around whatever race or recovery I have going and no moan or query is ever too much for Neil (well so far anyway, I may have shown a few diva traits during the race!). A few months ago he offered to crew for me for the race and I snapped up that offer quickly before he changed his mind. He's an all round good guy and being a pretty awesome runner himself (2nd place in the West Highland way race in 2015 to name but one!) and knows what he's talking about so I was in good company! Along with him I'd have the amazing Joanna Murphy, who is not only a fantastic runner herself (coming 3rd lady in the 2017 race along with countless other podiums) but a brilliant person who has shown to be an absolute asset to an ultra crew, and also Kat Simms who is an absolute diamond of a girl and knows how terrible I am at eating when running and made sure the others stayed on top of that when she wasn't around. Kat crewed for me in 2016 and learnt a lot about me in that weekend of crewing, so was happy to pass on any information I may have forgotten to mention (you really only do remember the good bits!!).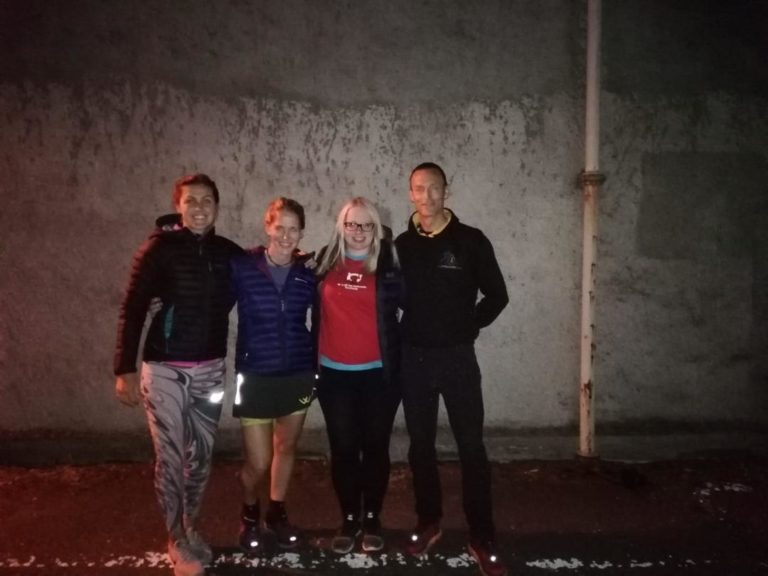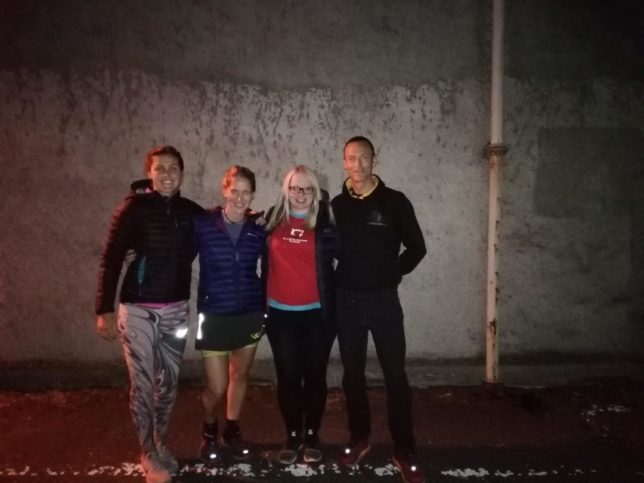 Race day came and I was ready. Training had gone well; I'd hit nearly every session, I'd rested well and I'd lost a bit of weight and was feeling comfortable. I worked until midday and then managed a couple of hours sleep before waking up and lying in bed for another half an hour resting. When rest was no longer possible I got up and paced around the house waiting for Jo to pick me up so we could head to the hairdressers for our "power plaits" before heading back to Jo's where Neil was going to meet us. We traveled through to my parents house where Kat would meet us and stuffed our faces with pizza and pasta, had a good crew chat and then before long it was time to start getting ready.
At half 10 we decided we might as well head to Milngavie, which was 15 minutes along the road. I'd faffed about, tying and retying my shoes, taking them back off to fix my socks, messing about my my gaiters….The nerves were showing and after a quick phone call from Craig to wish me luck we were in the van and heading to the start line; 10:45pm and sill a lot of daylight – it was going to be a magical race! We arrived, I got registered, weighed, chipped and went about saying my hellos and then wanting to chill for a bit, we headed back to the van where Neil popped the roof up so I could have a lie down for 20 minutes or so before I'd have to start getting ready. I didn't sleep, I was too aware of everything going on outside and my mind was racing, but I did feel a bit of calm as I listened to everyone chatter away about what was about to happen.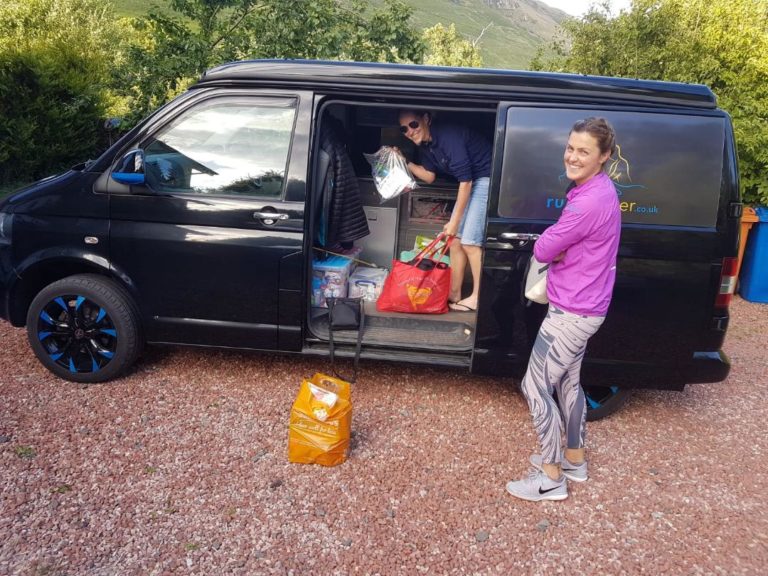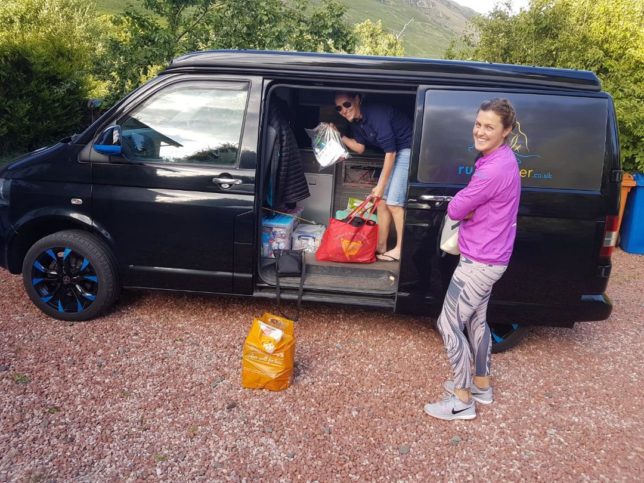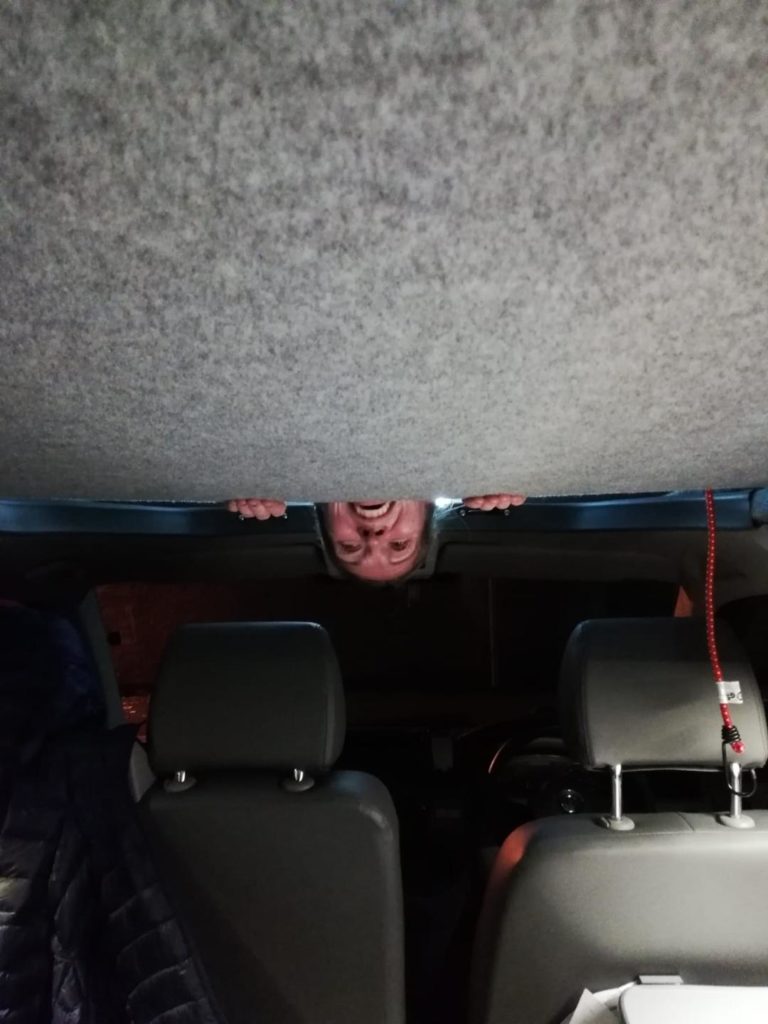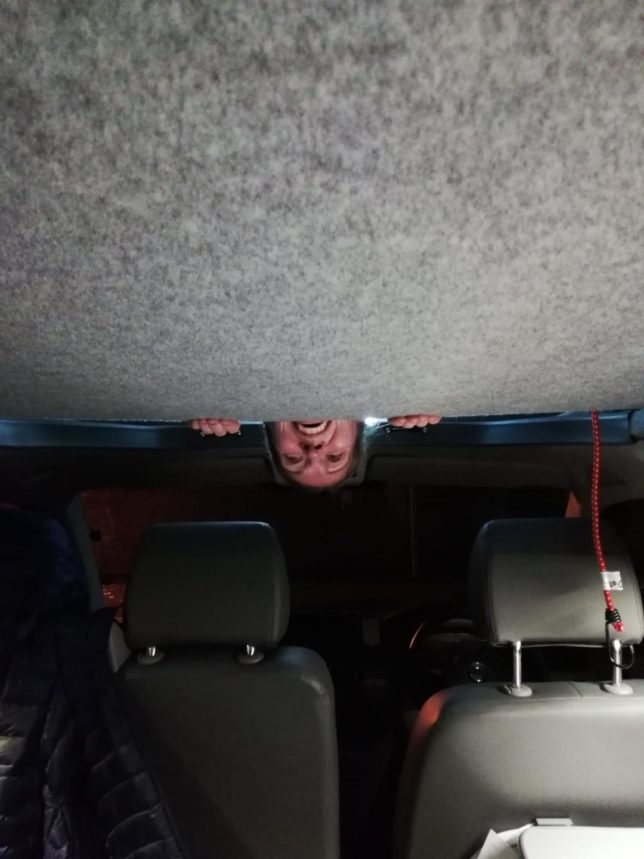 The runrecover team all met for a photo, I faffed with my shoes one last time and then headed to the race briefing. Once that was over we had 20 minutes and I was really starting to feel the nerves. I got my bag and headtorch and headed back to the start line, hugs were dished out to my crew who headed up the main street to see everyone pass and Jo stuck with me right until the horn went off. She knew I was nervous and her presence and chat helped keep me calm. Then, it was time. The hooter went off, the head torches went on and we were bounding up Milngavie high street, passing all the excited friends and families who were out in force to cheer us on. Here we go again!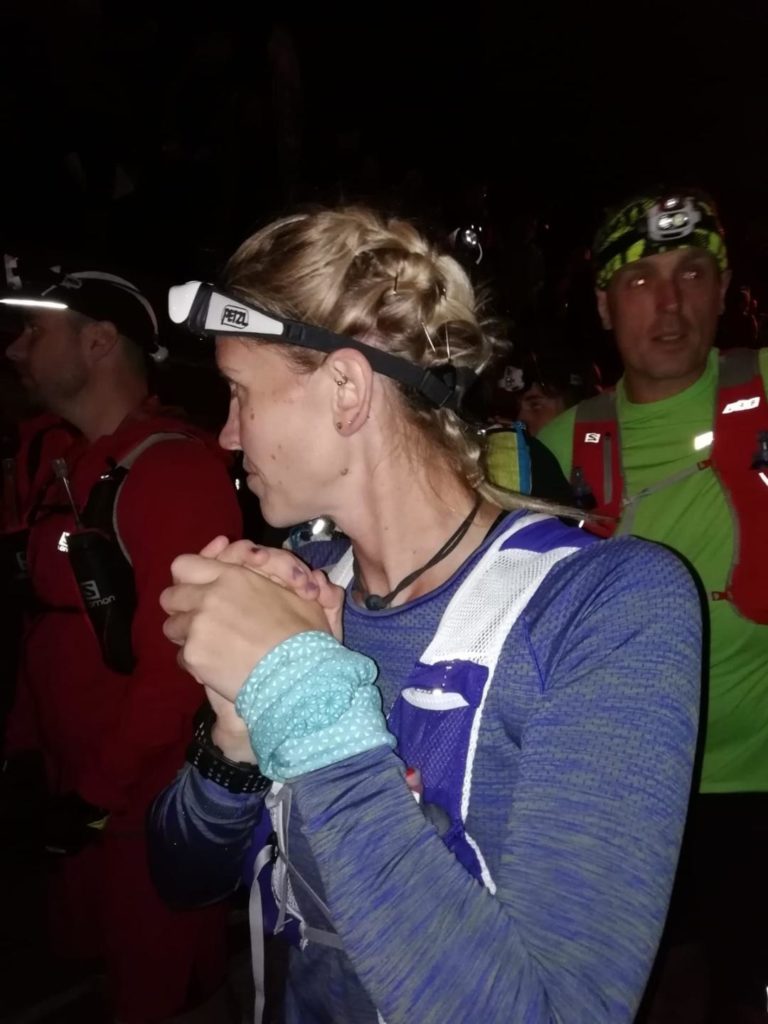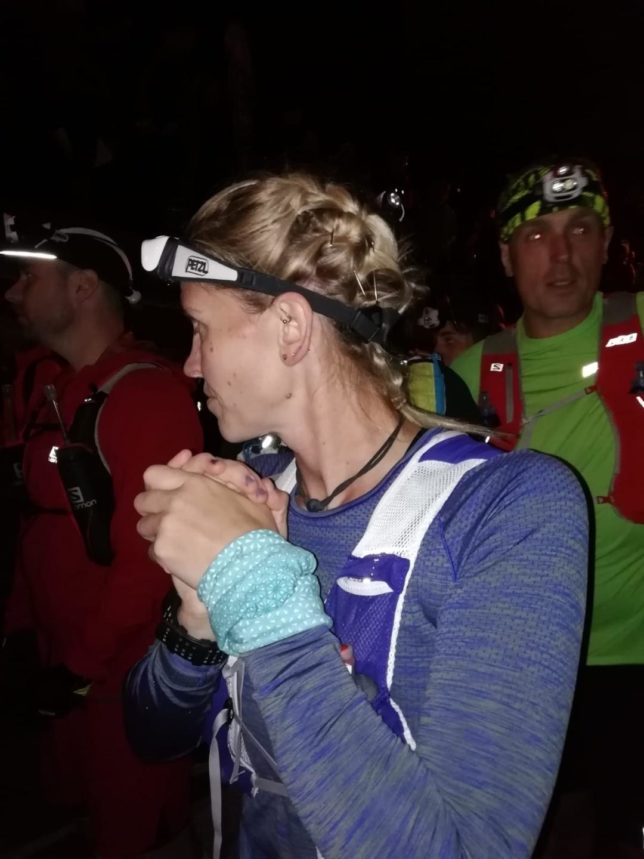 Into Mugdock park and after a few hellos I was on my own. My watch had messed up for the off and I had no idea what pace I was running at, but it actually didn't bother me! I was running to feel and I knew that as long as my breathing was steady and I felt like I wasn't pushing on that everything would be OK. Countless people passed me and I let them pass by, not letting myself get carried away with the camaraderie and running my own race. The moon was bright in the sky and coming along the path of a thousand gates I fell into stride with Jeni Rees-Jenkins and had a good catch up with her. The crew were waiting for me at Drymen and I was to change a water bottle here, so I made sure I'd drank at least half of one bottle so as not to get told off so early into the race. Coming through the field I spotted them a mile off; Jo with a ring of glow sticks around her neck and Neil with his clubbersize glow sticks (which he claims are his wife's, but I'm not so convinced!). I had a good laugh at this but was delighted my crew stood out so well. I quickly changed a bottle, had a cereal bar shoved at me and I was off across the road smiling and laughing and feeling good. Long may this last!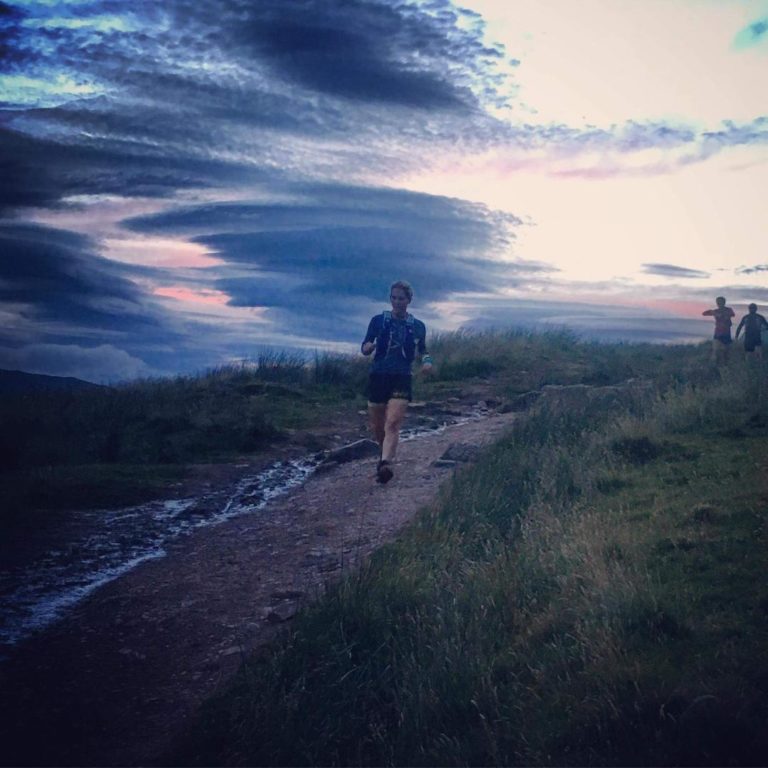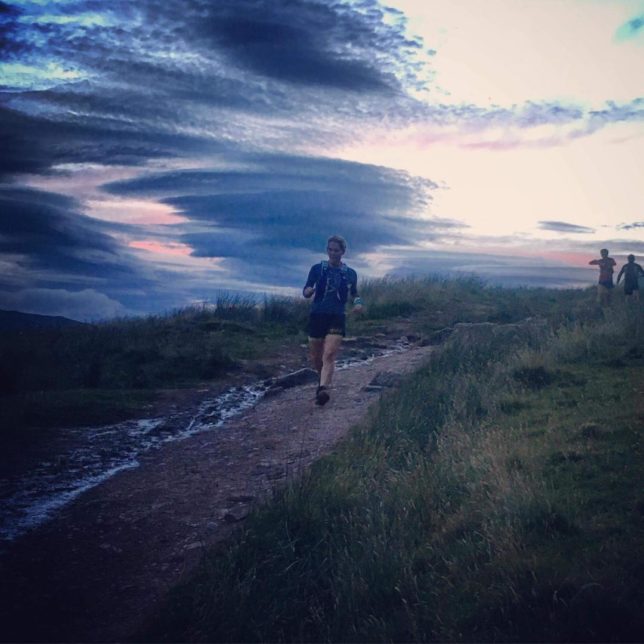 Still with Jeni, we chatted all the way up towards Conic, whiling away the time and catching up on the last year or so. She stopped for a loo break and I pushed on over Conic on my own, humming to myself and feeling strong. The head torch had been put away on the approach to Conic and the sky was magical, which can be seen in this awesome photo of me descending into Balmaha captured by Katie Hall. I gave Jo a quick one ringer when I reached the top which was the signal for them to start prepping my breakfast. I wasn't hungry, but I knew there would be trouble if I didn't eat! I chipped in to the check point at 0419 hours, 1 minute ahead of schedule and feeling good! I quickly inhaled some porridge and a few sips of coffee as Neil sorted my bag and bottles and Jo sorted my kit and midge spray. I left the check point after a 3 minute turn around and with a mouth full of deet. On to Rowardennan and feeling brilliant.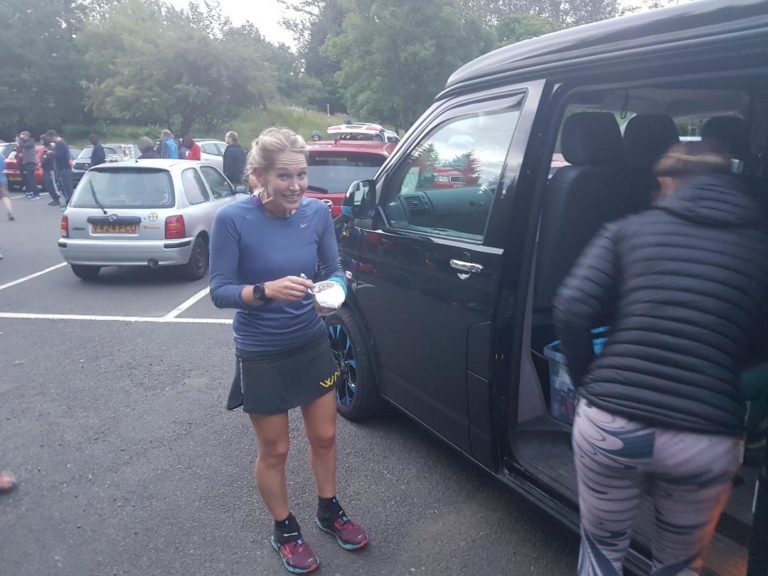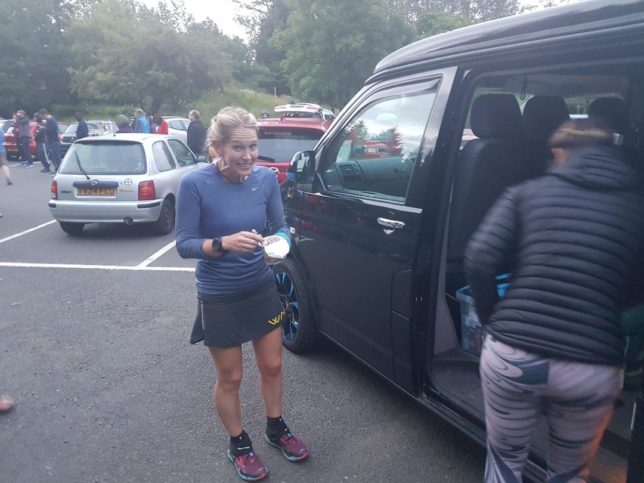 Another fantastic run on my favourite section; there's nothing not to like about this bit (except the midges, but they weren't too bad today!) as it's very runnable and before long I'd caught up with Scott Nicol and we ran the rest of the section together to Rowardennan. Scott is a great guy and his chat had me in stitches at some points. It was great to have company and I was still grinning when I ran into the next checkpoint at 0554am, 6 minutes ahead of schedule. Jo gave a fist pump and a whoop of delight and lead me round to the van where Neil had my bottles sorted, my food already and they proceed to force feed me yet again. Another super speedy CP and I was on may way towards Inversnaid feeling good and although I wouldn't see my crew again for another 5 hours or so until I got to Beinglas farm, I wasn't worried and quite a few people commented when I was leaving the check point how happy I looked. I really was, I was loving life!
Onto the low road section and I was passing people one by one as my legs continued to feel strong and my confidence soared. I went over my ankle a few times on this section, but nothing to worry about and I continued on towards Inversnaid, singing along to my very varied ipod selection; Metallica followed by Taylor Swift… whatever works! Into the check point, a quick pot of custard and some babybel followed by a disaster trying to get the top back on my bottle with fingers that just weren't working and I was off again, ahead of schedule and chummed by the lovely Jenny Yeo for the lochside section. I don't hate this section, but I do find having company helps and Jenny is a very good technical runner, so I made it my aim to try and keep up with her as she was moving at a good pace and her chat was excellent. Once out the other side and running again I let Jenny push ahead as I text Jo and let her know I was at Dario's post and put in my requests for the next check point. I was still moving well, feeling good and eating well. I was totally baffled as to what was going on as usually by now I've had at least one low point, if not 3 in a race that starts in darkness but I was pushing on, feeling strong and apart from a slightly creaking ankle from rolling it a total of 3 times now, I was on top of the world.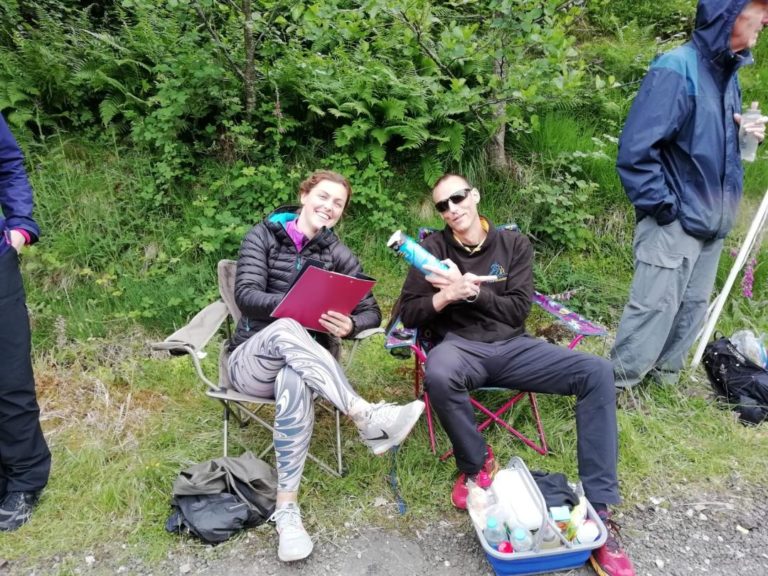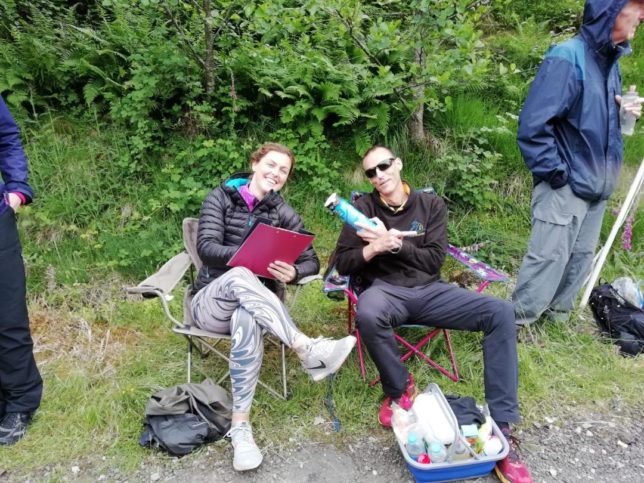 I was beaming as I ran into Beinglas, 7 minutes ahead of schedule, and again the crew were there for a mega quick pit stop. I wiped the midges off my face and arms, changed my t shirt and grabbed my sunglasses, and once the were satisfied I'd eaten at least half a sandwich I was off again, being warned not to ditch it in a bush once out of sight. Again the ipod was out and it really helped me push through this section, which really felt alright compared to how it felt during the Fling race just 8 weeks previous. All the walkers who were out were cheering us on and as I pushed on up Glen Falloch I continued to feel good. This couldn't last much longer, could it? Up through Cow poo alley, through the roller coaster section, a quick text to Jo to let her know I wasn't far off and then into Auchtertyre for the next CP. I passed Debs MC in her car and she hollered out the window and gave me a cheer, then a high five from Sandra in her car and I pushed into the CP, dropped my bag off with Neil and got weighed in…close to 20 minutes ahead of schedule and 20 minutes ahead of being allowed a support runner! About a kilo off, which was to be expected, then it was back to the van for a wee sit down and a good feed of pasta, milkshake and orange juice. It was lovely to see Danny here who had popped through to cheer on the runners and I think he's now inspired to go for the full thing in a few years……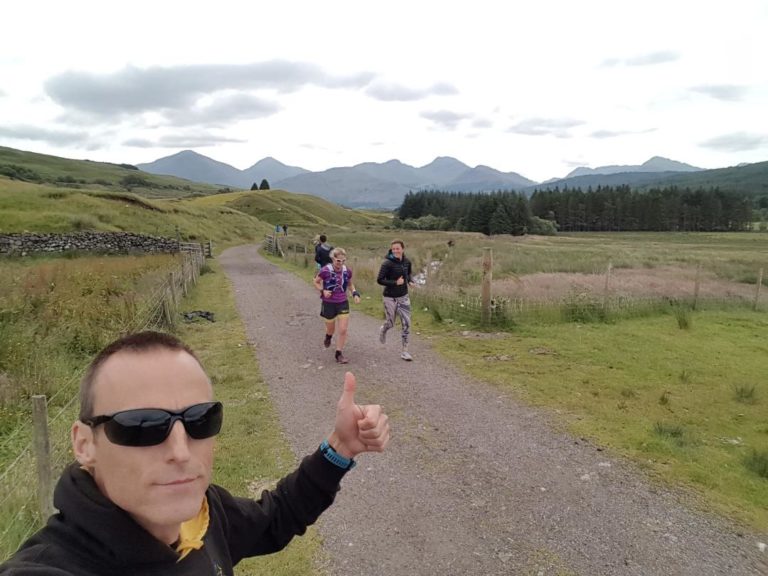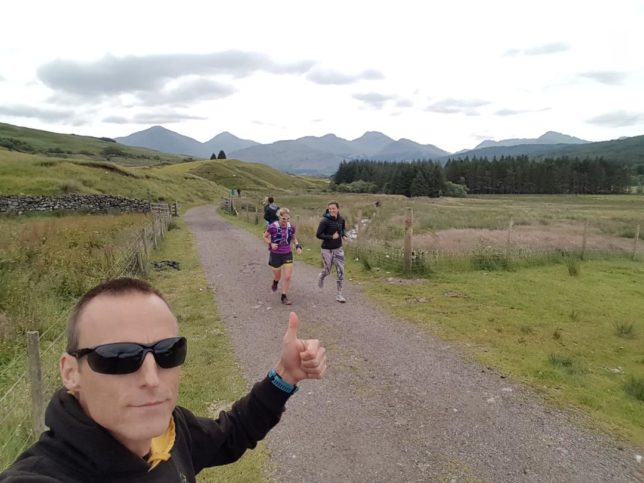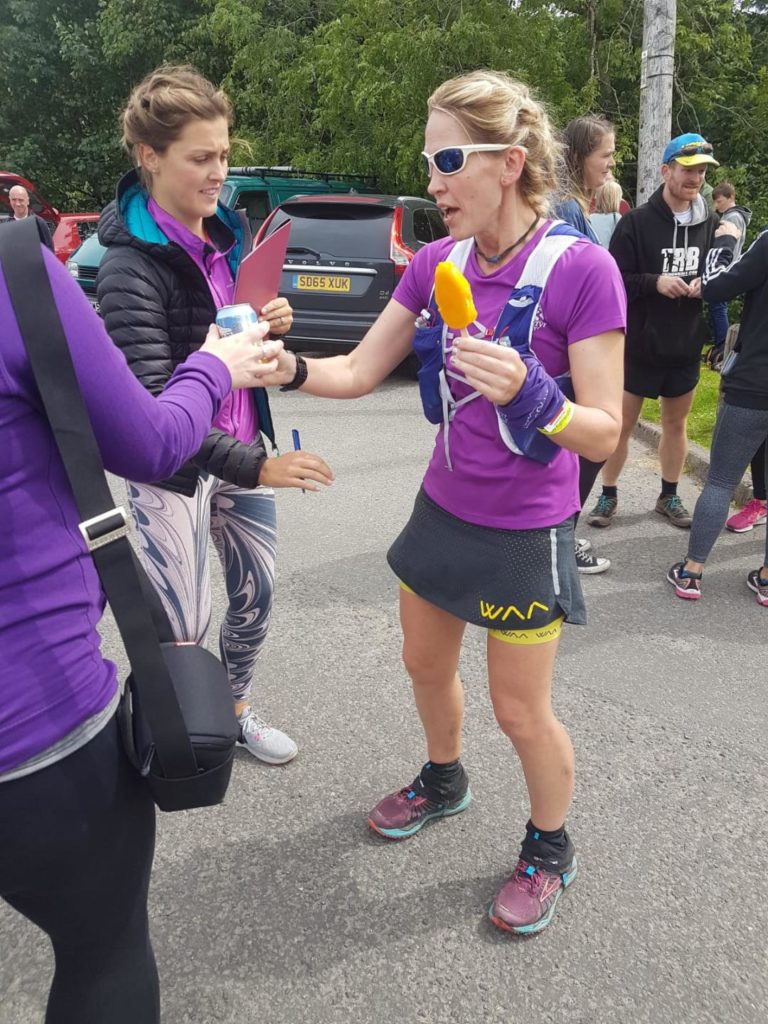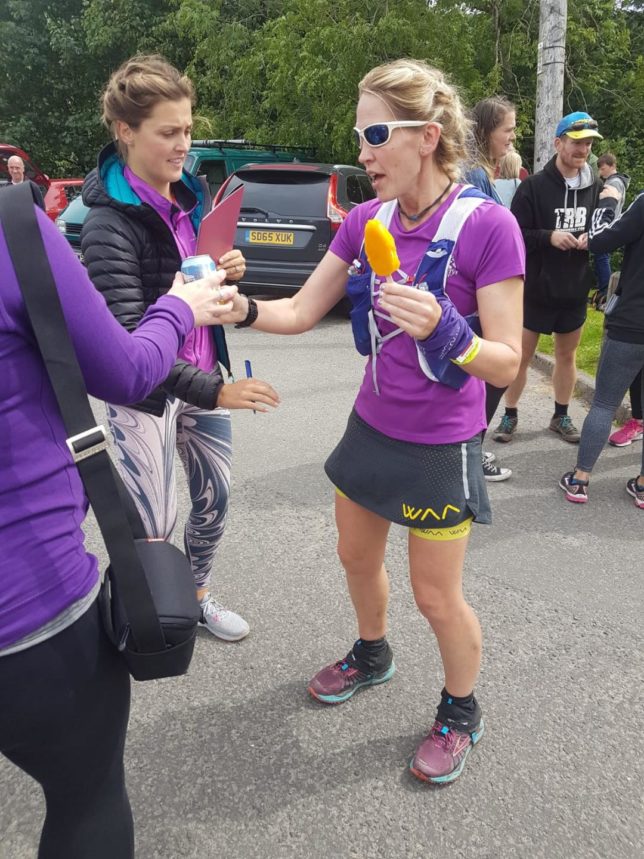 Sufficiently refuelled, I was turfed out the check point and told to take it easy on my way around to Tyndrum. It's a nice flatish section of the trail and I was looking forward to seeing Kat here, so I trundled my way around, enjoying the beautiful weather, chatting away to Jonny Kilpatrick and still being absolutely mystified as to why things felt so good. A quick stop at Brodies store was met with a Solero ice lolly (delighted!), a chat with Rona, Stevo and Jonny (#teamfish) and then it was off on the next 6 mile section to Bridge of Orchy. I'd asked Jo to run with me from Bridge of Orchy, but as things were going I was still way ahead of schedule. I slowed things down a bit, had a bit more to eat and walked all the small hills, but as I clocked someone in the distance behind me, my competitive nature kicked in again and I upped the pace to a comfortable run all the way down to the check point. Just before the rail under pass I was met by Karen Wallace, Debbie Martin-Consani and Graham Connolly who whooped and cheered as I approached. All these little extra pushes really do count and by now my face was hurting from smiling so much.
Into the check point at 13:14 and was feeling good, so no support runner as I'd have to hang about until 13:30 to get one. A quick change of top to my CH vest, respray of sun creme, brush of the teeth and out again and it was time for the tough slog of Jelly Baby Hill. I was starting to tire a bit and my hips were a bit tight, but I was still having such a great time. After a quick chat with David Gow who was bounding down the hill towards me, I slogged to the top to get my Jelly baby and then upped the pace to run all the way down to Inveroran where there crew were going to meet me for a quick top up of juice before the long slog over Rannoch Moor. I was tiring and not as up beat as I'd previously been, but the crew were still in top spirits and made sure I'd drank a sufficient amount before cheering me on to get running along the tarmac towards Victoria bridge. Rannoch Moor is a drag. So much up hill just to get there, and then you can see for miles ahead and it seems to go on forever. The music came back out and I shuffled my way along, making good time and feeling strong, but also aware I'd be right on the cusp of getting Jo to join me as a support runner from Glencoe if I went any faster, so I was careful not to push on too hard, but still keep moving at a decent pace.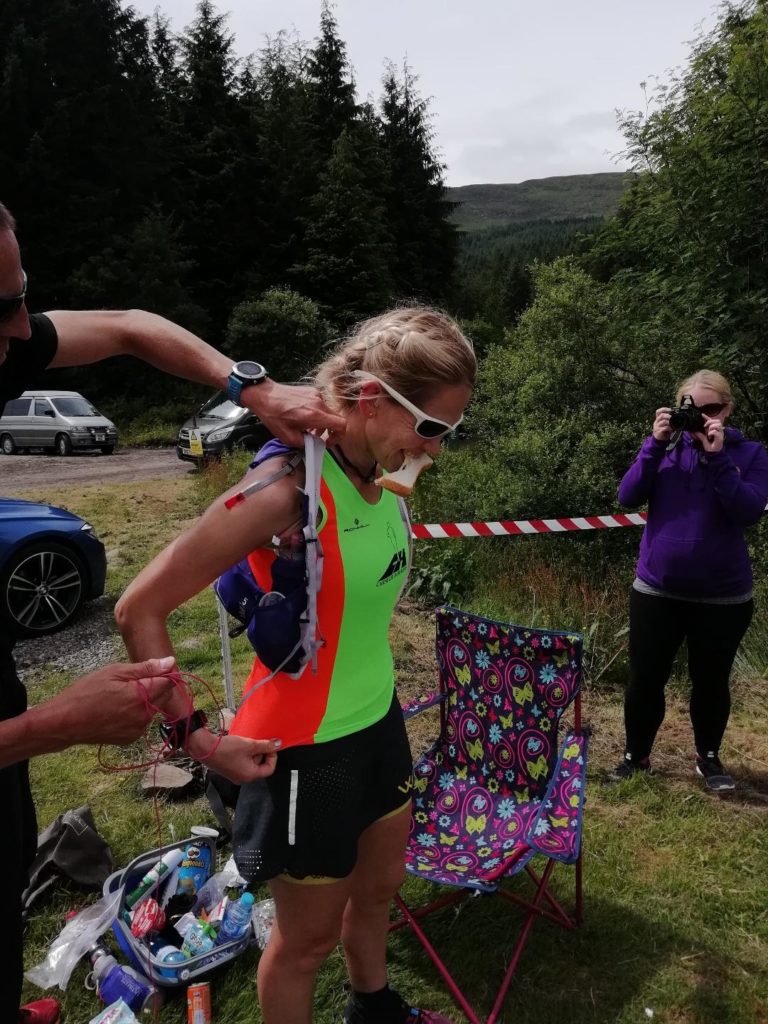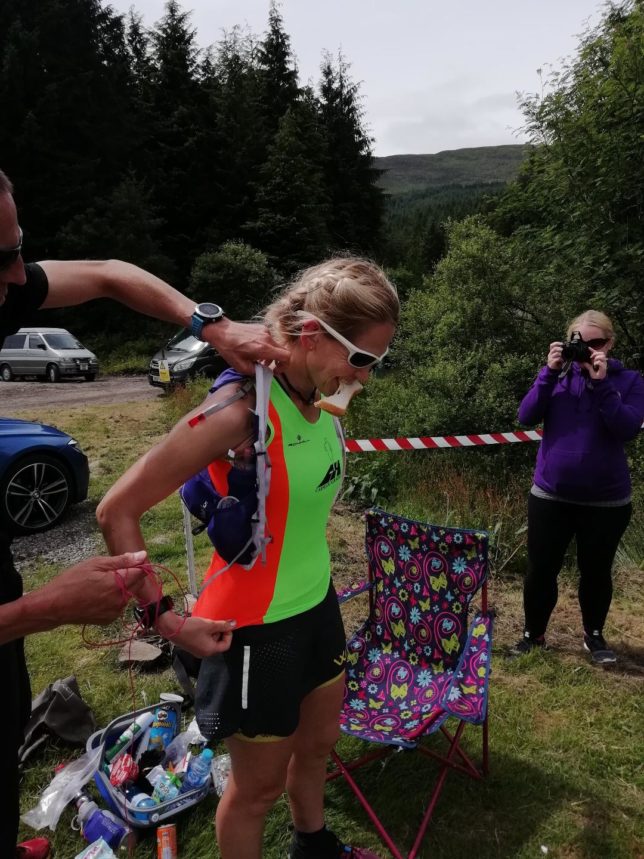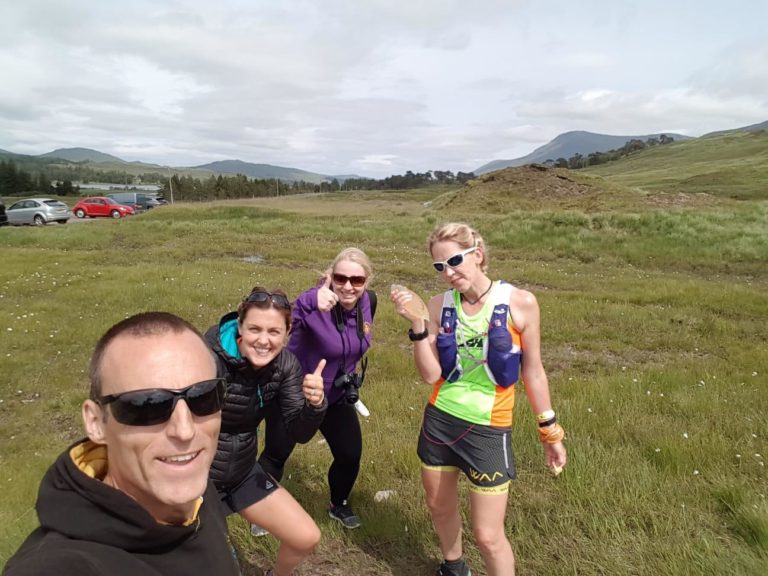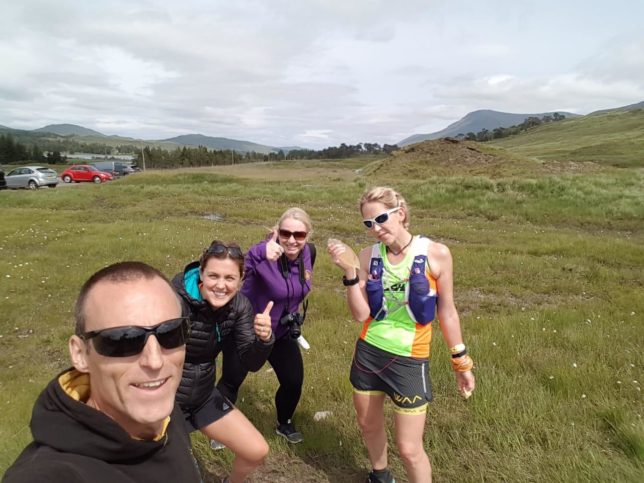 Timed to perfection. I bounced into Glencoe at 15:44, one minute ahead of being allowed a support runner, so I took my time eating a few chips that the crew had kindly supplied as well as saying hello to my in-laws who had come up to cheer me on. Jo was buzzing to get going and was kitted out and ready to go, and off we went at a good pace down the road towards the stupid bit of the trail that I hate and towards the Devils stair case. 71 miles bagged….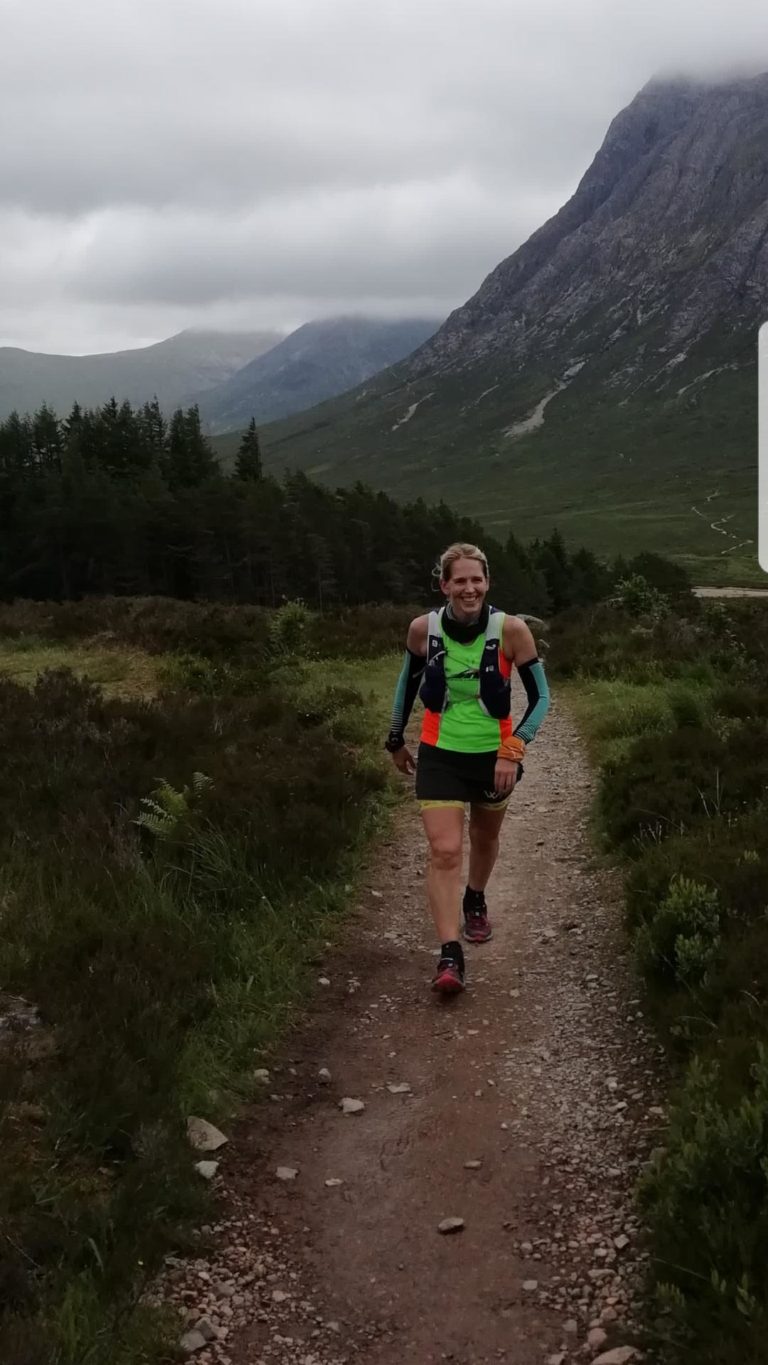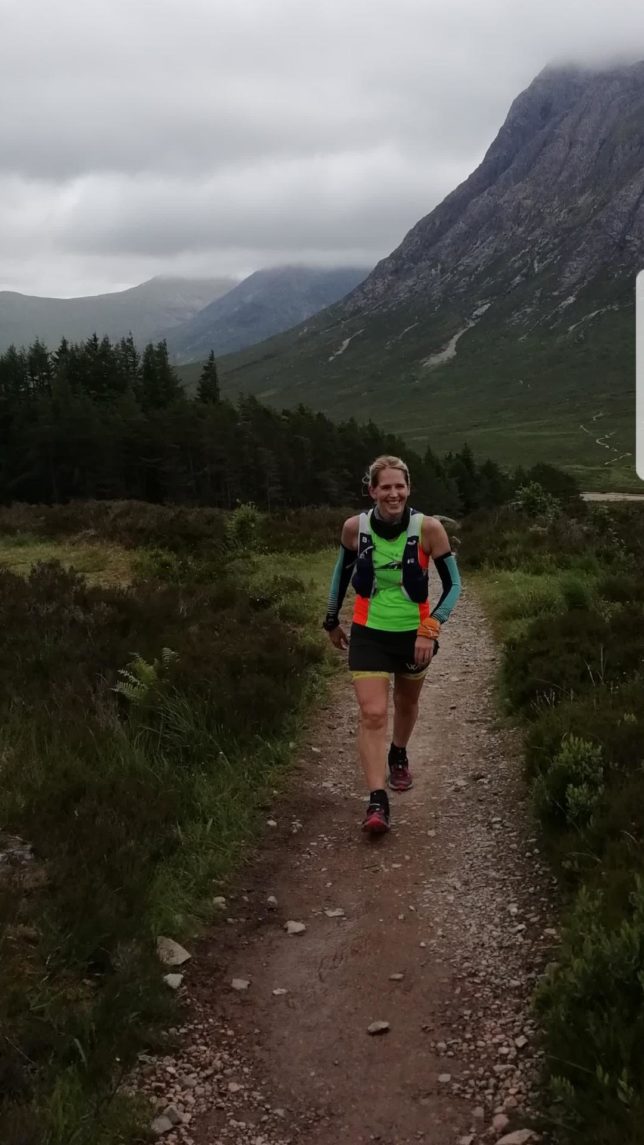 I've said countless times that I don't like this section, but as soon as the short climbs were over, we managed a good pace to Altnafeadh and we seemed to be there in no time at all. It's great when you can talk absolute nonsense to someone and they just smile and nod as if you are making perfect sense. Thanks Jo! I picked up my backpack from Neil, had a quick pep talk from Kat and then off we went, the Devils staircase and the second last big climb of the race. Up, up, up…. we were moving at a good pace and although I was tiring I was still feeling (mostly) with it and pretty pain free. My hips had been getting gradually tighter since Bridge of Orchy, but if I got into a rhythm I found I could maintain it. I commented to Jo about the tent at the top of the staircase and she looked totally baffled; it turned out I was looking at a big rock. Easy mistake to make! Also the first of a few times my mind played tricks on me. The descent was upon up and we took it at a good speed. Jo and her fresh legs pulled away every so often, but she'd pull back and wait for me to catch up, take a few photos and then lead on again. Ahead of schedule coming into Kinlochleven meant we'd made good timing again and Jo phoned ahead to Neil to let them know we were coming and to get some food looked out for us. I clocked into KLL at 18:20, 10 minutes ahead of being allowed a support runner to leave with me, but I'd already decided I needed Jo to run with me and to get me through the last section. If I'd gone into the race with a faster time planned (bearing in mind I actually had 21 hours 30 minutes as my target time, it just appears my coach knows my ability better than I do!) I would have been prepared to run solo, but as I'd had it in my mind Jo was coming, at this late stage in the race when my will power and confidence were starting to dip, I knew I'd need her for the last section of this race.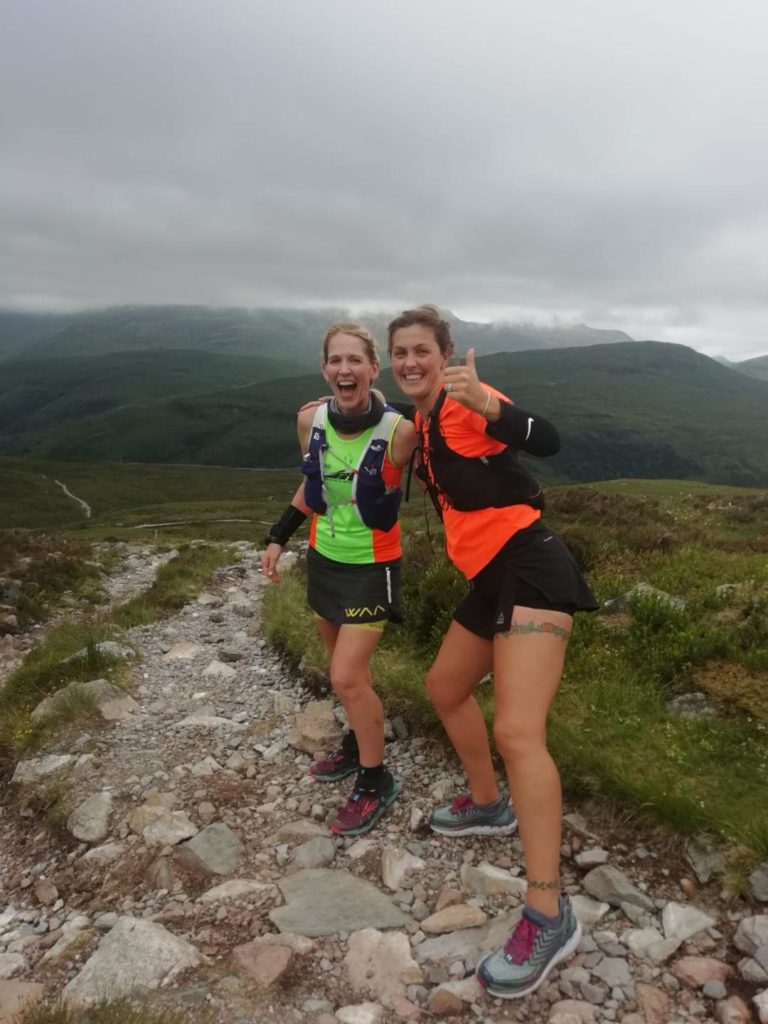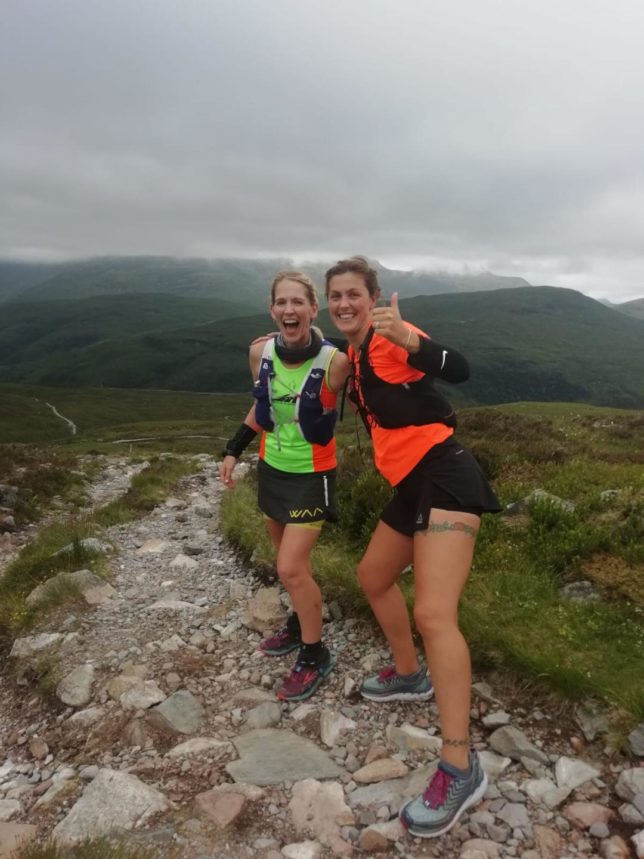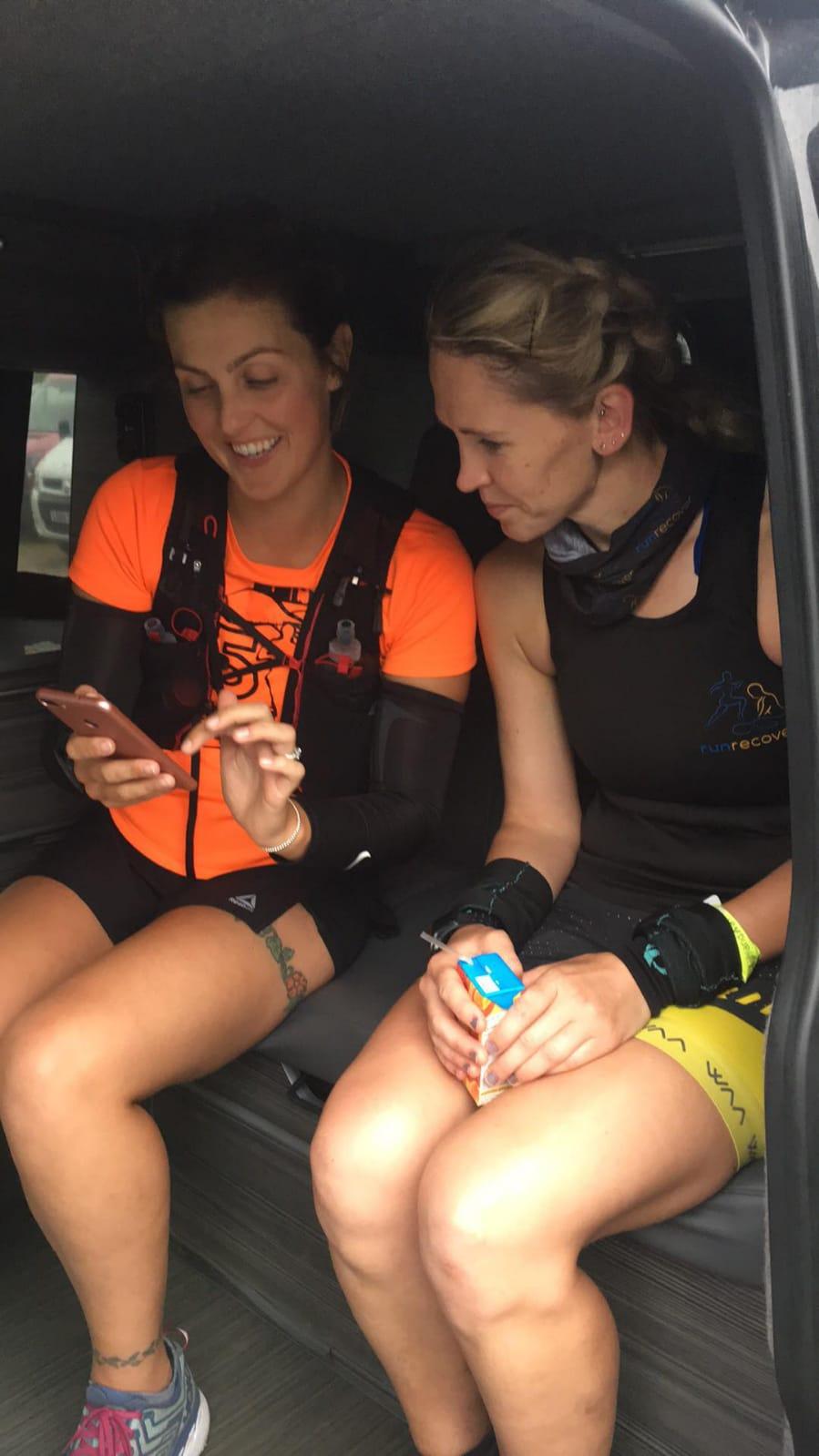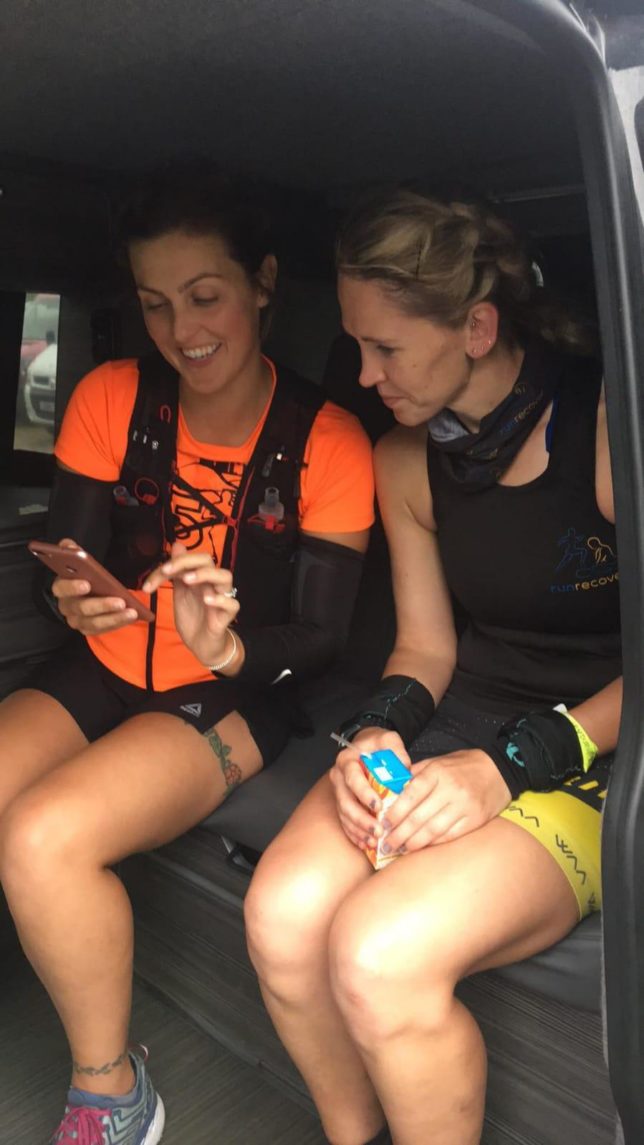 A quick change into a fresh vest and buff, a quick snack and a bottle refill and we were off on the last section at quick a pace. 14 miles to go, starting to really tire and feel the tightness in my hips, I knew I was going to have to give everything I had left to finish close to my goal time. Once up the final climb and on to Lairig Mor Jo started to really push the pace and my already crap chat turned to squeaks and sighs as I pushed my battered body across the relentless Moor. The path winds into the distance and on the horizon were the bright flags and headlights of Jeff Smith's wilderness response vehicle and I made myself small targets to tick off on the way to Lundavra; the old house, where the track bends, the sheep pens, the trees and river jumps and finally Lundavra. Jo spotted the bonfire well before I did and kept telling me "we're nearly there!". I was a bit glum at this point and I was convinced we still had a bit to go, even though I've run this route countless times. Jo ran ahead to update the crew on my progress and I chipped in bang on schedule, still not sure how this was happening especially as I now felt I was shuffling and not making much progress. Neil and Kat emptied my bag of everything I wouldn't need to lighten the load a bit and Jo upped the pace again; we had 90 minutes to get to the finish line to achieve my goal time and she was on an absolute mission to get me there. I was now really digging deep and hurting a lot. My hips were so stiff and every so often one would click and I'd let out a yelp. Jo would check I was OK, I'd give her a double thumbs up and she'd push me on again. What a gal! We finally reached the fire track and I was ready to give it all I had left and leave everything on the trail; it hurt but I'd regret it if I didn't. We picked up the pace on the descent I managed a run all the way to the finish line. Oh the pain! Jo pulled me along right until the visitor centre and then ran ahead to let the team know I was coming. I gave one final push and took a deep breath as I rounded the corner to the Leisure Centre and bundled over the line to chip in my finishing time of 21 hours 2 minutes and 51 seconds. What.on.earth? Whose legs are these?!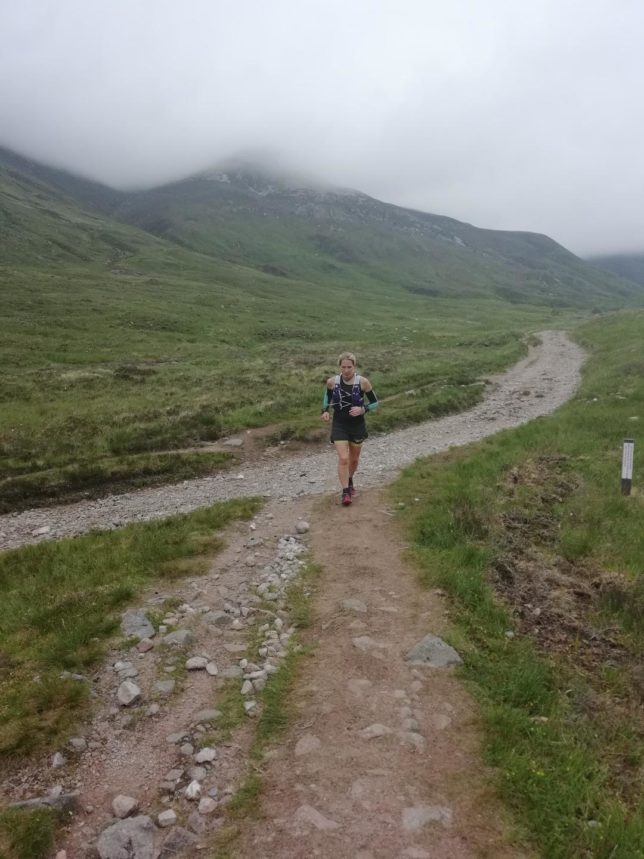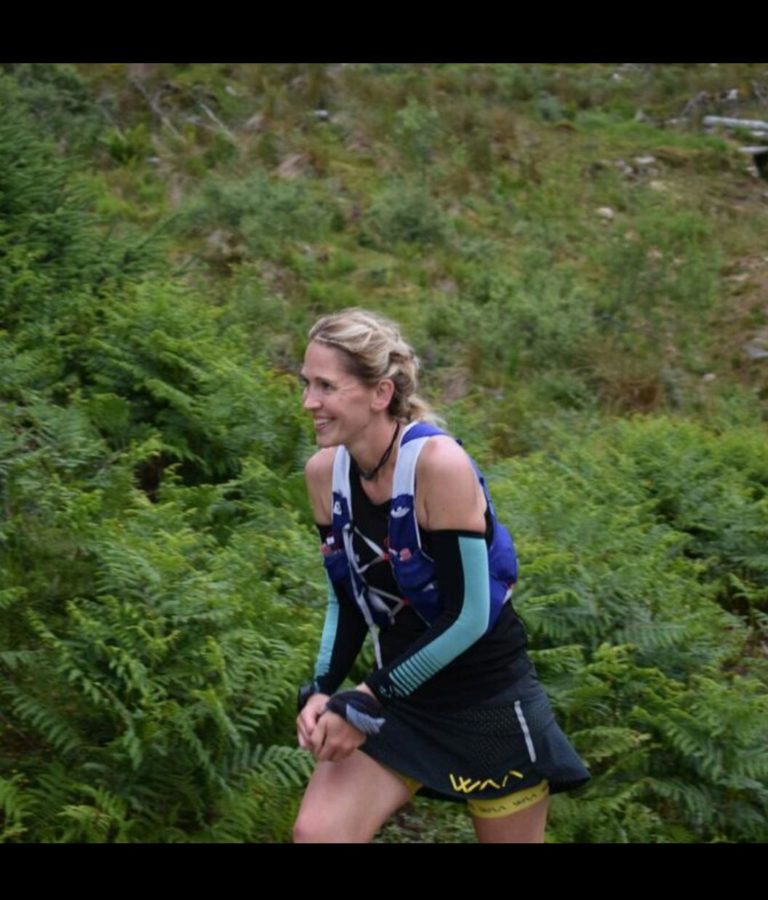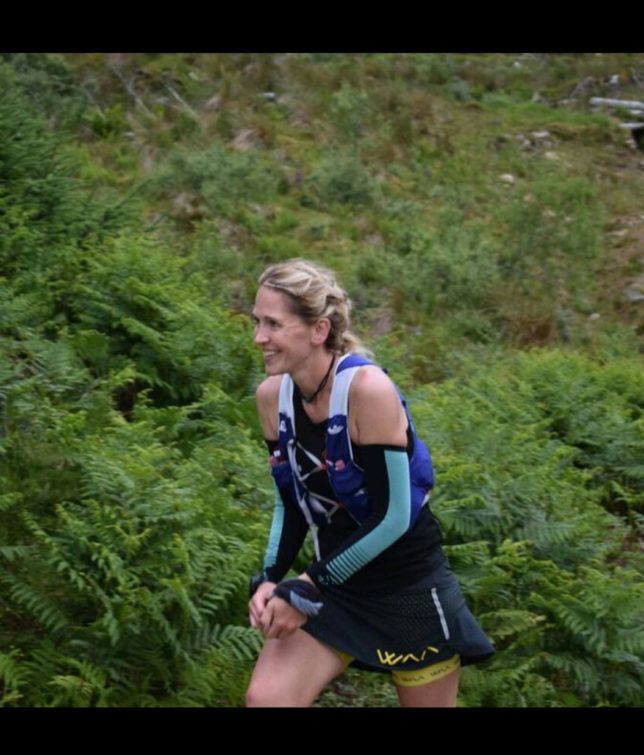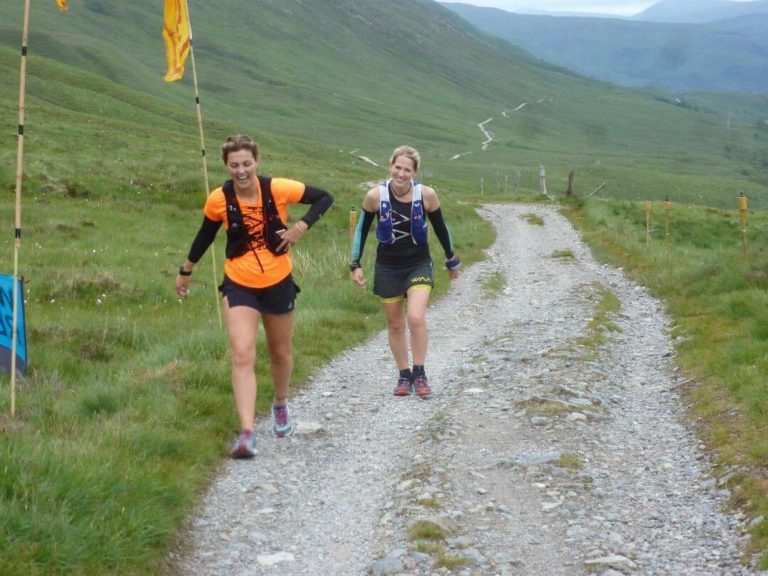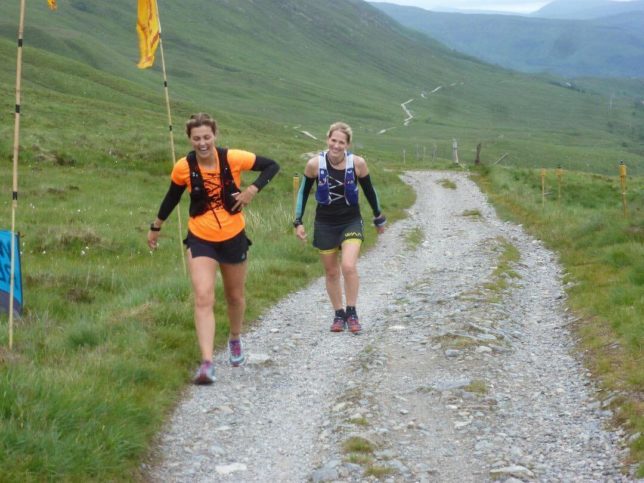 After a few hugs and getting weighed in I finally had a sit down and then felt totally overwhelmed. My body just realised what it had achieved and I had to shuffle through to the changing rooms to lie down before I keeled over. I had a quick shower and Neil dropped us off at the travel lodge where I went to bed and Jo wrapped me up like a burrito in my duvet as I just couldn't get a heat in my body! After a sugary tea and some chips, Rona and Derek popped through to our room for a celebratory glass of fizz. Derek smashed the race yet again finishing in 20 hours 20 minutes – game on for next year I guess!!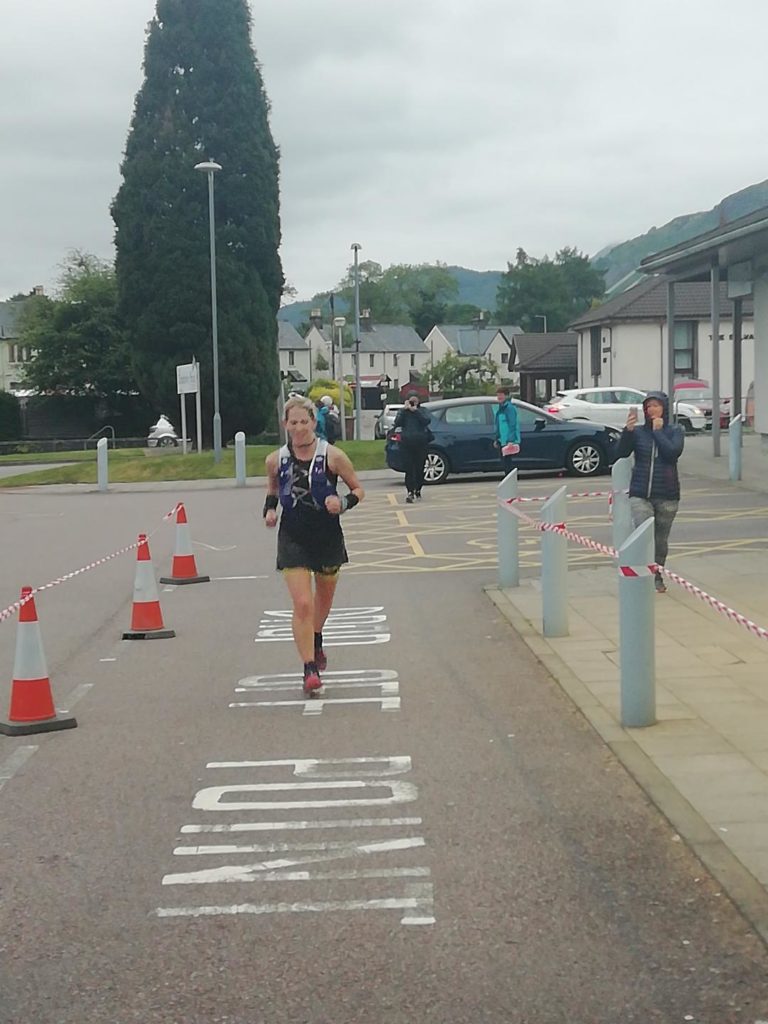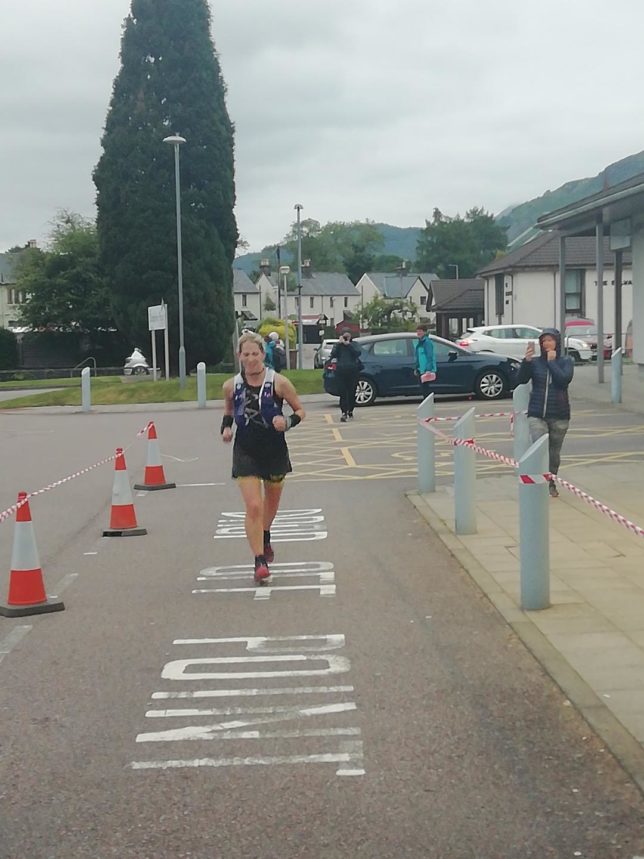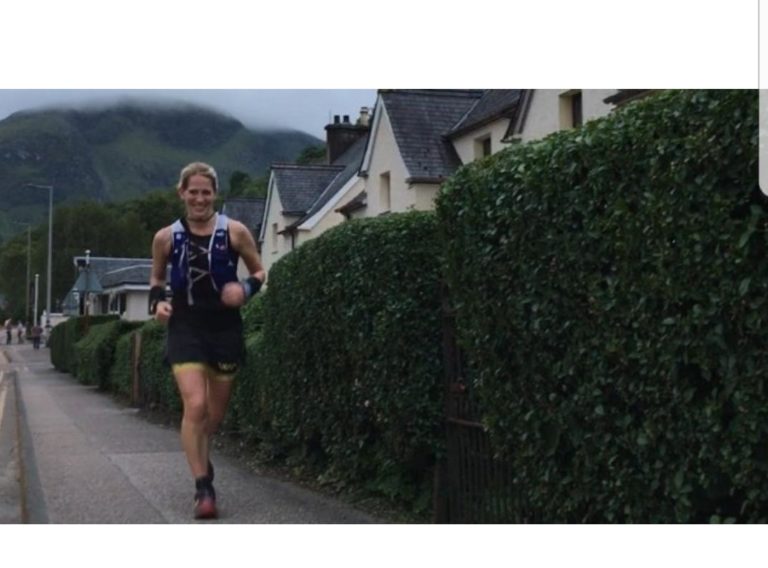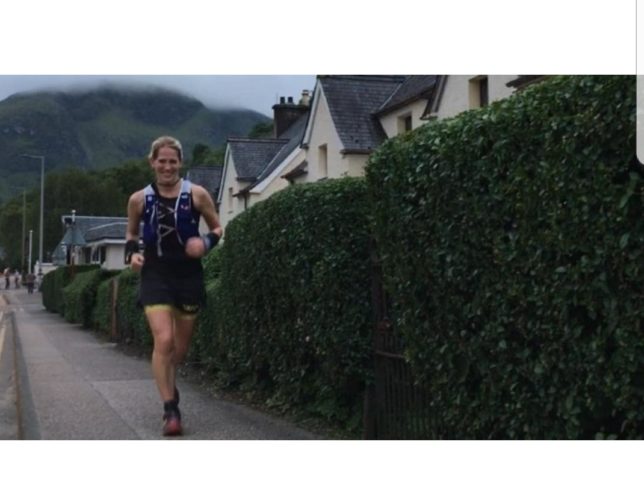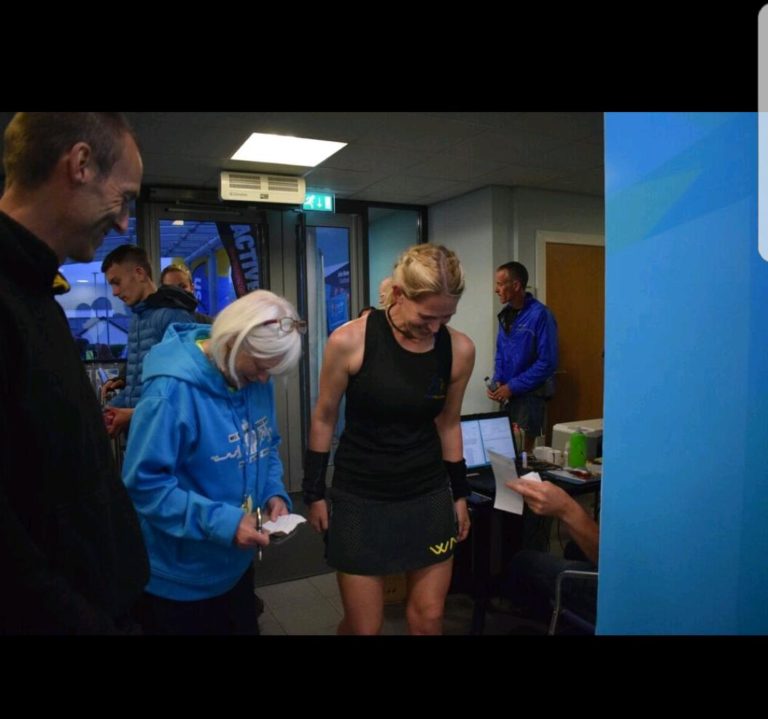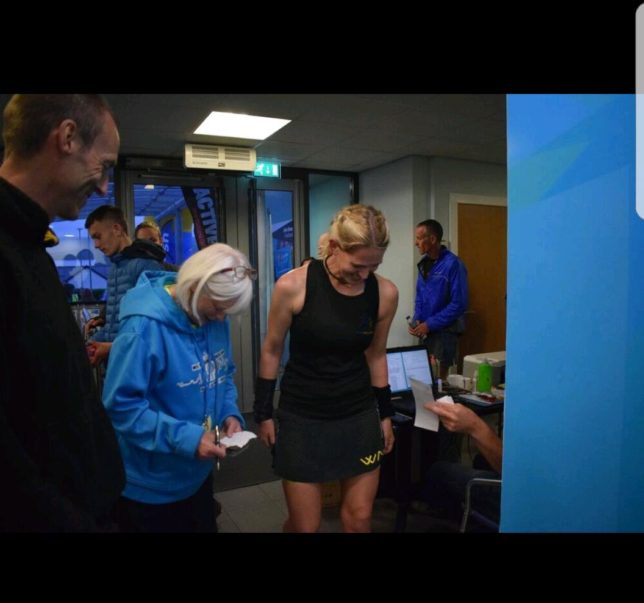 The next morning I woke up stupidly early and could't get back to sleep, so had a bath at 6am and Jo and Kat snored away merrily. Crewing really is hard work! Once a hearty breakfast was consumed we made our way over to the Nevis Centre for the prize giving where 198 proud souls shuffled up for their hard earned goblets. I was totally shattered and looking forward to getting home to Craig, but I also didn't want this magical weekend to be over.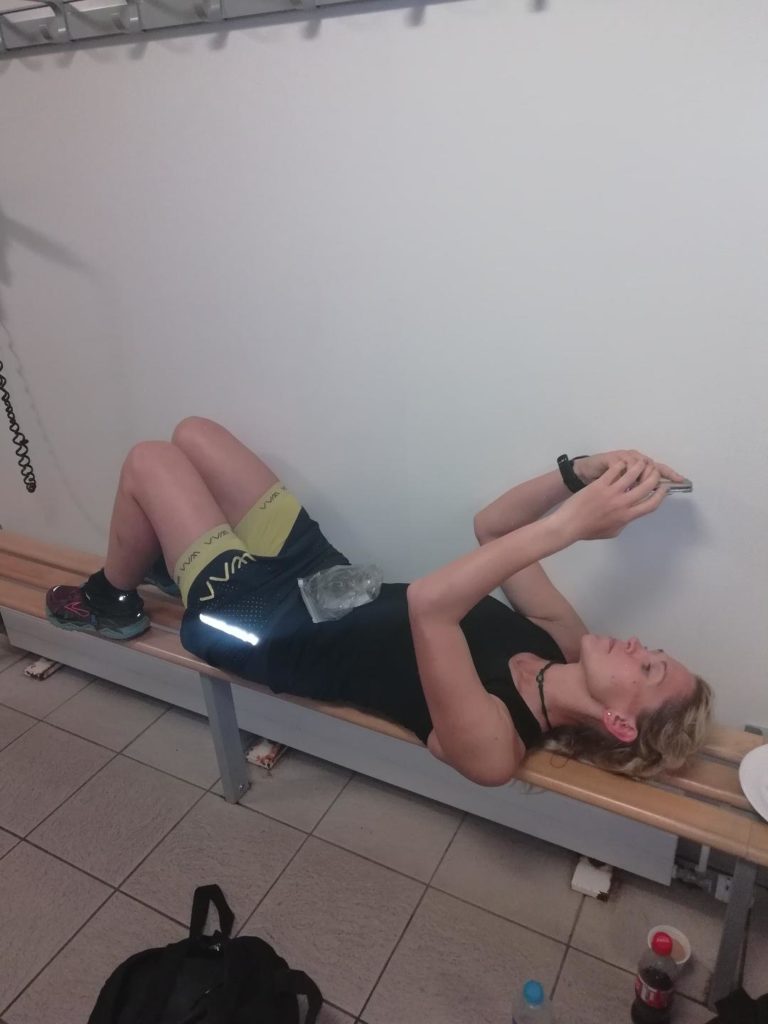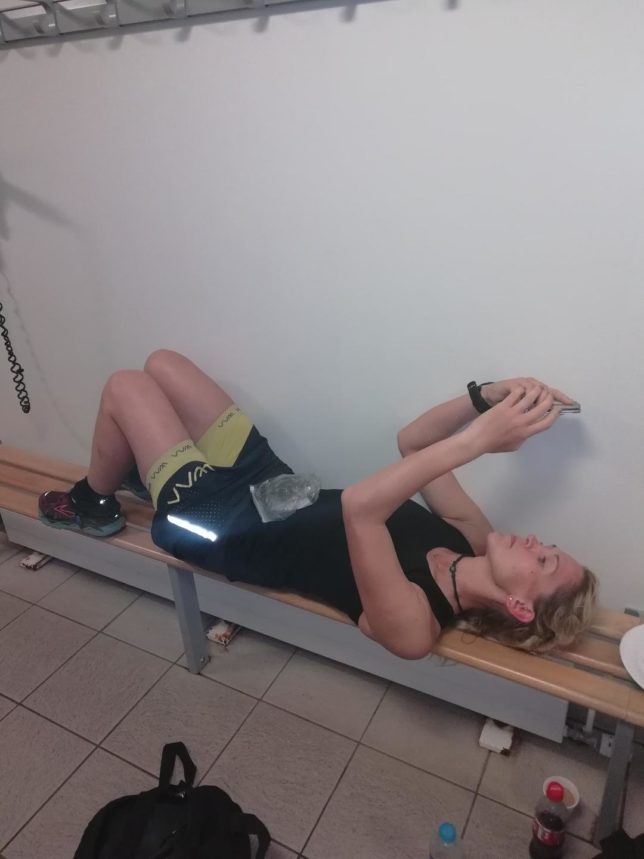 The West Highland way 2018. You'll be hard to beat in many ways.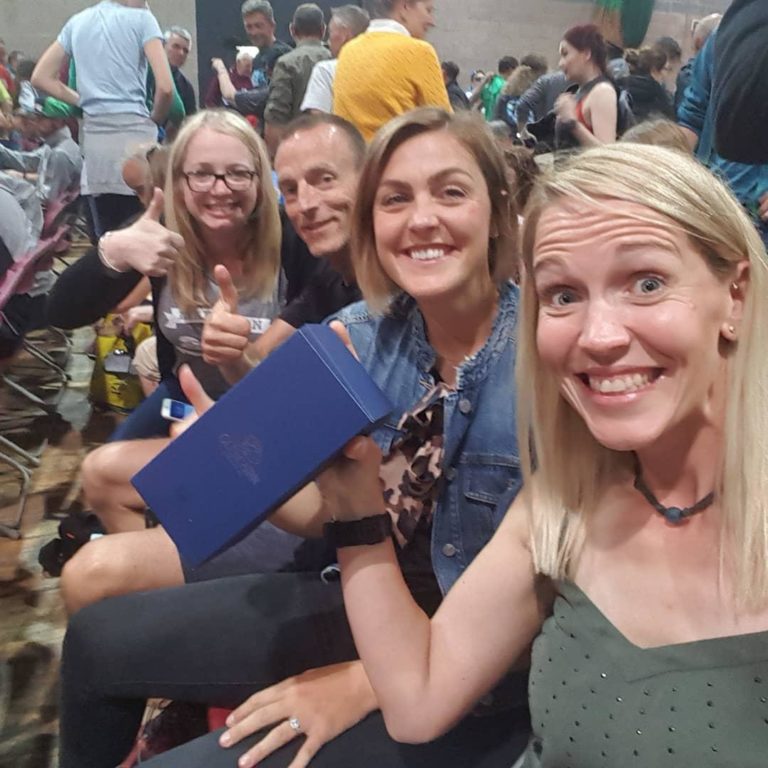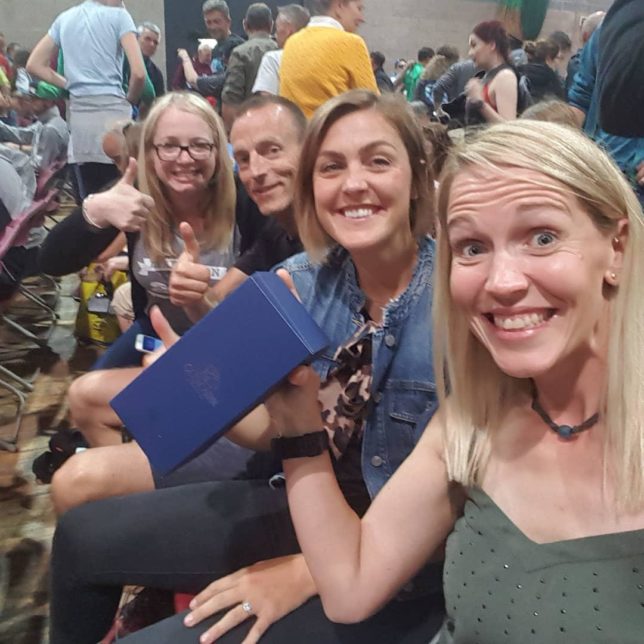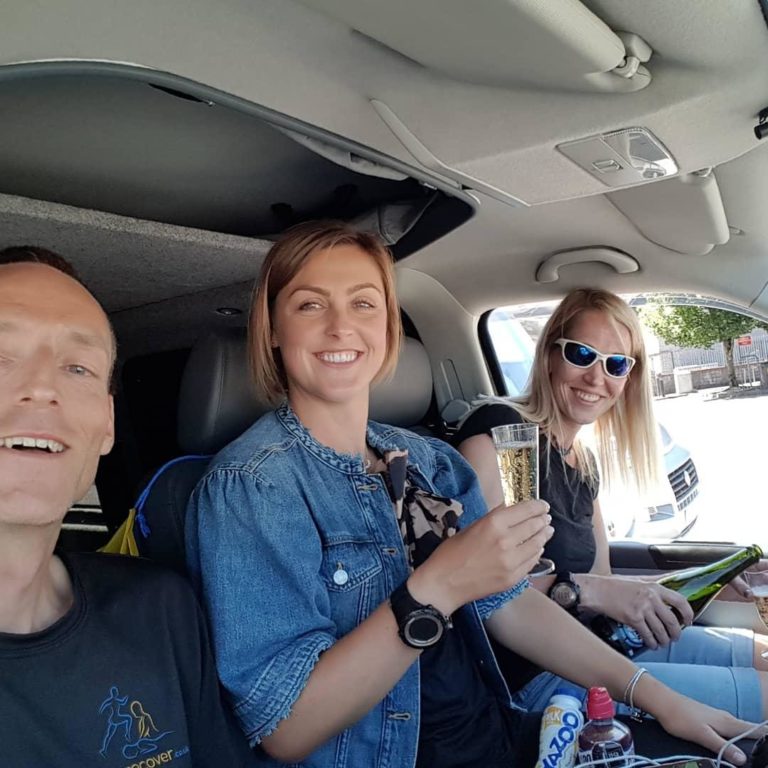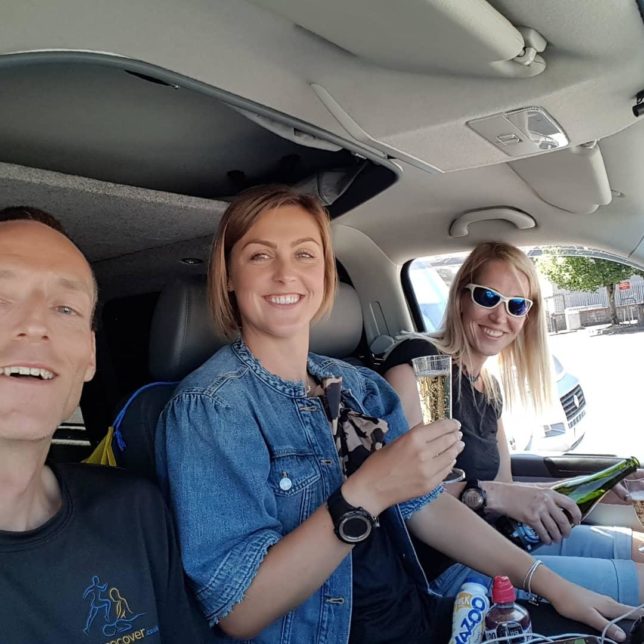 Huge thanks have to be made to quite a few people who made this weekend very special for me. My crew of Kat, Neil and Jo. I couldn't and wouldn't have done it without you guys, I'm ready to crew whenever anyone needs it. All the marshals, race director, medical team and helpers for giving up their weekend and sleep to see us through and my friends and family who were checking up on my progress and keeping in touch with me along the way. Thank you.
What's next? Who knows, but I'll be ready….