Hello February, you're here already?
My training for January never really did pick up. I felt sluggish and unmotivated for the majority of the month, so I decided to have a change from running and try various classes instead, as well as getting back into my gym routine. I work with a bunch of people who are pretty gym obsessed, so it's hard not to be inspired when they are bouncing off the walls full of endorphins! So cx works, metafit, body combat and spin have all been mixed into my weekly routine, as well as still trying to clock a few miles here and there. Last week I decided to take a break from running for the whole week and when I returned to training on Tuesday and was met with a speed session on the track, I didn't even grumble. I actually really enjoyed it, snow and all!
My body still feels tired. Much better than I did this time a month ago, but my ability to run for long periods of time has decreased along with my speed. I'm just so annoyed that I ran an ultra and a marathon just 6 weeks apart at the end of last year and now I'm struggle to finish a 10k without feeling sick! Gutted isn't the word but I know I just have to bide my time and eventually I'll get back to how I was….
Anyway, the main point of this post is the rather long overdue race report for the awesomely wet, windy and cold Devil's Burden relay race at the end of January. The race is an annual event held by Fife Athletic Club and pulls in the hardcore hill runners from all over the country and also people like me, who just enjoys a day out in the hills! Initially I wasn't going to sign up for this as I was focusing on making the Devilla 15k my first race of the year, but with some arm twisting from my club mates I decided to give it a go as all I'd heard about it was how fun it was and what an amazing club day out it could be. So at stupid o'clock on the 25th of January some team mates and I met at the local sports centre to work out car shares to get to Falkland in Fife. Our club had 3 teams running and as the first teams started at 9.30am we wanted to give ourselves plenty of time to get prepared!
The race is run in 4 legs with the 1st and 3rd leg being run by single runners and leg 2 and 4 being run in pairs. The first leg begins in Falkland and heads over to Strathmiglo, the second leg goes from Strathmiglo up and over the West Lomond hill and zig zags its way back down to Kinnesswood. Leg 3 then goes straight back up the hill from Kinnesswood to West Balgothrie and then the last leg from West Balgothrie up and over East Lomond back to Falkland. All in it's a 31km race and it's definitely a toughie!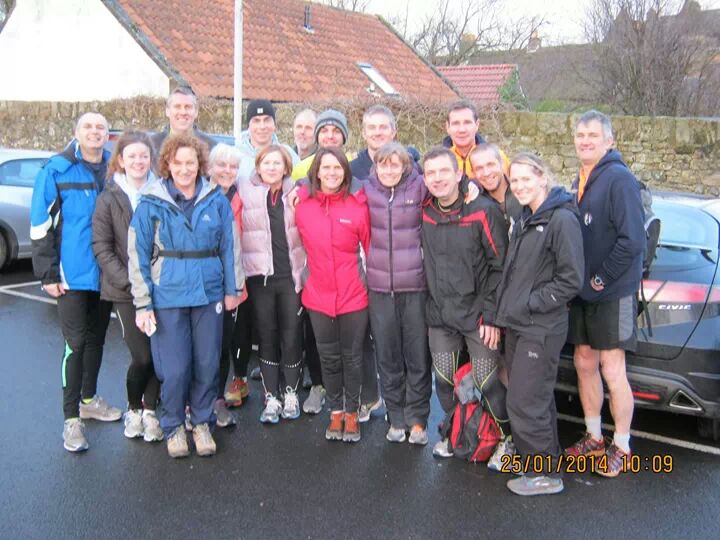 I was running leg 2 with the awesome Caroline Strain who is a seasoned hill runner. I didn't realise that even though it was only 6 miles it was to be probably the toughest 6 miles I have ever run! We set off along a dirt track that led on to a tarmac path for just over a mile. Stopping briefly at our first check point to stamp our card I clocked the hill in the distance and the countless high-vis dots bobbing their way up to the top – very few of which were actually running which made me think we were in for a hard slog! The route goes up to the top of West Lomond and back down the other side and just as we reached the summit we had a lovely little flurry of skin piercing hail stones. Perfect for trying out my new jacket (which is awesome by the way, unlike the one I wore for the ultra – GO33 2014 here I come!) and I now realised why the race oraginsers had insisted on full body coverage – it was FREEZING! There was a photographer on top of the hill who must have been freezing and as we weren't taking the race too seriously, we stopped to pose for some photos!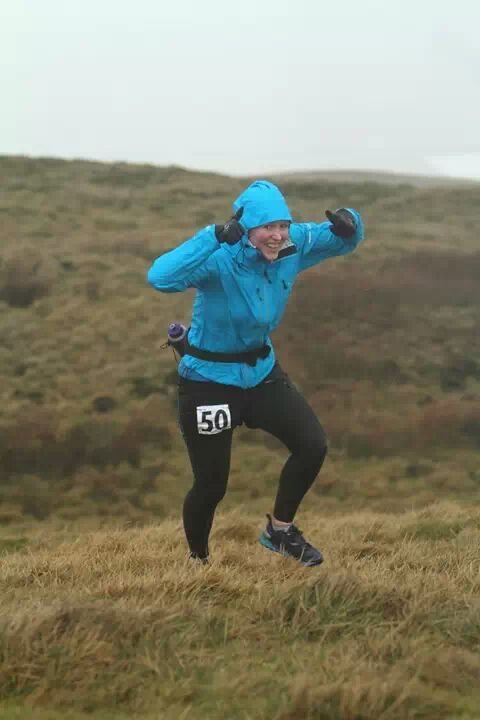 Our next few miles were on boggy terrain and this is where I wished I'd invested in some gaiters as my poor ankles were freezing. On the way down I tripped over a root in some heather and face planted into some mud. No damage done so we had a little laugh about it and then onward up the next hill! Fingers numb, feet soaking but upper body totally dry, we plodded on towards our last check point. Our last half a mile or so was a near vertical descent into Kinnesswood and I was so greatful for my trail shoes. I think I only slipped once but luckily out of the sight of the crowds who had gathered at the bottom of the hill to shout us in! We passed our check card over to Scott who was running leg 3 on his own and then with no time to rest, had a mad dash back to the car to drive over to the next check point to meet him.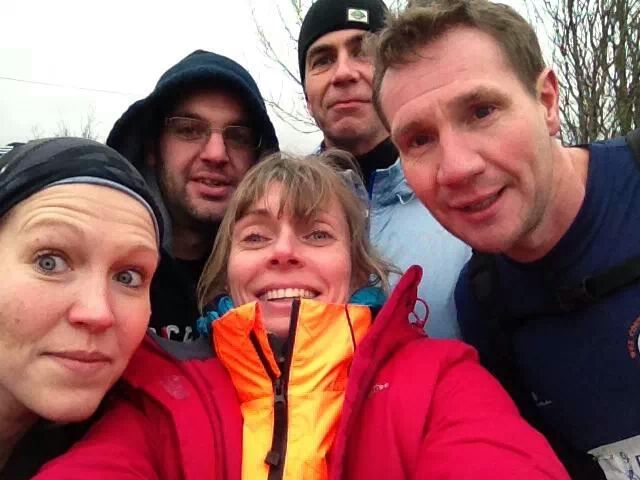 Liz and Anne were our final leg runners and as we watched them disappear out of sight, we finally caught up with our other team mates who had been in the 10.30am start. With the last leg runners all on their way, we made our way back to Falkland to meet up with them at the finish line and enjoy the fabulous spread of soup, cakes and sandwiches put on by Fife AC. Even though I'd had a complete change of clothes and was wearing gloves, I still could't warm up so I left my team mates to prop up the bar in the pub and headed home to wear my duvet for the rest of the day!
This was a fabulous event and I'll definitely enter again next year, but maybe I'll try something other than leg 2….