NEIL MCCOVER MEMORIAL HALF MARATHON 2013
Official time: 1 hour 50 minutes 36 seconds
Overall: 120 out of 168
Medal : No, but another technical tshirt. Same design as last year but different colours.
The Neil McCover Memorial half marathon is one of my favourite races and routes for a number of reasons. Firstly, it's right next to the village I grew up in, so it has a certain nostalgic element. It's also a rather small event so I always feel more pressure on myself to do my best and try not to come last! And it's also one of our club GP races, which means more points!! I'm not in the running for a prize this year, but next year… well, we'll see!
The event unfortunately clashed with the Great Scottish run, so for a race that is already quite small this had quite a big impact on numbers. Not that it bothered any of us. We'd all much prefer to be running round the beautiful countryside compared to through the centre of Glasgow with thousands of others! And this route was challenging to say the least so I knew I'd really have to push myself to get round comfortably – it was exactly one week after the Loch Ness Marathon and my legs still hadn't fully forgiven me. Taking this factor into consideration, along with the fact the course was quite undulating I decided to go out steady and hopefully return somewhere in the next 3 hours!! My only aim was to try for a course PB as I had run this race the previous year and it had been my first half marathon in over a year, so marathon pain and fatigue were put to one side and my one goal for this race had been set.
Race morning came and the weather looked promising. Slightly drizzly but not windy so by my standards, pretty much perfect. I dropped Craig off at work and made my way down to Kirkintilloch to check in for the race. I think I was one of the first to arrive as the helpers were still setting up their table and trying to separate safety pins. I collected my number and pins and looked around for my timing chip (which we had been issued with the previous year) but couldn't see any. I assume that because race numbers were so low this year they decided just to go with gun time. My team mates started to arrive and when they time came, we braved the cold and left our layers behind to head over to the starting line.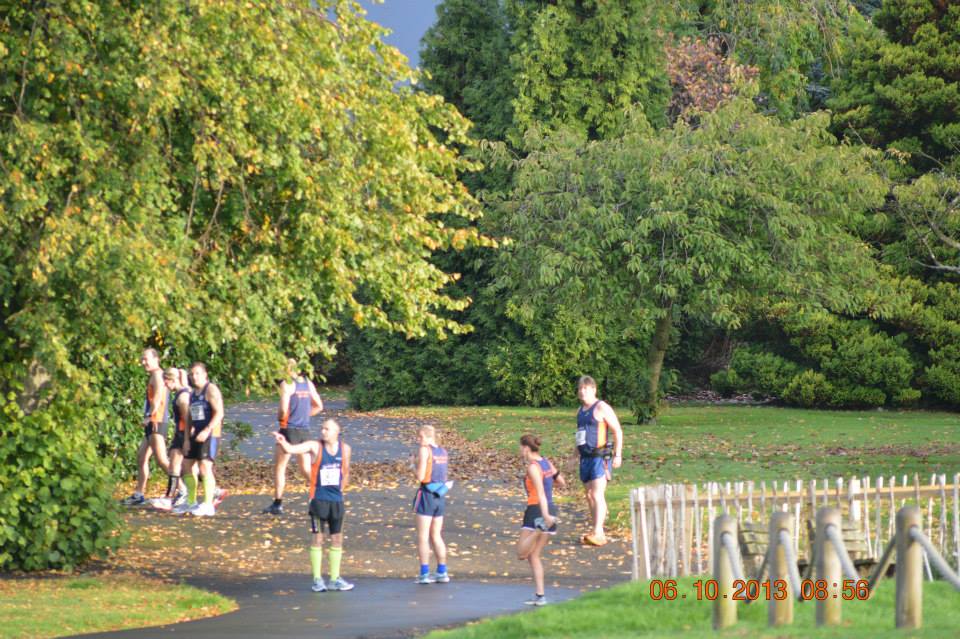 The race is in memory of Neil McCover who was a member and chairman of the Kirkintilloch Olympians, and is now in its 3rd year. It starts in the town of Kirkintilloch, follows the main road out to the East side of the town before heading into the hills, taking in the villages of Milton of Campsie, Lennoxtown, Torrance and Lenzie on its way back into Kirkintilloch again. We all congregated at the start line/area and a few words were had about the race and how it was a shame numbers were down this year. At least the race got to go ahead though as a few other small events around the country had unfortunately been cancelled through low interest. Such a shame when the giant corporate events take over. I'd much rather run a smaller, local, cheaper race any day! After posing for a few more photos, someone shouted 3-2-1… and we were off!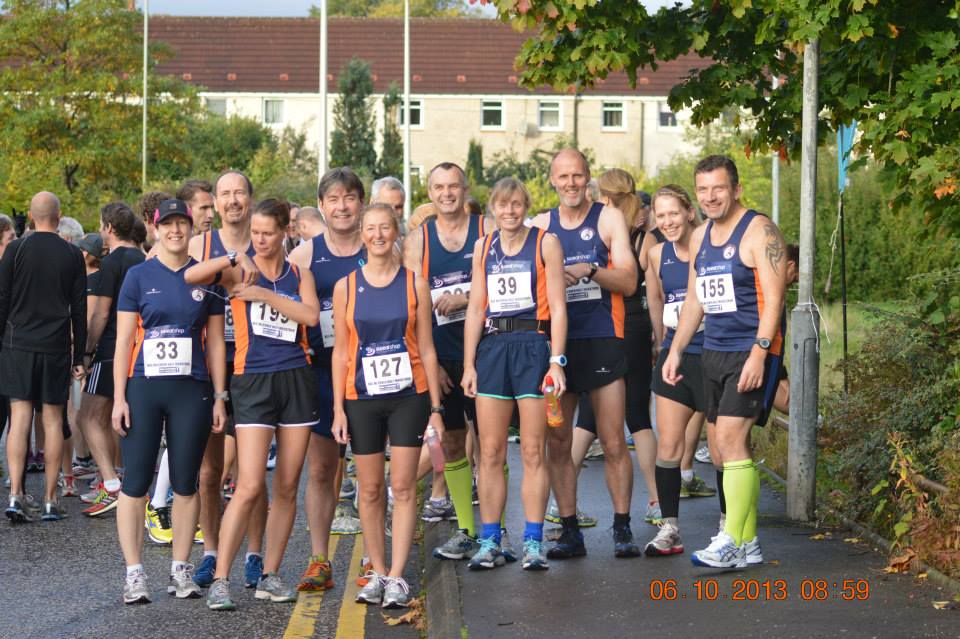 The route is undulating throughout and my splits for the first few miles were as follows:
Mile 1 – 7:25
Mile 2 – 8:04
Mile 3 – 8:03
Mile 4 – 8:31
The roads out from Kirkintilloch take you up towards the Campsie hills and it is just stunning. My parents live just a bit further along the Campsies, so I told them I'd probably be passing through the nearest village to them at about 10am. I got the mile markers wrong in my head so actually passed through just before quarter to and unfortunately they weren't there. Never mind, the marshals and local support the whole way around was fantastic! Even though we were well and truly into the hills I still felt pretty good. I kept reminding myself there was a nasty hill near 9 miles, so I had to keep something in the tank for then. I also kept thinking back to how I felt at this stage in the course last time round. What a difference a year makes, not just to fitness but also to my mental state of running. Last year I'd see a hill and convince myself there would be no way on earth I'd be able to run the whole thing, so I'd walk most of it instead. This year, even though my whole body was still drained from the week before, I wouldn't let myself slow to a walk at all.
Mile 5 – 8:44
Mile 6 – 8:31
Mile 7 – 8:41
Mile 8 – 8:41
I was keeping a steady and comfortable race after setting off a bit too fast. I always seem to start way too quickly as I get swept along with the crowds and I need to learn to hold back for the first few miles. I knew from last year that this was a fast race for some, but I wasn't letting that bother me or thinking that I'd have to keep up with anyone. This was just a race for myself and my enjoyment!
At 7 miles my mp3 player ran out of batteries. I knew I should have charged it the day before but I stupidly thought it'd have enough life left in it to last a couple of hours. From now until the finish line it was just my breathing and the sound of my feet hitting the tarmac that would get me round. That and the person who was running right behind me – I was determined not to let them overtake me!
Mile 9 – 8:41
Mile 10 – 9:20 (after the hill!)
Mile 11 – 8:36
Mile 12 – 8:54
Mile 13 – 8:20
As you reach the top of the hill, the road is long and flat and you have to cross over to the other side, but unfortunately it's still open to traffic and quite busy. I kept looking back over my shoulder to try and see if it was clear, but it never was when I wanted to cross. I eventually had to slow down and cross in stages which made it hard to get going again. However, as I got to the end of the road and rounded the corner I almost ran straight into my parents who had driven up the road to try and find me at another point in the race. It was lovely to see them, even if for a split second and it made the next mile or so fly by. For some reason, I remember the road through Lenzie back into Kirkintilloch as flat and downhill. I used to run it all the time for school cross country and I do not remember it being so hilly in the middle! I struggled a lot at this point. I also nearly ran straight through and old woman as she walked right out in front of me at a bus stop and stopped in the middle of the pavement. I had the options of face planting into a bus stop, her or the back of the car she was walking over to. My arm caught the bus stop as I dodged round her at great speed and at this point I could have cried. I have no idea where the last of my energy had gone and I just wanted the race to be over. I came over the top of the last hill and caught sight of my coach Gordon who had sped round the race and got a P.B of 1:27 and was now coming back to cheer the rest of us in. All I could give back as he cheered me on was a feeble thumbs up and I trundled down the hill to the finish line.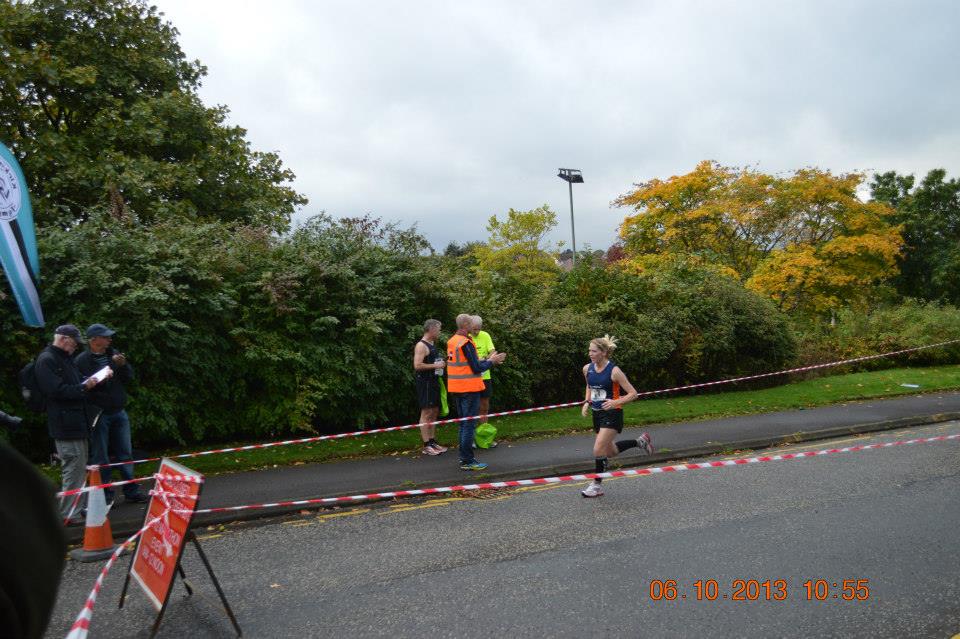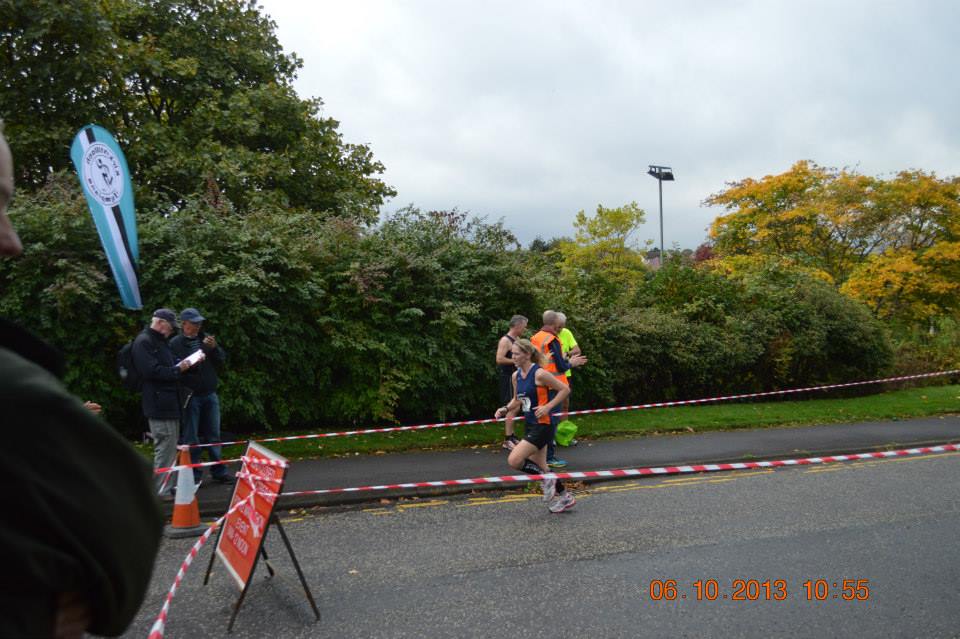 I finished in a time of 1:50:36 which is just over 2 minutes outside my personal best and considering how tired I was and how hilly the course is, I'm pretty happy. I received my goody bag, which had a spot prize in it – a lovely aluminium drinking bottle. 2nd spot prize in 2 years. Not too shabby!
And now on to the Ultra. Which is in less than 3 weeks by the way……. :-/