At some point last week I smashed through the 1000 miles for the year barrier. I don't quite know when, as our laptop broke a few weeks ago and I hadn't been able to upload my Garmin stats. I actually thought I was still a good 30 miles off it, but yesterday after the new laptop was unpacked and my Garmin was linked up again, I got the grand total to date – 1013 miles with 37 days of the year still to go. Hoorah!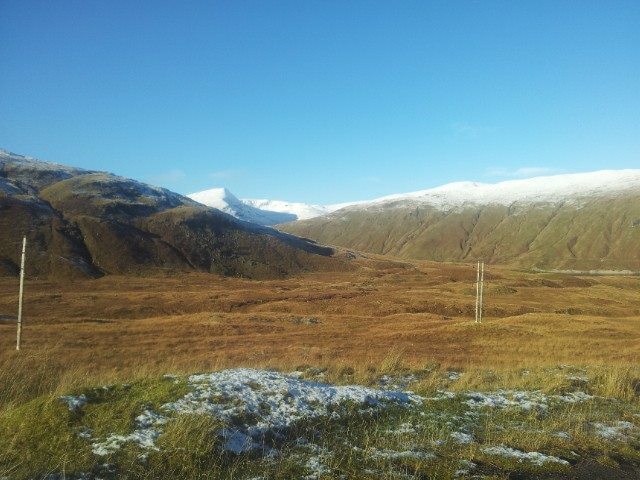 A few weeks ago, I took a trip North with Jemma, who is running her first Ultra (The Tigh Nam Bodach 50k) this Saturday. The race starts at the Loch Lyon Dam, follows a loop around the Loch before heading down through the hills, through some rivers (??!), back up the hill and back to the Dam. With the thought of beautiful scenery and free Merino wool socks from the sock station at the half way point – Jemma was persuaded. We went up one weekend to recce the second part of the course as she wasn't quite sure what to expect underfoot. We got there after a good few hours of windy single track roads and Skye, my border collie, and I staggered out the back of the car to try and shake off our motion sickness. Once our legs were ready to go and we had eventually figured out which way to go (note: there is no phone reception up here and GPS struggled a bit!) and set off on the single track road for a few miles of ups and downs. Before long we were turning off the road and following a muddy path along the side of a mountain. The path was quite firm under foot for the first mile or so but it got wetter and muddier the further along we went. So after a few miles we decided to turn back as we'd got a fairly good idea of what the course consisted of. Plus it had taken us that long to get over, I was worried that it was going to get dark before we were off those horrible single track roads!
Good luck to everyone running the race this weekend. I'm sure it'll be beautiful and an awesome experience. I, however, am still struggling to get out of my post Ultra slump and most of my November miles since the race have felt like a chore. I've still managed to get out quite a bit, and club training is always awesome but I just don't seem to be enjoying my longer runs as much just now. I'm hoping it's just the lack of sunlight and that I always seem to be running in the dark, or chasing the sunlight, but I feel like my running mojo has definitely gone into hiding for a while. However, I most certainly have the club to thank for helping me get all those miles in, making me want to run in the rain and enjoy it and being able to run for more miles without stopping that I ever thought possible! I guess it can only get better and next year is another year full of challenges.
So yeah… this bunch have a lot to answer for!!