STIRLING 10K 2013
Official time: 48:17 – NEW PB!!
Overall: 410th out of 750 (plus a few more whose chips fell off!)
Division: 42nd out of 94
Gender: 94th out of 290
Medal : No, but we did get a technical t-shirt and goody bag with jelly beans, caramel wafer and water
The way in which I have come to view a 10k has changed so much in little over a year. This time last year it was my favourite distance and one that was comfortable and enjoyable. This time last year Jemma and I were gearing up for a nice run, maybe a PB, but more than anything a fun run in my neighbouring city. This time round it was all change. This time I have been training all year long, working on my strength, focusing on a fast time, scrutinising my mile split times and feeling a lot of pressure (only from myself of course!). 10k is no longer a stroll in the park, it's pretty much a 6 mile sprint!!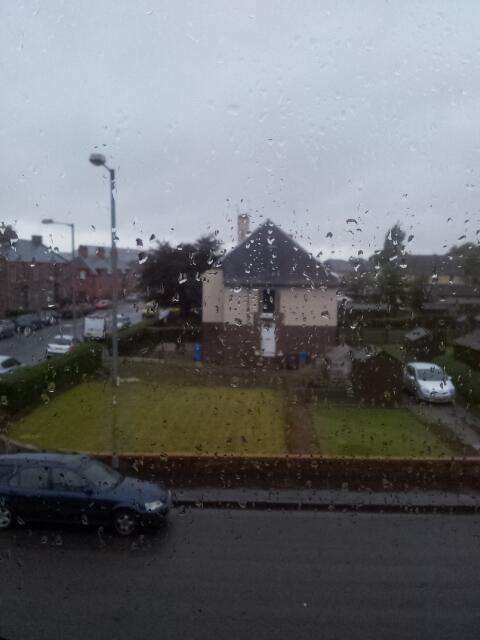 I woke up early when Craig's alarm went off and 2 things were on my mind straight away. 1) It's 6am, why is it still dark outside? and 2) is that rain I can hear battering off the window? And yes it was. Horrible, thick, heavy blobs of rain were being driven in all directions and at that exact moment all I wanted to do was go back to bed and curl up under my lovely thick winter duvet, which has just been brought back out of hiding. So that's what I did, until 7.15am when I rolled out of bed and had another look at what I was about throw myself out into. It didn't put my already anxious mind at ease at all. I've piled the pressure on myself for weeks about this race as it's flat and fast and I hadn't run anywhere close to my pb time of 48:55, which I set at the Jack Crawford 10k back in March, since. I knew I had a chance of a good time as the last flat race I ran was the Bring Bash 5 race in July and every mile was under 8 minutes, so I knew there was a possible chance, but with it being a much bigger race (dogging and weaving past people has never been a strong point of mine) and also the weather was putting a downer on things, I didn't want to get my hopes up too much, only to be disappointed. Rain I don't mind in the slightest, but wind and rain together are a foul combination. Previous thoughts of said weather can be found here. But with that being said, I also gave myself a shake, told myself to man up and just get on with it. Plus it would be a good chance to try out my new running jacket on the trek up to meet my team mates, and it's awesome. No leaks at all!
Half 8 arrived and I left the house to walk up to the sports centre to meet my team mates, and we all travelled through to Stirling together. The plan was to run the race and then a few of us who are doing the Loch Ness Marathon in 2 weeks would run back to Alloa afterwards, but the weather was seriously putting me off this idea. I needed to put in the miles though, so I told my coach not to let me talk myself out of it! By just after 9am we were through in Stirling, sitting in the car and not wanting to venture anywhere away from out warm and dry sanctuary. The race was organised and hosted by Central Athletics and started outside The Peak sports centre, who kindly offered us the use of their facilities, hall to warm up and foyer to stand in until we were called to the start line. The time finally came to ditch our outer layers and dash over from the car to The Peak and wait with the other runners until we were called to the start line. At 10:10am we were ushered across and before I knew it the race had started. I thought I was a lot further forward than I actually was so once over the mat I spent the first half a mile or so dogging and weaving through the crowds, trying not to get in the way of people also doing the same. By this time the wind had really eased off, but the rain was coming down in sheets. The route in on roads the whole way around, apart from a very short section where you have to cross the river on a very narrow bridge. However this is nearly 3 miles into the race so the crowd had thinned out a lot by this point, so it's never an issue. For the first few miles I chose to stick by another club member and get her to set the pace. I have a habit of going out too hard and too fast and not being able to keep the pace up the entire way around, so I thought if I managed to stick to just under 8 minute miles to begin with I might be able to bring it back in the last mile or so. Well, that plan went out the window!
Mile 1 – 7:50
Mile 2 – 7:19
At this point in the race I compared it to how I felt at this point in my race last year and realised it's amazing what a year of proper training can do. I was breathing easily, my legs felt great and I was passing a lot of people on the way round. Just before you run across the river there's a sharp bend in the road and at this point I lost Fiona in the crowds but I managed to spot another lady who I have seen at races before I knew was pretty speedy, so I chose to use her as my new pace maker. Once across the river you meet one of the 2 hills in the race and then its a very flat out and back road through Cambuskenneth, at which point you start to see all the super fast runners already on their way back, when I'm not even in sight of the turn around point!!
Mile 3 – 7:42
Mile 4 – 7:52
I was managing to stay under 8 minute miles, but my legs were now staring to feel it. However, the route out to the turn point and back is on a narrow farm track which gives you a good chance to see what position everyone else is in on the way back, get cheered on, shout on others and push to catch up with the ones you though you might have fallen too far behind. I finally clocked Jemma, having had left my phone in the car this morning before I was able to get in touch with her and noting she wasn't too far behind me also gave me another mental boost. We were now over half way, my legs were starting to ache more but the race was still on. I looked at my watch and realised I could still gain a pb even if I pulled it back a bit. Come one legs, less than 2 miles to go, we've got this!!
Mile 5 – 8:01
Oh no, it's got an 8 in it.. that's not what I wanted to see. But wait… I've got just over a mile to go and plenty of time to do it in. PB, we're on!
On the way back into Stirling there is a horrible dip in the road. I can't even call it a hill, but on a race this flat and fast you really feel it, but I knew I was now on for a good time so with arms and legs doing all they could, I flew up and around it and back towards the finish line with the seconds ticking away on my watch.
4 minutes to gain a pb – it's on, I've got this…
3 minutes to gain a pb – oh crap, it's further than I thought…
2 minutes to gain a pb – Legs, why won't you go faster?!? Come on!!
Mile 6 – 8:00
Ahhhh, the finish line was in sight. My team mates and in-laws were shouting me on, I still had something left in the tank and a smile to give coming over the line
0.2 – 1:30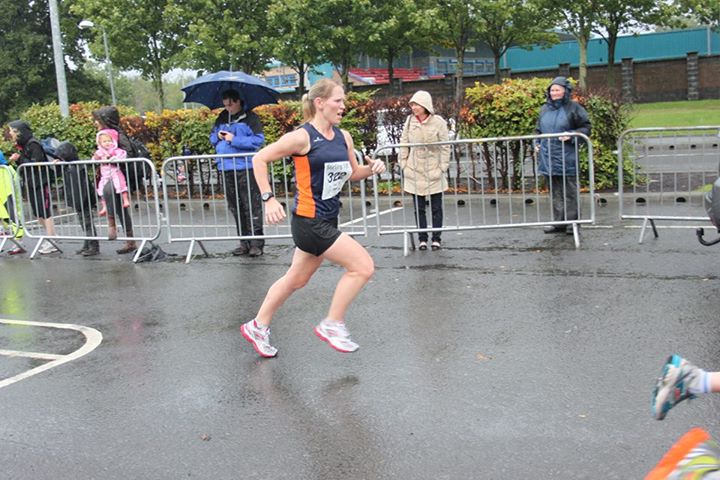 38 SECOND PB…. FINALLY!!! And feeling surprisingly awesome! At the finish line I met up with friends and we all celebrated our times and personal bests. It hadn't been the nicest day for running, but it hadn't held me back too much. I definitely need to make friends with hills reps again soon and get my strength up to its maximum, but for now I have a new pb which I will bask in the glory of for a while. My next 10k will be when I'm feeling strong and fast and know that I can smash past the 48 minute barrier.
It's not as impossible as I once thought it was…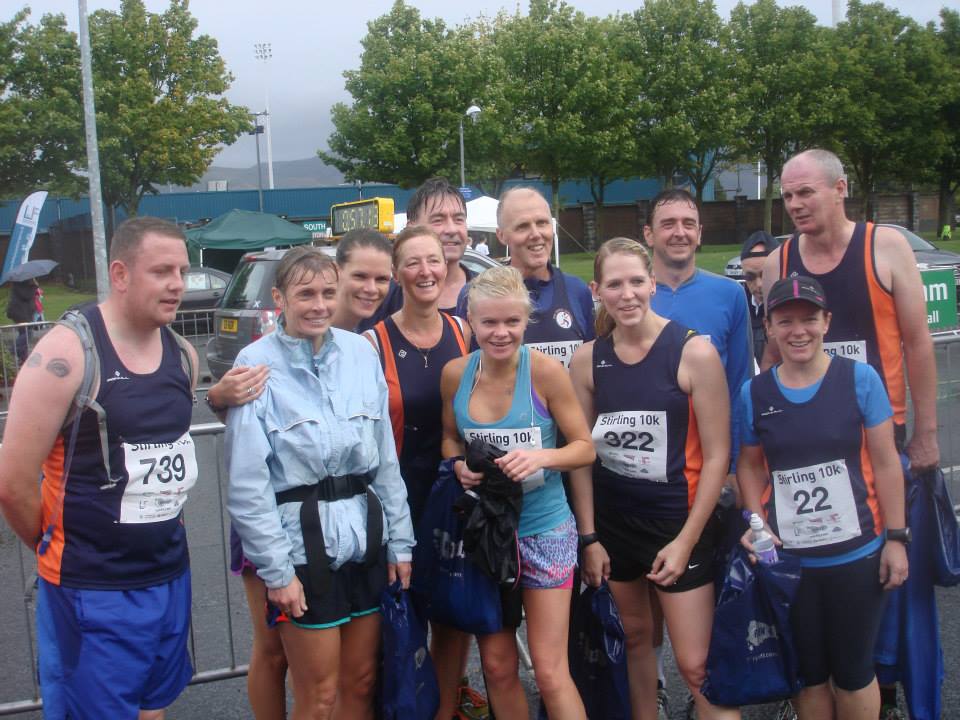 I even managed the run back to Alloa after the race. Another 6 miles, all of which were under 9 minutes! Legs are hurting, body is fatigued and ready to switch of, but adrenaline is still in charge of my body for now. And it feels great!