The Highland Fling 2019
TIME: 9 Hours 56 Minutes and 28 Seconds
OVERALL : 100th/647 finishers
GENDER: 9th/173 females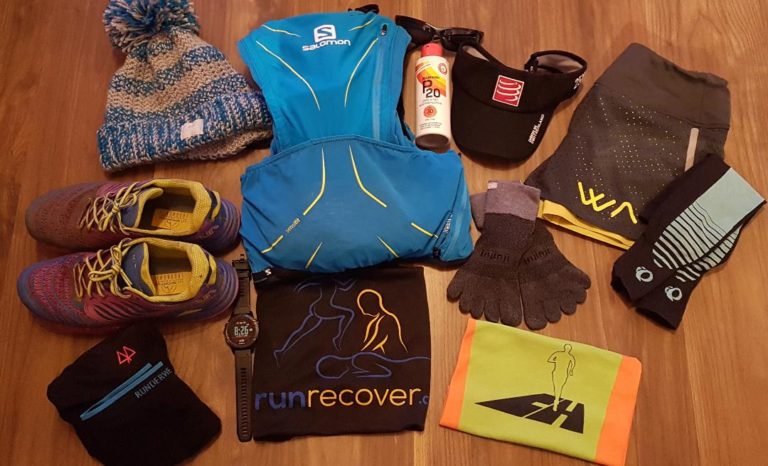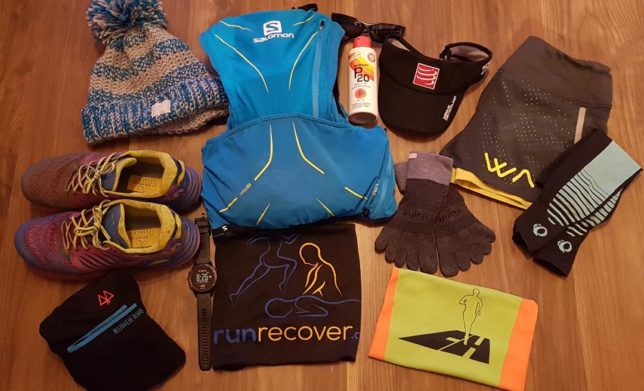 "Strong winds are expected to hit much of Scotland this weekend with the arrival of Storm Hannah." (Herald Scotland, 25/04/2019).
That's not the weather report you want to see when you're planning to run a 53 mile cross country ultra from 6am on the Saturday morning. However up until now the sun had always shined on Jonny Fling, no matter what the weather report said, so all would be alright on the day…wouldn't it?
Somehow it was the end of April and Fling time again. How had that happened? Since my great run at Falkirk (also in pretty awful weather) in February, training had been up and down. My foot had hurt post-race so I'd had a bit of recovery from that, then I got the cold, followed by a horrific bout of sinusitis which knocked me for six, followed by ANOTHER cold… and then finally when training was almost back on track it somehow became time to taper for the race. Not ideal, but with the mantra of "what will be will be" going around and around in my brain and reminding myself that yes a good race could happen, but it was all just a warm up for the West Highland Way in June , I got around to planning, prepping, stressing, and eating before I was ready to hit the hay for my pre race 3 or 4 hours sleep. A bit more stressing came with the horrific weather forecast and 3 or 4 kit choice changes were made before I decided just to be brave and go with a skort but layer up with arm sleeves, a long sleeved top and swapped my lighter jacket for my OMM and thicker gloves. After all skin is waterproof, isn't it?

Mags was marshalling and giving Fiona and Pauline a lift through to Milngavie, so after organising to meet up with them and travel through together, I drove to Kincardine for 4am and left the car there to hop in with them for the rest of the way. For now the weather seemed alright! It was dry and as the sun rose as we drove through I thought the sunshine Gods might be out to shine on J.F once more! We arrived just before the runners disembarked off the coaches that had just arrived from Tyndrum and hot footed it to register and get to the toilets before the masses got there. Drops bags were offloaded, hugs were dished out, photos posed for galore and then it was time for the briefing and to get to our start pens for the 6am start. I spotted Emma Hogben as I stood at the back of the sub 10 hour pen and dashed over for a hug and a catch up. Emma moved to Chamonix last year with her husband Ryan and has had a great winter of training in the mountains, so I knew I'd have to keep my catch up brief as she'd be off within minutes of the race starting.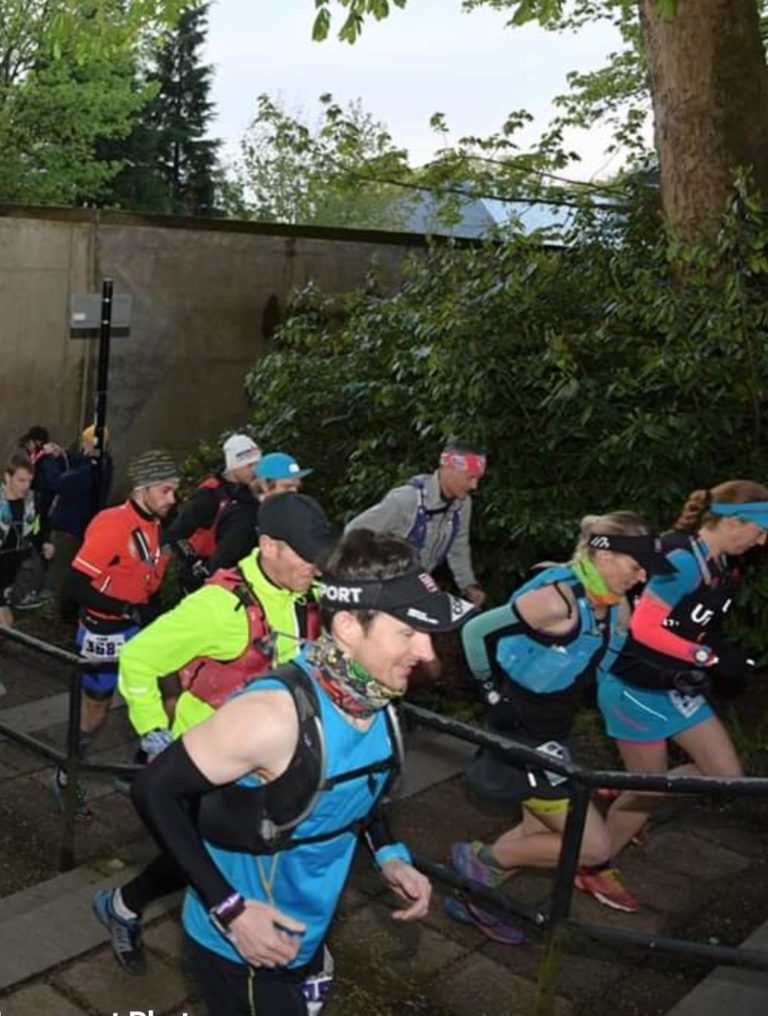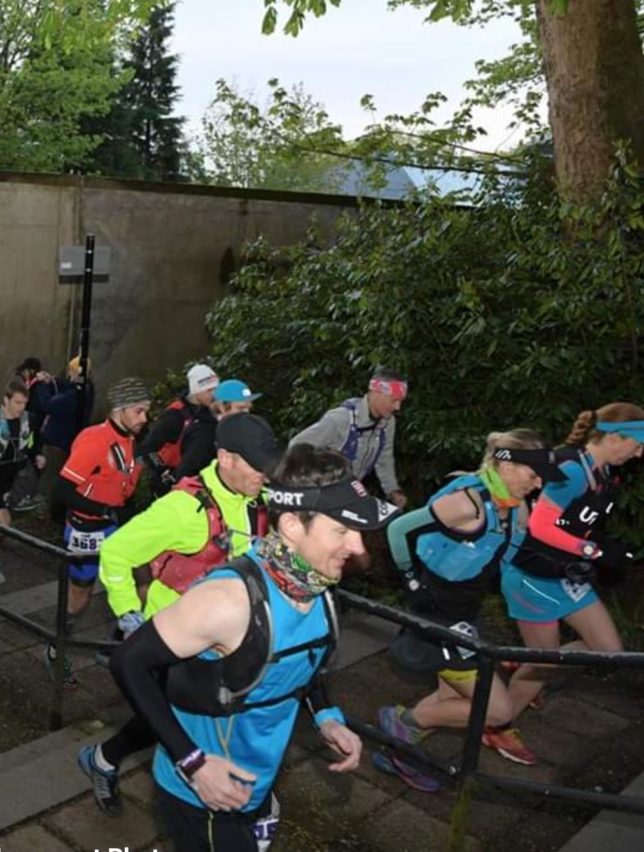 The weather felt OK, so at the last minute I took off my long sleeved top and decided to run in a vest and arm sleeves to start.The count down from 10 began, the horn blasted and to the sounds of cheering, cow bells and whistles we were off up Milngavie high street for another round of the Highland Fling. We zigzagged off the high street, trotted along the path towards Mugdock and Emma and I caught up on the last year or so as people ducked and weaved their way around us and sped along the path at break neck speed…. Yikes! As soon as we hit the first hill I clocked my pace on my watch and decided to reel it in a bit and let Emma slip away ahead. The first section to the Beech Tree was pretty straight forward; no technical running, a good few sections of downhill or pancake flat and the path of a thousand gates. I still felt I was going too fast even though I felt comfortable, but this was confirmed when James Crozier and Andy Janetta caught up with me at about 6 miles in. Whoops!! We ran together for a few miles, but as James is a sub 9 hour finisher and Andy was aiming for sub 9 hours, I knew I shouldn't be pushing with them at that stage, so let them slip ahead as well and was back to running on my own all the way to Drymen. I had a quick check of the splits Neil had given me and ran through Drymen bang on schedule. Not too shabby a start!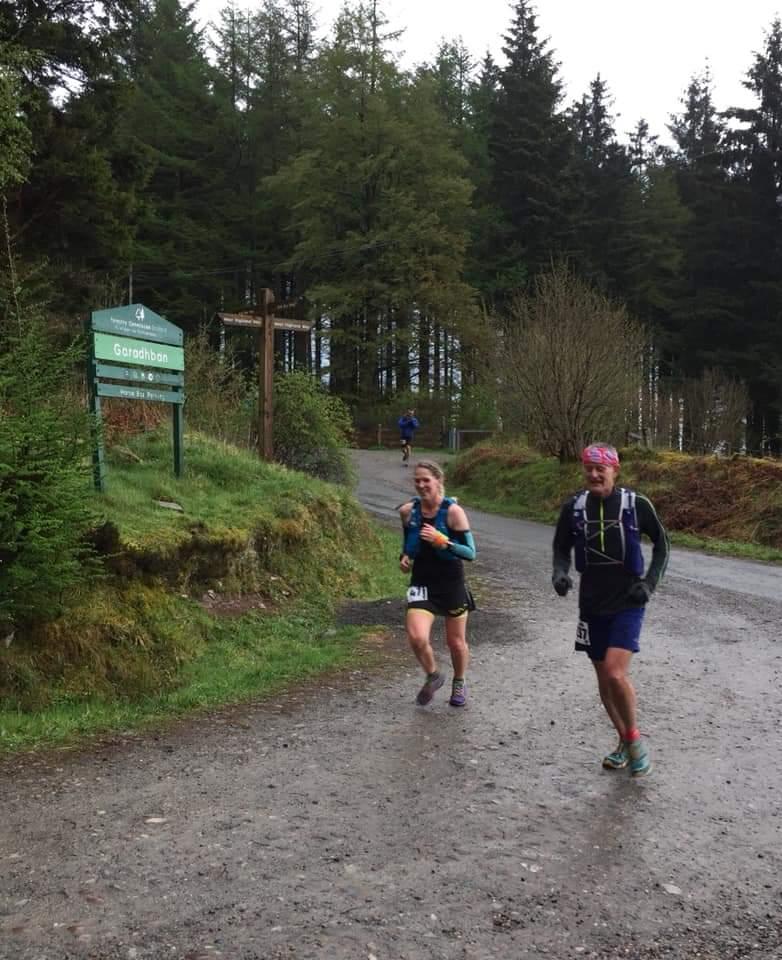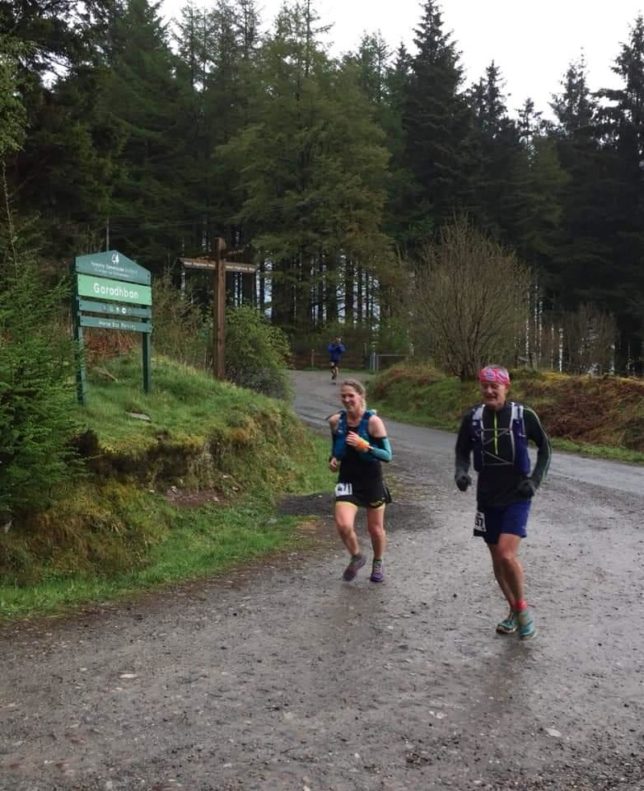 And then the tiredness hit me. As I started up the hill out of Drymen I suddenly got a really sore head, so slowed to a power walk up the hill. Lynne Allan caught up with me and we had a great chat; Lynne was in great spirits and was looking so strong and as I felt the wave of tiredness wash over me I suddenly got chilled, so I told her to push on as I'd have to slow to put another top on soon. She bounced away up the path and 2 minutes later I was running with Clark Findlay who has become my nemesis in most long distance races. We had a brief chat and both confirmed that wouldn't be the only time we saw each other that day, but as my low continued I let him drift ahead and continued to wollow in my self pity about what a terrible race this was turning out to be, and I wasn't even 20 miles in.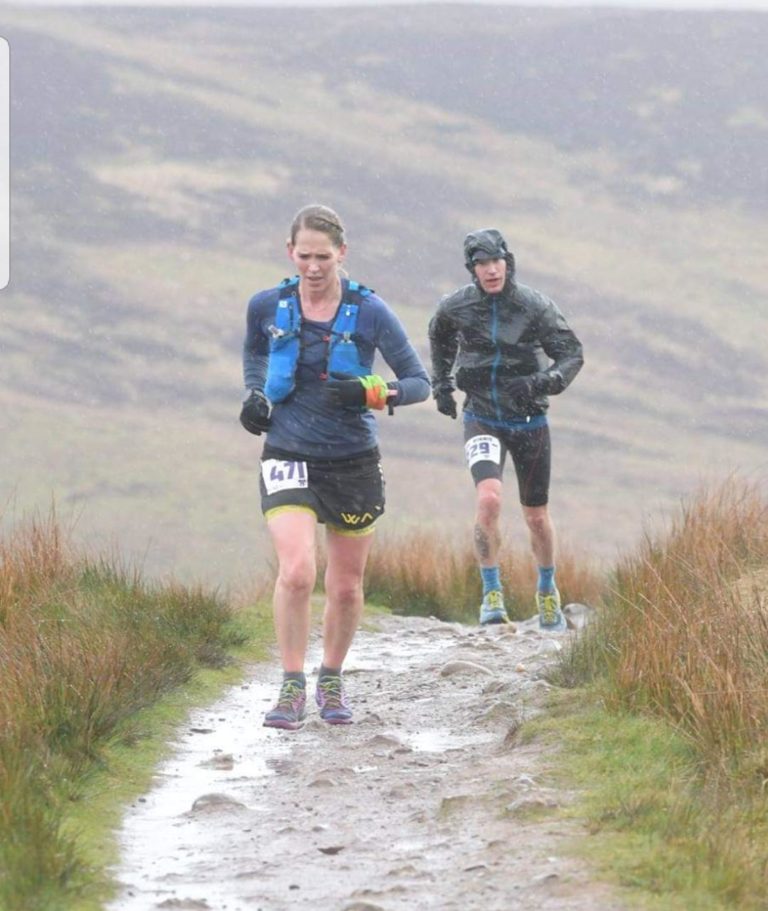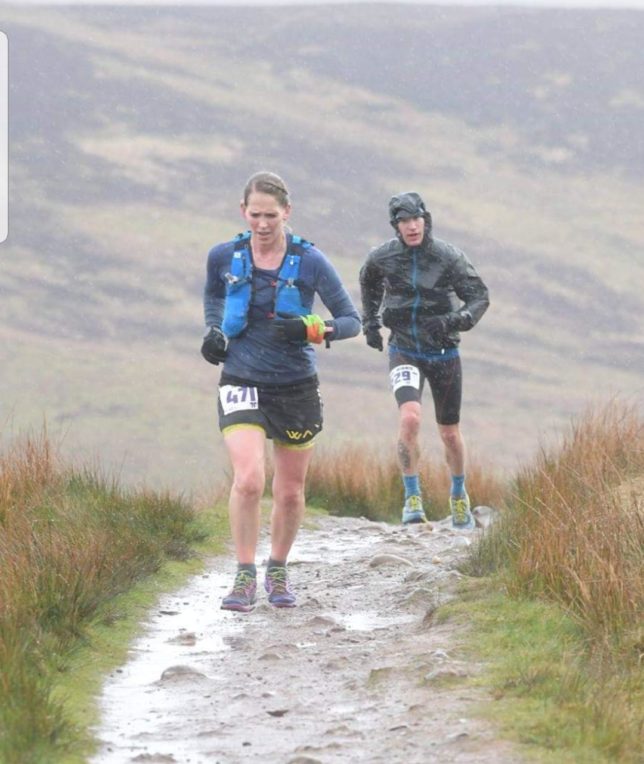 As my pity party continued and I started to mentally write down my reason for having a terrible race, the weather caught up with us. I stupidly hadn't yet put my long sleeved top on and within seconds I was soaked. I finally conceded when I realised I was freezing, but then struggled to get it on as my skin was now soaked and it twisted and stuck to me at all the wrong angles, and as soon as it was on it was soaked as well. Jacket now too? No, I'd keep that until I had slowed down some more, as having 3 soaked layers for another 30 miles would not have been desirable!
The march up Conic wasn't much better. Within minutes the path had turned to a river and we squelched our way to the top. Surely the photographer wouldn't be up here with weather like this, would he? Of course he was! So I tried to put my woes to one side for a second and managed a grimace for poor Graeme who was up the for hours. I'm surprised his camera survived! My legs were freezing, my gloves soaked through and the rain was dripping off my eyebrows and nose, but I tried to pick up the pace on the descent into Balmaha, trying hard not to annoy walkers by splashing in puddles as I passed and making sure I thanked everyone for moving out the way as I did. The rain let up a bit as I ran into the check point and as I was helped to fill my bottles and packed away the snacks into my bag that I would continue to ignore, I had a strong word with myself.
No one makes us do these things. We're here because this is what we love doing and we can look back on our achievements with pride. So my training hadn't been perfect, but I was still here and running although I wasn't feeling brilliant I was still moving. I was down, but I wasn't yet out.
Out of Balmaha, up the steep steps and back down the other side and along to Milarrochy Bay and things started to flow a bit better. I was along the beach and out the other side and suddenly I was catching people up again. As I ran along the roadside towards the turn off to Salloch Bay I noticed I was playing leap frog with a runner who I went on to catch up with, overtake, be overtaken and so on for the remainder of the race. As I splashed my way into Rowardennan I spotted Clark and we had a laugh about the fact I knew pretty much exactly where I was going to see him again and as he pushed me on to get running again while he had a quick refuel I suddenly felt a bit more positive. As I pushed up the first of the climb to the high road I was caught up by my leap frogging companion, Thomas, who thanked me for some earlier words of advice about pushing through the low and everything suddenly feeling glorious again. We had a good chat on the way up the hill and he told me he was doing the West Highland Way for the first time that year and asked if I had any advice for him. As he lived in Orkney getting on to the route wasn't really possible, so my advice was to do lots of hills…. To which he informed me there wasnt many in Orkney!! However as he pushed on ahead he proved he was a strong runner and I'm sure he'll have a great first WHW.
I was in a good place now and as I pushed up the hill I glanced over my shoulder to see Clark again, in pretty much the exact same spot he had caught up with me at last year! We were both now moving well and pushed down the long descent towards Inversnaid catching up on how our training for the WHW had been going and what other races were on the calendar for the rest of the year. I was moving well over the winding technical path and my new shoes were serving me well on the slippy rocks and tree roots. I bounced into Inversnaid feeling more alive but still a bit disheartened as to how the race had started, but an F1 pit stop from Rhona, Graeme and a Egle saw me right. I still hadn't eaten a lot up until now, my staple ultra foods of babybel cheese and fizzy sweets weren't even appealing to me today and up until now active root and coke had made up most of my calories. Rhona brought over my custard and made sure I'd eaten some before I shuffled out the check point stuffing some cheese in my face. I quickly checked my phone to see the group chat was in full flow and I was being tracked, so that made me think about pushing hard through the technical section and see if I could catch up with a few more runners.
I love the technical section. Having a bad start to the race saw me right here as I moved smoothly along the Loch side and started to pass runners one by one all the way along. I caught up with Thomas again and managed to keep him in my sights all the way, bouncing off rocks, picking my feet up over the tree roots and singing to myself as earphones are not a good idea on the Lochside… plus I was pretty sure my ipod might have drowned after the torrential downpour earlier anyway! In no time at all I was on my way up the top side of the Loch and I pushed to a run all the way up the sodden path and back down the other side past the bothy. The path was a river, there was no point in trying to keep your feet dry, so I splashed my way along the path, chasing down the runner in front and pushing hard up towards Dario's post. Not far until Beinglas, time to dig deep.
The weather changed again on the approach to Beinglas. I checked my watch and realised I was quite a bit behind my target time, but there was nothing I could do about that now. I was still moving well and after a quick top up of my bottles and rummage on the leftovers table (where I picked up a mashmallow Gu gel; thank you to whoever left that, it went down an absolute treat!!) I walked out the checkpoint to the bin and then took a deep breath and started to push up the hill. The final climb out of Beinglas is tough. The elevation from Beinglas to Bogle Glen is more that the height of Conic hill, just over a longer distance and at that stage in a race, you really feel it. The weather had really closed in now and showed no sign of letting up. I decided I'd probably left it too late, but now would be the time to put my jacket on (before I got a telling off from my friends at the finish line!) but by now I had total sausage fingers and was incapable of doing up my jacket and also fastening up the silly little hooks on my Salomon bag. After a few failed attempts and probably ridiculous noises, I managed to fasten everything up and I pushed on up through the puddles and rivers on my way to the newly laid track where cow poo alley used to be. Up towards Bogle Glen and there's a mass off cheering supporters to great us including Derek who took these pictures of me trying to force my frozen face into a smile. With the words of "less than 6 miles to go Mac, dig deep!" ringing in my ears I ploughed straight through the check point, thanking Katie and Co for their help, but I was on a mission to bag a time and I couldn't spare a second to stop….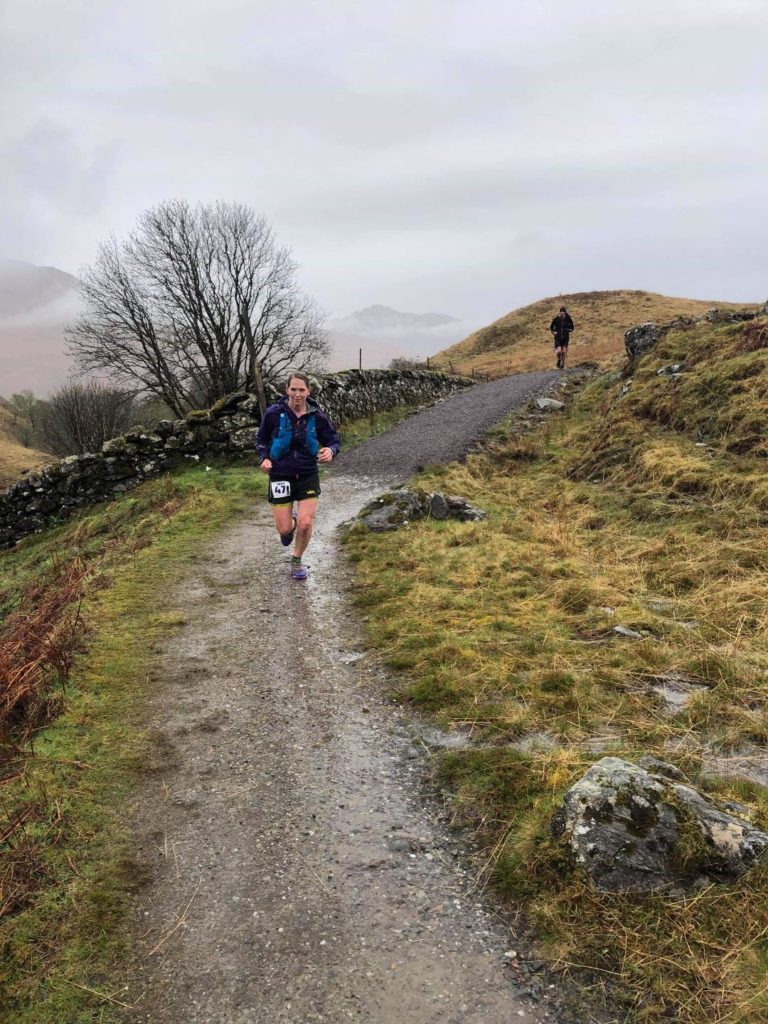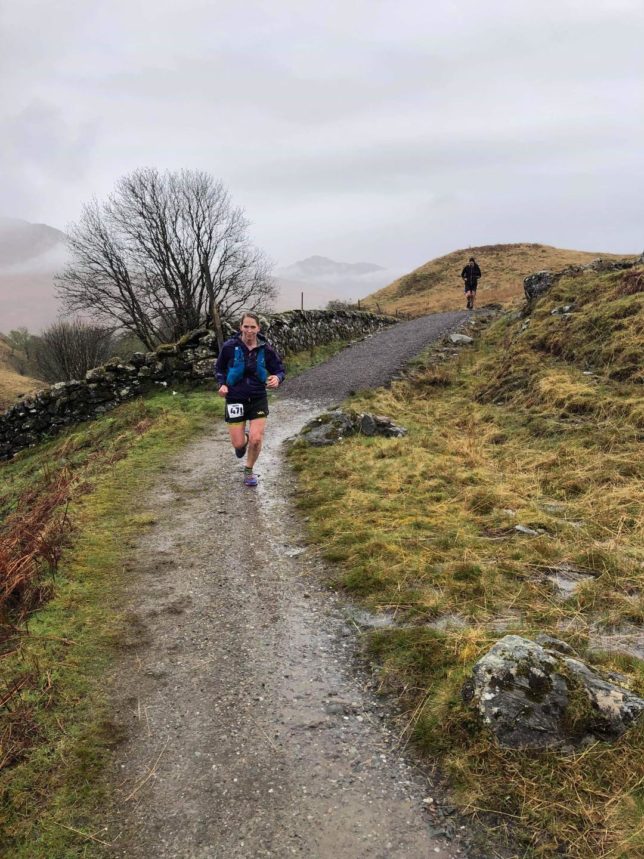 Up towards the rollercoaster in the forest above Crianlarich. The last of the steep climbs and time to give everything I had left. A bit of huffing and puffing on the steep ups and then letting everything go on the steep downs as I flew down as fast as I could…. And then I heard a voice. "You have got to be kidding me!!!"… it was Clark, about to overtake me in EXACTLY the same place he had last year! But this time I was going to work hard to keep up and we squelched our way down to the road crossing, to be met again by Thomas and the 3 of us ran up towards Auchtertyre. 3 miles to go.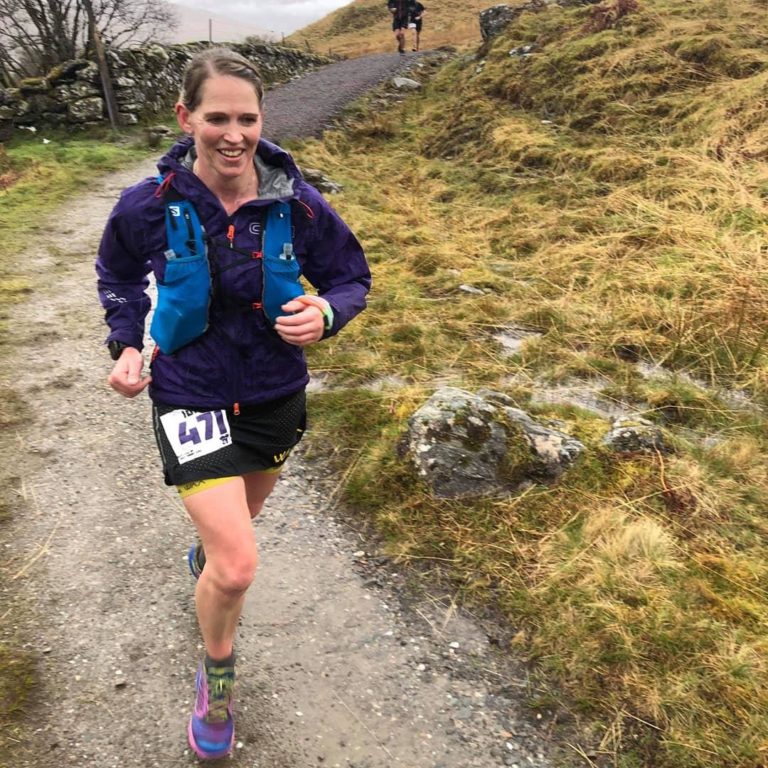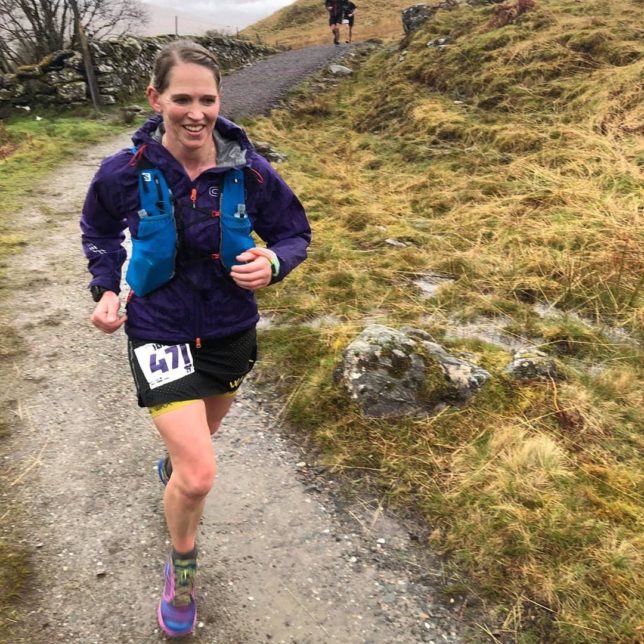 Clark and Thomas pushed on ahead. My legs were starting to fade and although I was still running I could feel myself slowing. As I left Auchtertyre another runner caught up with me and said he'd read my blog and was also doing the WHW for the first time this year. Kevin was another strong runner and as he and another runner and I passed under the A82 for the last couple of miles, we all realised a sub 10 finish was on. We ran in single file, our conversation slowed and we pushed on that final section towards the forest next to the campsite, through the big gate and along beside the river towards the piper….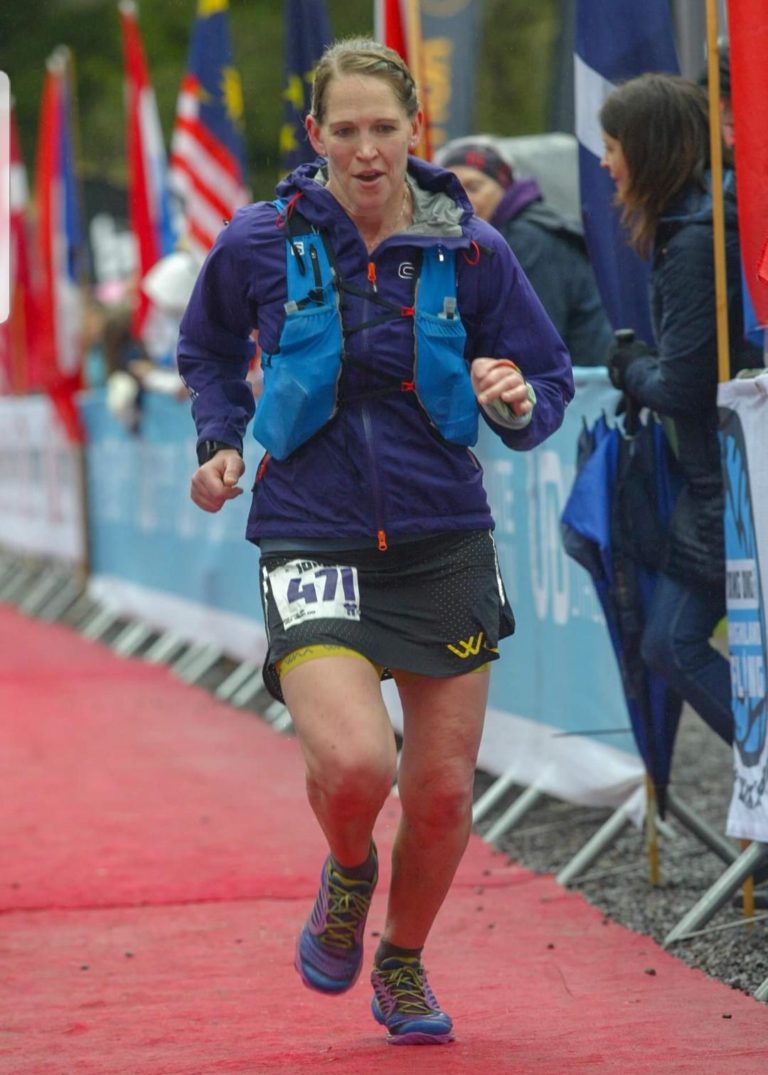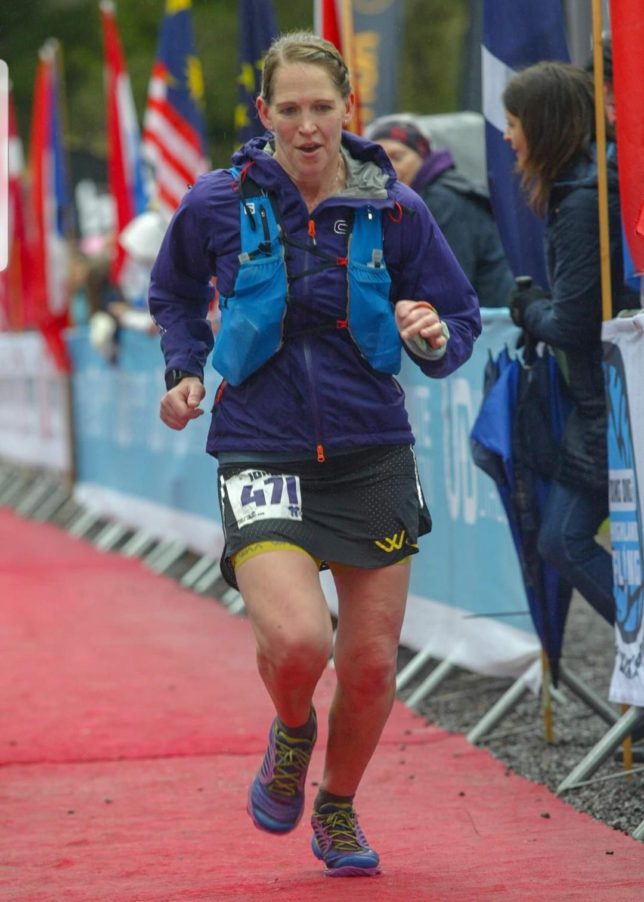 I had a last glance at my watch, but realised I must have paused it very briefly when putting my jacket on as it didn't seem quite right. What time was it? Had sub 10 just slipped away again? I passed the piper and a lady cheering called out to me "sub 10!!! Keep pushing!" and that was all I needed to hear. Everything I had left was delivered as I pushed round the final corner towards the red carpet as I squinted towards the big clock to see something starting with a 9! One last push, deep breath and sprint….
….9:56:28. Finally, a sub 10 Fling. Absolutely delighted!!!
I wobbled over the line to be met by Mags and Sue Walker who snapped a photo of me looking a bit bewildered. I was quickly ushered into the welfare tent where within a minute I was holding a cup of tea, my bag had been fetched and my wet bag and jacket were off. What a team!!! The shower was delightfully warm, I had the lovely hot changing tent all to myself and I took my time getting changed as I savoured every second of having the heater to myself. After I'd thawed a little I shuffled back to the welfare tent to catch up with others and then Derek, Emma, Ryan and I had a good feed in the Real Food Café and caught up on our races before heading home.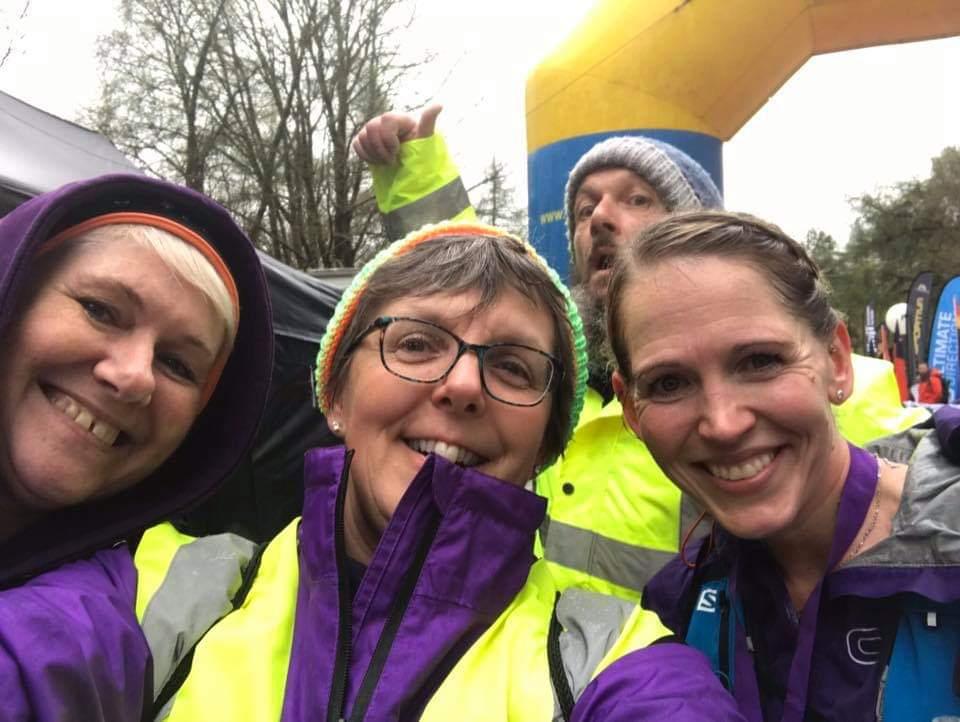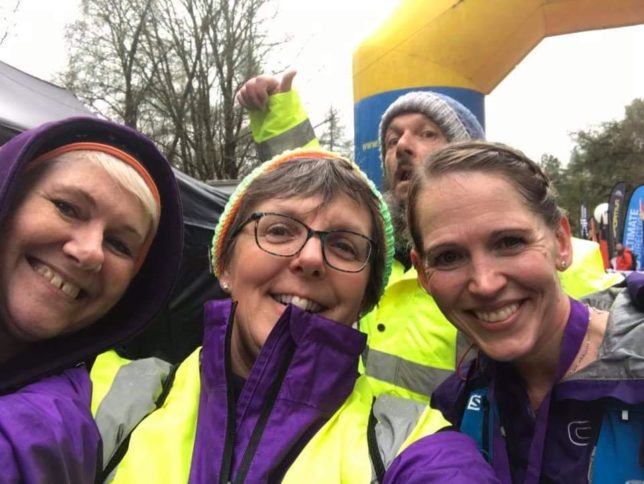 It's definitely a race I won't forget and it's up there as being the coldest along with my first ultra at Glen Ogle in 2013. John, Noanie and the whole Fling team were absolutely amazing and the race has grown and grown in popularity over the years for this very reason. I think next year it's my time to give back and help out as I can't sing their praises enough, so thank you everyone!