This week has been hard to settle into. The weekend was so jam packed and brilliant fun that coming straight back to work without any time to reflect has been hard! I'm mostly shocked at the amazing weather we were blessed with during our adventure. It was like being abroad for the weekend and really took me by surprise. We seriously couldn't have asked for anything better!
On Saturday morning, Jemma picked me up and we headed North to Aviemore where we had planned to meet Rhona and a couple of her friends from Stonehaven running club, Kate and Ali. The main purpose of the trip was to race the steam train back to Aviemore on Sunday (a planned event, not just because we're crazy!), so we decided to go up a day early, meet up with some fellow runners and have a lovely run around the Caringorms. Ali had planned a route up and around Meall a' Bhuachaille and we were so lucky to have the weather on our side as the views from the top were breathtaking! The sun was on our backs as we ploughed up to the top (through the snow!) and after a quick breather and some posing for photos, we started our rather quick descent. The run back down the other side was exhilarating to say the least! From the bottom a trail run lead us to the Green Loch where we had a quick paddle to cool our feet down. The loop was about 6.5 miles of gorgeous trails and Ali couldn't have planned a better route for us, so huge thanks to him for that!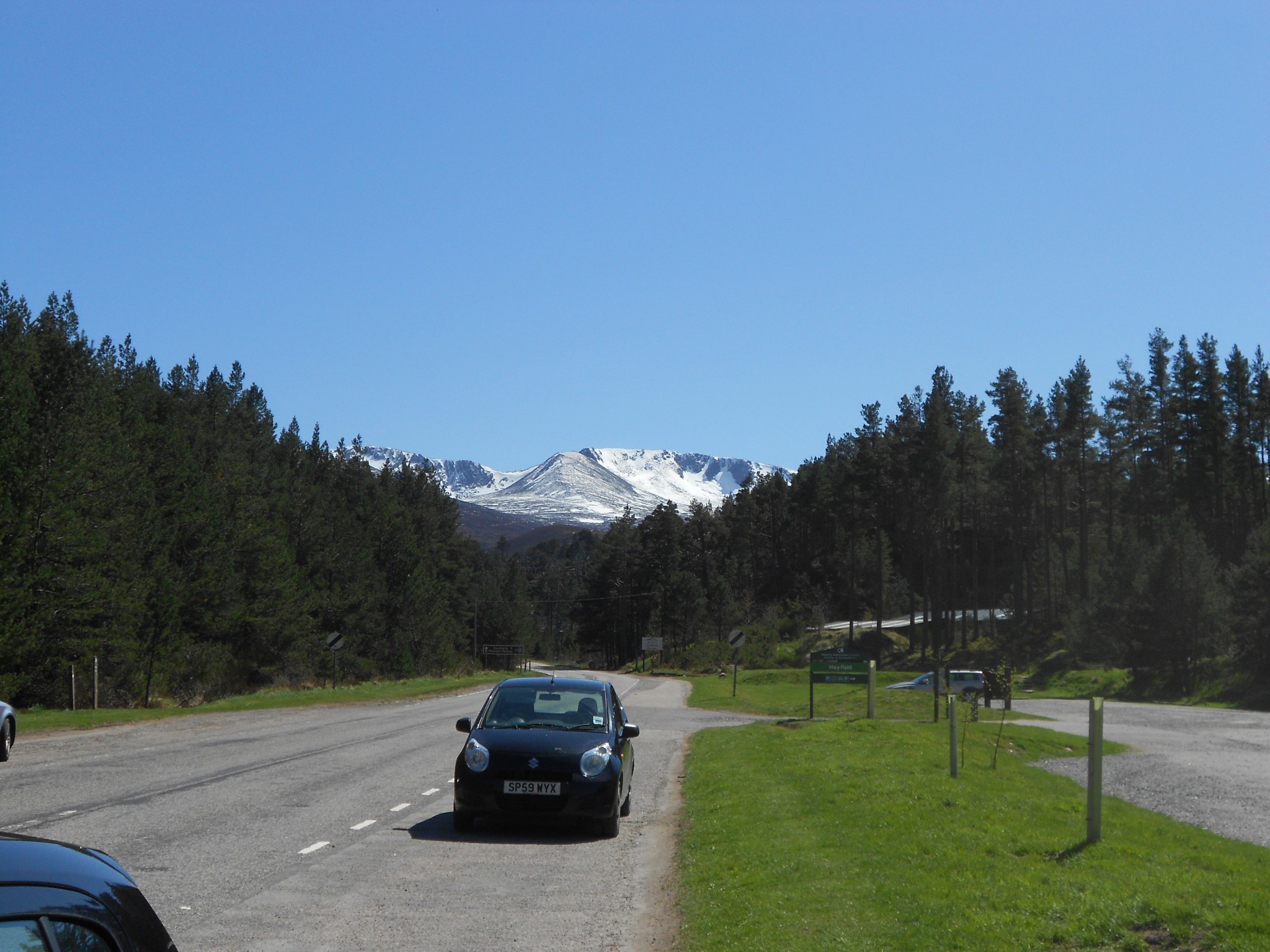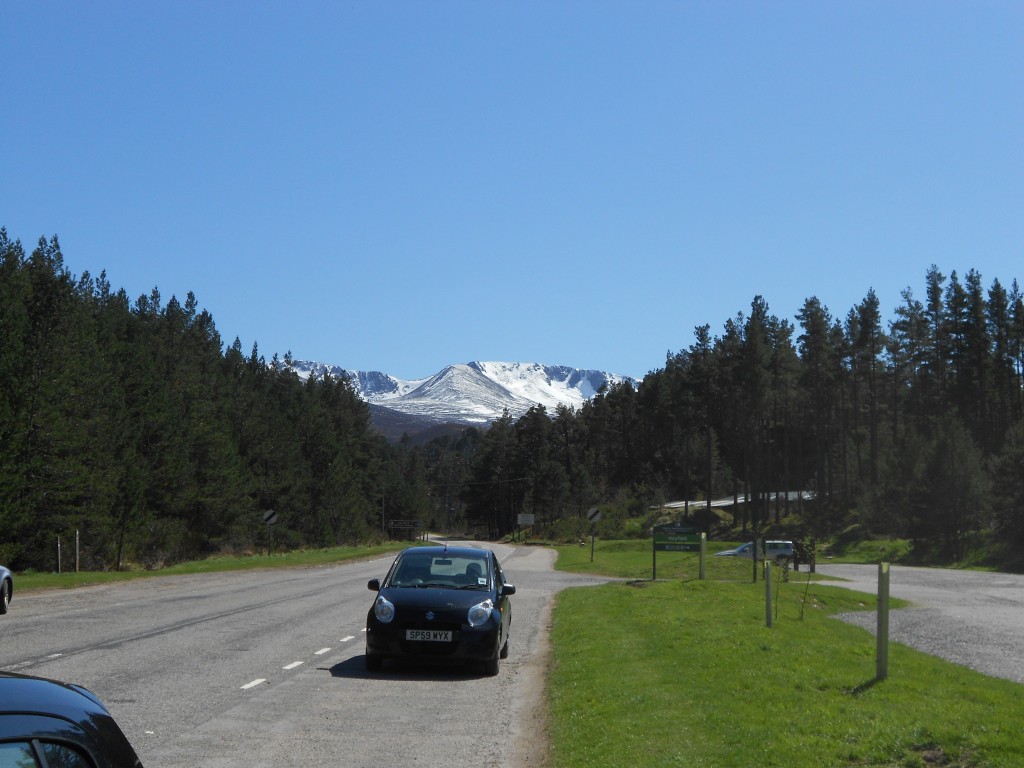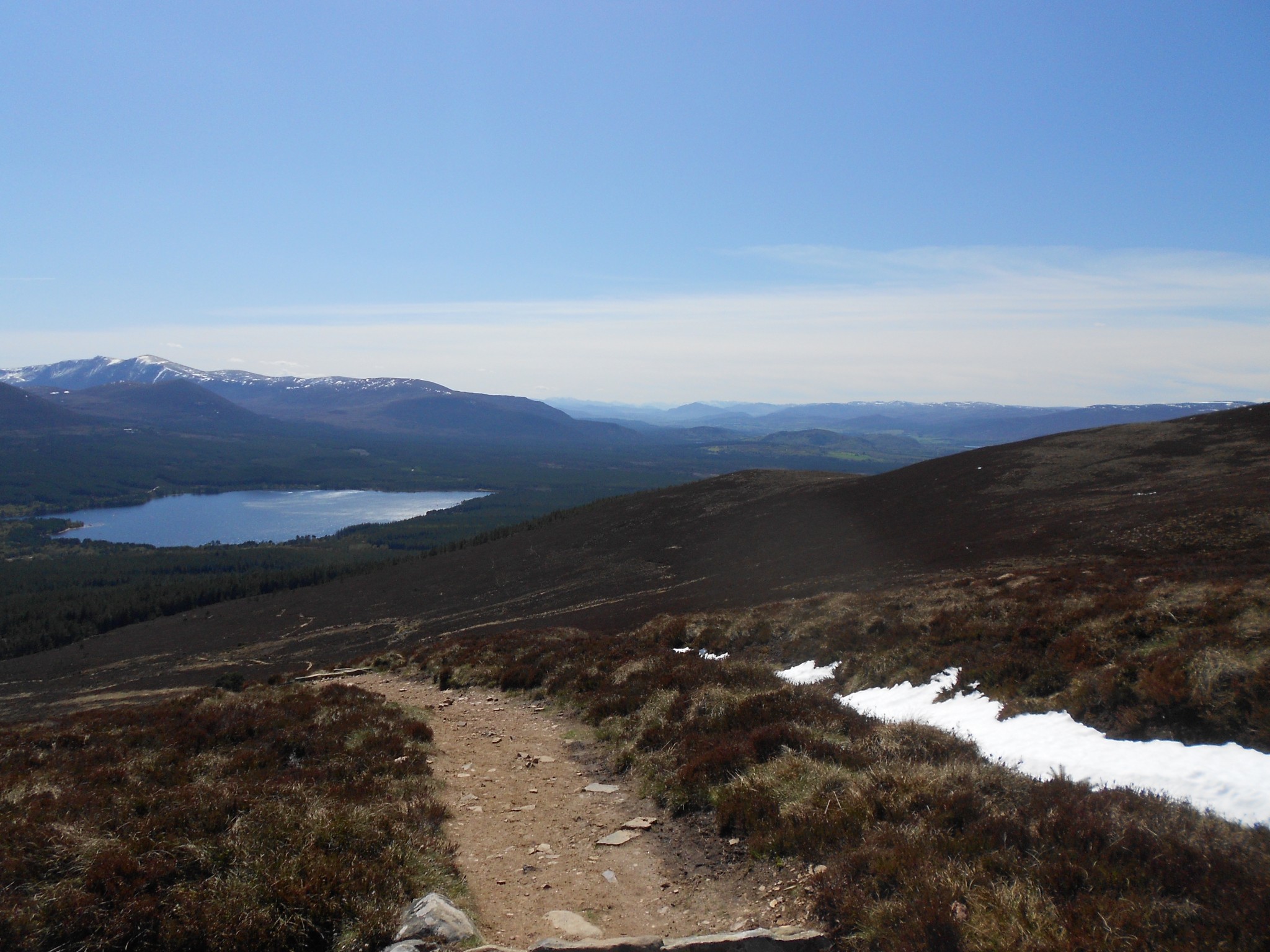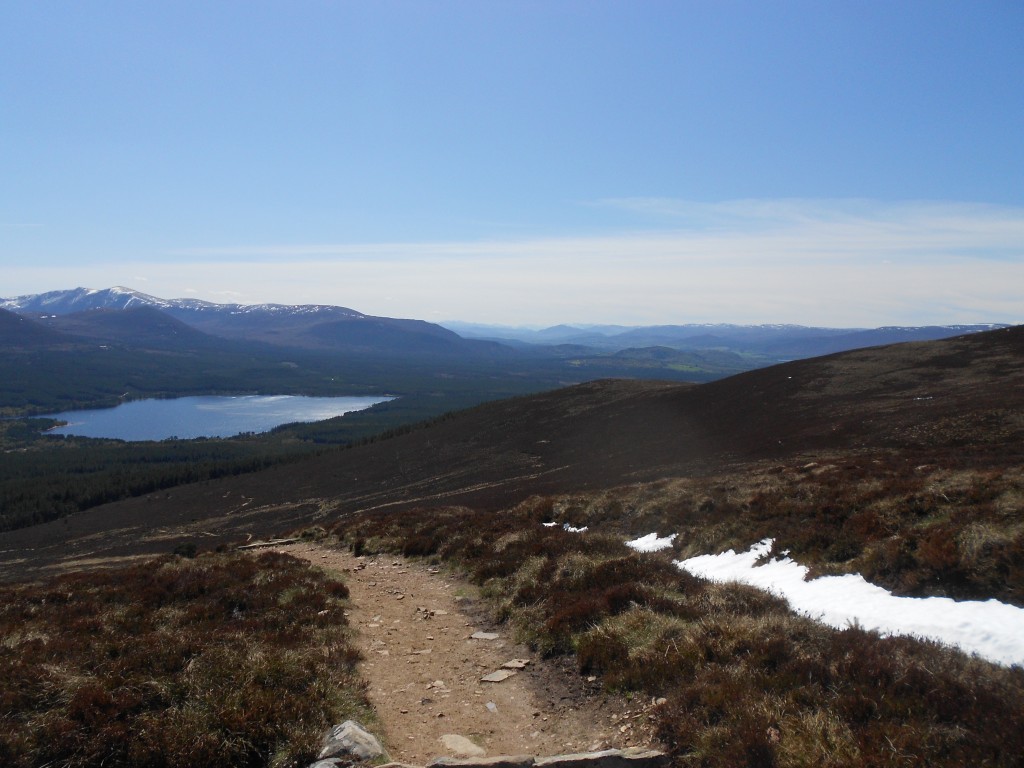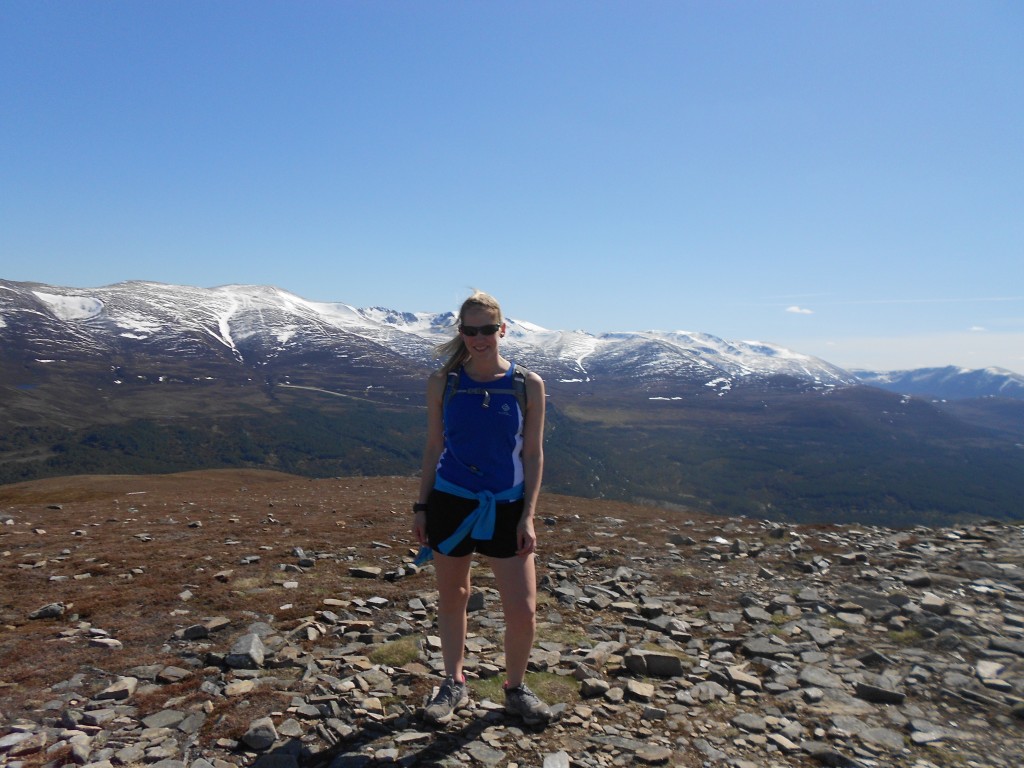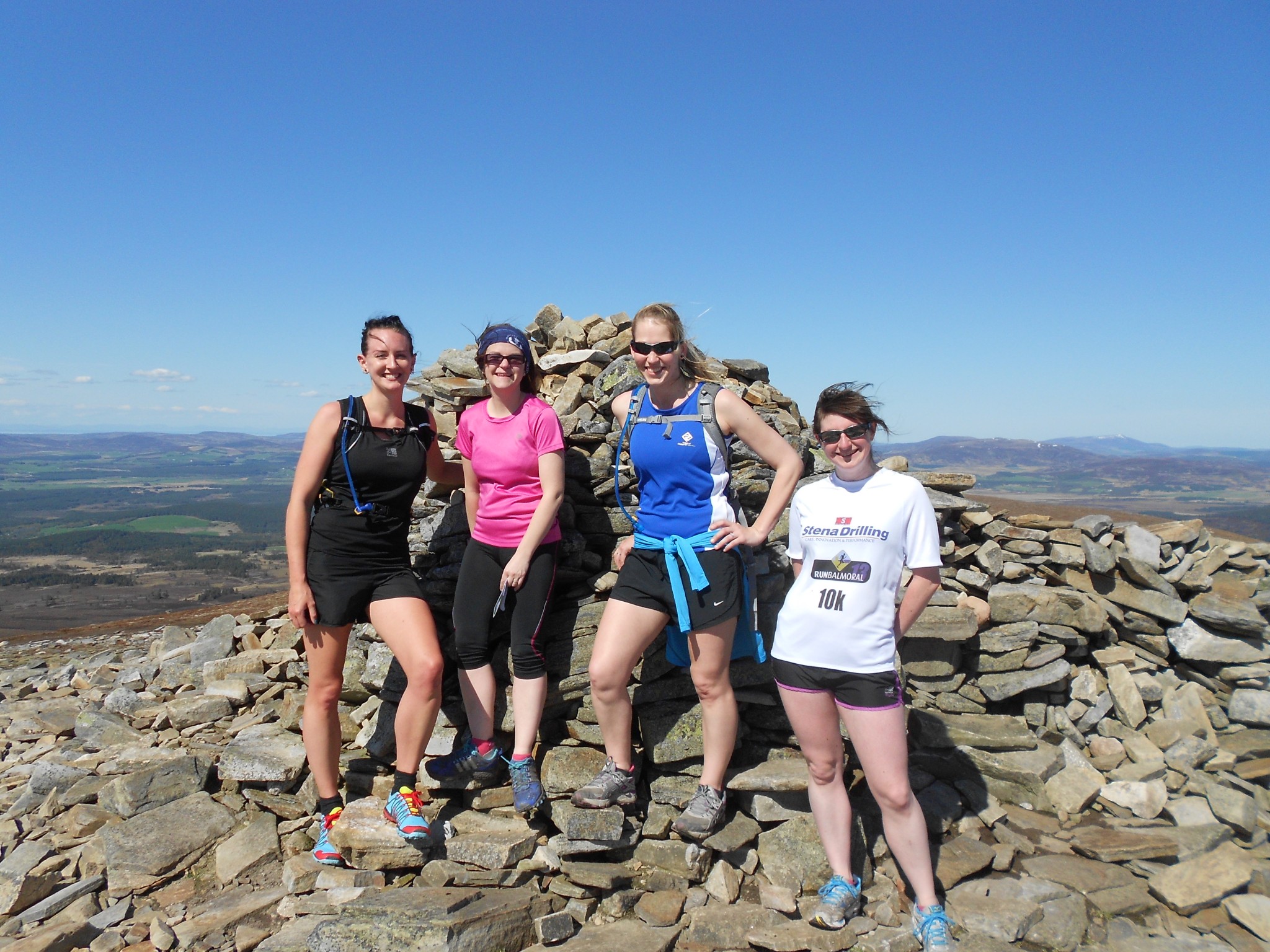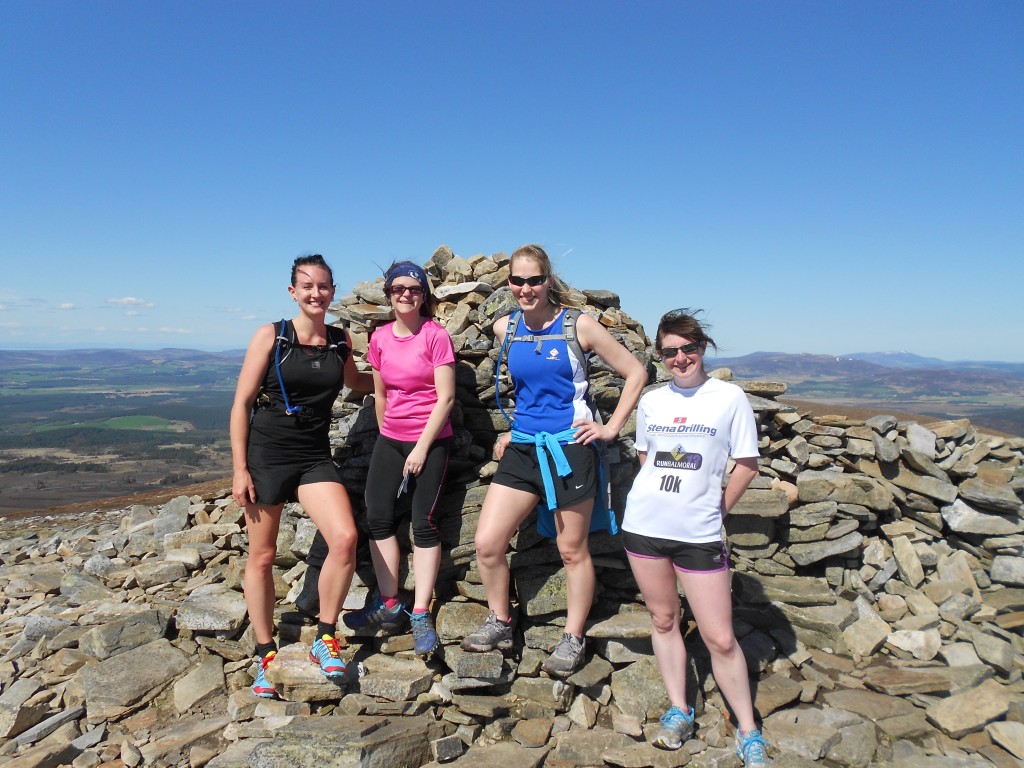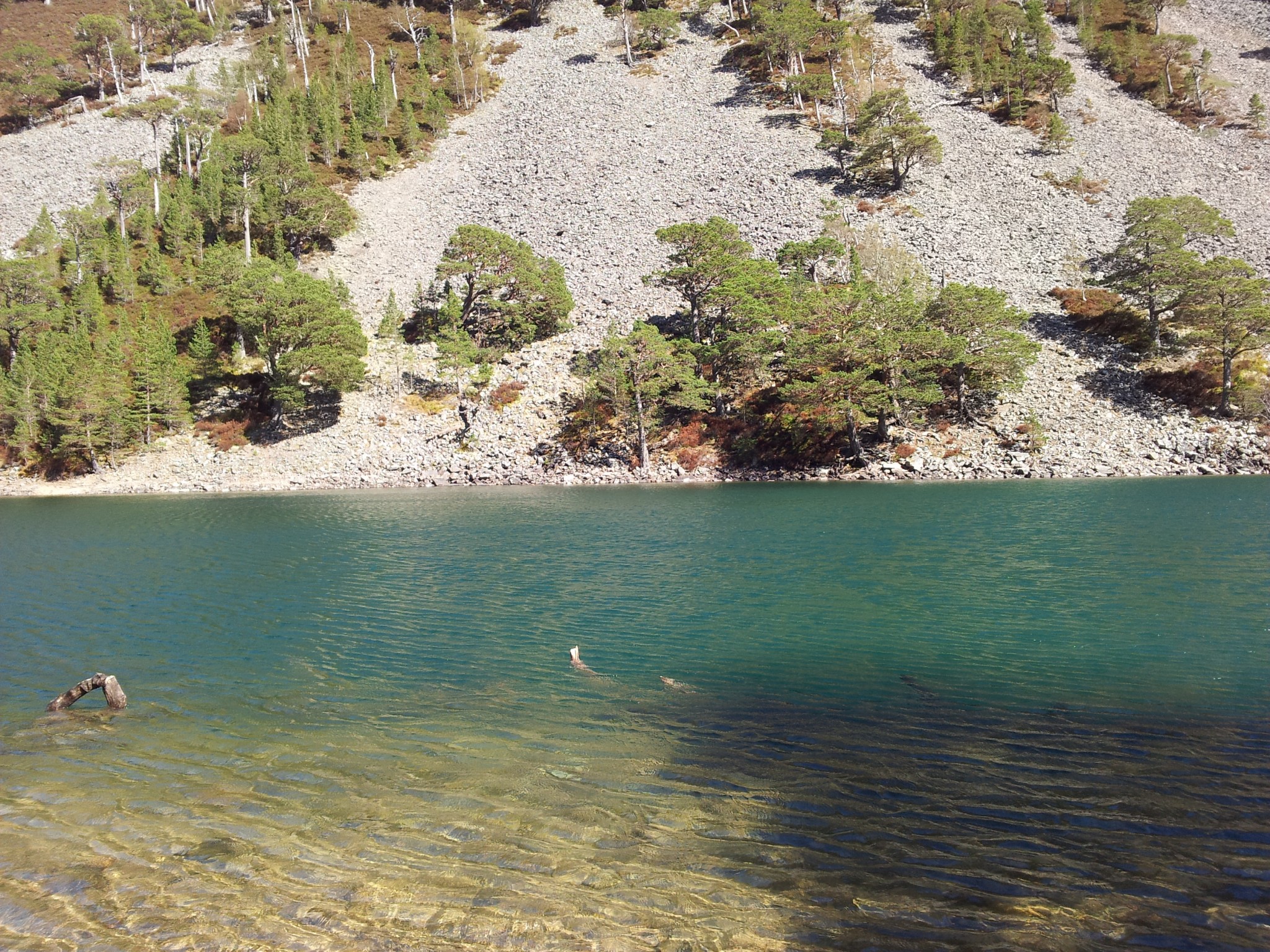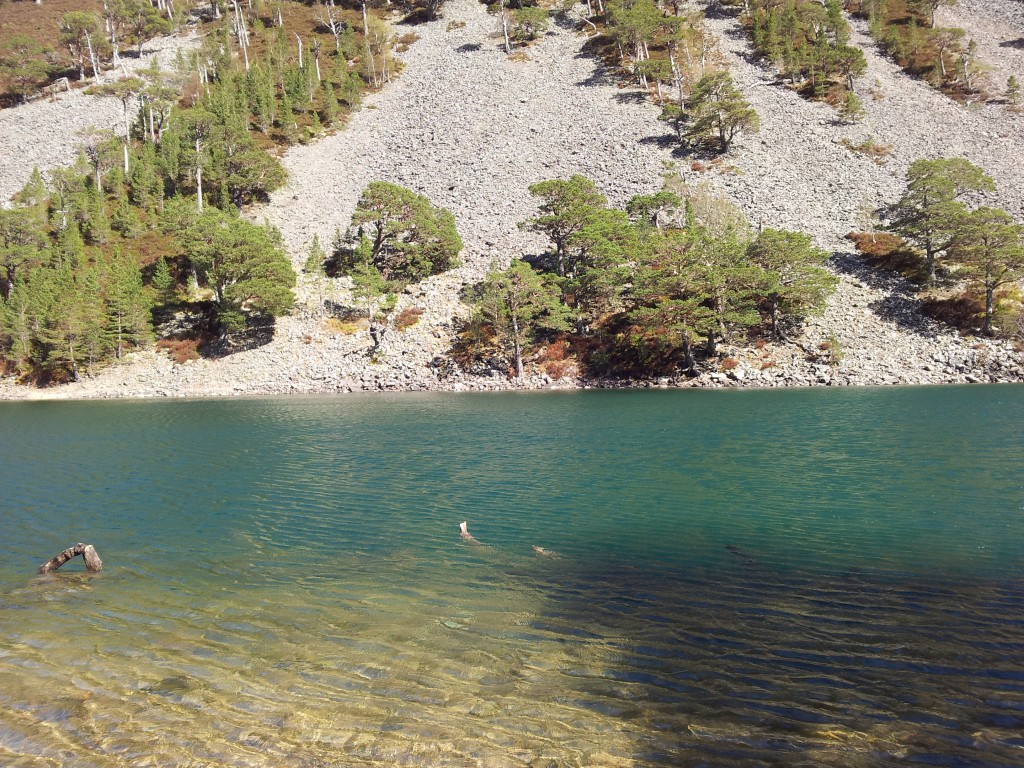 After a quick trip to the shops, we headed back to the campsite and set up our barbecues. You couldn't get camping weather any better than this, we were so lucky! We had a lovely feast of savoury and sweet food, the drinks were flowing and we had sunlight until around 11pm when we were greeted by a full moon and a blanket of stars in a cloudless sky. Perfect. If only I could say as much for my nights sleep. Camping and I are still not the best of friends….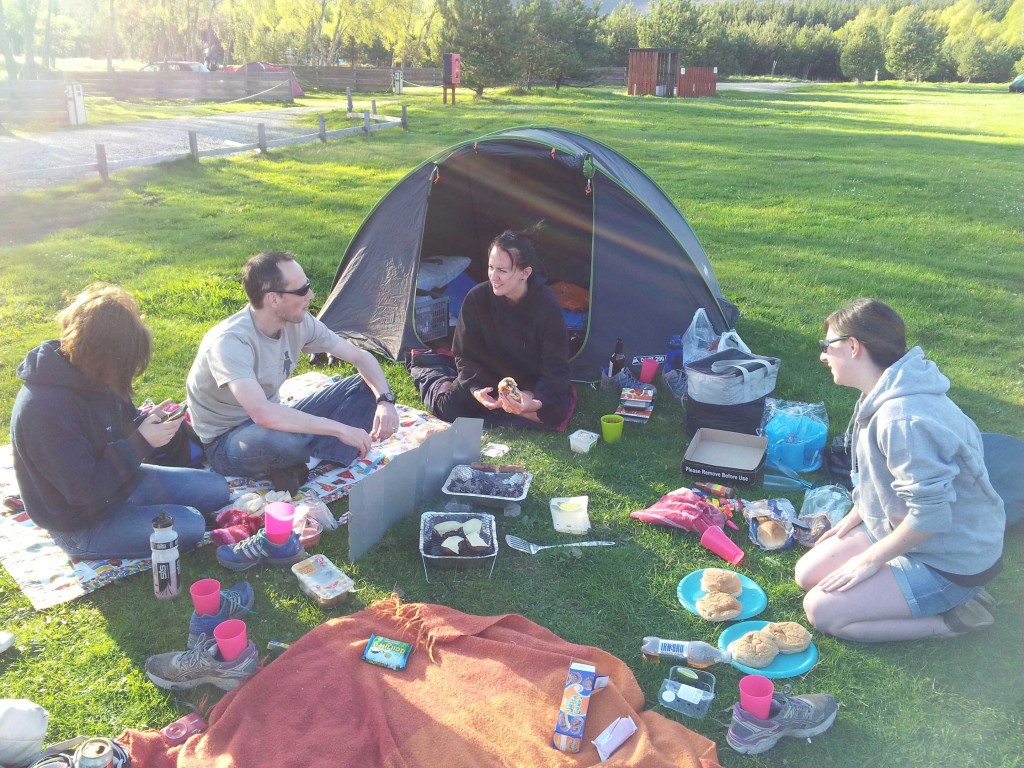 On the Sunday we were up bright and early to head down to Aviemore for the race against the steam train, which was organised by the Cairngorm Runners and was probably the most enjoyable and fun race I have taken part in. The aim of the game is to beat the steam train back to Aviemore – around 45 minutes to run 4.5 miles miles. We met and registered around 10am we were taken by bus to Aviemore train station. Once at the station we were met by a piper and handed tickets to board the steam train to Boat of Garten.
The train was packed with excited runners and their friends and family, and once at Boat of Garten we all hoped off the train to assemble a few hundred metres down the road in the forest. A quick pep talk later and we were on our way – with 45 minutes to go until the train caught up with us back at Aviemore. I wasn't for letting it beat me but with legs still a little achy from the previous day I wasn't sure what pace I'd be able to maintain for the 4.5 mile course. The trail was lovely and flat with just a few ups and downs throughout – such a scenic course with the back drop of the snow topped Cairngorms, and I somehow managed to keep a pretty quick pace up and pelt back to Aviemore in 37:54 (watch time, 38:01 gun time) and had plenty time to collect my medal, water and one of the best goody bags ever (which contained a sports bottle, energy bar, energy gels, North Face lip balm, high 5 tablets and discount vouchers) before the train pulled back into the station. All for £14 – bargain!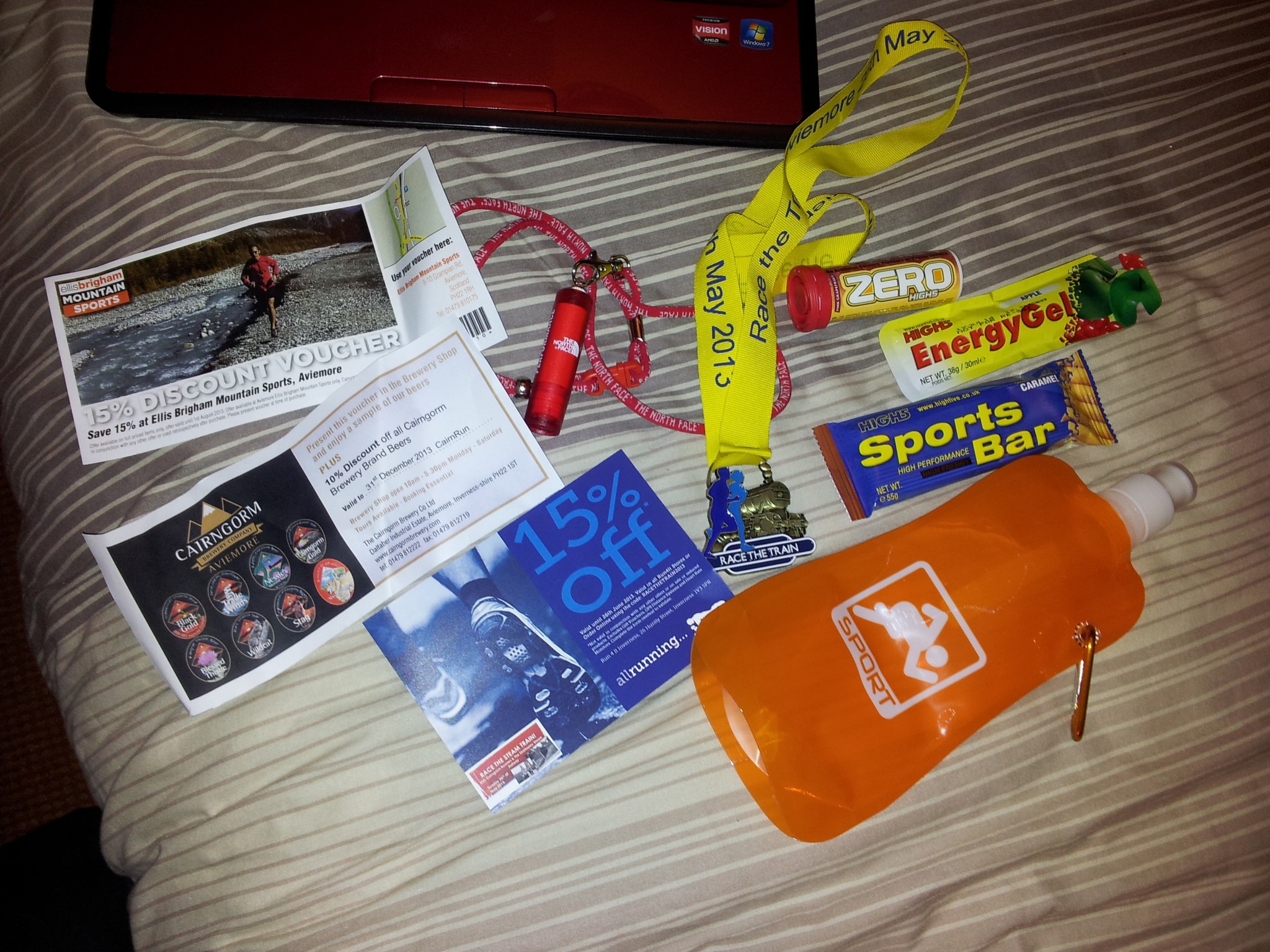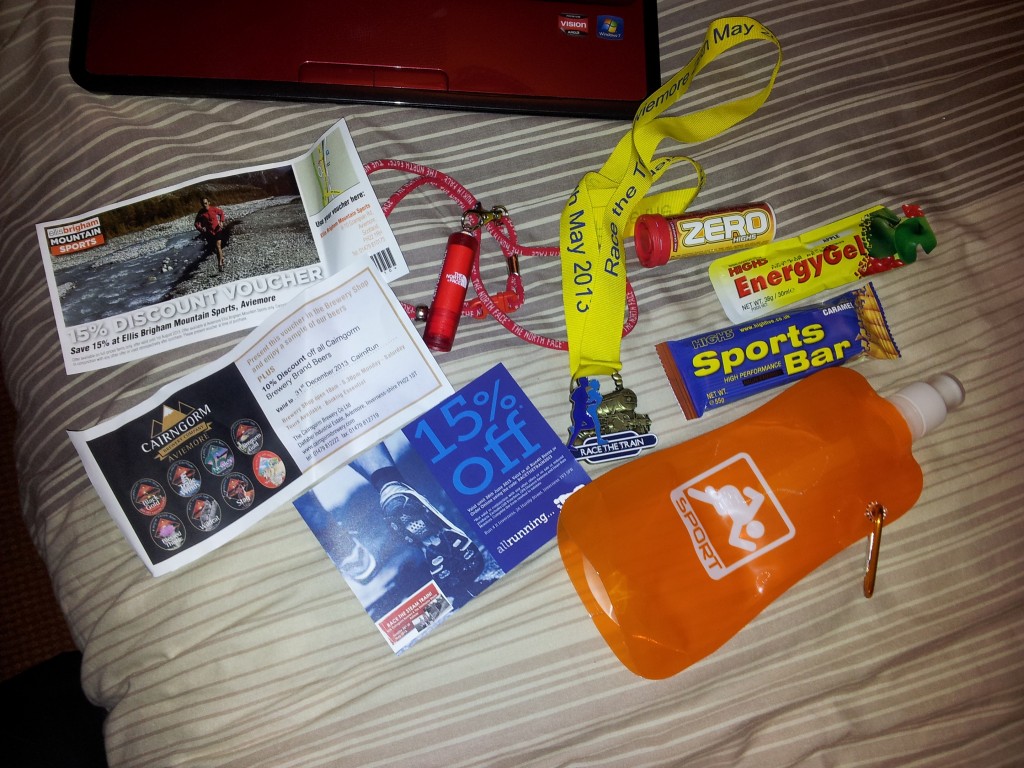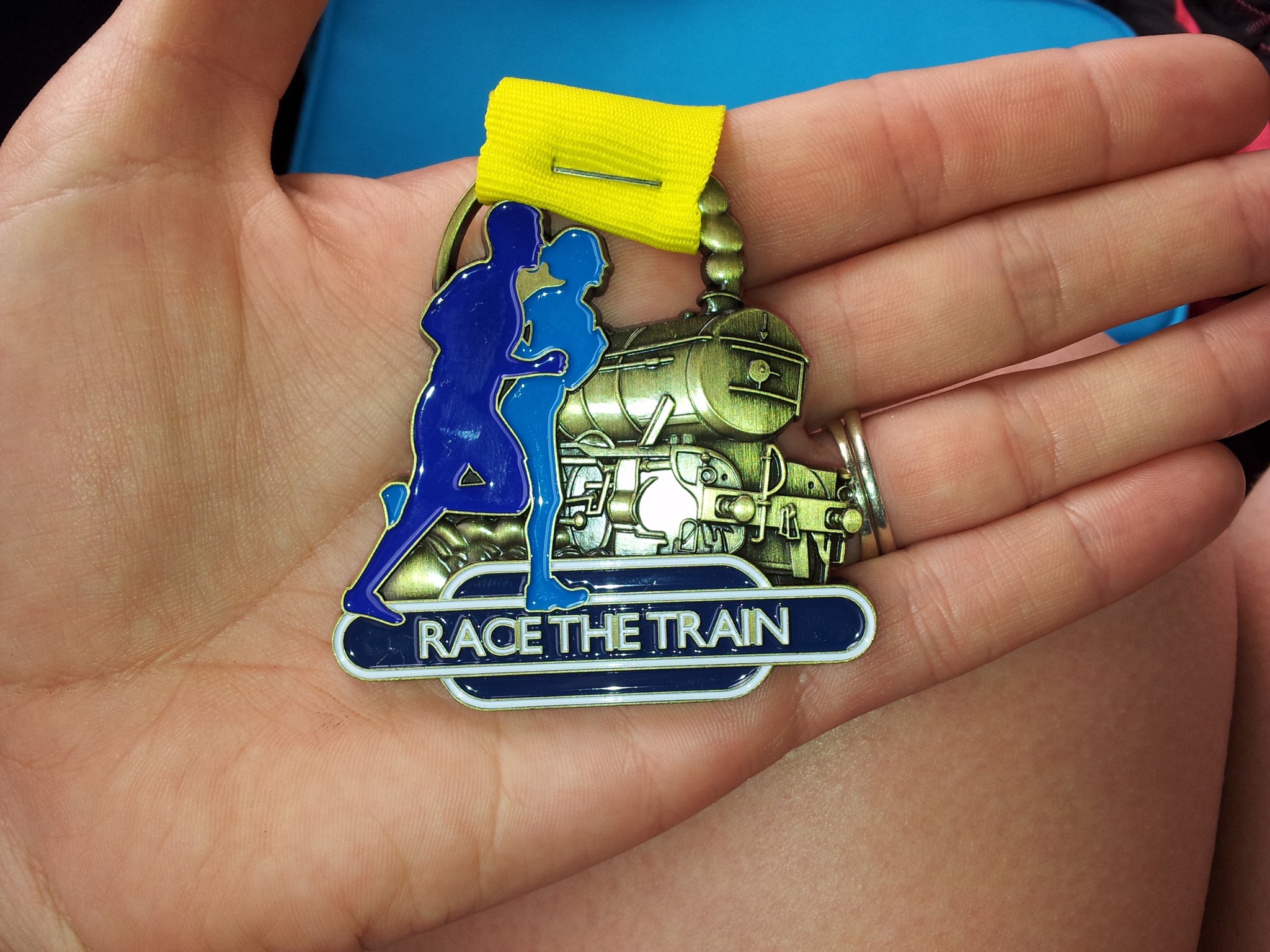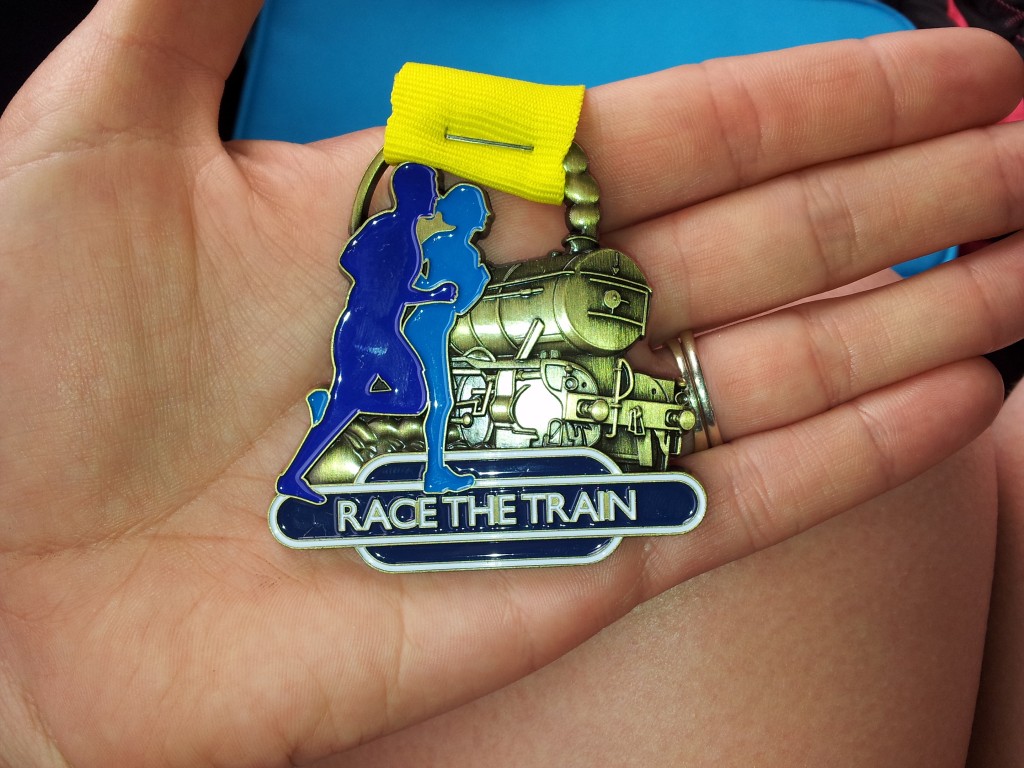 And with that our amazing weekend had to come to an end. The race was over as quickly as it had started and it was time to get back to reality. I'd definitely do this race again and I can't give enough credit and thanks to the organisers and everyone that helped out on the day. The weekend was brilliant and it was so nice to meet new people who are as passionate about running as we are and I hope I get the chance to do something similar again in the future.
However, trying to get my legs to become friends with me again is another story altogether….