DEVILLA 15km 2016
TIME: 1 Hour 16 Minutes 19 Seconds
Overall position 121/518 finishers
7th/84 senior females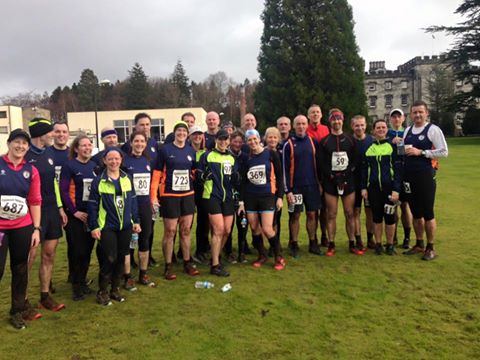 It was time to kick-start the racing season with some muddy fun. Devilla Forest is a beautiful location about 10 minutes along the road from Alloa and the 15km and 5km races hosted by the Carnegie Harriers is usually the first race in the season for many. The weather recently can only be described as abysmal. Last year the weather had been cold and frosty and the frozen ground and mud had led to a few near ankle twists, but this year there was mud. And lots of it.
I'd arrived ridiculously early and after registering, receiving my memento of Schiehallion beer and sorting my kit, I had a cup of coffee and waiting about for everyone else to arrive. The weather on the day was dry but overcast but the past few weeks we had seen nothing but rain, so we knew what lay ahead deep within Devilla Forest. 11am came round and after a few team photos and well wishes, we lined up for a quick race briefing and then we were off. I'd started quite a bit further forward this year with high hopes that if I got through the first muddy section relatively early it wouldn't be too bad, but how wrong could I have been!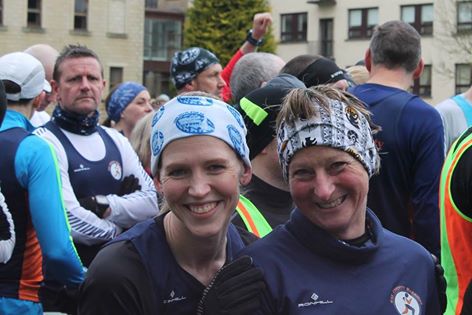 The course winds its way along the road through the grounds of Tulliallan police college before branching off into the forest after a few hundred metres. Straight away we hit the mud and straight away I was ploughing right through it. The field spread out and I still pushed on to try to gain a few places up the field before we entered the first narrow off-road section. The path was already churned up and trying to get by people was near impossible, so I just fell in line until an appropriate overtaking place became available. One poor lad tried a bit too early on to get by a queue of people and ended up tripping and face planting in the bog in front of me. He quickly got up but not after splattering mud everywhere, including all over me and right in my eye so I couldn't quite see where I was going for the next few feet! Mud wiped off and the first of the slippery hills arrived. Like the race in 2014 the paths were so muddy it was hard to get your footing, and only those running in proper mud claw type shoes would have had any luck. By the time I was back on the forest track I felt so zapped of energy that I just couldn't get my rhythm again. I felt like my strides were really short and my breathing slightly erratic – not the way I wanted to be feeling during my first race of the season and after I'd put in so much training through the winter! Soon we were on the downhill section towards the water station and where I'd felt super strong last year. All I wanted this year was to get to the top of this hill without walking and onto the downhill section on the other side! The sharp turn back down towards Peppermill Dam lead us into another mud bath and I teetered down the side of the path trying to avoid sliding down the hill on my bum! The section round the Dam had been changed as the bouncy bridge was now a few broken planks of wood, so an extra 300+ metres had been added on to the course. The only down side of this was that we now had an extra long slog up the incredibly muddy path at the other side, and this was where I actually stood aside to let a few people by as I was slipping all over the place and just getting in the way. Once through the worst of it we got to wash off our trainers in a knee-deep puddle and then it was onto the last 5km of forest track.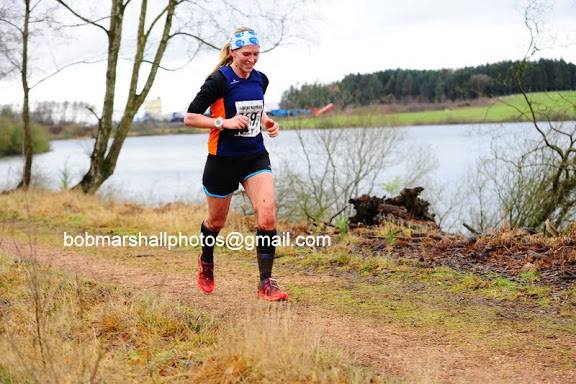 I couldn't have been happier to see the sign that told me I had 1km to go. I just had nothing left and I was a bit disappointed in myself in how quickly I'd been ready to give up. The forest spat me back out onto the road and with a last push I trundled over the line. My time was slightly slower than last year, but the course was around 0.4 of a mile longer, so I'm happy that I ran quicker over all, but not with how I felt when running it. To be fair, I've hardly put in any speed work over the winter months and with the big mile races looming I can't expect to get better at speed and distance, but it's definitely given me the shake I need to keep pushing through the training over the next few months and not to let my head take over when the going gets tough!
Devilla, you won this time but I'll be back for round 4 with some more appropriate shoes (possibly football boots) in 2017!!