The West Highland Way Race 2019
TIME: 22 Hours 15 Minutes and 58 Seconds
OVERALL : 55th/196 finishers
GENDER: 5th/45 female finishers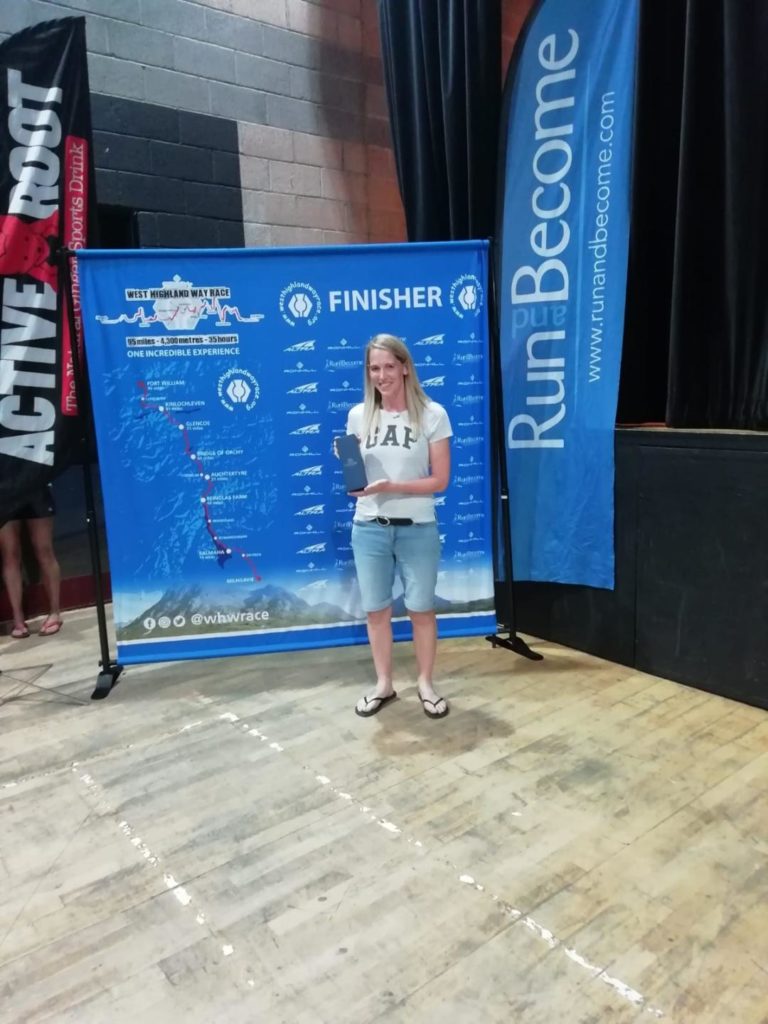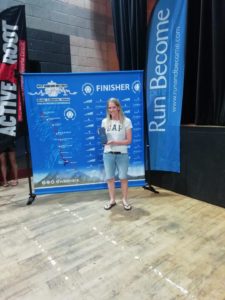 "It's very unusual to have a dream race two years in a row….."
These words still echo in my ears, as first as disappointment but now after a week of reflection I'm finally realising what I put my body through. What is there to be disappointed in?
The build up to this years West Highland Way race again hadn't gone perfectly smoothly, but I'm starting to realise that's probably just the norm? How many of us do have the perfect run up for months of training? After the race last year I was 100% committed I was doing it again and going to try and run it faster. If you look back at my 2018 race report, I pretty much did have the dream race and remember thinking to myself on several occasions I was well overdue a low spell. The wheels did eventually start to fall off as Jo dragged me across Lairig Mor at a pace I never knew was possible having already ran 81 miles, but finishing in just over 21 hours was more than I'd ever imagined I was capable of, and now I wanted to push more…..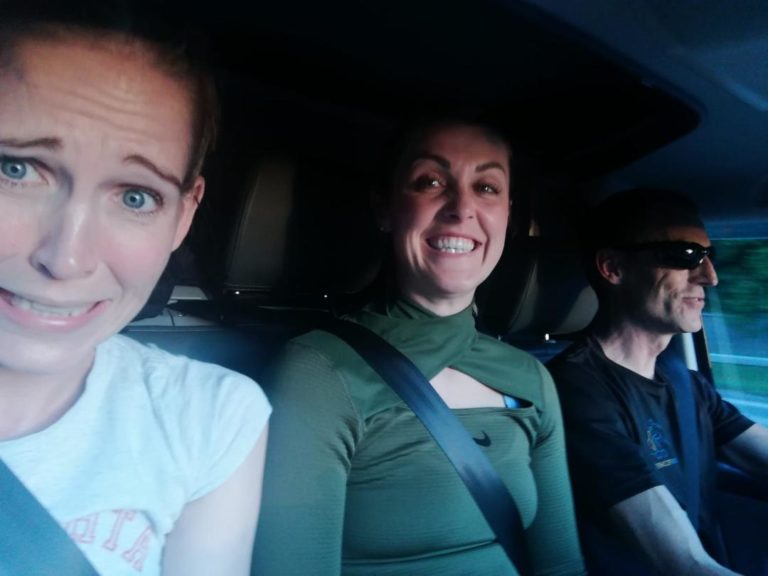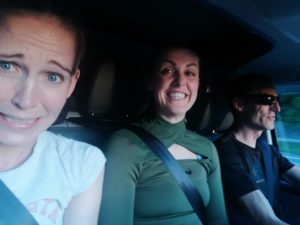 Training never really stopped. After a brilliant race at Glenmore in September I had a bit of down time in October before getting straight back to it in November. Winter training; I absolutely detest it. I get very down in the winter with the lack of sunlight and this has a huge effect on my motivation and training becomes a chore. I tried to stick to the schedule from coach Neil as much as possible, but sometimes running in the dark and the wind and the rain just didn't appeal to me, no matter how much I tried to be inspired by reading other people's social media posts who had just done the same. I'd mostly always sub it for cross training and hit the gym instead, but I openly admit training alone in the winter when it's miserable sucks.
I kept pushing though, cross fit, swimming, spin and I felt fit when my first race of the year came round at the beginning of February. The Falkirk 8 hour Ultra was a success, running a steady race in less than ideal conditions and I somehow blagged the ladies top spot and came 9th overall. Motivation was on the up, dark morning runs became more regular and I'd hit the trails most weekends with some great running friends and some brilliant chat.
The Fling was a bit of a wash out, literally. Running through a storm for the majority of it resulted in some epic sausage fingers, but that can all be read about in my race blog. It wasn't my best performance, but I was happy to bag a PB and finally go sub 10 hours on a pretty miserable day out. 6 weeks to go until the main event, it was time to hit all the sessions hard and make sure my body didn't fall apart in that space of time.
Time to assemble the crew again; if it ain't broke don't fix it, and after success last year I convinced Jo and Neil that I wouldn't be a diva (much) and that crewing was awesome. Didn't give them much opportunity to say no to be honest, but they were both up for it again and we had a brilliant crew meeting to come up with the top tips of "run, eat, don't die, finish". All bases covered there then!
Race day was fast approaching and I started the usual taper panic. Have I done enough? Why does my ankle hurt? Why can't I stop buying things? Do I really need 25 birthday cake GU gels?! And so on. By the Wednesday evening I had created utter chaos in the bedroom with my kit and boxes lying everywhere and my poor husband yet again rolling his eyes and wondering why one person needs so many outfit changes for a race that takes less than a day! After being soaked to the core and verging on hypothermic at the Fling despite wearing a good jacket I wasn't taking any chances. Layers and layers and layers were packed. And a spare layer, just in case…
Friday arrived. I worked until lunch time, had my superb braids done by a colleague and then went home for a sleep. Craig was working nightshift that evening, so still pottering around the house when I got in. I had to kick him out the house to take the dog a long walk while I got a bit of shut eye, but despite having utter silence and a cool dark room I only managed an hour and a half before I lay there staring at the ceiling. Everything was ready but I wasn't heading to Jo's for hours, so once Craig got home I just let him chat at me for a while as I tried to stay calm and keep my mind off what I was actually doing that evening. He headed off to work at about half 4, so after a final lie down, shower and final kit check I packed up the car to head to Fife to meet the crew. Once the van was packed up it was off to Pizza hut to carb up, hydrate and once we had satisfied our hunger (important for the crew to sort their energy levels too!) it was off to Milngavie. Minus my head torch. Thank goodness for organised crews!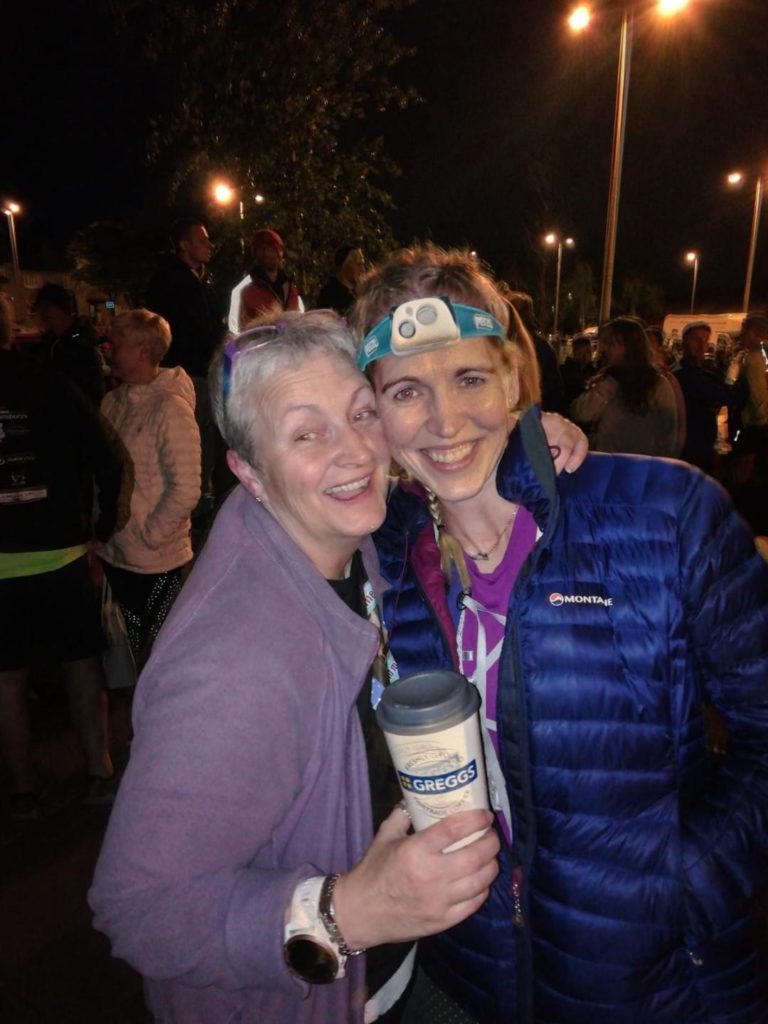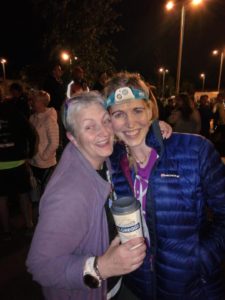 I was nervous. An odd nervousness I get when the task ahead is so huge, and one I think I've only got before the West Highland Way race because of what it means to me. I've ran for longer and covered a bigger distance (Glenmore 2018) but I wasn't nervous before that. I've started other races in the dark and ran on routes I'd never recced before (the Great Glen 2017) but the West Highland Way has a special magic. You'll know what I mean if you've been there, and you'll know what I mean when you get there. I wish I could bottle that feeling.
12pm. I was registered, weighed, chipped and ready to roll. Neil popped the van roof up and I'd bundled myself up top with my sleeping bag to try and get another 40 winks. Jo went off to hand in my drop bags and mingle and Neil busied himself sorting various things and I lay staring at the van canopy, listening to the frequent noisy planes flying overhead, the excited chatter of other runners and crews outside and my heart pounding in my chest. I was ready and time was passing so slowly, roll on 1am!
Race briefing done and those words from Ian stuck with me. I'd love another dream race, but was it too much of an ask? Were the splits out with my capabilities? No point in worrying now. It was 1am, the hooter went and we were chugging up the high street to the sounds of cheering and cowbells from excited crews, friends and family. It was time for the West Highland Way round 3!
In too many races before I have gone out too fast and paid for it later in the race. The West Highland Way race is never one of these races though and I'm very mindful to go out at my own pace, keep an eye on my mile splits and judge my pace by how I'm feeling and how I'm breathing. Especially in the first 10 miles where the path is very flat and runnable! One of the first things I became aware of was how boxed in I felt all the way to Gartness and also how heavy everyone was breathing! I let people pass, fell back behind them into my own pace and reminded myself to drink little and often as it was seriously warm. Easy into Drymen, I switched a bottle with the crew and noticed I'd drank quite a bit already as it was really quite clammy. The chosen cereal bar was like eating a bit of chalk and I had to drink after every bite to make it edible. They will not be going on the fuel list ever again! I walked/ran the hill out of Drymen and decided now would be a good time to dig out the ipod. Just as I started singing to myself on the way up the hill I heard a very recognisable voice behind me declaring "you cannot be serious!". Ahhh, my race nemesis Clark Findlay, who else would it be at this exact spot we keep passing?! We had a brief chat but I'd already been planning a toilet stop for a while, so pushed him on and hoped I would see him for some good chat at a later stage in the race.
Up through Garadhban Forest and with the first light of the day fast approaching I decided to ditch my head torch and try and quell the nasty headache I had felt coming on. Moving towards Conic I was feeling OK, but I felt on the verge of and energy slump and knew I needed to eat if I wanted to keep moving at a decent pace. Marching up Conic I got talking to someone (sorry, I can't remember your name!) which took my mind of my already churning stomach. As I pushed to the top I sent the team a text to tell them I was on my way down and noticed it was much the same time as I'd got there last year. Not too bad a start, but this horrible feeling had to stop if I wanted to enjoy my day. My ascent companion wished me well and I carefully skipped my way over the rocks down to Balmaha and met Jo just outside the checkpoint. I dibbed in and was kept moving through the checkpoint with various fuel substances thrust at me. Porridge – oh it was a no no and got spat straight back out, to the amusement of other crews (sorry, I have class normally!), OJ – always a winner for me and got devoured, coffee – a few mouthfuls, and with a pain au chocolat shoved in my hand and a few gels and chews for the way tucked in my pockets, I was out of the checkpoint and on my way to Rowardennan. I felt warm and not 100% comfortable, but this was my favourite section and I was going to enjoy it.
The stairs up felt tough and my legs felt empty. I slowed myself to an easy walk and slowly chewed the pain au choclat, which is normally my running staple food but felt like a mission to eat today. After an easy run along the first part of the Loch side, a toot from the crew in the van and the chance to rinse my hands and ditch the pain au chocolat at Milarrochy Bay, I felt slightly more alive and pushed on along the winding trails, catching up and chatting with whoever was near me. This was the first I noticed I was sick of my own company and feeling quite lonely on the trails. I could talk the hind legs off a donkey and love whiling away the hours on the trails chatting to my friends. Now that the race had spread out and I wasn't really running at the same pace as anyone around me for very long, I felt in desperate need of some chat! Not long until I saw the crew, so I dug deep, pushed on and managed to claw back some time and arrive at Rowardennan 4 minutes ahead of my 2018 time.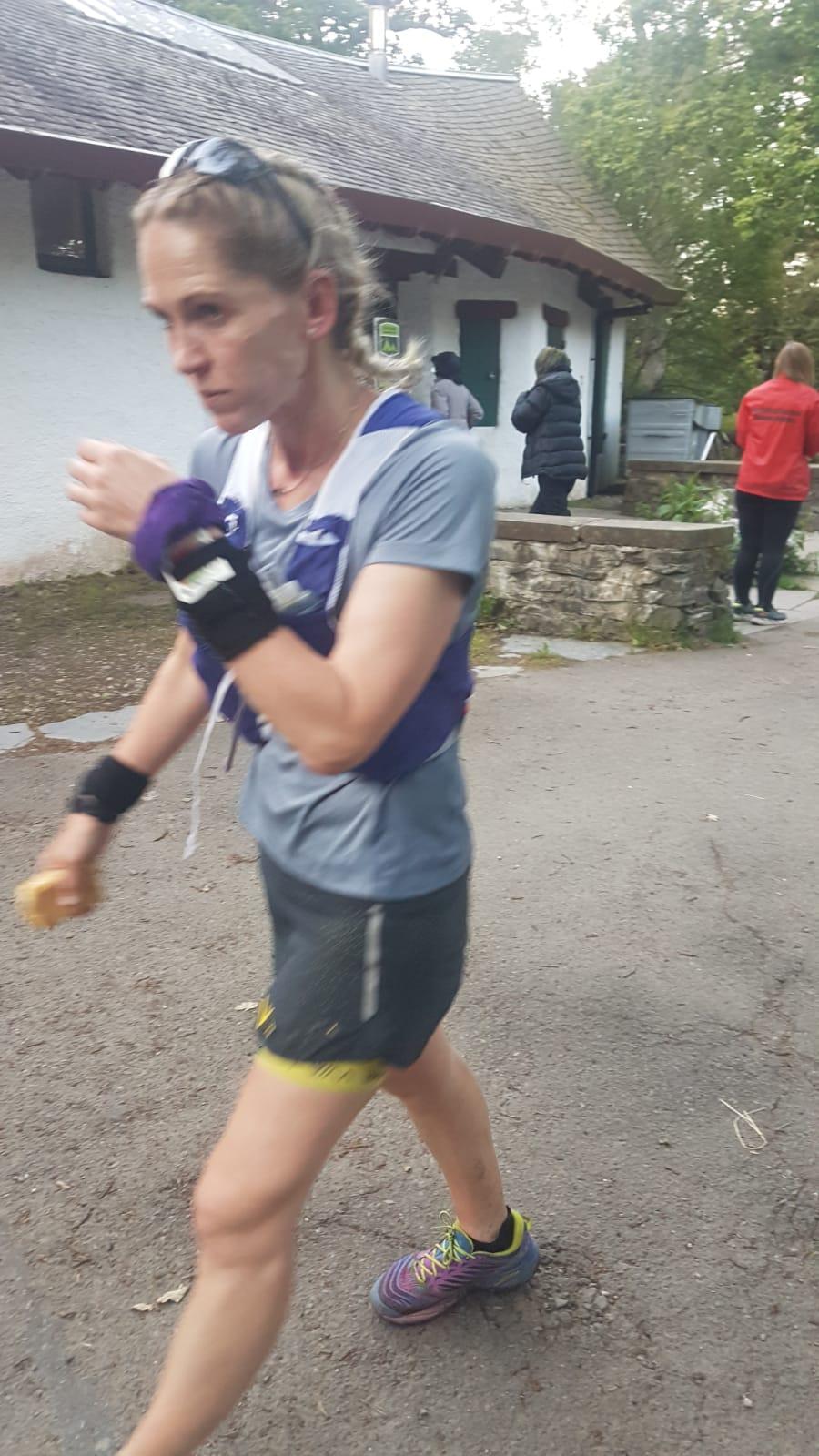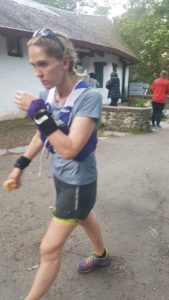 After a quick change of top (things were starting to warm up now!), it was time to try and eat. Unfortunately again everything tasted like chalk and sawdust. The trusty OJ went down a treat and quenched my insatiable thirst, but real food already wasn't appealing to me which is worrying this early in such a long race, but I forced down a bite of a sandwich, some crisps and some sweets. Egle and David were there with their new Aussie puppy Skye, who came over for a quick cuddle, but Jo was on a mission to get me moving and dragged me away from the adorable fluff ball and ushered me out of the checkpoint. Probably more from self preservation from being eaten alive by the midges, but I accepted I was procrastinating and shuffled away towards Inversnaid.
The low road is where my race started to wobble. I suddenly felt very hot and clammy, my head started pounding and I had to stop to dry heave a few times, standing doubled over until I made sure I wasn't going to be sick and then get moving again. Only to stop a few minutes later and throw up everything I'd just eaten at Rowardennan. This cleared my headache for a while and settled my stomach, as there was no longer anything in it, but as we all know to run an ultra you need fuel, and as I was now running on pretty much empty I could feel my batteries draining and my legs slowing.
I arrived at Inversnaid, forced down a few mouthfuls of custard (I'd promised the crew I would), refilled my bottle and shoved the majority of a bag of rhubarb and custard sweets in my mouth. If real food wasn't going to work for me then hopefully a sugar boost would. Shuffling out of the check point I got my phone out and sent Jo a message to let her know I hadn't been feeling too great and was struggling to keep food down, and right on cue I threw up again. Oh it was going to be a long day out! As I pushed along the loch side I realised this was the first time I'd ever ran this in a race (be it the Fling or the WHW) when I was totally on my own. I didn't have anyone's lead to follow and I struggled to find a pace. I caught up with a few guys and as they stood aside to let me pass one said "I always wondered who the people were who could run this!" I certainly didn't feel like I was running, but I guess my pace must have been better than I thought!
I had been leap frogging since the start with Rosie Bell and as we approached the last section of Loch side before the climb to Dario's post she took a tumble. I stopped to check she was OK, and I was so glad she was as we were still quite far from anywhere! It was starting to get really hot my now and my fluid consumption had increased, so I was glad to reach the top of climb and know I was only a few miles out from Beinglas where a nice bottle of cold water awaited me.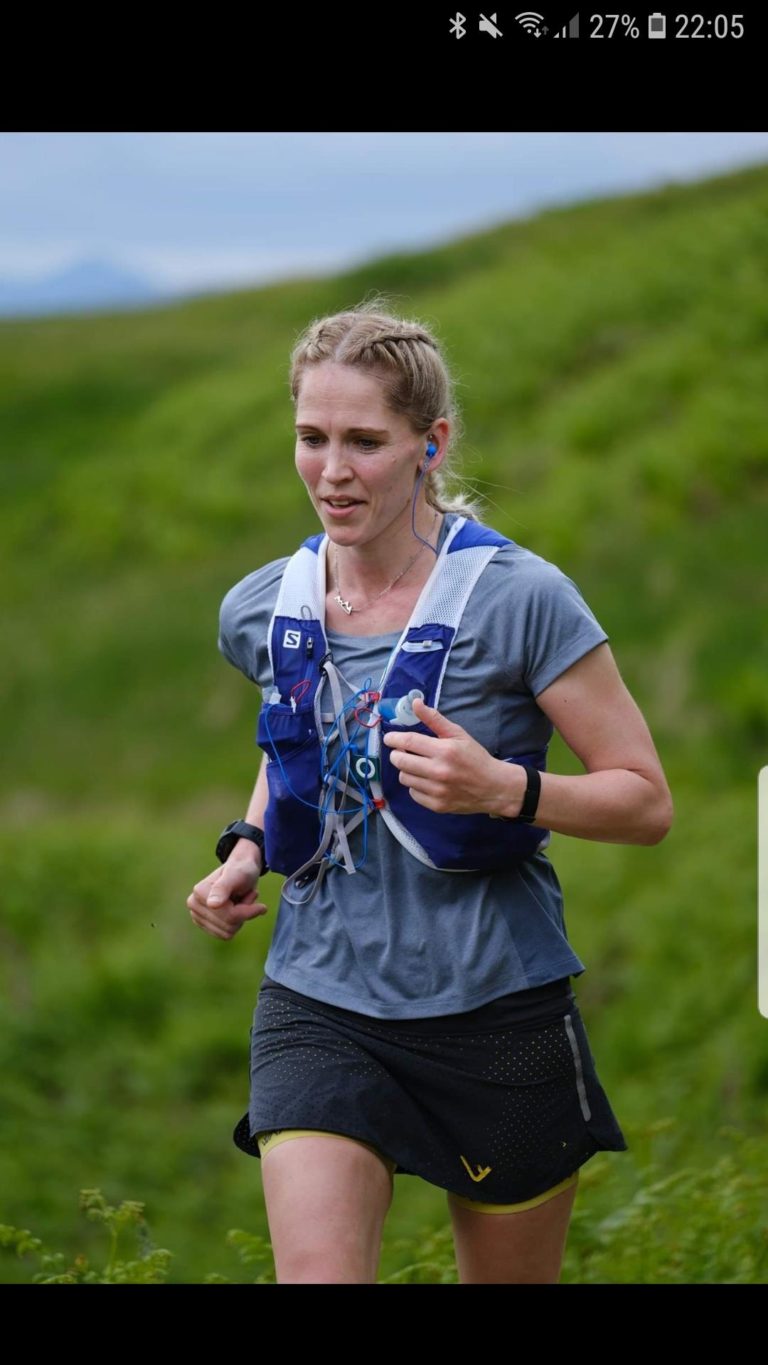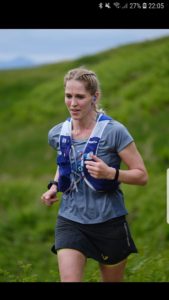 This was the first time Beinglas has been a unsupported check point with drog bags only. I probably went through quicker this time, not having the crew to stop and chat to, but I also think I ate less and after downing a bottle of water and eating a flump I was on my way up the hill climb. I text Jo again to let her know I was on my way and to bring my sunglasses and sun cream to Bogle Glen as we'd just had a really hot spell. The legs were empty and the climb felt like it went on forever and I can see despair written all over my face in the pictures of me passing through this check point. Nothing was staying in, my stomach felt like a washing machine and I was getting frustrated as I felt my time slipping away from me. Nothing else to do but dig deep, keep trying to eat and keep moving forward.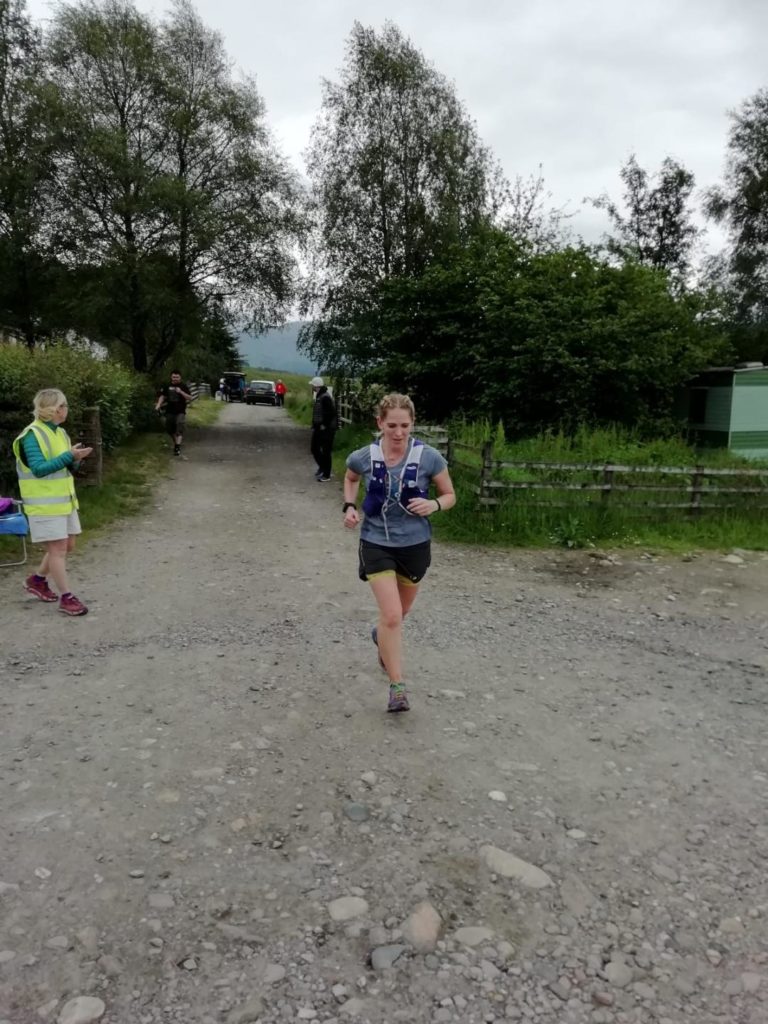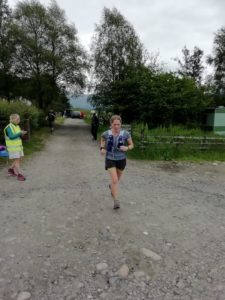 Over the roller coaster and down to Auctertyre I had a good run for about 3 miles as I manged to keep my pace up. The check point was slightly different this year in that we didn't have use of the field, just the car park at the end and this meant support had to arrive using an estimated time period. As I passed through the gates and saw other crews starting to meet their runners I began to panic that Jo and Neil hadn't been allowed access, but as I rounded the corner to dib in I clocked Jo running towards me and relief flooded through me. I was ushered onto the scales, clocked a 2.5kg loss in weight and was promptly bundled into the van to refuel. I won't lie, I felt like crap. I was stuck in a low which had gone on for the best part of 9 hours and I felt like I was wasting energy waiting for it to lift. Where was my euphoric high? I'll take one, no matter how short! Satisfied I'd eaten enough (either that or they were fed up of my whinging) I was out the van and on my way Tyndrum. As I pushed up towards By the Way, Kevin Banks caught up with me for the second or third time in our race so far. We seemed to be running a very similar race, although he'd had low points and come out of them and I was still stuck in one. We ran into Tyndrum together and then he pushed on to meet his support and I met the crew at Brodie's store. Kat had joined the crew for a very short period and it was so nice to see her and baby Jessica, although in my low state I didn't say how much I appreciated her coming! Neil passed me a Solero and Jo walked a bit of the hill with me out of Tyndrum reminding me that it was just my mind playing tricks on me and my race really wasn't going as badly as I thought it was! The Solero was being demolished and as I reached the brow of the hill I felt the urge to push, run 50 walk 50 for as far as I could, until I found myself not counting and just running, over taking a few people and singing loudly to my ipod, jazz hands and all! And then I was at Bridge of Orchy…. How did that just happen? Solero = winner. If only for a brief period of time!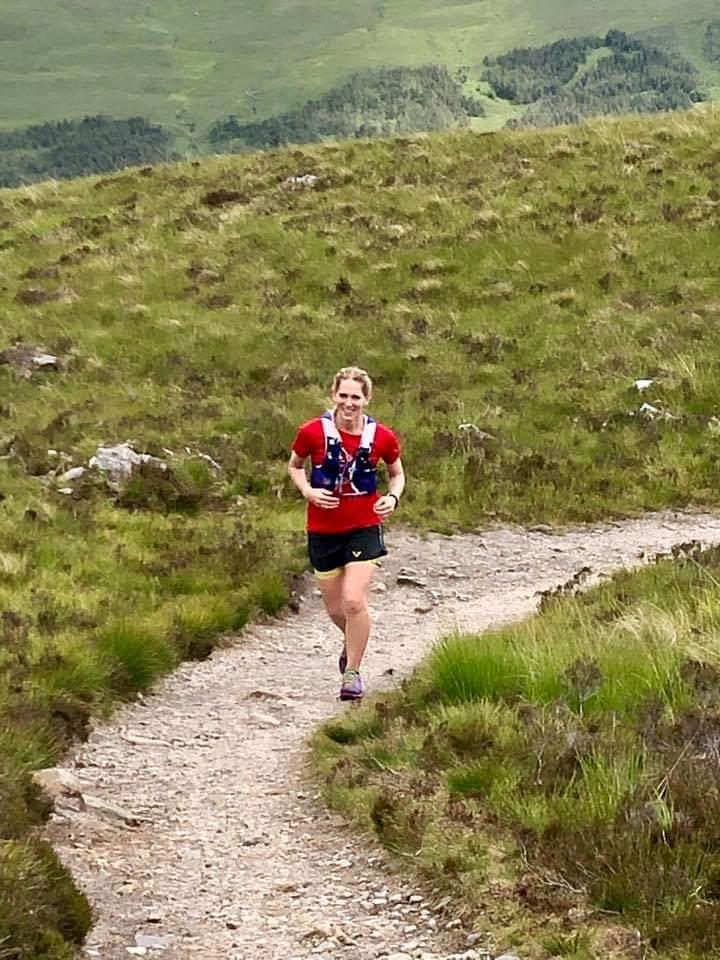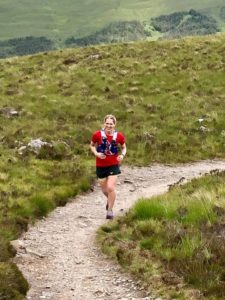 I approached Bridge of Orchy smiling, for the first time in the race! Again we had a walking check point as I was going to meet the crew over the hill anyway, and Jo force fed me sweets and gels and Neil sorted my bottles as we all walked up the hill together. I was told to push and catch Tony who I kept in my sights all the way up and over the hill. I still felt like I had a good pace going as I met the crew at the other side and I quickly brushed my teeth and pushed on along the road to meet the a bit further up towards Victoria Bridge. Running on tarmac 60+ miles into a race isn't fun. You feel the need to push because it's flat and you have no excuse to walk, but in the baking heat with everything starting to hurt lot is really just nasty. I've seen a video of this quick pit stop and I sound like a stroppy teenager. Sorry guys, I really didn't mean it!!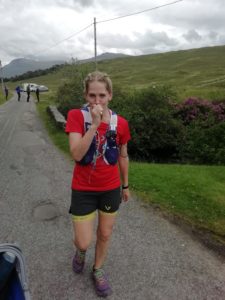 Rannoch moor. Not my favourite place. I started to feel a bit wobbly again and as I reached the top of the climb I felt my stomach churn and I threw up again. Everything I'd just fuelled with at the last few checkpoints was now no longer fuelling me and I felt a cold clammy sweat flush over me. I was still moving but I felt so low, and lucky for me Kevin caught up with me just at the point and told me to chum him and his support runner over to Glencoe. The chat was good and kept me going, and between running with Kevin, Tony catching up with us, David McNeil and his support runner Sue Woods all chumming me at some point, I was in fine spirits by the time I got to Glencoe, albeit very empty. Dibbed in, quick change of top, fuelled by OJ and sprite, hug from my mother-in-law Anne and I was back out the check point. Just as I was leaving someone who had read my blog recognised me and I ran with them at quite the pace at the way over to the other side of Kingshouse. Thanks Bruce and co! I decided I needed some tough love, so I decided to call Craig who asked me if I was running, and when I replied that no, I was walking he told me to listen to Jo's advice and get moving, he'd be at the end of the line when I finished! No sympathy from those closest to me, and to be honest that's just what I needed, as I put my head down and ran all the way to the bottom of the staircase to meet Jo and Neil for a quick top up of sweets and juice before the up and over.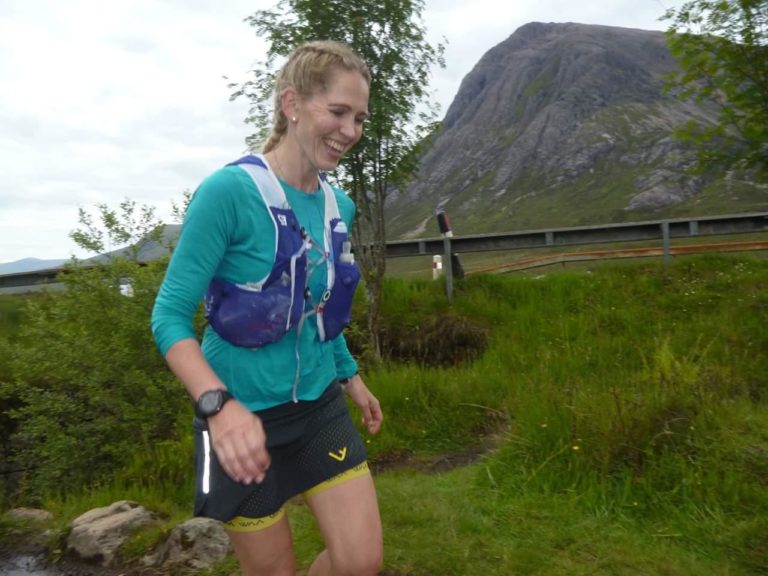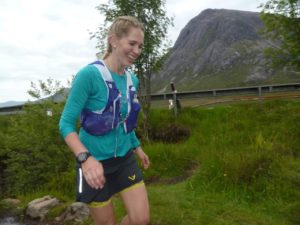 Looking back at this point, I felt good. I'd just seen Bob Allison who took a great picture of me grinning from ear to ear and I was feeling positive when I left the crew or I would have asked Jo to come with me, but everything fell apart so quickly as I climbed the staircase. Bruce told me to lead the way, but even after the first short climb I could feel I was lagging and I told them to push on. My plan was to fall in behind them and follow them up, but I had nothing in my legs and as they pulled away I felt my low come back tenfold and envelop me in a cloud of "I can't", which is not my mantra at all. I was shuffling up the staircase and I felt like I was getting slower and slower. Hikers were passing me and as everyone asked if I was ok I could feel tears were close. As I finally got to the summit my mild headache had turned to an almighty pulsing and I felt I was struggling to see. I got my phone out to text Jo but realised that along with not having a signal I could hardly see my screen and as I shuffled down the other side of the staircase, somewhere I normally love letting the legs go and free wheeling, runner after runner started to pass me. My strength had gone and I felt pathetic. I finally got a message through to Jo and within a minute she had replied and was getting kitted up. I kept trying to push to a run but every footstep vibrated through my head and made me feel sick so I was slowed to a walk for most of the 3 miles down to where I met Jo. As soon as I saw her I burst into tears, even after telling myself I wasn't going to cry. This made her tear up a bit too and after a big hug we shuffled our way down to Kinlochleven, me offloading my tale of woes of the past 5 miles and her reassuring me we'd get this finished. This is why you need a good friend to help crew, as quitting hadn't even crossed my mind (much), and no matter what it took I knew Jo and Neil would get me to that finish line.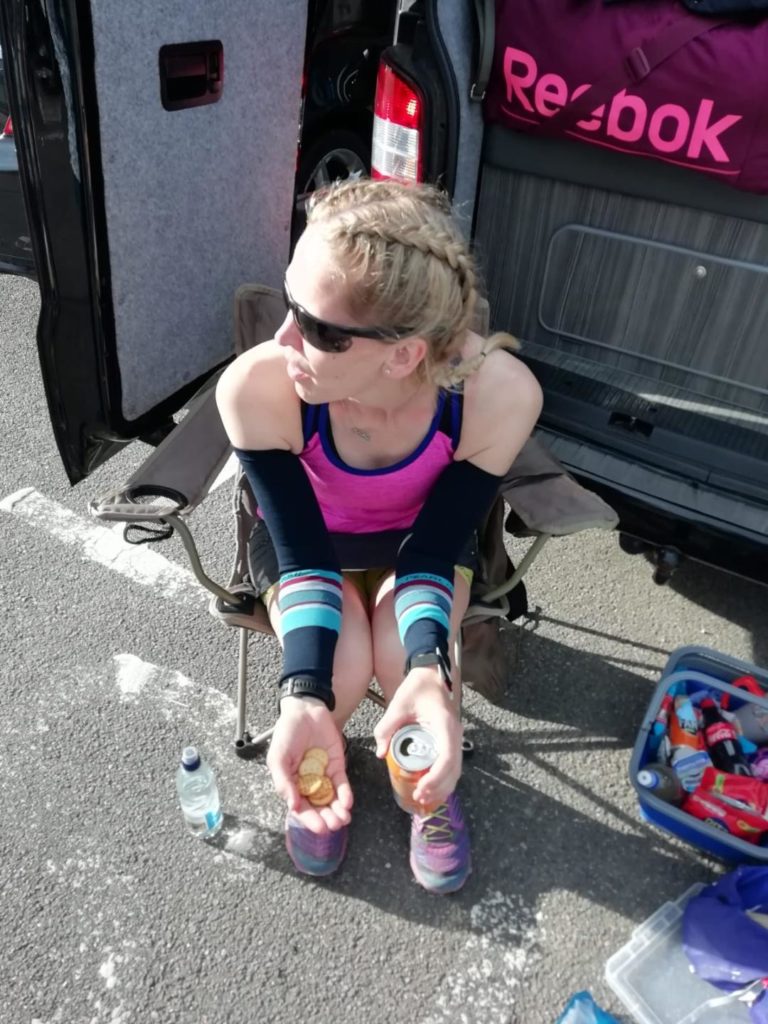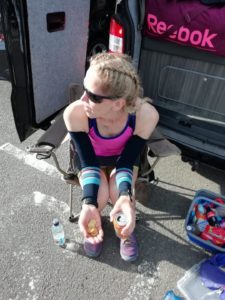 I'd run out of tears by the time I got to KLL and actually had a few smiles for the crew when I got there. I got weighed and after a quick change of clothes we teamed up with Andy Jannetta and his support runner Karen Kennedy. Andy was also having a low point and as the 4 of us trundled out of KLL and up the big hill my spirits lifted a lot. You forget you're not the only one having a tough time out there and it's such a huge demand on your body. Of course there will be low points, but there is always a finish line to get to.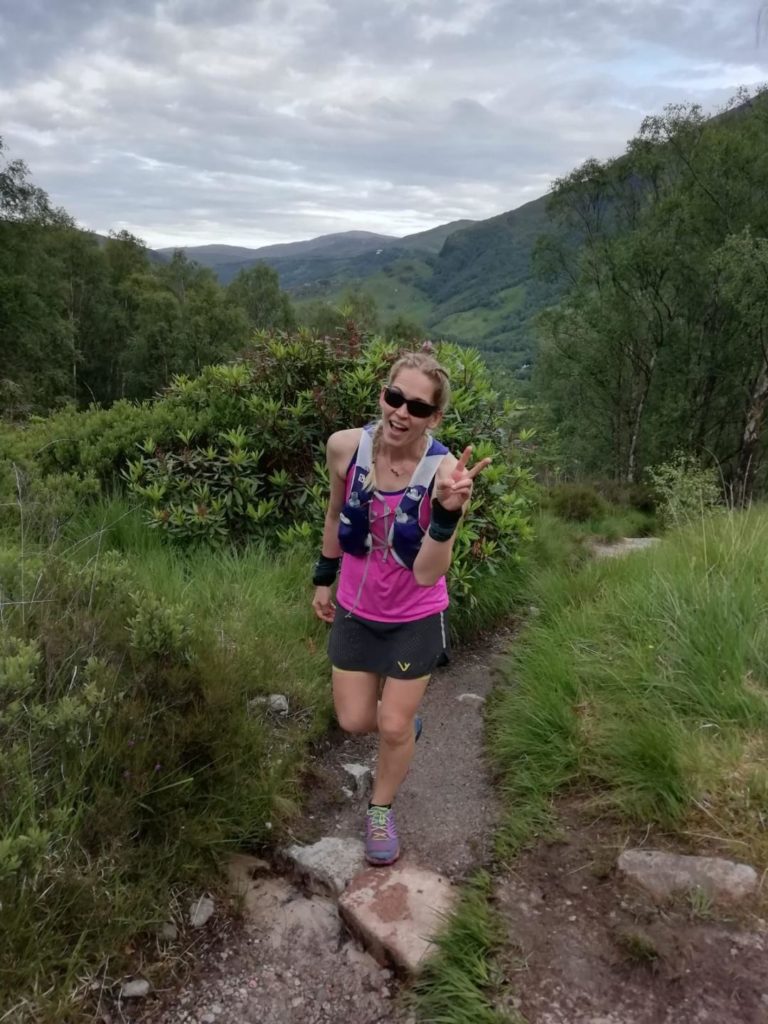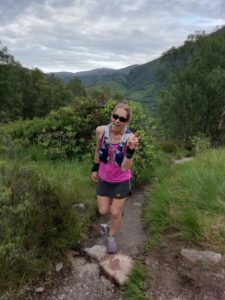 Once on Lairig Mor I felt energised (probably as the sun had dipped a bit and wasn't giving me another crazy headache) and ready to push. Last year Jo had made me run more than I had wanted to along this section, but this year I wanted to push to Lundavra and see how I felt from there. There were stumbles, there were low points, but most of the things I can remember along this section are of singing (badly), reminiscing and laughing. Who would have thought it could have been brought back from such a low at 85+ miles into the race. A quick check in with Jeff and his juice station, a toilet stop and another dry heave, we were off and running all the way down towards the final checkpoint. Approaching Lundavra we heard a holler from Neil who had seen us trundling down the track. Jo responded with a loud yell and I smiled and we leaped rivers and ran up to the last check point. 7 miles to go.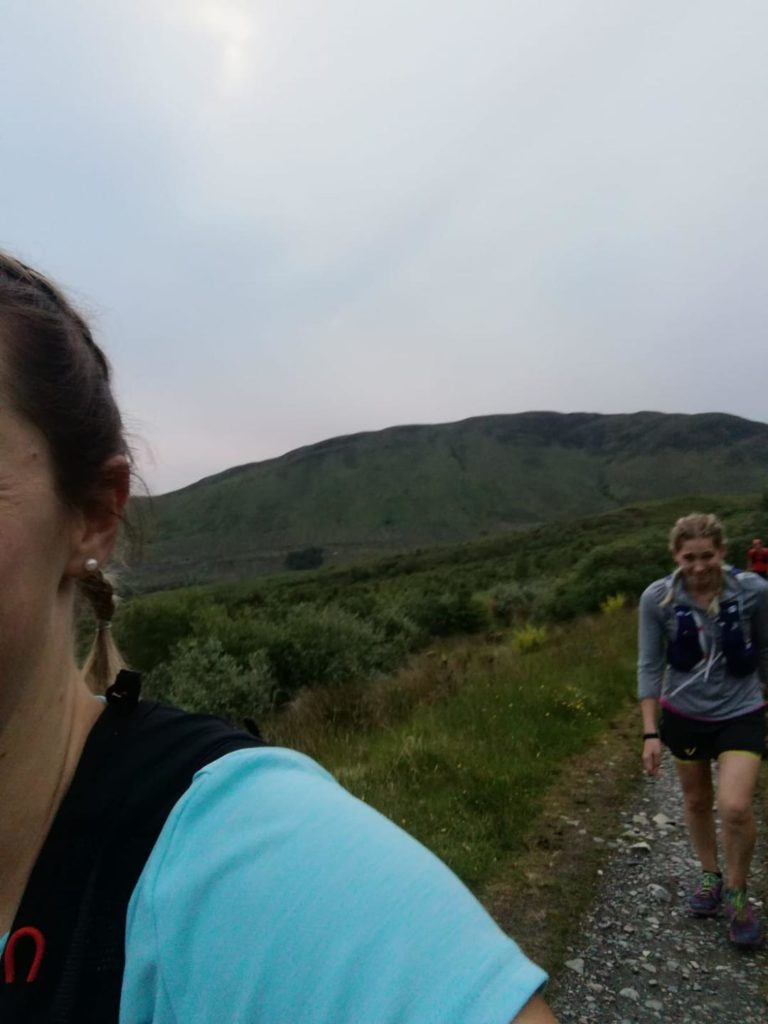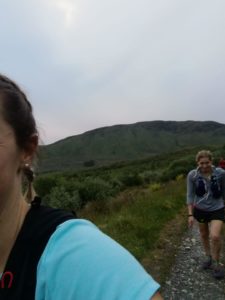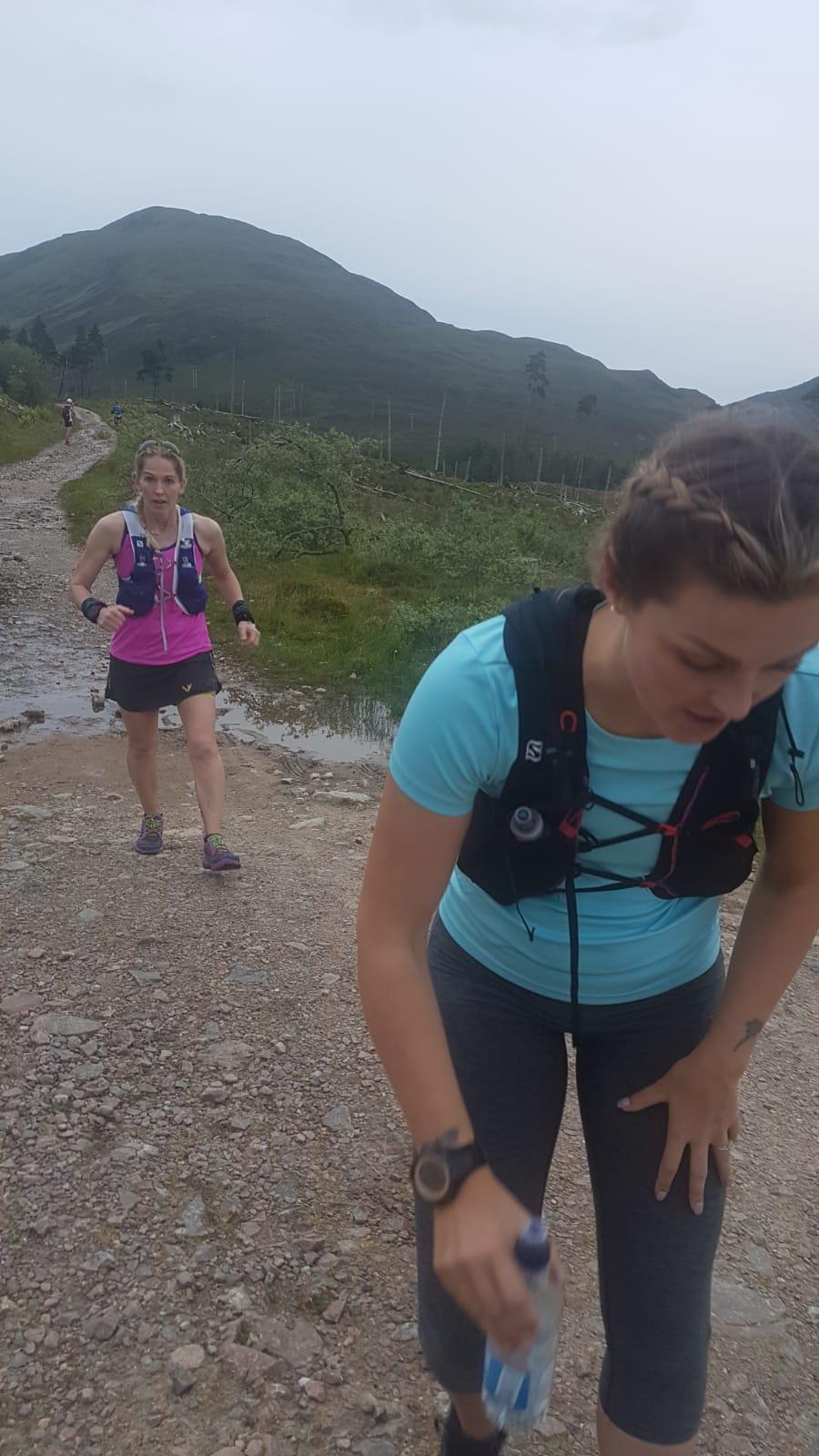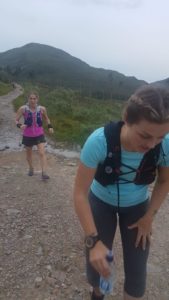 The sun was starting to set and the sky was beautiful. The also meant to midges were coming back out, so we weren't hanging about here! I ditched everything I didn't need from my bag, packed a few more sweet and juice for the last few miles and set off up the hill with Jo. A guy turned to me just after the check point and asked if I was Iona, and said I'd run with one of his club mates at the Fling! He ran along with us and Jo gave him just as much of her enthusiastic coaching as she was giving me (which wasn't going down well with either of us at this point, but he made it more obvious!). The sun set was hitting Ben Nevis and turning it a fabulous bright red and I'm so glad Jo took pictures as I definitely didn't appreciate it at the time. The fire track went on for as long as I remember, which is a long way, but I didn't break my stride all the way down. I was breathing funny and Jo had to keep reminding me to take deep breaths. We hit the road and my legs wobbled, I wasn't sure if I could run it all the way in! I walked a few strides, ran a few strides and continued this all the way until we met Neil and I knew the finish line was really close. We all ran in together, me trying to find the chalk arrows on the road and wondered where they were taking me. We rounded into the car park at the Nevis Centre, Neil ran ahead and I had no idea where I was going. Cue plenty of weaving in and out of pillars! I saw the side door to the centre, Jo disappeared in it and I stopped and questioned if this was the right way until I saw the arch in the middle of the hall and Helen Munro waiting to dib me in for the final time.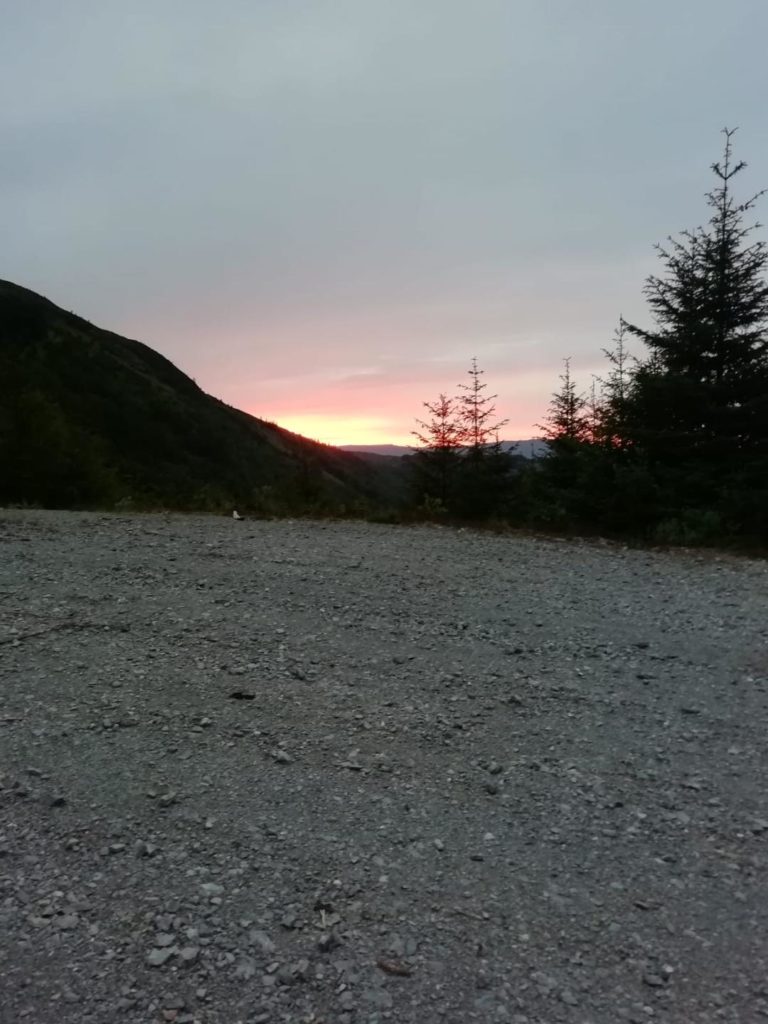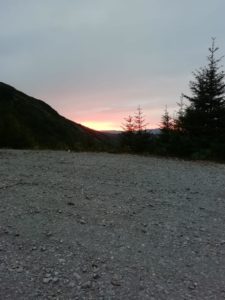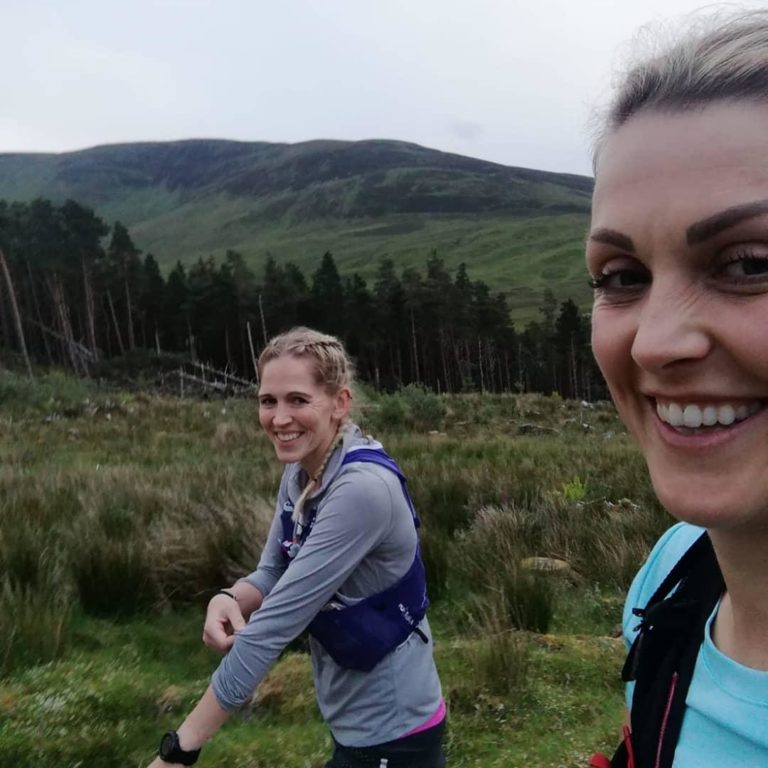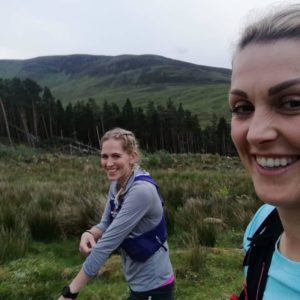 Oh my. It was quite the day out! I've never had a race like it, I hope I never have another race like it and I don't wish a race like it on anyone. I was definitely the deepest I've ever dug in a race and my only saving grace was the fact I knew the course, I knew I could get to the finish no matter if I had to crawl, my crew knew my capabilities and knew I would have been devastated the next day if I'd quit, no matter how much I said I wanted to at the time. As per usual for me I got the chills very quickly after finishing, so turned down the offer of tea and toast and went to throw up once more outside, just to finish off a rather spewey day. Delightful.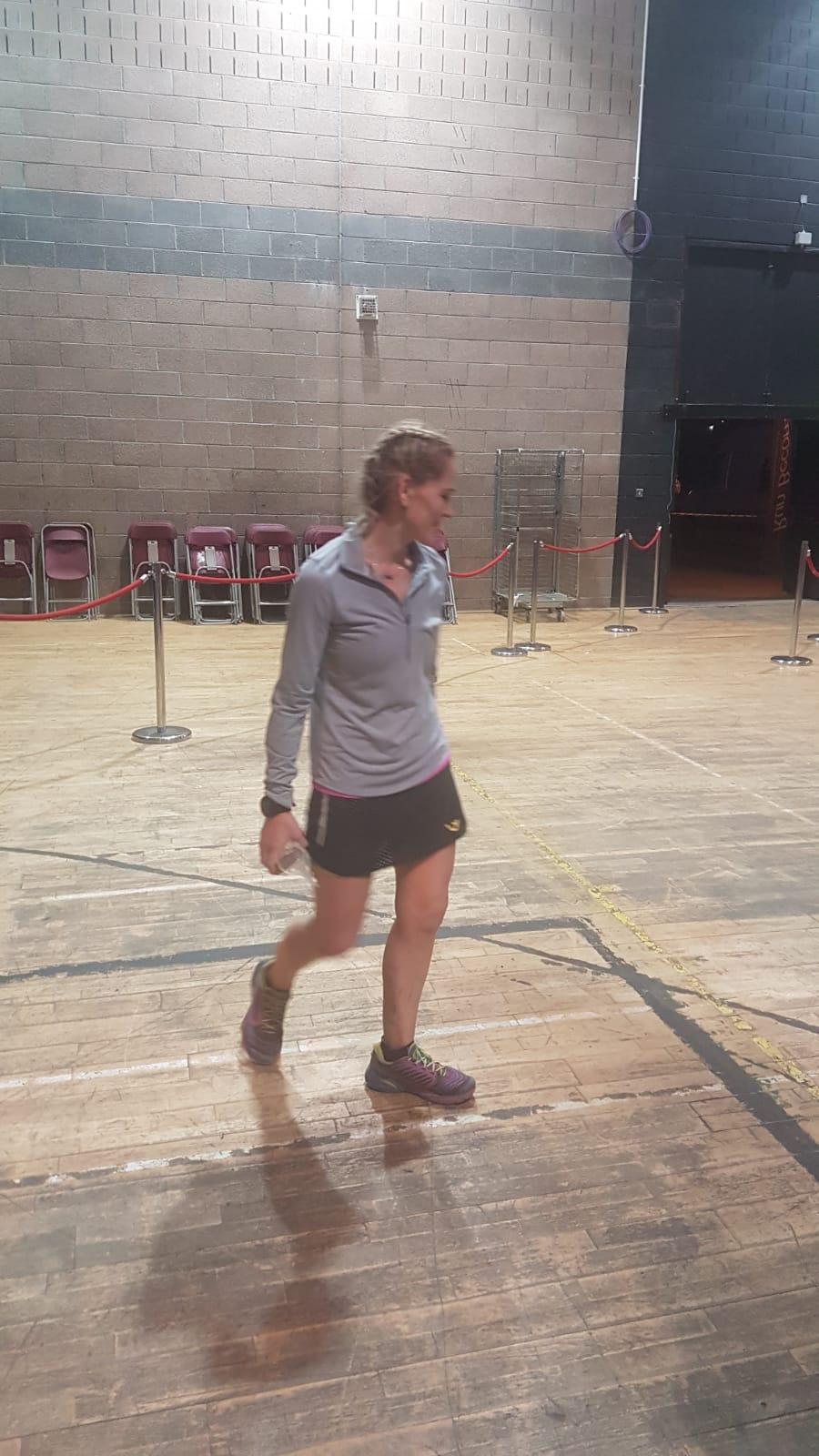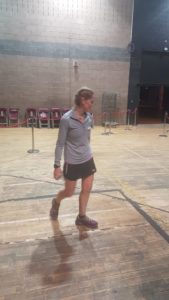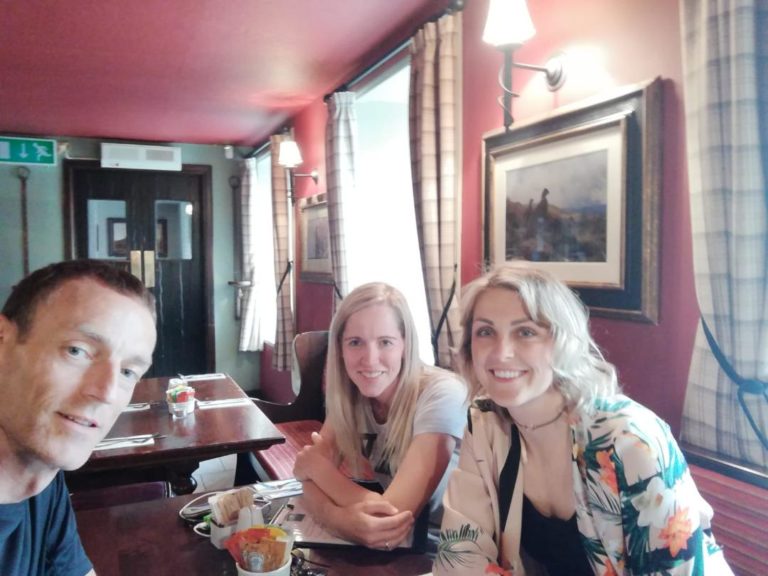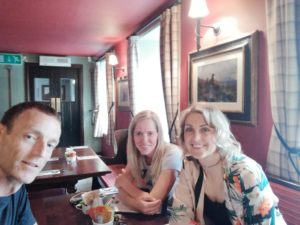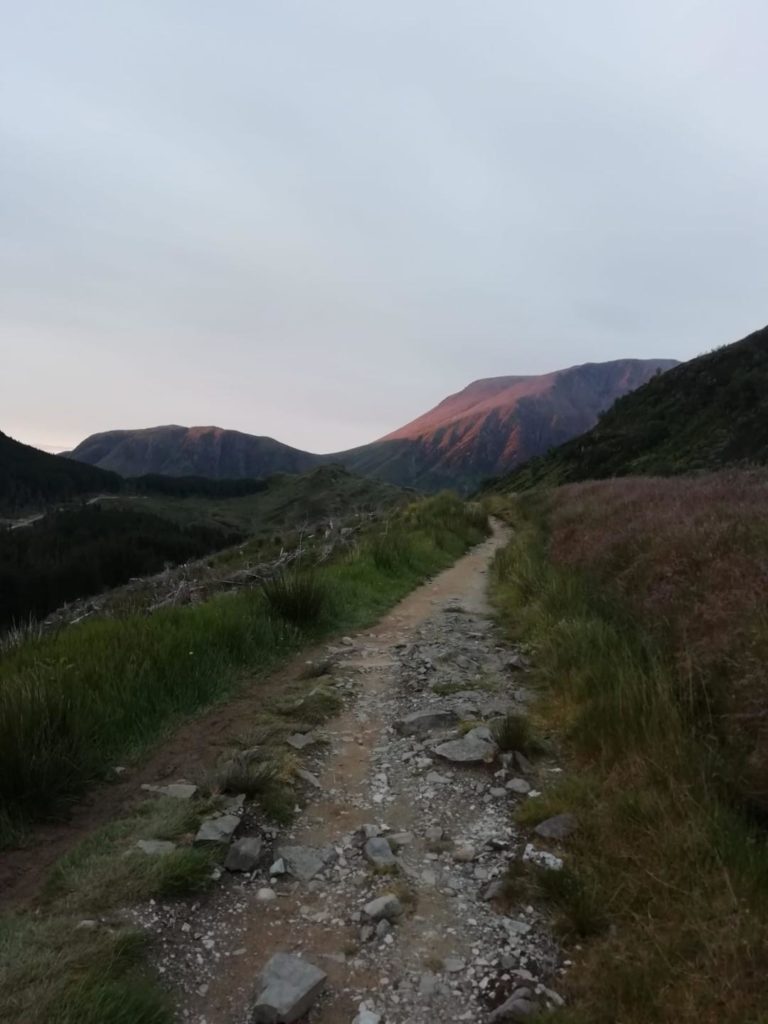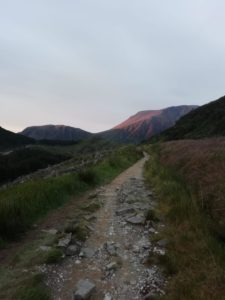 I'm still reflecting on this race and if anything I think it'll make me more determined. If I can dig that deep once, I can do it again (although I'd rather not have to!) and I can only take positives from it. The rest of the weekend went too quickly and returning to the real world and work on Tuesday came too quickly. Covering an aerobics and an aqua class on Wednesday definitely woke my legs up and my Golden girls were astounded by what I'd done. It always gets a good reaction!
Now to ease back into it and figure out what I'm going to knuckle down and train for next.
"You can, you should, and if you're brave enough to start, you will." – Stephen King