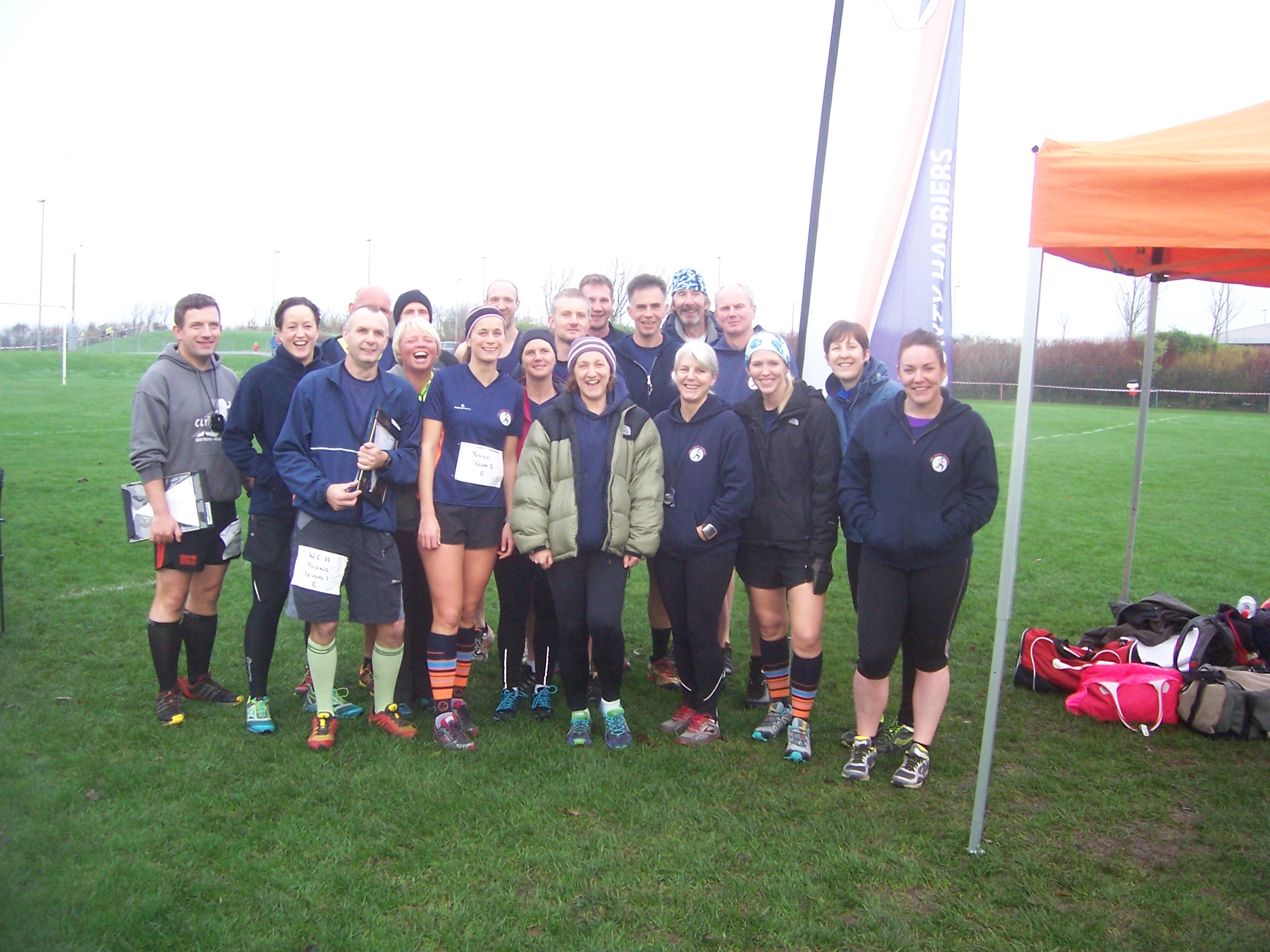 This year the Hartley Cup was held in Anstruther and hosted by the Anster Haddies. After having such an enjoyable time last year, I signed up again to give it a second go and have another fab day out with my running club The Wee County Harriers. This annual event which is hosted and attended by smallish clubs from around Scotland is, just like most other events in the racing calendar, getting more and more popular and the years go on. This year around 52 teams entered, consisting of male, female and mixed teams. Knowing we didn't have enough fast males there to keep up with the competition (and they are FAST!), we decided to enter 3 mixed teams and a ladies team.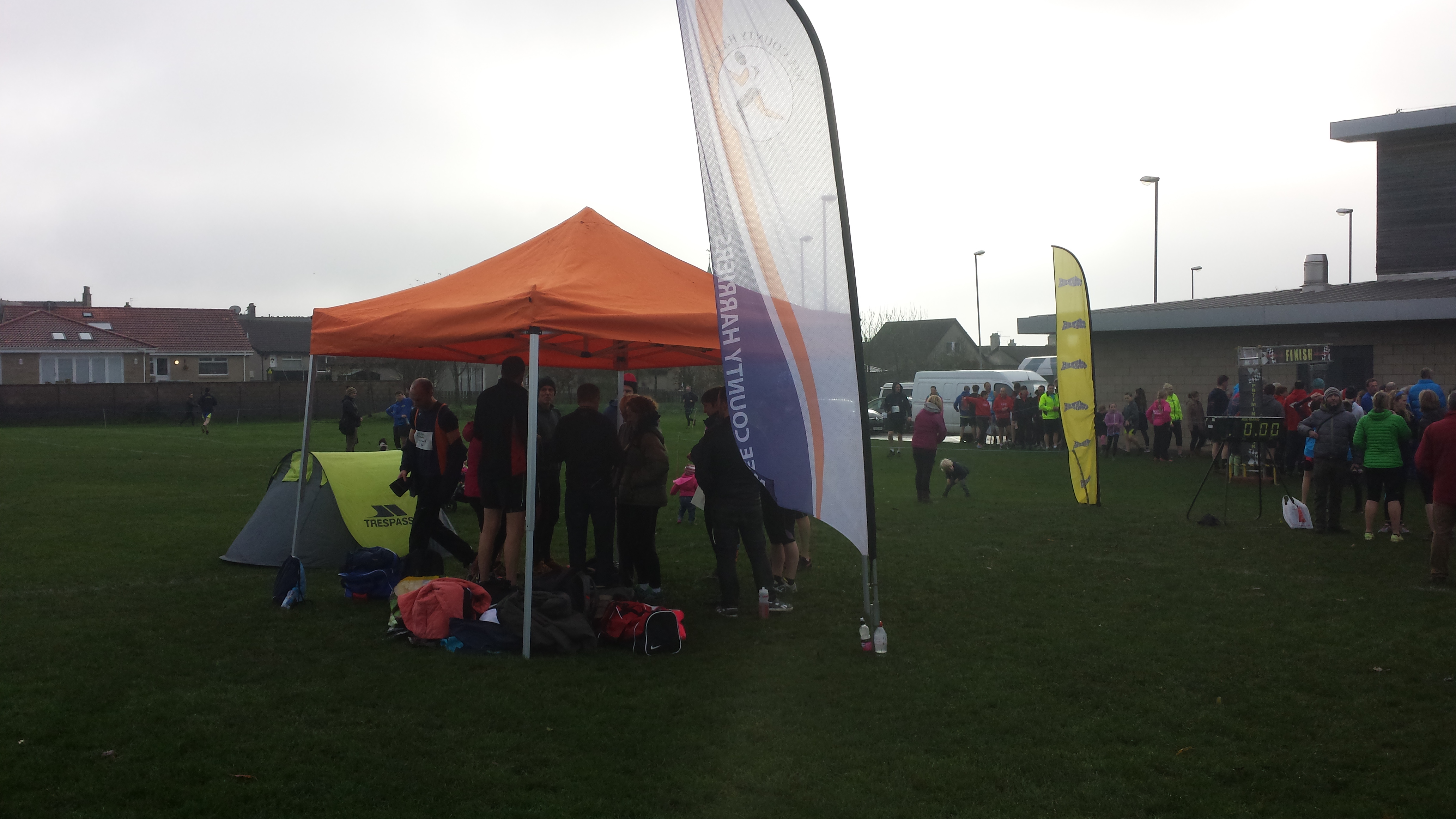 Once again my training for speed has been somewhat minimal to nonexistent of late – with 3 marathons and an ultra under my belt in the last 6 months something had to give! But in saying that I did mange to pull off a mile PB at the last club time trial, taking 20 seconds off my mile time, so being the fastest lady who was going on the day, I somehow ended up on the fastest team, again. Err.. no pressure then! (My team was made up of 4 guys who all have 5:xx minute mile times and me with my pb sitting at 6:25 on the flat. I was well and truly out of my depth!)
Last year our first mixed team had placed 3rd over all but this year there were a lot more teams and runners so we had no idea of the level of competition. The course this year was the perfect cross county course – wet grass, mud and a few steep ups and downs. The route was just over a mile long and was mostly on grass playing fields, going around the perimeter of a pitch, looping back the way you came in, then going around another field, over a hill and across a car park then across the grass which had a few hidden ditches, up a concrete slope and into yet another field which we again ran the perimeter of and then back down a super steep grass hill that catapulted you back to the start line. With there being so many of us, the start was staggered into the men starting first, followed a minute later by the ladies followed another minute later by the mixed teams.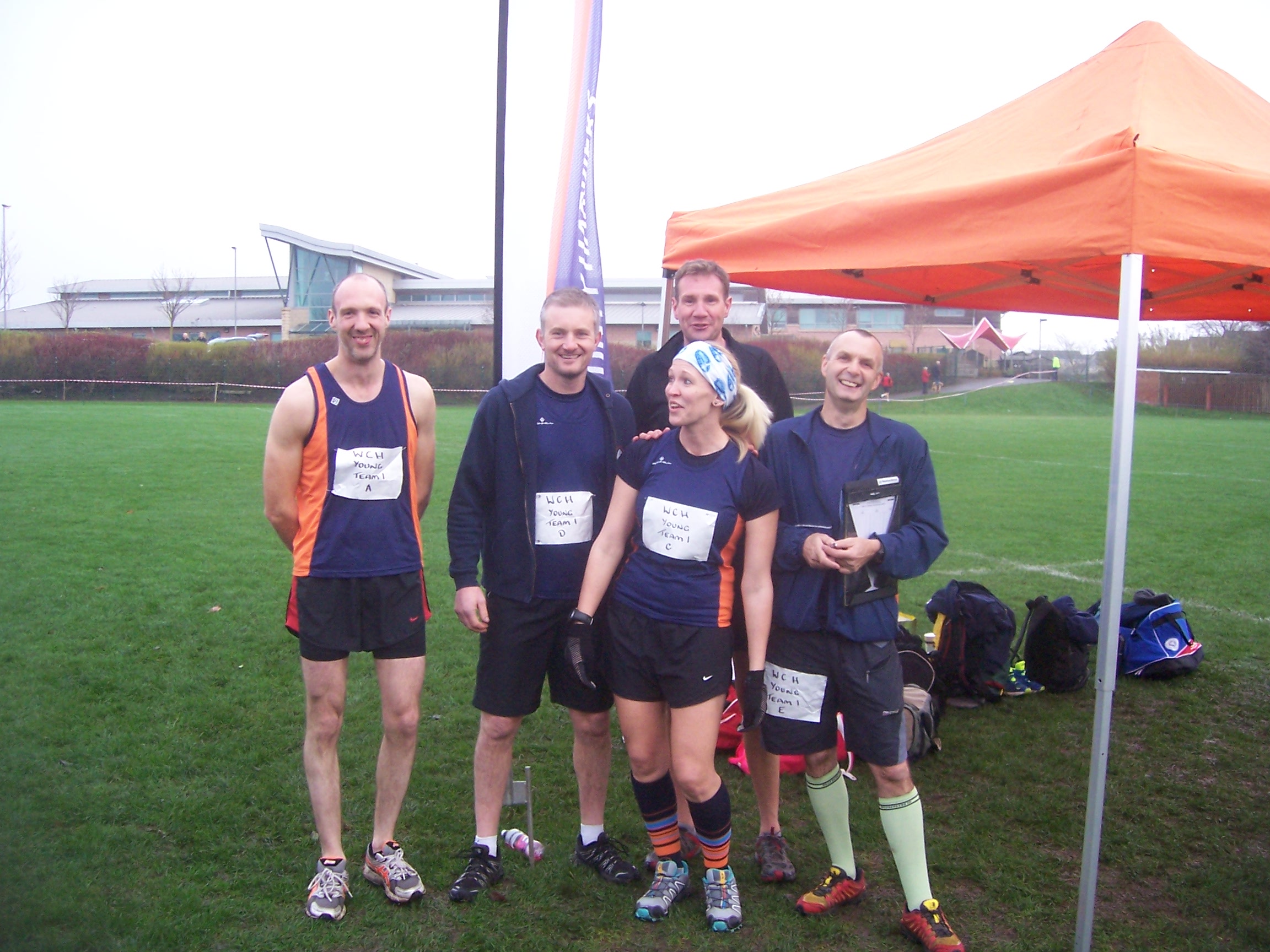 Our race plan was simple – Go, run, don't fall, stop, rest, go again. And don't fall. Easier said than done!
We sent John out first to get us a good lead. The course was just slightly over a mile long and John flew round in 5:42 or thereabouts. Even on a hilly, grassy, wet course there is no slowing this guy down!! Stephen was next for our team and after another super speedy lap of just over 6 minutes it was my turn. All I can say is thank goodness for trail shoes as there were people slipping everywhere! There's not much to report about my lap as is was over so quickly except it hurt. A lot! This is such a fun event and a brilliant day out, but still you want to do your best for your team so the pressure is still there (maybe just for me, but I find it helped a bit!). I bounded around the top field, down the steep hill and back round to the start line (in a time of 7:04 which I was pretty pleased with on such a grassy, undulating course!) where I tagged Stewart and off he went on another speedy lap to then pass on to coach Gordon to bring finish up the first round. We had no idea where we were sitting in the rankings as there were so many people flying by, but fingers crossed we were doing O.K…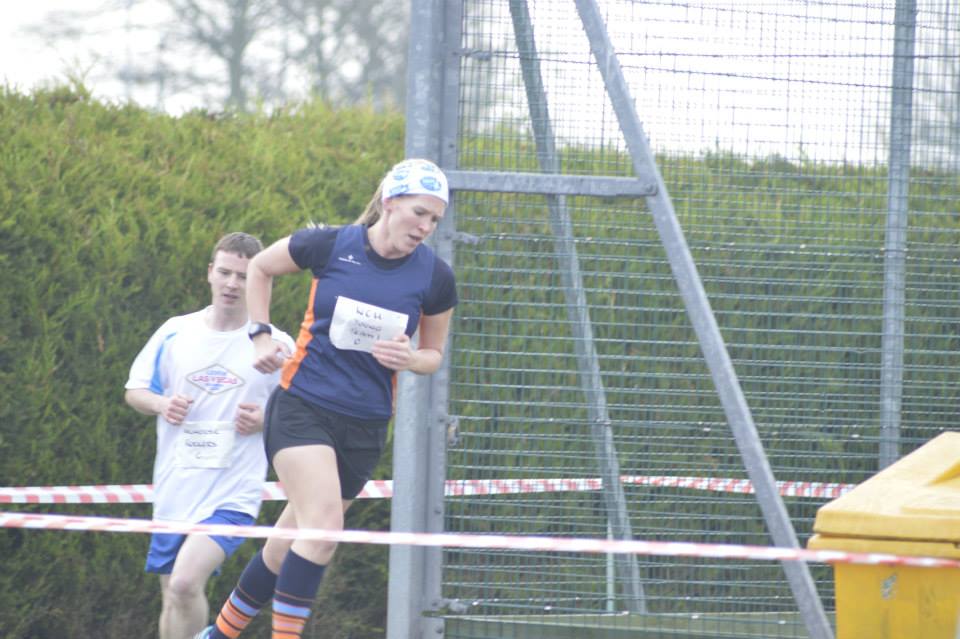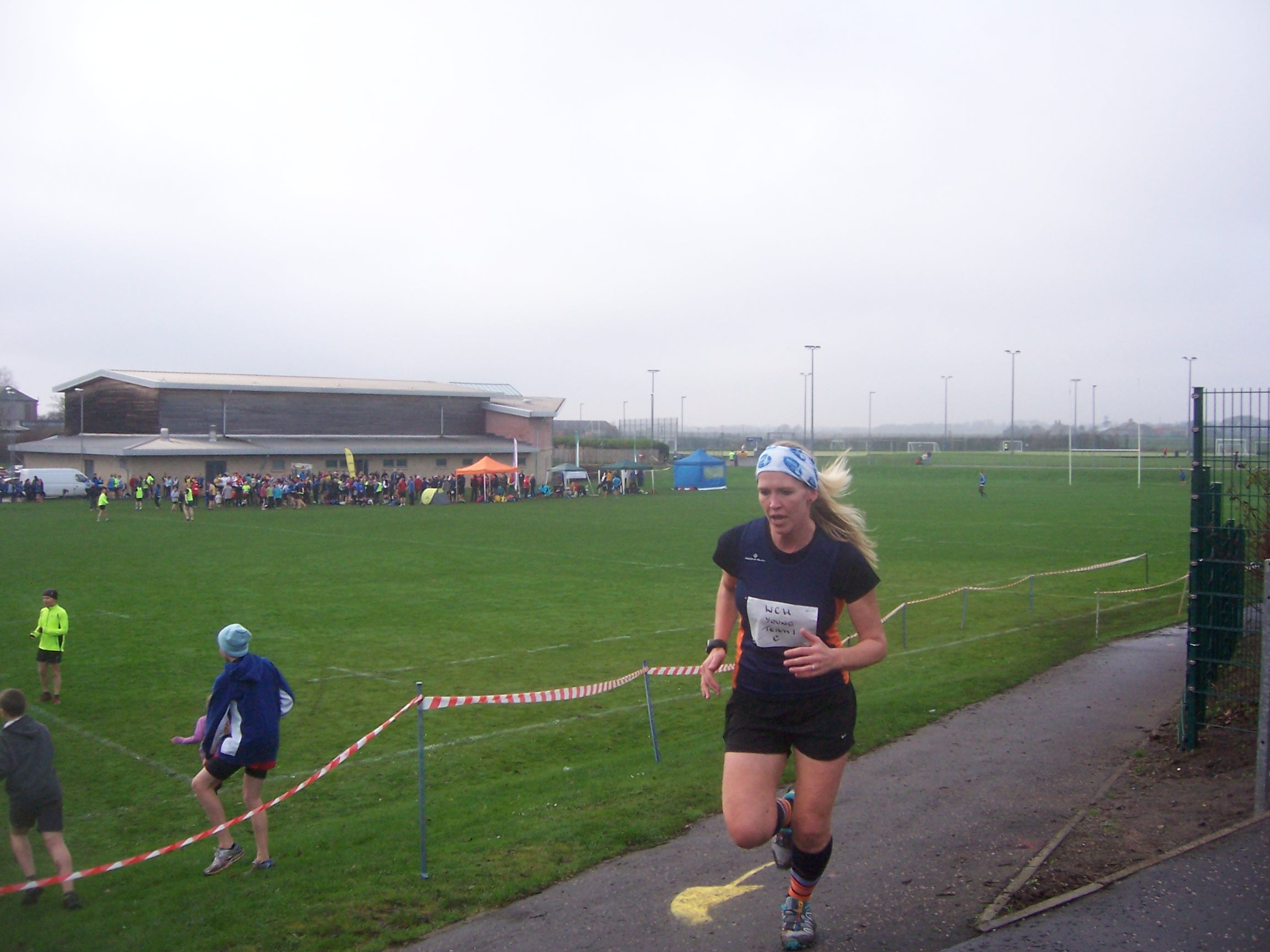 I can't remember much about the second round apart from having to keep times for a bit and struggling to press stop watch buttons and write things down as my fingers had gone numb. Everyone was running well and the atmosphere was amazing. So many people had shown up to cheer everyone on and they were all so supportive. Our team all had another great run on lap 2 with times being a few seconds faster or slower than our first lap times and everyone having a really good time (except possibly the guy who face planted in the mud in front of me and I practically stood on – sorry about that!). Once all our teams were in we went back to the community center for yet another wonderful post race spread. The ONLY bad thing I could say about this was the size of the room vs. the number of runners. You just couldn't get moving and then trying to get back out the room with a plate of food in one hand and a hot cup of tea in the other wasn't much fun. However the selection of sandwiches and cakes were second to none and there was still plenty to go round even though we were in a lot later than others. Well done Anster Haddies!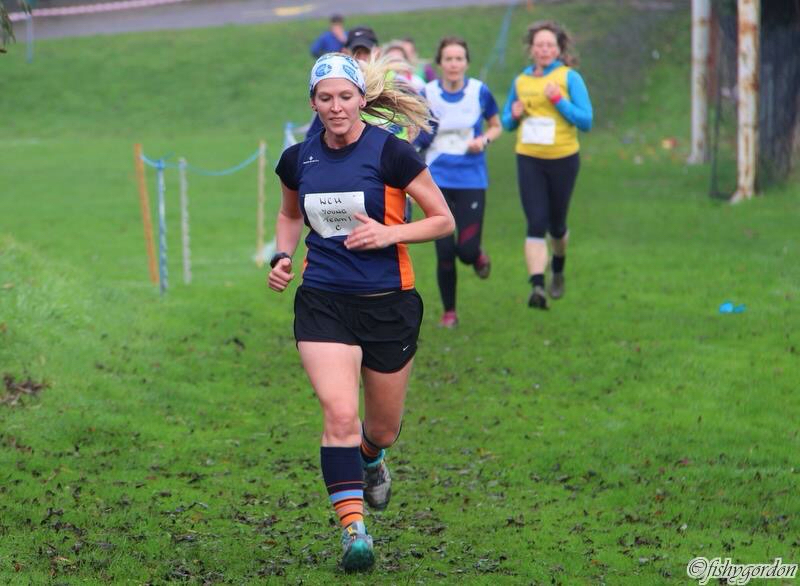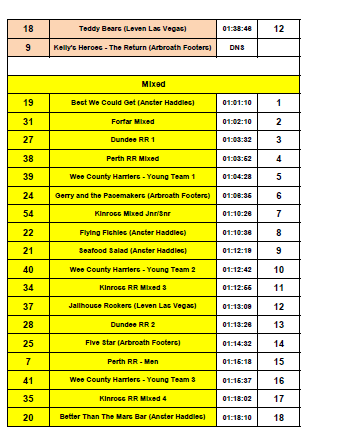 We only JUST missed out on a top 3 placing with just over a minute between 3rd, 4th and 5th place. Never mind, there's always next year! With prize giving over, we all climbed back into the car and sleepily made our way home from the East Neuk. It is a long and tiring day out considering we only ran 2 miles each, but it's 2 of the best miles and some that I look forward to every year.