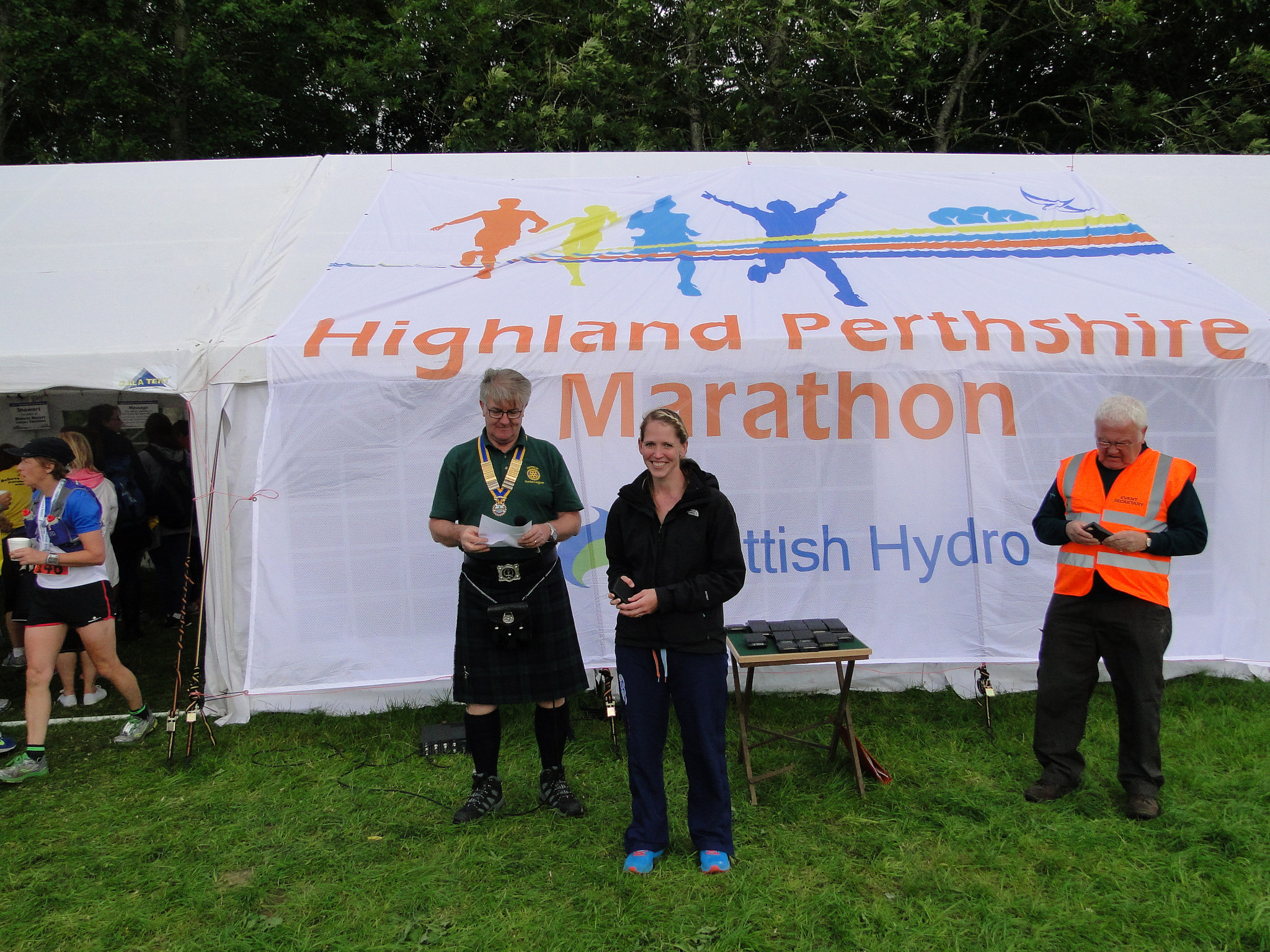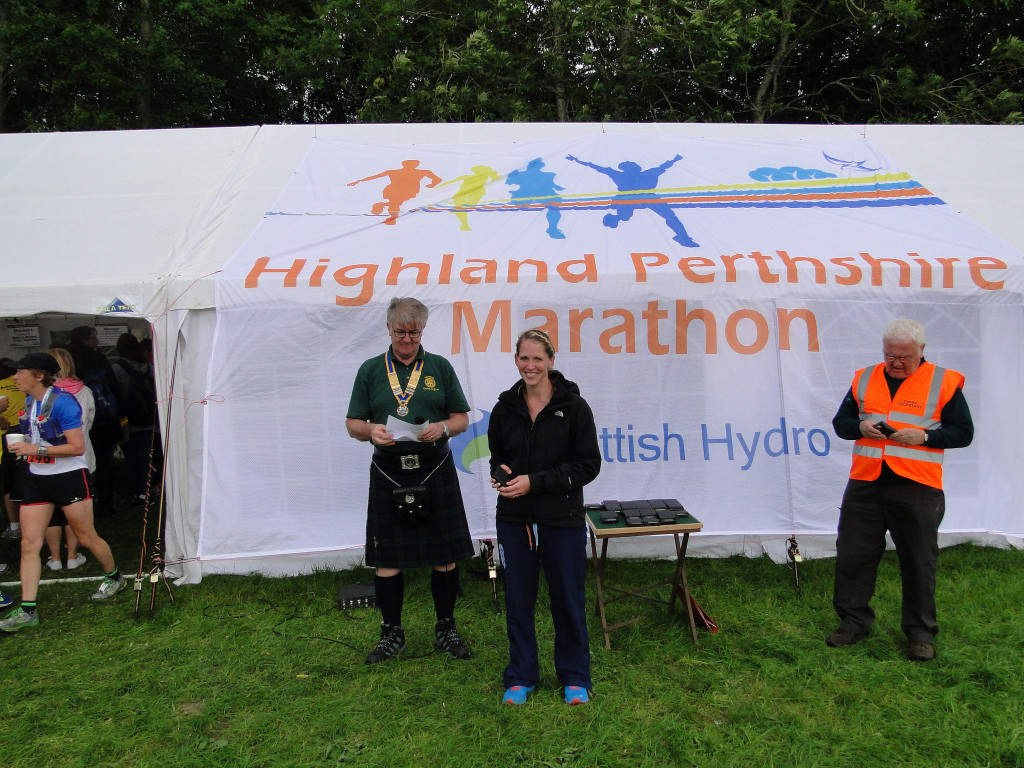 HIGHLAND PERTHSHIRE MARATHON 2015
TIME: 3 Hours 41 Minutes and 34 Seconds
Overall position 44th/118 finishers
1st/14 senior female
3rd/28 females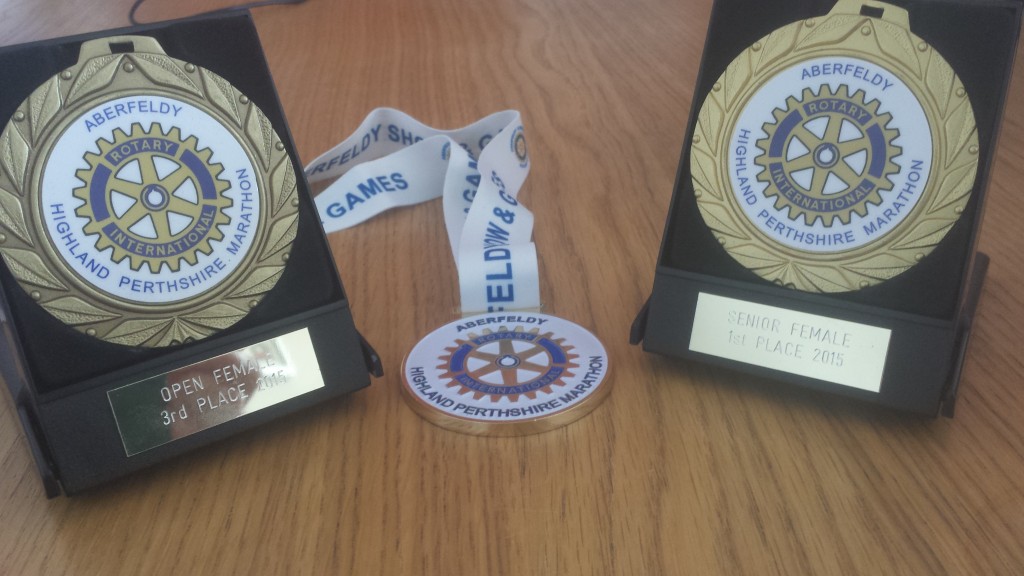 I'm ridiculously late in writing this report for no reason apart from laziness! Work, training and sleep have taken control of my life again, and sitting staring at a laptop after a long day just hasn't appealed to me. But excuses out the way, here we go!!
After running this race last year and finally getting a decent sub 4 hour time, I was desperate to go back and give it another go. I loved everything about the route, even the 2 laps didn't put me off as I was desperate to push harder the second time round this year and finish stronger than last year. The day started as all big race mornings do; wake before my alarm, force in breakfast, fix my silly race day hairdo, put on my kit, mascara and Vaseline and then sort out my attitude. I've been told more than once this year that I need to have more faith in myself and push myself to my limit, even if it means reaching the ultimate pain barrier. My training had been somewhat lackluster since the Devil O'the Highlands race and I wasn't sure what I had left to give come race day. I confided in my running friends about my doubts and they gave me all the positive words I needed to hear; all the miles were in my legs, the rest would have done me good and all I had to do was get my head in the right place.
After registering, pinning on my number and sorting out my final kit choice (nothing new there!) I had half an hour or so to plan out the race in my head. I was feeling tired and under trained, but this was a great course so I felt another sub 4 hour time was possible. I decided to try and keep up with Derek and Andy for the first lap and see how I felt by the time I got back to Aberfeldy after the first lap knowing that Derek would be hoping for under 3 hours 40 mins, and Andy usually runs great negative splits. After last years disaster of nearly missing the start of the race we headed round to the start line with time to spare for well wishes, hugs and of course – photos!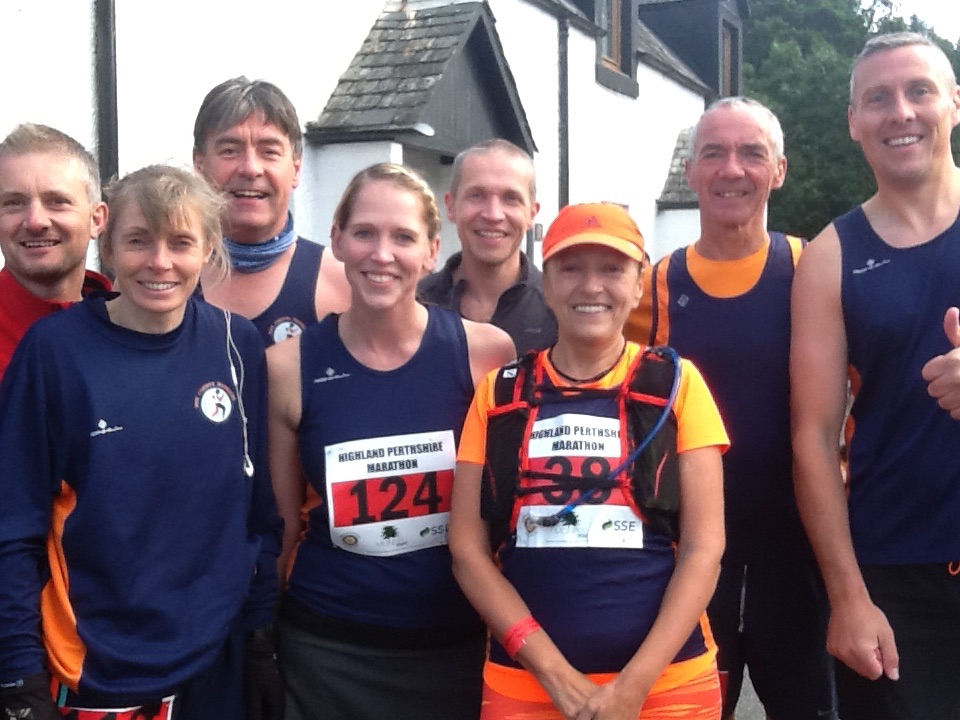 I set off near the back of the pack to try and keep my first few miles at a steady pace, but before I knew it I was towards the front and running steady splits of just over 8 minute miles. I kept up with Derek for the majority of the first lap and we chatted away to a guy who had run 109 marathons. Really puts my moaning to shame!! I had a minor panic I was flying off too quickly but felt good, so just kept it up. Powered by magical blue powerade and shot bloks, I was really enjoying myself and feeling ridiculously powerful. Before I knew it, I was running through the castle grounds and tackling the hill for the first time with the words "Wee County Harriers don't walk up hills!" running through my head. Thanks coaches!!!
The run back in to Aberfeldy is mostly downhill and I picked the pace back up quite a lot. Over the bridge and past the field and lap one was done.
Lap 1 splits; 8:03, 8:15, 8:16, 8:10, 8:29, 8:22, 8:06, 7:58, 8:11, 8:08, 8:20, 8:20, 8:09
As I passed the marshal at the end of the first lap, he informed me I was currently 3rd lady. I have no idea how that had happened as I've never placed in a race before, but it scared me a little as I knew my competitive mode would kick in now and I might push off round the second lap too quickly. I had just passed a girl from Carnegie so knew she would be hot on my heels but tried not to look back too often as it'd throw me off my stride. The miles continued to to tick by, my legs tiring a bit but no major niggles to speak of so I felt no reason to slow down too much. Around mile 18 I finally conceded and put in my head phones as I had a guy running right behind me and he had an annoyingly slappy footed run. Normally I'd make up a song to sing along with something that annoyed me, but not today. I couldn't get away from him fast enough!!
As I came through the castle grounds for a second time, I managed to look back along the route and found there was no one in sight behind me. Feeling a bit achy I decided to power shuffle up the hill the second time round and found I felt a bit wobbly and dehydrated and started zig-zagging up the road to the top of the hill. Luckily there was a water stop a top of the hill – definitely in the right place at the right time. I quickly found my pace again and flew round the last 4 miles of the course, occasionally glancing back to see if anyone was near me.
Lap 2 splits; 8:25, 8:36, 8:36, 8:46, 8:48, 8:38, 8:39, 8:36, 9:59 (walking up the hill!), 8:42, 9:01, 8:49, 8:35
As I came back into Aberfeldy for the second time, I finally spotted someone catching up on me. Not knowing if they were male or female I picked up the pace, flew over the bridge for the final time and back into the field to the finish line. A new marathon time of 3:41:34 (13 minutes off my previous attempt!), 3rd lady overall and 1st senior lady! No idea how that happened… obviously all the speedies were doing something else this weekend!!
I crossed the line, hugged everyone in sight and continued to be majorly confused that I'd placed first in my category. My brother in law Stuart asked me if I was crying, but no – I was just a tad snotty!!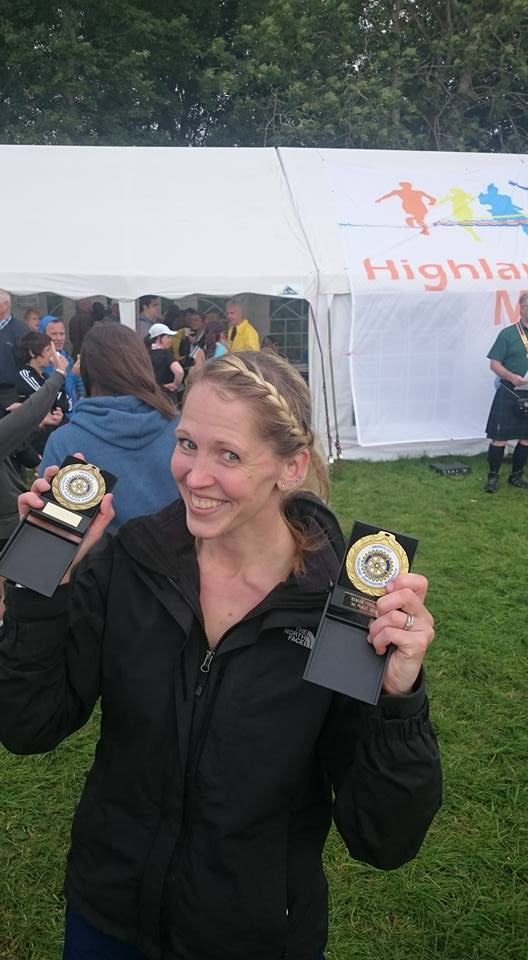 I walked about in a bewildered daze until I was told it was time to go home, still not quite believing what had just happened. I was quite tired during the second lap, and I did give up a bit on the hill so what am I capable of for London next year? Where are my limits?! I'm quite excited to see what will happen next year!!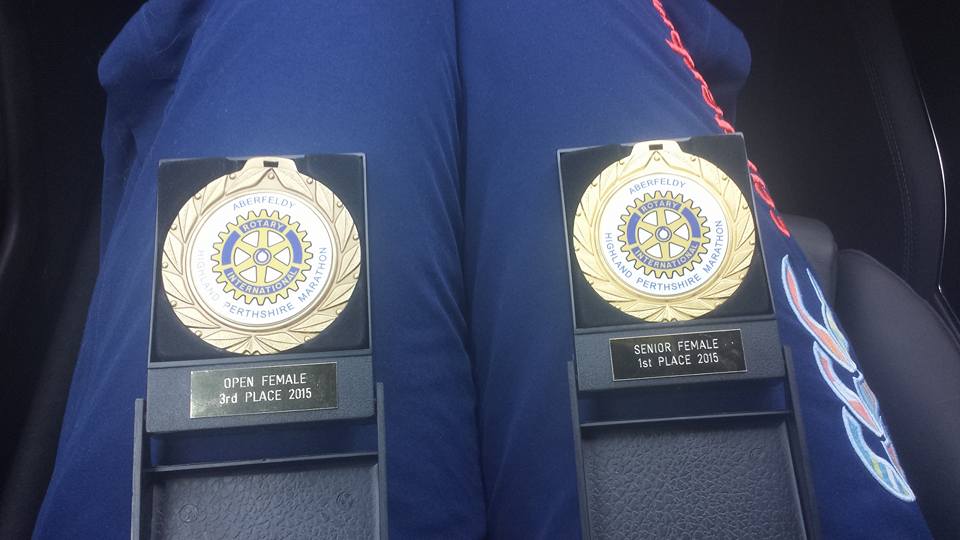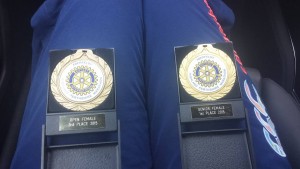 It'll probably be a long time, if ever, that I place in a race again so I'm quite happily still basking in my glory just now. And I have taken over the top shelf with my trophies and demoted Craig's to the second shelf….. ( as I only have some of them for the year as he gets to keep his forever, so I think it's fair!!!)