I have fallen behind quite a lot with my posts recently, so apologies for that! As we come towards the end of term, work has been utterly manic and I feel like I'm burning the candle at both ends with early starts, lots of training and late nights. It's my own fault for not going to bed earlier, so I'm learning the hard way. Once marathon training is in full swing I won't have any excuse – sleep will be a priority!

BLACK ROCK 5
Watch time- 35:55
Chip time- 36:05
Ranking – 370th of 752
Last night I had my first proper club event which was the Kinghorn AGR Black Rock '5' race. The first race was held in 1987 and has been staged every year since (except 1991) and is one of those events that people count down until they day they can enter and then race to get a place – it usually sells out in a day or 2. I was lucky enough to get offered a place through my running club as a few people pulled out so instead of places going to waste, they were quickly snapped up by super keen runners like myself! The race begins in the centre of the town of Kinghorn and after a mile or so of road running you are down onto the beach for about a mile of running across the wet sand out to the Black Rock, which is usually nearly submerged when the tide is in, round the rock which involves running knee-deep through the sea, back across the sand and back up to the finish line in the town centre (which is on a near vertical hill!). Nothing like anything I've ever done before, so to say I was a little bit excited about this race was an understatement!
The race is held in the evening, so after another stressful day at work, I was more than ready to run and went home to get my stuff ready. I met some of my fellow club runners up at the local high school where a bunch of us were getting a mini-bus through, meeting the others through in Kinghorn. Everyone was in high spirits and wondering how deep the water would be round the rock – apparently it could be anything from ankle to thigh deep and you just had to blast through to get back to the sand! Running on beaches and in the sea is something I have never experienced so very old trainers were packed along with clean clothes for the bus journey home! As we entered Kinghorn the rock was pointed out to me. We were about an hour away from the race starting, the rock was still almost fully submerged and I couldn't see any of the beach we were meant to be running across. Fingers were crossed that the tide went out quickly!
Once we arrived we had to walk up to the local community centre to pick up our numbers. Now this was a mission in itself! As I was running other under else's name, I had forgotten to check what my number was. This wouldn't normally have been a problem at most other races as you could just give your name and get given your number. At this race they were asking for names and dates of birth…. which I didn't know! I had a slight panic and then realised I had in fact been forwarded the email with my race number in it, so panic over and back to the bus to meet up with everyone else and head down to the start line. This was at the bottom of a hill which I thought would be a nice way to finish the race, but I was so wrong. The finish line was at the top of the next hill up which was so steep, so I reminded myself to keep something in the tank for a good strong finish. And after running the sea and having trainers filled with sand, I had no idea how this would pan out!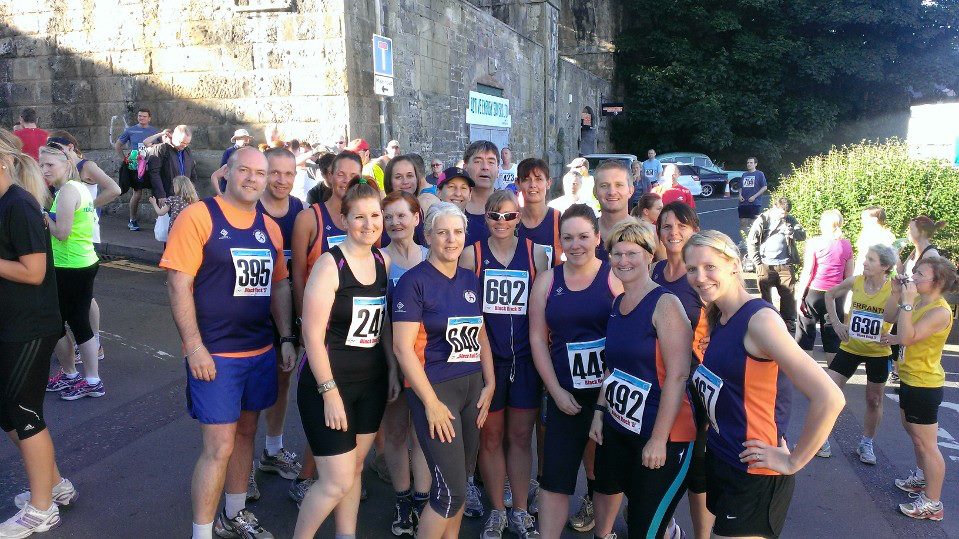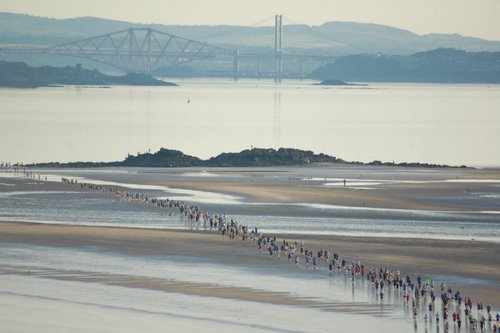 We were piped to the start line and after a quick race briefing and posing for a few photos with all the Wee County Harriers, we were off! The race was chipped, but I noticed as I started there wasn't a timing pad to run across, so I started my garmin as close to what I thought the start line was as possible (an orange spray painted line across the road). A tough uphill slog brought us onto a flat road that gradually sloped downhill toward the beach. I felt I had got quite a fast start, but didn't realise quite how many people were ahead of me until I was running down onto the beach and caught sight of all the runners already making their way out across the beach to the Black Rock. The road ended and we were down on to the soft sand for a couple of hundred metres before the wet sand began… and carried on for over a mile. It was a new experience and definitely a harder slog on the legs, but I managed to stick to 8:xx minute miles the whole way across the beach. There was another piper standing on the Black Rock which gave me another little boost and I ploughed into the sea and blasted my way around the rock to get back to the beach. Running in the sea is fun! I'll remember to try to keep my mouth closed next time, I got a good few splashes of salt water on my way round! Back on the beach and I tried to pick up the pace on my way back to the road, but as there are no markers to run between, I felt myself wiggling all over the beach and not really running in a straight line. I had no idea if I was near any other club members and then I suddenly heard "come on Iona!" as Andy and Susan caught up with me and we ran side by side back up to the road. Another hard slog through the dry sand lead to more comfortable road running back up through the town. After the sand I won't even complain that it was back up hills! Nearing the top of the hill I spotted my friend Rachel who was there with her two kids to support her husband who was also running. She shouted she'd race me with the pram back to the finish, which made me laugh and gave me another boost just before the last hill. The downhill just before the final slog gave me just what I needed to get some boost back in my legs and then it was under the bridge and, BAM, onto the final hill. Just as I hit the hill Andy flew past me, which really made me speed up and just on the last tough push, I saw my fellow runners and coaches at the top and they started screaming for me to push and I gave it all I had to bundle myself over the finish line. I seriously can't emphasise how much of a difference this made to my finish and I loved having people there to cheer me on – it just gives you a push you wouldn't be able to give yourself mentally. So thank you to them all for that! I then got my chip cut off (still confused by the finish but no start mat!) and went to rejoin and congratulate the other runners who had already finished. After shouting all our team members over the line we went to collect our race memento – a bottle of beer supplied by Williams Bros, funnily enough from our local brewery in Alloa! I'm not a beer drinker myself, so I took mine home for Craig while everyone else enjoyed theirs straight after the race. After cleaning up and getting the sand out from between our toes, we went along to a BBQ held by the RNLI at a pub right on the seafront. It was just stunning watching the sun go down with such a beautiful view out across the River Forth on the longest day of the year.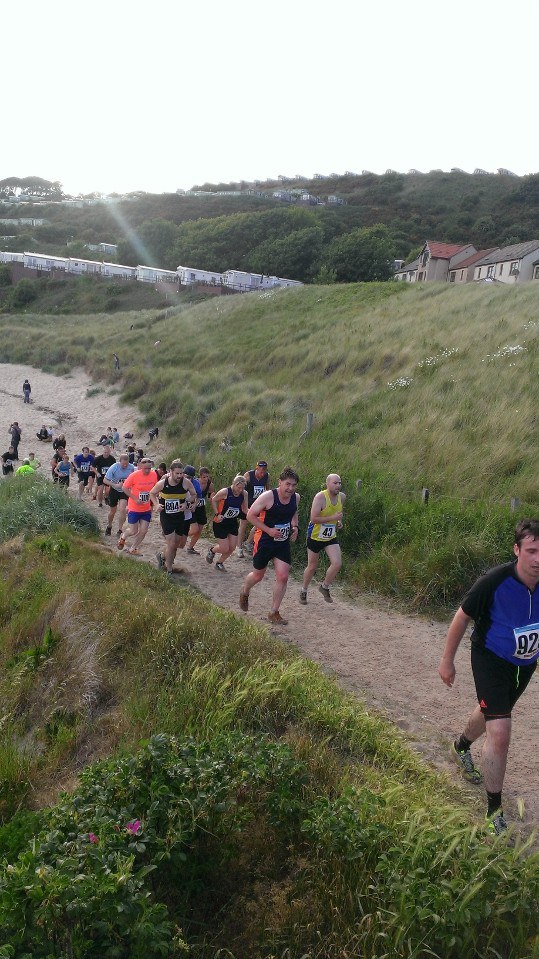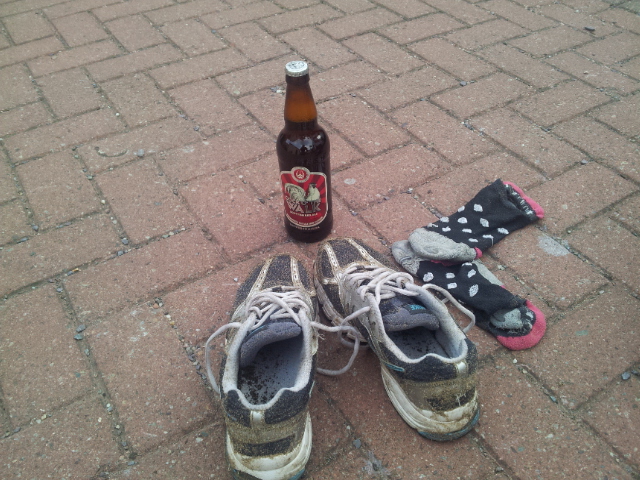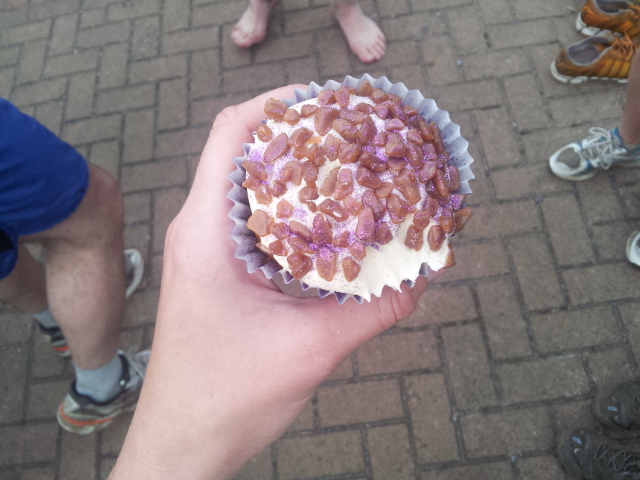 This race will definitely be one on my calendar for the next few years and I will be one of those people who count down the minutes until entry day. Thanks to the Wee County Harriers for all their support and for getting me a space in this race!