It has been a very difficult start to the year for me running wise. From the very beginning of January I was dragging my legs and huffing and puffing about like a steam train, hating every minute of my running and hating myself for hating it! Mid March I got round to going for a blood test and found out I was quite anemic and was prescribed a course of iron tablets for the next wee while. After I was given my results (my ferritin level being 2!) I asked my GP, half knowing the answer and half hoping these tablets would work miracles in a matter of days, if I'd be able to run the Alloa half the following weekend. He stared at me with a furrowed brow as he tried to figure out if I was joking or not! But of course in a round about way I was told not to be so silly and just get back to training first – gently!
Another reason I had really been looking forward to running it was even though it'd be my 3rd time running the route it would have been the first time since I'd joined the club. And wow, were the WCH out in force for this race!!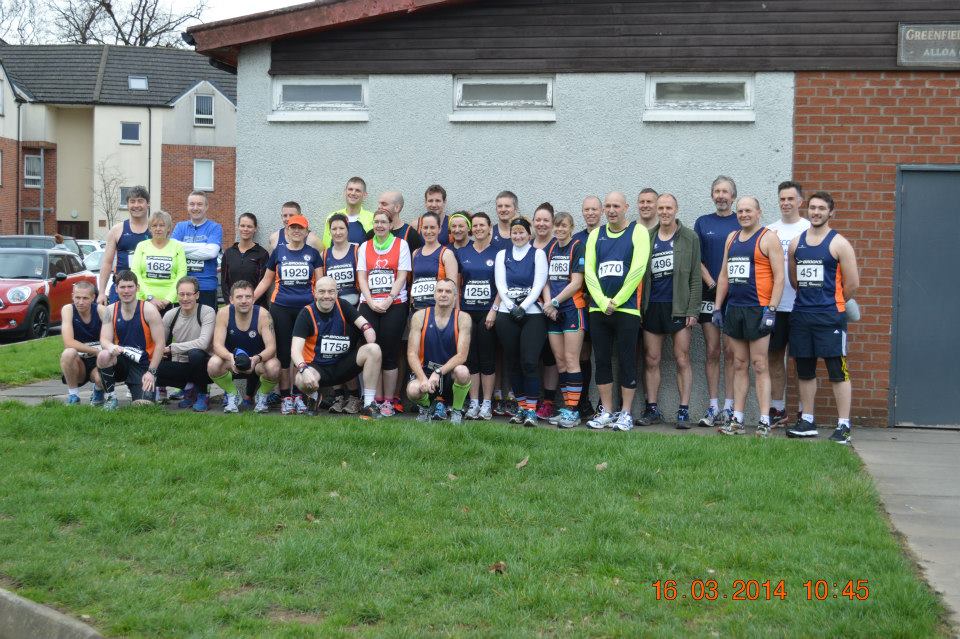 So, the race I had been looking forward to for a whole year was out. Our local half, the one in which I smashed my p.b by 5 minutes in last year and what was to be my first 'A' race of the year turned into my second ever DNS, but for the first time through not being able to run and having to stand on the sidelines and watch everyone else get hyped up for and run so well in! In my mind, and many others, a DNS (did not start) is ten times worse than a DNF (did not finish) or even a DLF (dead last finish) but this time the situation was outwith my control. Racing was physically not possible and my legs would definitely not thank me for even trying. I had to get over it and realise I was being silly – there were plenty more races and many more years of racing to get through. I'm only 30, so that's pretty young for a runner and I can only plan to get better in the future.
I wasn't ruling the day out though, so I took my bike and cycled the course to cheer them on and take pictures at various points. I lost count of the amount of p.b's or course p.b's set that day – every single runner did so amazingly well! Not the easiest course when they stick in Menstrie Brae (a hill lasting half a mile or so) at 10 miles into the race. At the end of the day we all regrouped and went for an Indian meal and few drinks at a local restaurant – I know I didn't run, but who said I couldn't celebrate everyone else's success! Jemma also ran amazingly well coming in about 20 seconds outside her p.b. She's now joined the Wee County Harriers until her and my little brother go traveling later this year, so look out for more orange and navy in that direction!!
I am two weeks into my course of iron tablets and I noticed a difference after a week. I was sleeping better, feeling better when I woke up in the morning and I wasn't out of breath after the simplest of tasks or passing out on the couch as soon as I got in from work. Yes my job is very demanding and I'm always on the go, but getting home at 6:30pm and needing a nap by 7:30pm was very out of character for me! After a few weeks of avoiding training I decided to make my return to a hill reps session and I couldn't have felt better or enjoyed it more! My mile splits are right back down and running up hills no longer makes me feel like every last molecule of oxygen is being sucked out of my lungs or that my quads are being hit with a hammer. I know it'll take a bit longer, but I feel almost normal again!
What a difference some iron tablets have made! I know I have been screaming it from the hill tops, but I can't advise it more – if you start to feel low for no apparent reason, your quads feel like your worst enemies and you suddenly feel out of breath like you should if you smoke 40 a day, then get your iron levels checked. I could have plodded on for months had my physio not told me that she had felt this way and that iron tablets made her bounce back within weeks!
I may have had to pull out of my first 2 favourite races of the year but I'm bouncing back and I'm ready to to take on the next one with gusto. Before that I will be helping out at the Highland Fling at the end of April and cheering on my club mates that are brave enough to race that distance. I'll hopefully be joining them next year, but we'll see how this goes first.