Taking adventure to a whole new level with Derek. 28/05/21-30/05/21.
"When you don't realise you're in the moment until it becomes a memory" Summer 91 (looking back).
The best plans are made off the cuff right?!
Late March, about a week after my 6 hour virtual race for team GB, when I was still on that post race high, Derek floats the idea of running the Highland Challenge 180 and having Iona and I crew for him. What is this challenge I thought? It is only then I became aware of the East Highland Way, a relatively new route about 7 years old that runs from Aviemore to Fort William, tying in perfectly with the start of the West Highland Way, a route that I know and love well. Not content with just offering a supporting role, I threw my hat in the ring to run with Derek, 180 miles would be a new challenge and the excitement of taking on something that there was a high chance of failure, excited me.
What was the race?
This race was part of the Challenge series and the first time the 180 mile option was being offered. The original Challenge race was/is 96 miles on the West Highland Way from Fort William to Milngavie, there was also an option to add in an up and down on Ben Nevis beforehand and then there was the 180 option as described. There were to be 3 CP's on the EHW (82 miles in total, CP's at 35, 62 and 82 miles) and 7 CP's on the WHW (96 miles, CP's more regular) . Support runners were also allowed from Glencoe to the finish.
Looking back, I usually end up entering races off the back of epic training runs or weekends away. Usually when when we've been up the MFMT's (mother fkn mountain tops) these entries are encouraged by Iona and Derek. Before you know it the entries in, expensive new kit purchased, motivation hits an all time high and the excitement of getting to race becomes a reality. It's hard to come by friends like that, who share your outlook and passion for running to the same extent. I mean it is pretty extreme and not just "keeping fit". I think our values are the same and I admire the mental strength of both of them. When I've had self doubt over lack of current fitness, they've managed to remove these thoughts and helped me achieve more than I thought was possible.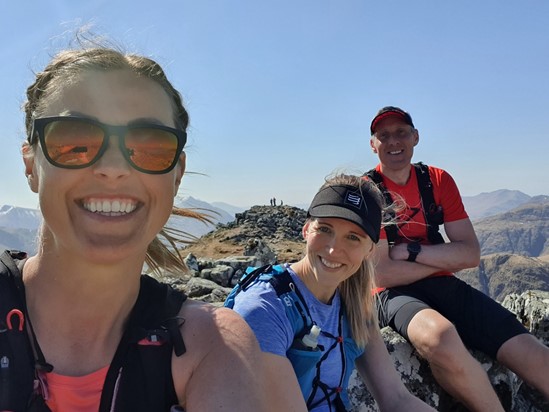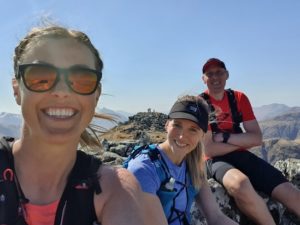 With the current travel restrictions in place, we were likely not getting a chance to recce the route but as luck would have it, Derek got the chance to do it a few weeks before and recced it both on the bike and on foot. Work and other commitments meant I could not join him. I was informed that lack of signage was apparent early on and the good old GPX on the watch was going to be an essential. I was told it was less elevation than the West Highland Way and more "runnable" but included a few river crossings and a bit bog.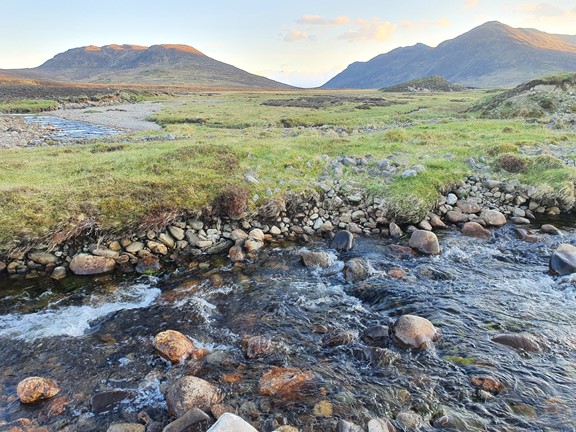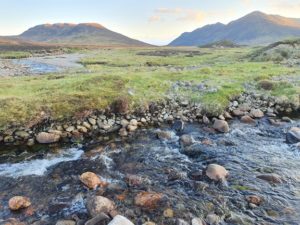 The training build up.
One of the positive things the pandemic has brought to my life has been the luxury of more time. This has enabled me to really push on with my training, explore new routes and do things that otherwise wouldn't fit in with the usual race calendar. It's enabled me to increase my mileage and experiment with more elevation in my training runs. Without having to taper for races or recover thereafter, there have been less low mileage weeks. Iona and I got the year off to a flying start with 50 miles on NYD, looping around Kincardine in line with restrictions and having Derek bring us some supplies. Being clever about training didn't necessarily mean making it boring, far from it. We mixed up long runs with some epic hill reps up the Ochils, something we'd previously have shyed away from. Feeling at my fittest since 2017, I knew it was really time to test myself with something special, this was certainly it.
Derek, on the other hand had not long got back to big miles after a toe operation but his determination and commitment to his training meant that he bagged the long runs and speed sessions. He also had previous experience in long mountain races. Logistics planning commenced and Derek's wife Rona agreed (possibly cajoled) into being our support crew. She would see us through from start to finish and would be accompanied on the first night by her friend Colette. Poor Colette was going to get her eyes opened to the ultra world, warts and all! Iona was joining from midday on day 2 and would support run with us as well as feed us, provide moral support and deal with any moods. Iona has crewed for both of us before and likewise us for her. As a trio, we've got a good idea of how each of us respond at various points in an ultra and we seem to be able to read each other better than we probably can ourselves.
From my point of view, I did very little planning and left most of it up to Derek, I wouldn't recommend that as it's important to know where you're going and be as well prepared as you can be. I had the GPX on my watch, all the kit you can imagine and I've got experience running 24 hour races. One thing that worried me was the sleep, or lack of it. I know I hit a tired point just before daybreak on a 24hour race but I also know I only have to do that once, this was going to be 2 or 3 of these if it went belly up! Venturing into the unknown was daunting but at the same time reassuring to know I'd have Derek there. We made a plan to run together, certainly for the EHW and on to the West. There's always that worry that you hold one another back. This was something we would deal with if it presented itself.
The week of the race was a strange one, food and kit all organised and I felt ready to go. You're really planning for the unknown. One thing that had improved was the weather, a few weeks of cold temps, wind and rain seemed to have gone and instead of those elements we now had sunshine to consider. One bonus was that it was due to be dry for the duration.
We had a team meeting that week, sounds more organised than it was, we had dinner and blethered! Iona was there is body but not mind after being floored dealing with primary 1's and her recent covid jag! Rona raised some concerns about crewing over the second night solo. Something we hadn't initially considered. Iona was going to be with us from Glencoe. The plan had initially been to run with us from there but we didn't logistically think about her running to the finish, which is 70 miles. She didn't have the luxury of drop bags which we did and how could she look after us of she was tired too. We decided to have her run from Glencoe to Tyndrum or slightly beyond where she and Rona would bed down for the night before getting us at Rowardennan the following morning. This was all based on predicted timings (on a very thorough spreadsheet prepared by Derek) which we'd later learn would be out the window. We had roughly estimated 18 hours for EHW and 30 hours for WHW which in hindsight was a bit bold. Iona was also not so fresh from her last teaching placement which had removed every ounce of energy from her, so we had to utilise her services carefully.
Plans set and happy that in addition to the 3 drop bag points on EHW, we would see Rona and Colette an additional 3 times at 10, 25 and 62 miles. One thing we didn't consider was the length of time through the night we would be without them and only one drop bag which would be for 27 miles, about 7 hours. More on that later.
Friday comes around, I slept well the night before but wakening and realising that I wouldnt be back to my bed until Sunday evening was a brutal thought. I love my bed and for someone that likes about 9hrs sleep a night and enjoys regular naps, I was about to enter a sleep challenge like no other. I've previously worked nightshifts and those were no easy gig.
Derek, Rona and Collette arrive about 10.30 and before long we're on the road. Large stone baked pizza for lunch, you could spot the two runners who'd finished theirs before the two normal guests had even had half!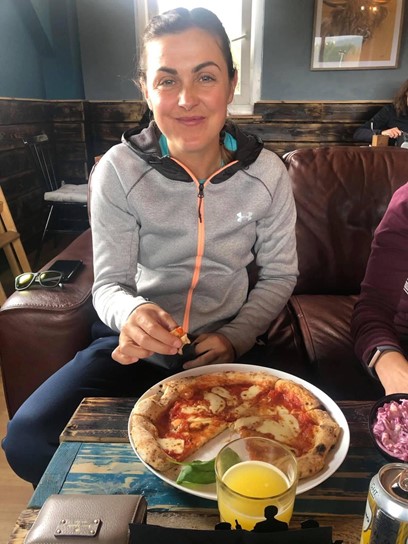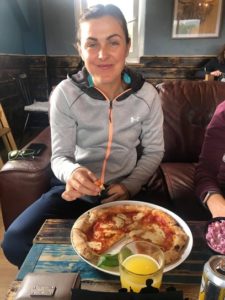 Faces filled, now time to get ourselves changed and vests packed for the start. "Oh f*ck what are we doing'. Being said a few times. I stood looking at my 4 pairs of shoes, road, trail, trail and trail! How was I meant to know what to wear when I had no idea of the route. Ably assisted by Derek, I opted for roads, comfiest option and would only need trails for the section over the bog and could change them when required. Decision made. Looking at my feet, knowing they would blister good and proper in no time.
Lagered in sudocrem in a bid to prevent this for as long as possible, delaying the inevitable.
8 entrants to the race, 8 starters to the race, quite rare to have a 100% show of the start list. I was the only girl entered and by god I'd told myself I was going to finish this no matter what. I had to right, couldn't let the side down.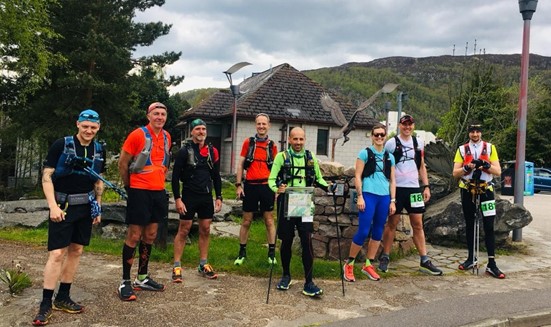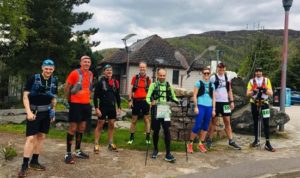 3pm and off we went. Settling into a rhythm early on, just shy of 10min miles, that was ok for now. A couple of runners up ahead and one guy, Grzegorz Korsak nestled in behind us. He was keen not to go off too hard as he said he had in previous races. We ran through Aviemore High Street, the passers by oblivious to what lay ahead, as were we I suspect. We quickly got off the main road and were into woodland, this made for nice running. Zero signage to be seen but the watch being reliable and Derek familiar with this bit. He did warn me about a sneaky right turn coming up, maybe about 3 miles in. Blink and you'd miss the turn, no sign to direct you off what feels like the natural path, continue on that path though and you'll loop the Loch and be back to this very same point in 3 miles! Yep you guessed it, there was more than one who did this, including an over-zealous Grzegorz who had run off ahead by this point.
We nipped off onto the single track trail through the forest and it was glorious, weaving through with a nice pace. The main route which we followed, saw our first sign about 10 miles in, this took you off the main road and through a farm area, a few stayed on the main road and ended up ahead.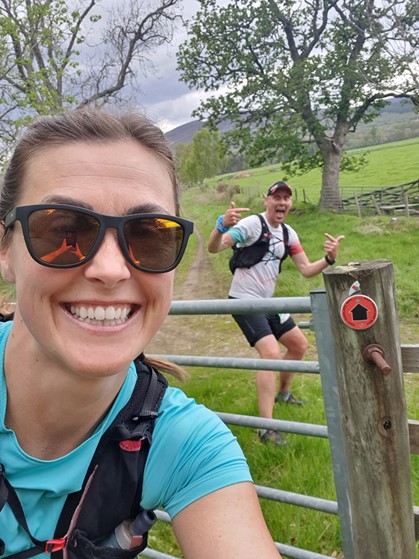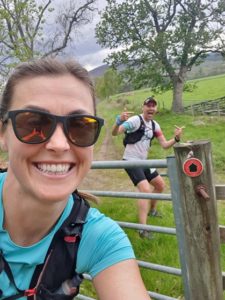 We got to Rona and Colette for some refreshments and were both feeling good. Even though we'd been drinking lots, we went about 4 hours before peeing but that was the opening of the flood gates so to speak and it was apparent we were well hydrated for the duration of the race. Frustrated with the apparent short cuts being taken by others but keen to stick to the route to ensure transparency and integrity, we tried to not let it get to us but can't deny that it did. It was still early in the race though and the main goal was to get to Fort William unscathed.
We got round to Kingussie, I won't tell you the nickname we gave it but it kept us amused for longer than it should have! We had a quick refill of fluids and some sweet treats, only a short section to Newtonmore where we would see Rona and Colette again. It was here we fuelled up with a sandwich and I opted for a change of shoes to the trails for the wetter underfoot section ahead. We were eating well and drinking lots. Cups of tea become a staple part of the ultra hydration but also going right through me! We headed off to take on the only section Derek had concerns about, mainly because the path was, well not a path and in daylight hours you could see a bothy ahead which was the direction we had to travel. We would make it through this section well before dark and give Derek some peace of mind. I didn't see what the issue was as we chatted and dodged what water we could! We didn't see anyone ahead or behind us and enjoyed this section on to Laggan.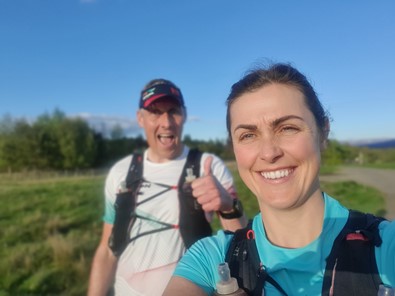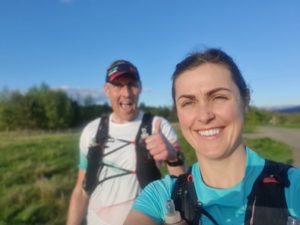 We heard the toot of a horn only to see Kev Banks and Arron Leitch who were up for a weekend of running and who we'd see pop up again the following day.
By Laggan (35 miles) there was some chafing rearing its head on my back and hot spots/blisters brewing. Of course I hadn't brought compeed, the only thing I forgot in my bag of tricks. Rona and Colette would get it for me later as would Iona and foot woes would be rectified. A change back in to the road shoes that would end up seeing me to the finish.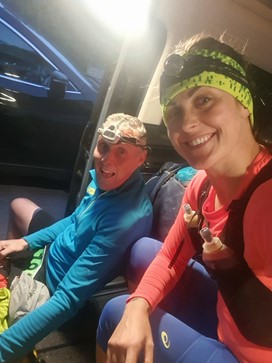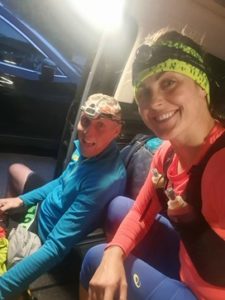 We headed off into the night and head torches were on before long, this section saw wide fire tracks and a lot of runnable sections, quite monotonous as the headtorches bounced along, this brings a queasy feeling to me. We get to 50 miles and I get a warning on my watch "battery critically low" then it switches off. Nice warning I thought. Irrational thoughts crept in, "what's the point if I don't have a Strava trace of the full route". Only other runners will appreciate this! Not being able to see the miles ticking by through the night would make me feel like I didn't have an element of control over things. That meant I'd need to stick with Derek the whole way and see this out together but what if he wanted to push on?! I had a charger but it was at Spean Bridge, 22 miles away! I soon got over it and made Derek promise to share the route route with me at the end on Strava, how sad that was my thoughts but I was tired and it was a big deal at the time! Derek's solar watch now not seeming like such a con after all.
We pass through the section on the route where Monarch of the Glen is filmed and like a water god, one of the marshals appears with water, just as Derek and I are rationing the 200 mls that we have each until the 62 mile checkpoint and saving the cans of coke. Absolute saviour. He said he felt people might run out so decided to come to this section on the route. We were very glad he did!
We march on and both realise neither brought any pain relief with us, like the charger and most other necessary items, they were in the van.
Despite the above, we were moving well and making good progress.
As daylight dawned, we saw James Quigley up ahead, he was power walking with his poles but seemed to be moving at a fair clip. We chatted with him for the next couple of miles. James would be the eventual winner of the race, finishing in just over 50 hours. We removed the headtorches, this felt good and the sun rise bringing about a new lease of life. We got to the 62 mile checkpoint at Fersit, it felt like it came not a moment too late. I rummaged through my drop bag and was appalled at what I packed and thought I'd want at that time of the morning. Yes it was a porridge bar but was like chewing a sponge. We had two cups of tea. I had a sore spot on the top of my foot and loosened off my laces as I felt that was pressuring it. This was the first time I felt the aches and pains really hit, we walked out the first mile there before picking back up to a run.
James headed off before us and this was the last we would see of him.
I'd say this was my first low and lasted for the 10 miles until Spean Bridge, by the time I got in there I was annoying myself as felt like I had been moaning and bringing the mood down. I knew a good feed, some painkillers and friendly faces would cheer me up. As well as brushing my teeth which felt furry!
This bit of the route was nice and mood wasn't all bad, we got into Spean Bridge and true to form Rona and Colette worked their magic,maybe not as much as the cocodamol but they did contribute. Brush of the teeth really helping too but the gag on the brush not pleasant for passers by! We left there and within 5 minutes we were both feeling great, I was already feeling bad about being grumpy and had practiced my apology speech to our two assistants. It's times like there the value of a crew becomes apparent and also having someone running with you who isn't wallowing. My default is to be quiet when I feel a bit low but anyone that knows me sees that right away.
We knew Fort William would be a chance to get some proper brekkie and to see all the starters in the WHW 95 mile challenge race as they were kicking off at 11am. I think we got in there about 10am to lots of cheery faces, we were buzzing. We checked in and the marshal thought I'd applied my makeup, amazing what a dirty runners tan and rosy glow can do! Or he was being polite and I looked awful. We were there about 2 hrs behind our planned schedule but that was ok as it really was only a guide and figures picked out of thin air. We were happy to finish the EHW in 20 hours.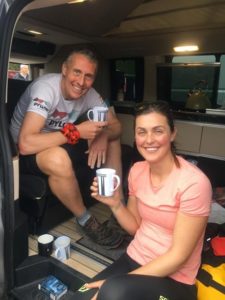 The lovely Lisa Robb (wife of Scott Robb running the Ben and WHW race) cooked us bacon rolls for brekkie and we got a full change of clothes here. We were excited to be setting off again, knowing that the 95 runners would be passing us on the long drag of the fire track. We would most certainly be power walking up there and they wouldn't.
Fully refreshed, we set off and before long the first of the runners approached, it was none other than Billy Gibson, who was being supported by our friend Martin Butcher. Martin had been at the CP at FW creating the usual buzz with his infectious positive attitude. Martin and I finished the last 14 miles of the WHW race together in 2017 and he's lovingly called my "battle brother".
Billy was bouncing up there, I noted that he was not breathing hard. He was closely followed by 2nd male, both would retain those positions for the duration of the race and Billy finishing in 19 hours 21 mins.
Other runners began passing us, sweat lashing off them and breathing heavy. Oh dear, that did not bode well for the long haul to come and the extreme temperatures that were to last all day.
Before long we were at the top of the fire track and were discussing whether WHW was easier North to South or the other way. The jury is still out BTW but we did have 82 miles already on the legs so hard to make a fair decision. We got lots of chat from the runners which was great and really kept the motivation levels high. We enjoyed the Lairig Mor but both agreed it was rocky AF underfoot which was not the least bit kind on the feet. Half way along we saw none other than Kev and Arron who were just finishing their run, it was great to chat to them and get words of encouragement. They headed off back to FW with the promise we would see them again. We were moving well, we approached Kinlochleven and dropped a text to the crew, this time it was Mac who was now waiting for us. I knew Jac Mac, Wayne and their boys would also be there as well as Jonny Millar and was looking forward to seeing them all. Its amazing what new faces can bring to you in an ultra, almost renews you.
Winding down to the checkpoint I clocked the wild Wilson boys and got hugs from them both. Too much for my emotions at this stage! They run off and lead the way. Always great to see Jac who is no shady runner herself and probably doesn't realise how much she motivates me. She broke her arm in February and has got herself back to form ahead of her own 50 mile race in June, whilst working and raising two energetic boys. Jac has seen me through the last 12 or so years and supports my endeavours with full gusto every time.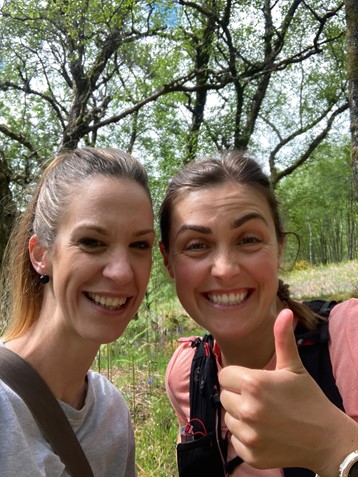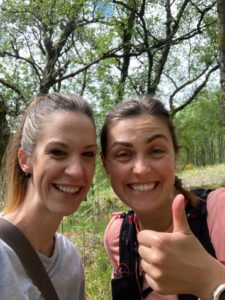 We get in and instantly work commences on my feet which by this point and covered on the heels, toes and pads with blisters. They hurt but once I got moving again they always eased off. It would have to be more serious than blisters to end my race.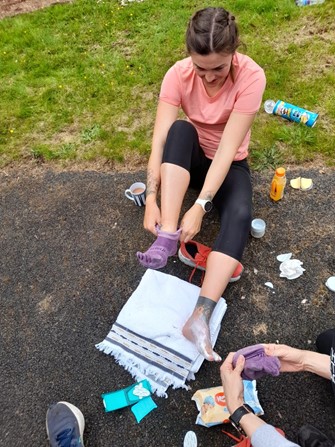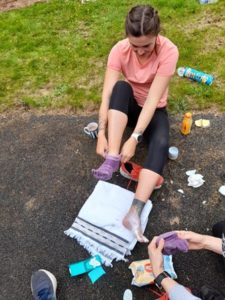 Fed, watered and now set to take on the big climb out of KLL, by far worse in that direction, no doubt about that.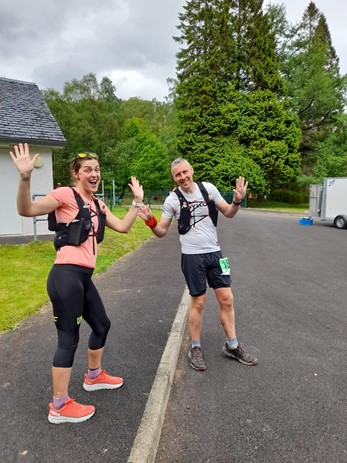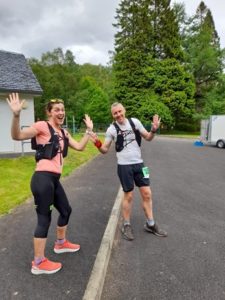 We trek up and in a passive-agrresive tone, I ask Derek if he's had any lows to which he replies he's currently experiencing one. This was almost like fuel to my fire to start pushing and improved my positivity, silently pleased that he too was human, he was maybe just less vocal about it. I was a little smug if I'm honest. We progress well and then hear the clinking of poles behind us, it's none other than Scott Robb who had opted for the Ben Nevis WHW option, disgusting if you ask me! He was trucking well and looked great. It was at this point we got into a wee train and made good ground up, Derek said to Scott a few times to push on and not let us hold him back, which I knew really meant "fuck sake mate, you're killing me". Scott would go on to finish his race in 2nd place and in an impressive sub 29 hours. Scott pushed on and was never seen again before we reached the top of the staircase.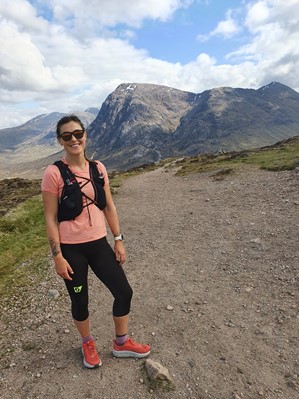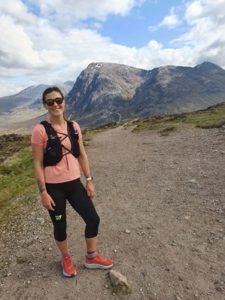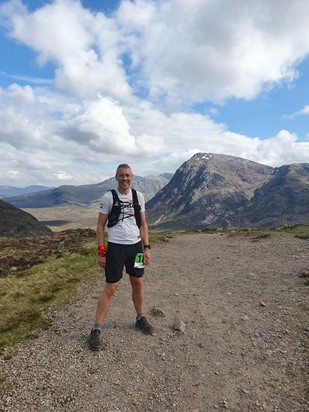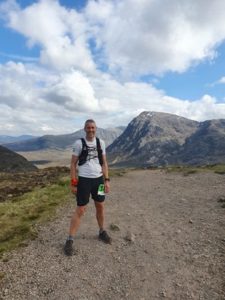 Theres something special about the top of the staircase and it's views over to the Buachaille which I have lovingly tattooed on my back.
We were to message Iona to let her know when we were coming off this hill but we will had a good 3 miles until the checkpoint. Baked tatties and cheese were ordered, ahead of time as they've previously run out at Glencoe ski centre. We bumped into a couple of guys we know from running locally who were walking the Way, one being Iona's brother in law. Small world. Jonny then appeared and was saying his goodbyes before heading off.
The run up to the ski centre is nasty, you can actually see it from 3 miles away. Like knowing what's for pudding but not being allowed it yet. Into Glencoe and Iona is kitted up and ready to support run. No sign of the tired teacher any more! Kev and Arron are there and Derek is offered an ice cold can of alcohol free beer or maybe two, who's counting?! We fuel up well here and take on our big packs, laden with the mandatory sleeping bag which we bitched and moaned about but were eventually so grateful for. More on that later.
We head off up to Rannoch Moor, a section I hadn't been on since 2017 and a bit I quite enjoy. Iona brought the sunshine and was encouraging us to run when we could. We'd been doing this but it was nice to have someone else to give it a bit more structure and appeal to our lazier sides, keeping us accountable. Photos and videos were being taken as Iona had taken on the job of updating socials and it seemed people were enjoying our journey or was it the suffering they were witnessing that they really liked?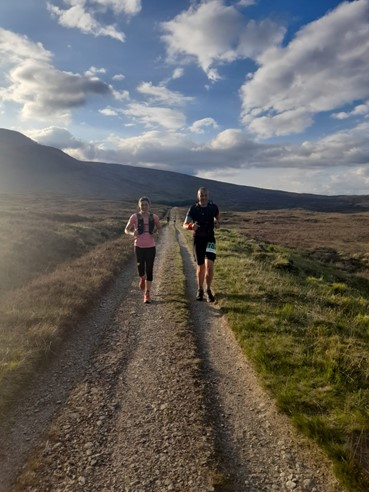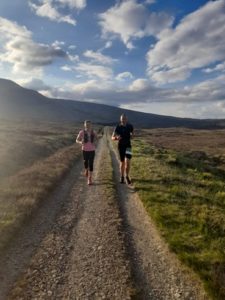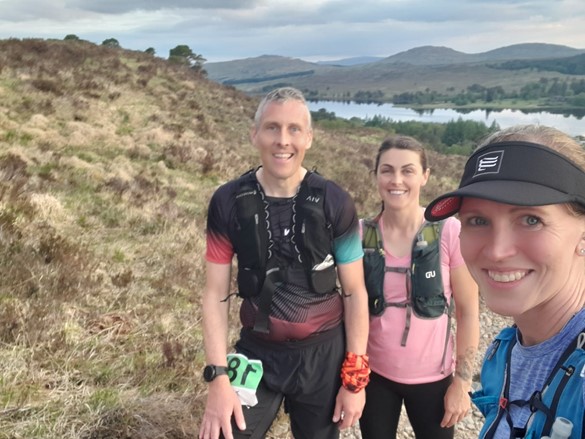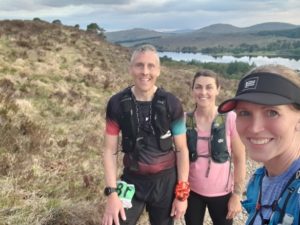 It felt like a training day with buddies, moods were high and we were looking forward to a sleep at Bridge of Orchy, it had become somewhat of a focus. By now we had been awake for 40 hours, racing for 35 hours or so and would be 120 miles in by Bridge of Orchy. Ironically we spoke about a fellow runner Karl who we always (I kid you not) see on the WHW and as if by magic within 5 mins at the foot of Jelly baby Hill we see none other than Karl having beers with friends! Cheered us up no end.
We saw a few bodies (alive and moving, no casualties) up ahead and made it our mission to pick them off. Derek was running well on the downs but I was feeling that in my knees and feet so tucked in behind. Over the bridge and we see Rona and the van, our beloved sleep awaits. Rona was trying to encourage us to hold off on the sleep until Tyndrum but we were dead set on it, only to realise that the electrics on the upper bed were broken and there was only the lower bed which was not out and had piles of our stuff in its way. We spent too long here trying to fix things, tensions were frayed and we decided to just push on and get the lower bed sorted for Tyndrum, it was only 6 miles away. Darkness was upon us again by now and there was an eery quiet as the heads were down. I knew I needed a cry and asked for a group hug, we embraced and everyone felt better. This is what sleep deprivation does to you.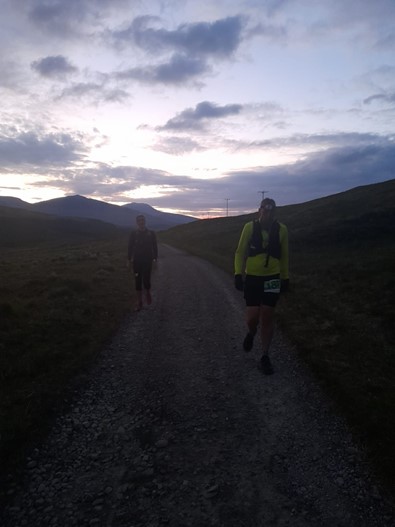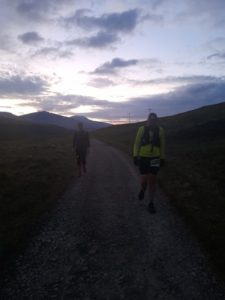 Iona pushed on to Tyndrum to relay our plans to Rona and get things ready for a sleep. By now I was getting cold, the "hot hands" were out and stuffed into the gloves. We arrived and bunked down, nothing was comfy, side, back, other side, legs and feet pulsing and body twitching. I felt like I didn't sleep a wink but Derek assures me I was snoring at one point. Rona wakened us 40mins later and we felt somewhat refreshed from the shut eye. We layered up, I had a T shirt, long sleeve, two fleeces, one being my work fleece (more on that later) and a down jacket. More tea and food to see us off, we wouldn't see then girls until Rowardennan, which is 26 miles over the slowest moving part of the course, the famous Loch section.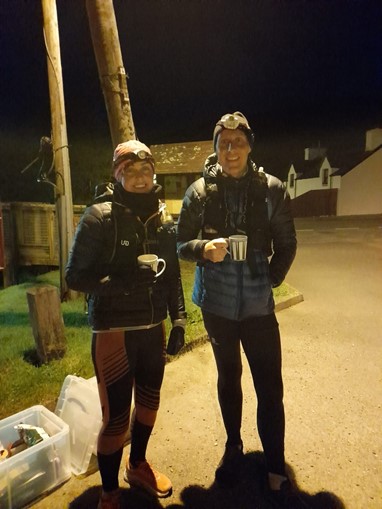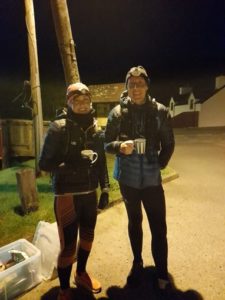 Iona would get her head down now (or rather enjoy some prosecco with Rona) as we were beyond our timings. After setting off, we were roasting in about 5 mins. My "hot hands" now coming in to their own and taking spells out my gloves as I was now "too warm". They'd last me right through until the morning though. We set off and our bodies eventually got moving again to a jog, a boy who we now know as Alistair Meldrum approached. He had been in the later start of the Ben Nevis race, (we later learned he would win that race in just over 28 hours) he was chatting away quite the thing before unleashing the biggest loudest chunder, didn't know whether to laugh or be disgusted, think I was both. We pressed on and let him enjoy his meal for the second time.
We ran through the Auchtertyre check point as we'd only left Tyndrum 2 miles prior. We hear shouts from the chair and notice Grzegorz who had earlier gone the wrong way and who we had been told had been weaving about like a drunk man in the course a short time prior due to lack of sleep. He was resurrected. We had to weave through the sheep who were too comfortable to move off the main path and then start to do the rollercoaster in reverse, also worse that direction. I was feeling dizziness from my headtorch at this point and had the urge to shut my eyes, we agreed to sit for 10mins against a tree and shut our eyes, woken before the alarm because we were bloody freezing. A lady was going past us and we reassured her we were ok. We carried on and before long the light was coming, this was around cow poo alley which was free of this. This light is hazy and not quite daylight, I was falling asleep on my feet. Doing my best to keep myself awake, face slaps and a scream at the top of my voice, assisted short term. I knew I just had to make it to Beinglas which was next CP and I could get hot food and maybe another short sleep. Derek was worried about me and he asked about continuing because once you leave Beinglas you're committed to the end of the Loch. We both agreed we were going to finish and would do what it takes, we'd come too far and were not coming back!
Sleep walking/running this section and annoyed at taking the diversion up the hill to avoid the fallen Bridge only to see when we came back down it was passable as water was low. I had text Iona telling her we'd be ages, needed a sleep etc, dramatic to say the least. I cried a little.
We caught up with that lady again and enjoyed seeing her in to Beinglas. Her first time on the route. That's one thing we were glad of, we knew the WHW like the back of our hands so no surprises lay ahead. We sat down, I had a cuppa, cup of soup, pot noodle and porridge, horrible combo but did the trick, although I was burping beef and tomato pot noodle after and that was bogging. There was no chance of shut eye there as the midges were bad, we ate and left.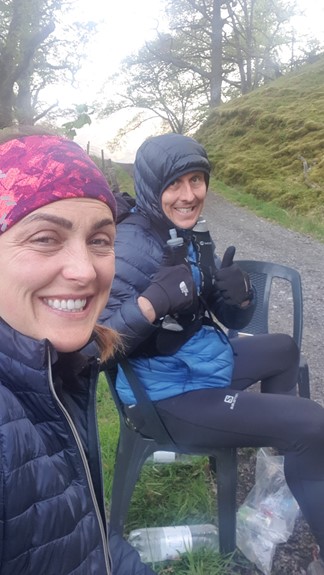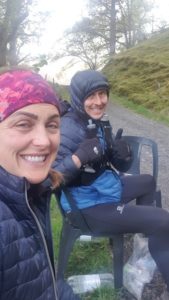 My tiredness had somewhat subsided but now Derek was feeling the effects. We considered laying down at the side of the trail and the sleeping bags we so badly moaned about were going to come into their own, £8 well spent! Derek assured me there was a bothy, not far away, we made our way down to the edge of the Loch.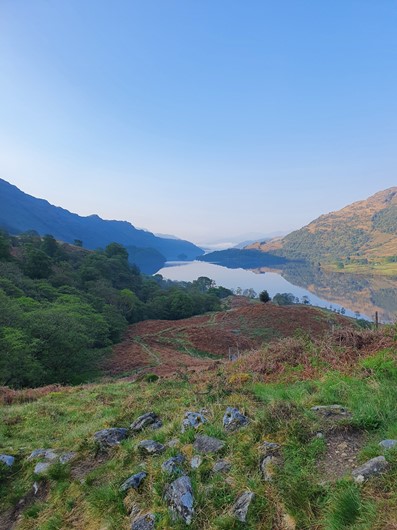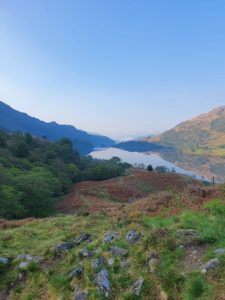 Just as I was losing faith, we then turn in through the trees and right before our eyes is a 5 star bothy Palace, on the outside.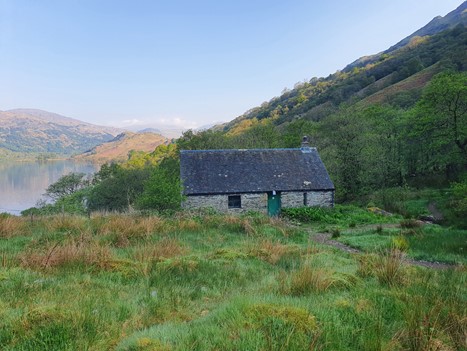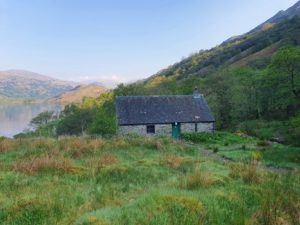 Derek was concerned it might be full but on entering, not a soul in sight, remnants of fires being set on the floor and the wooden raised platform ripe for laying a sleeping bag down, amongst bird poo and dead slaters. We set an alarm for 30 mins. I appropriately had my work fleece on with the motto semper vigilo, which means "always watch", it seemed apt in a secluded bothy and provided me some comfort. I slept sound for half an hour, we both wakened just before the alarm, Derek equally as refreshed.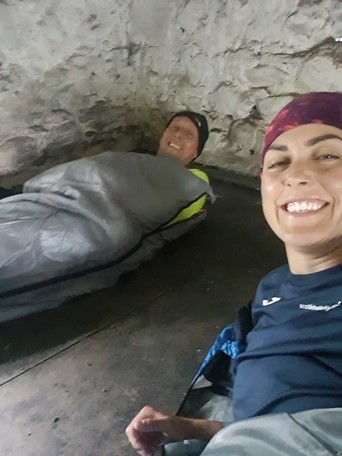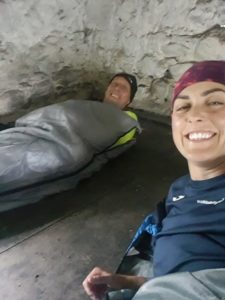 This was a turning point as it felt like the home straight, that would be our last nap and we would have Iona running with us from Rowardennan. Batteries well and truly recharged and smiles on our faces. I text Iona telling her all was well and we were refreshed and would see them about midday. She was pleased. The gnarly 3 miles on the Loch going in quickly, chatting, laughing and knowing we were another step closer to the finish. We started to see people walking the trail and they were keen to hear about our journey and shocked to learn we started in Aviemore but told us we looked better than a lot of those before us who were doing the 95. Mood lifter.
We got to Inversnaid hotel, hopeful of a brekkie roll but only to be greeted with a packet of crisps and a cold juice. It was hotting up now but I opted to keep the long sleeve top and trousers on meantime, barely had room in my bag for them!
Water bottles topped up and salt levels restored, we were back on the move, 7 or so miles to go until Rowardennan. I messaged Iona when we were a couple miles out and she came up to meet us, it was the high road which is shorter but steeper. A couple of less than desirable campers who had clearly had too much drink and other illicit substances asked Derek to take a pic of them, resulting in the desperation to locate the hand sanitiser! Least they looked in worse nick than us.
Here she comes bouncing round the corner, none other than Mac. Bringing much needed cheer and chat. We filled her in with our exploits since we last saw her.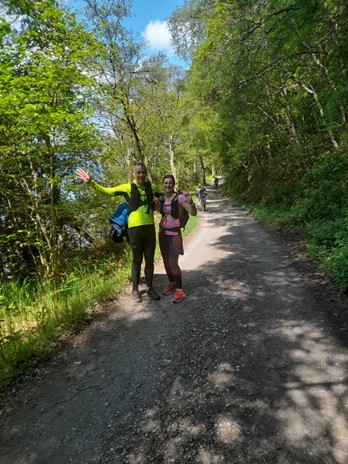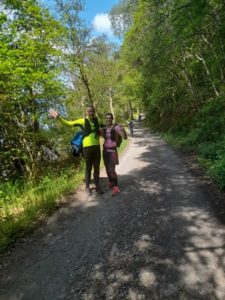 Joy to see the van and Rona and get a full last change of clothes, by this time it was roasting and the midday sun was upon us. I had chaffing on my calf from my cropped leggings, a new one for me. Suncream applied, summer clothes on, heavy bags ditched which was a relief on the backs. I'm not sure where I first started feeling it but my right upper calf and lower hamstring were super tight, apart from that my legs felt good. Use of my massage gun for a few mins helped and it was fine on the move. Couldn't really complain, we had only a marathon to go now and finishing really was a reality.
We set off and Iona was to negotiate Rona and the van for a couple miles along the narrow road before joining us on the trail. As we exited Rowardennan, we were nearly hit by an impatient and rude cyclist who snuck through a gap between a moving car and ourselves. Rage levels were high. Derek had done a great job of filling in for Iona on the Karaoke stakes and his outbursts cracked me up as we were often passing walkers who must have thought he had lost the plot. Team karaoke was now on.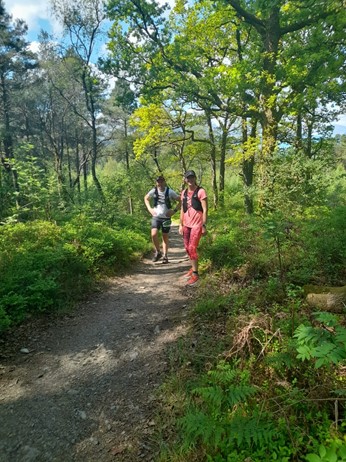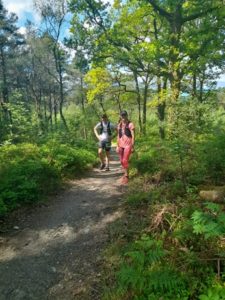 We decided to get a wee train on the go again, Derek asked me to take the pace and we were getting a good rhythm going. Iona obviously the fresher of the three was tucked in between. The beach sections were something else, here we were 150 plus miles in to our race and there were bikini clad beach goers enjoying the rays as we plodded through them, smelling like cesspits. The cold water was appealing to me and I made a detour to splash my face which was so refreshing. Patience for people and groups on the trail was frayed, tolerance was low and we agreed it was a nicer place to be when it wasn't awash with ignorant parking and people to boot.
We had put in orders for an ice cream at Balmaha and Rona brought the goods, a galaxy ice cream lolly awaited each of us. We had told ourselves that the last big climb out and over Comic would mean the home straight for us and pretty much downhill to the finish. Conic was busy but we seemed to move well up there, albeit a lot of grunts and groans. The views were gorgeous at the top.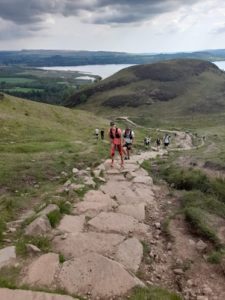 I lead the way down as I was the slower of the three on the downhills to set the pace.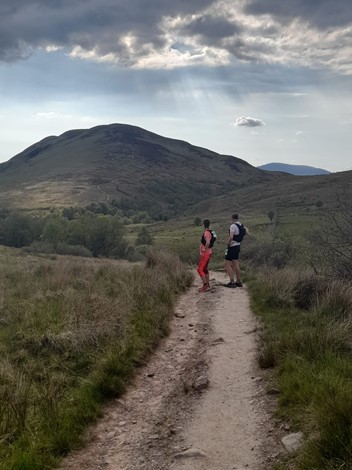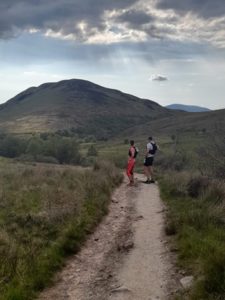 We progressed on to Drymen and the RD was there. He loves a blether. He told me he had me a trophy engraved already, glad he was so confident I'd finish as I wasn't all that sure a few hours ago!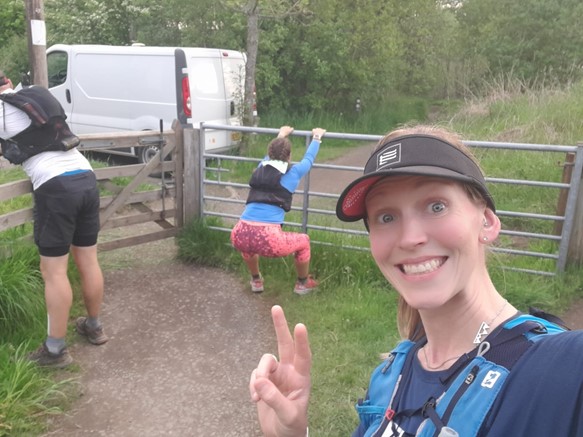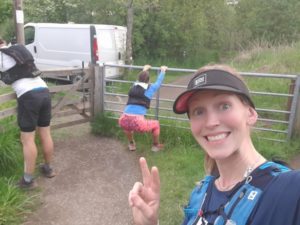 Last fuelling up before the final. 12 miles. Kat, who supported Iona previously during her WHW race and a good friend had said she'd be coming to meet us for the last 6 miles. I think knowing we were so close to the finish that it didn't matter if we rinsed ourselves now, it was time to empty the tanks well and truly. We kept to the target pace for this section which was reassuring. We were picking off the 95 mile runners. We agreed to have our respective cans of coke at Beech tree Inn, it was like a final cheers.
Before long we were greeted by smiley Kat, told her about the events so far and she and Iona pressed on just ahead of us.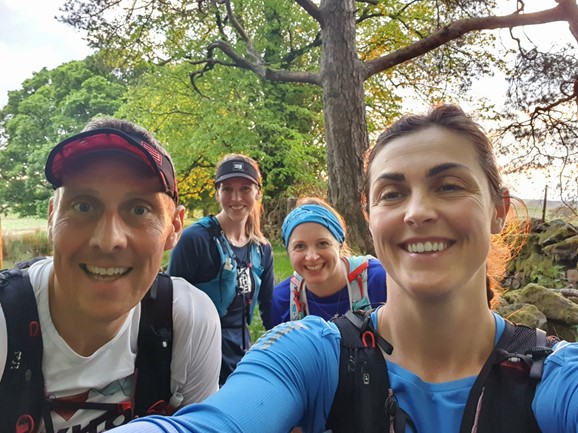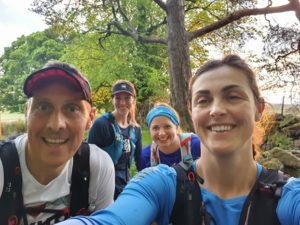 The sun was going down by now but we were going to make it in before dark, that was now a certainty. The target now, was to finish just under 55 hours. Entering Mugdock symbolises the near end of the race, with about 3 miles to go and mostly downhill. Rona and Gary both at the finish, we were approaching the High Street and around one more bend was the race finish.
We were done, in all respects! WHW in under 35 hours. The Highland Challenge completed in 54hours and 57mins. Joint 2nd place. 1st and only female.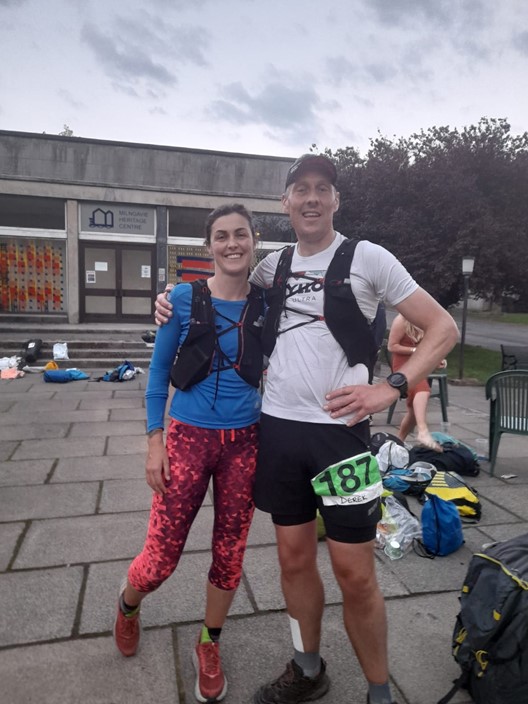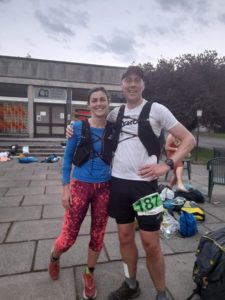 I honestly could not have done that without Derek, Iona, Rona and Colette. Support crews are invaluable and support from friends and family along the way in person and through text was priceless.
Now to recover and get ready for my next race, the ACP 100k in August which is being held in Ireland. I've been lucky enough to have my third Scottish team selection and this will be my second outing in the vest after the 2020 race was cancelled.