I have been thinking about writing a blog for a long time now. I often tell people I have an inner monologue when I'm running and for so long I have been meaning to write this all down… so here I am!
I have been running for about 2 years now. I'm still a long way off becoming as fit, strong and fast as I could be, but I'm getting there. I first started running at school and was one of the insane people who longed for the cold months as we got to do cross country in P.E. It got to the point where I was so far ahead of the girls I was told to go and run with the boys. And with boys being the competitive creatures they are, along with the thoughts of "we can't be beaten by a girl!" I pushed myself even harder. After school I ventured off to University and running (or sport of any kind really!) took a back seat for a while as I found my social side taking over. So it's only recently I have taken up running properly. I say properly as in more than just a jog to the other side of the field and back. I now pay to get muddy and be in pain for the few days after a race, but I love it.
My first proper race was the Alloa half marathon in 2011. I had been running for a while before this and even though I hadn't raced a 10k before I thought I needed more of a challenge. I had been training for a good few months leading up to it, I was feeling pretty good and I just kept telling myself was all I had to do was finish, In one piece. And in under 2 hours would be nice…
Race day came and I walked up to the local leisure centre where the race started from. I wasn't running with anyone and most of my friends and family were working so I did feel a bit lonely waiting about for the race to begin! But along came 10am and we were off. Having never raced properly before I didn't have anything to monitor my mile splits. Come to think of it, I wasn't even wearing a watch! I just trundled along, walking every now and again and just trying to shake of the ever increasing ache in my knees. By mile 11 I had had enough and really just wanted it to be over, and then appeared a hill. Not just any hill but a long, gradually increasing, no end in sight hill. I started off thinking it wasn't too bad but no, it was. I walked most of it! The last 2 miles were pretty flat so I managed to power on down to the finish line and just as I came around the last corner I saw the timing clock at 1:58:40 and I threw everything I had left into finishing in under 2 hours with 1:58:57. I nearly cried. Mostly through happiness but the pain in my knees was excruciating. I hobbled home, had a bath and climbed into bed and fell asleep almost instantly. In pain, but first half done.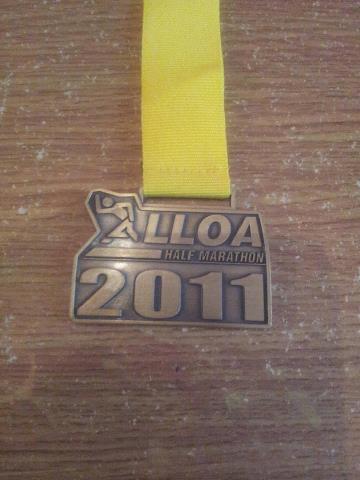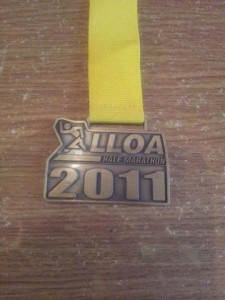 After that I put racing to one side for a while. Mainly because I didn't like doing it on my own and very few of my friends were into running.I would happily run for hours on my own when training, but racing was something different. I eventually convinced my friend Becky to start running with me and we started training nearly every week together. Our next race was the Balmoral 10k 2012 and what a run it was. I finished with 55:45 and Becky in 1:09:37. We were both high with adrenaline all the way home and were already planning our next race.
Since then I have started running with my little brothers girlfriend Jemma and we have completed many more races. Some together, some separately but it's just so nice to have someone to race with and to share the post race buzz we get. A list of all my completed races and times are in the link above.
Next up is the Edinburgh Rock n Roll half on the 14th April. My training is going really well and as Jemma is running the Strathearn marathon in June, my training run mileage has significantly increased as well. Who knows, you might even get a marathon out of me by the end of the year…