One of my brilliant friends had written a blog post on her side of the West Highland Way race. Enjoy!
…………………………………………………………………………………
The race from a crewing perspective!
I can't remember exactly when I was enrolled to Iona's support crew but I think it was shortly after the 2017 race. I knew for sure I wanted a year away from racing this myself but couldn't bear not to be involved. Despite having run the race twice myself and enlisted the help of my own support crews, I have never previously been on the other side.
I've known Iona for about 3 years now after meeting her through running. As you can imagine, in a 5 hour run you can learn a lot about someone and we've had many of those. Iona is a simple lass, enjoys running and gives it her all. She is more capable than she gives herself credit for and is no stranger to a podium but she's very humble.
Her place was confirmed in late 2017.
We met for a run in the Ochils in early January. At that time there was talk of a lingering injury that had knocked Iona's confidence and she lost about a month of training. I knew this was playing on her mind as it wasn't the preparation she had planned, however not one to let it linger, she was back at it before long.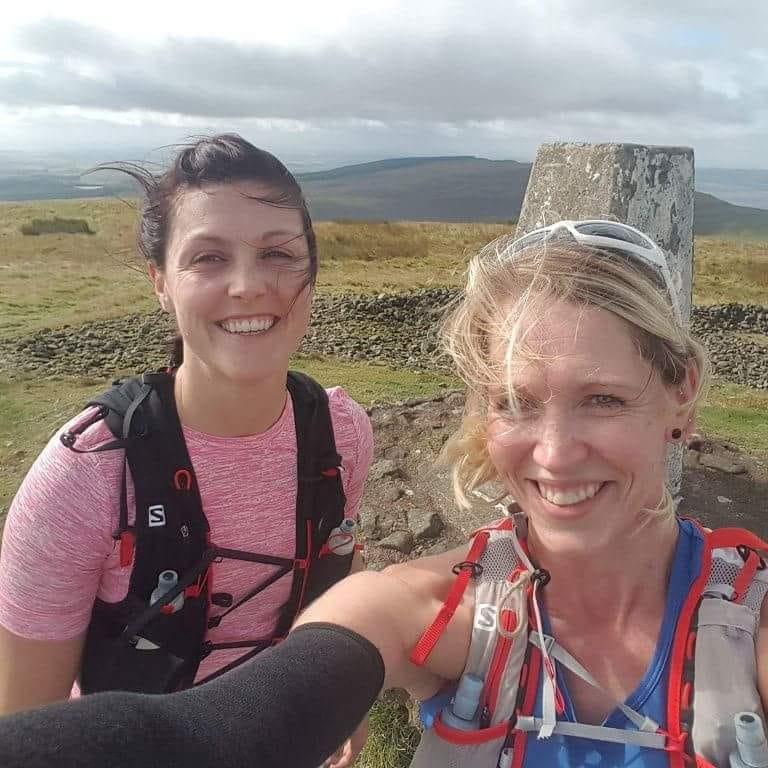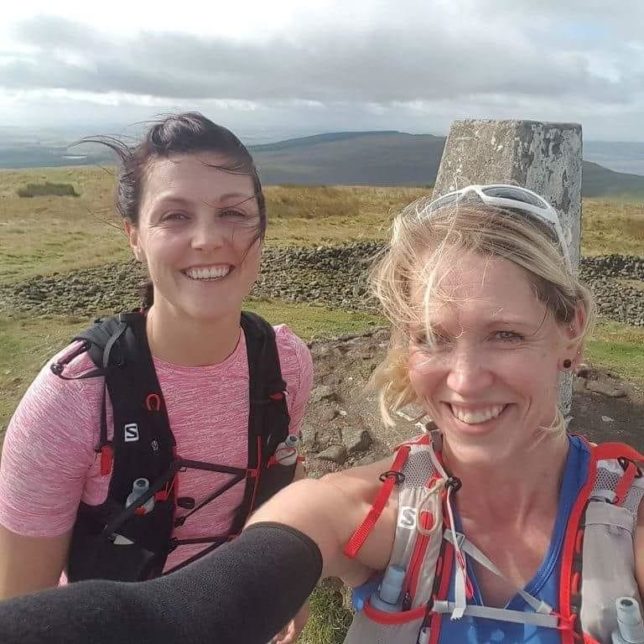 Early February we enjoyed a run in the Lomonds, this became a regular playground for us both.
March saw us back on the WHW and hitting the banks of Loch Lomond, running this section always reminds me of the 2016 race when Iona and I ran the technical section together along with trillions of midges!
The fitness was coming back and with 3 months of training still to come, there was no worries. Iona completed the Highland Fling race at end of April and this was a solid run that cemented the preceding training.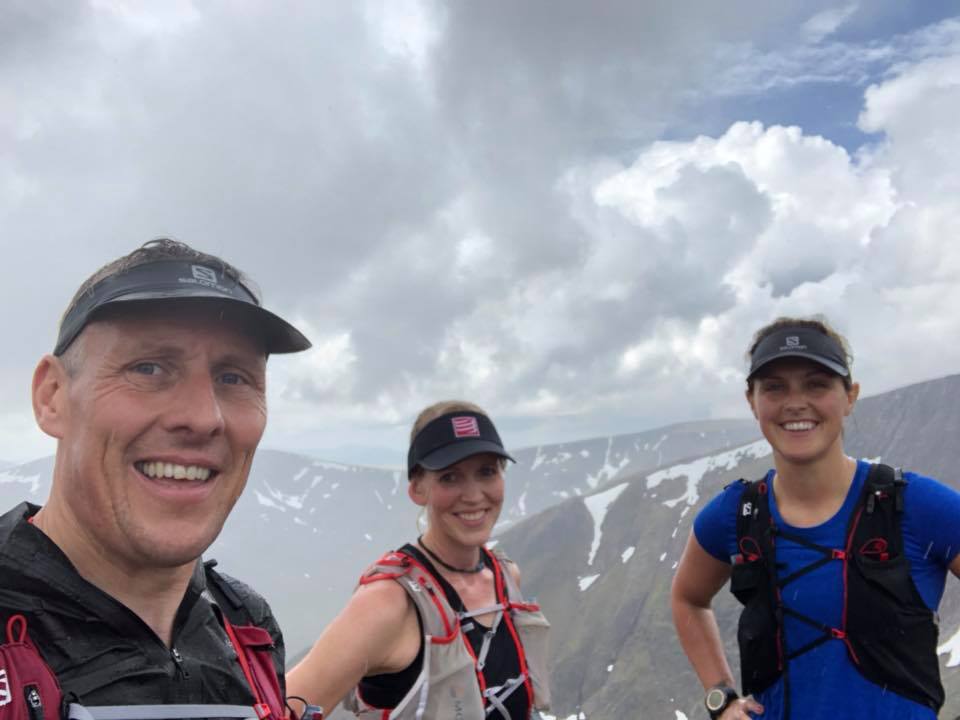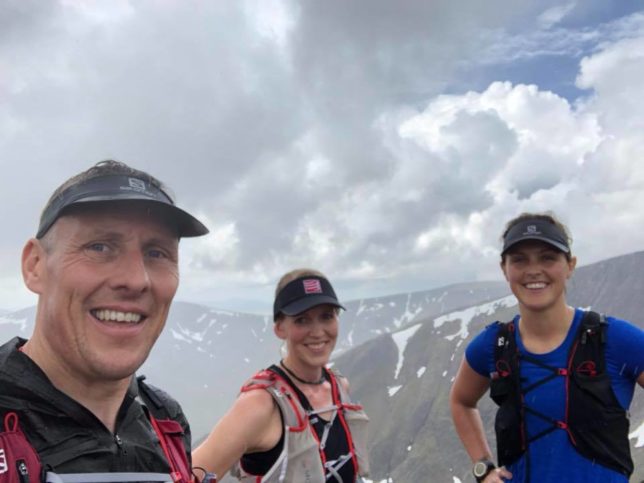 The start of June saw us on one of Derek Fish' mystery tours and the last biggie-8000ft climbing, 10 hours and 35 miles in the Cairngorms. Iona was ready.
Derek was also running the race but for the 3rd time.
I felt more nerves and excitement in the lead up to the race than I expected. The responsibility of crewing for someone was a big deal. Would we get things right? Would she be ok? What if she didn't eat? So many variables that would be out of our control. Iona had a goal time, she wasn't overly vocal about it but after her getting a 22hr 46 min time in 2016 I think we both knew that 21 hours was on the cards. Of course, lots of things can happen on race day but after a solid 5 months of training and Iona hitting over 1000 training miles and over 100,000ft of elevation there was no doubt that she had done all she could.
She was looking lean and personally I felt she was in better shape than 2016, all that was lacking was her confidence in her capabilities. That's where her support team of Neil and Kat, along with myself would be the missing link.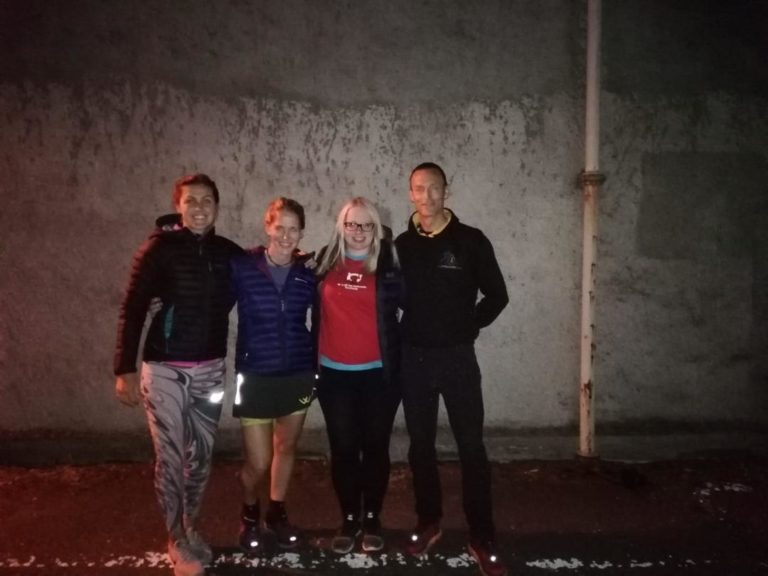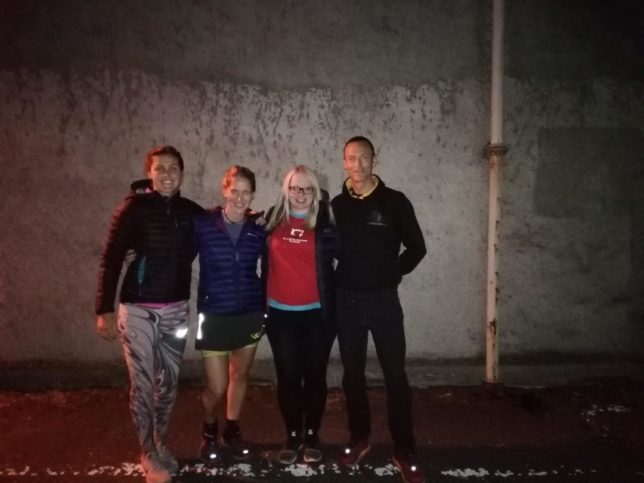 Neil is Ionas coach and an all round great guy. I only just met him 2 weeks before the race but his dry sense of humour was right up my street, I guess it would have to be as we were to be cooped up in a van for almost 24 hours together!
I didn't meet Kat until the night of the race but knew she was more than prepared for the events that lay ahead as she had crewed for Iona in 2016 and she was very easy going. As Kat wouldn't be coming until the second half of the race she told us to keep an eye on Ionas food intake, something she is particularly bad at and would suffer for later in the race. She also struggles with running in the dark as it makes her queasy…gosh this girl really was a diva *checking the terms and conditions of my contract and no sign of this!*
We had pizza at pasta at Iona's parents who kindly allowed us to use their home when on holiday and a beautiful home it was. Well and truly carbed up and Iona feeling "fat", it was time to head to Milngavie to get registered.
We arrived in good time, about 11pm. Iona got weighed, registered and we went back to the van to chill.
Thanks to Neil, our race HQ was equipped with a sink, fridge and 2 beds. Iona went to the top bunk for a lie down but she didn't sleep. Time passed quickly and we went to the race briefing before getting Iona kitted up and ready for the start. She sorted her laces more times than necessary and the faffing was evidence that she was starting to feel the nerves.
I stayed with her until the horn and she was off.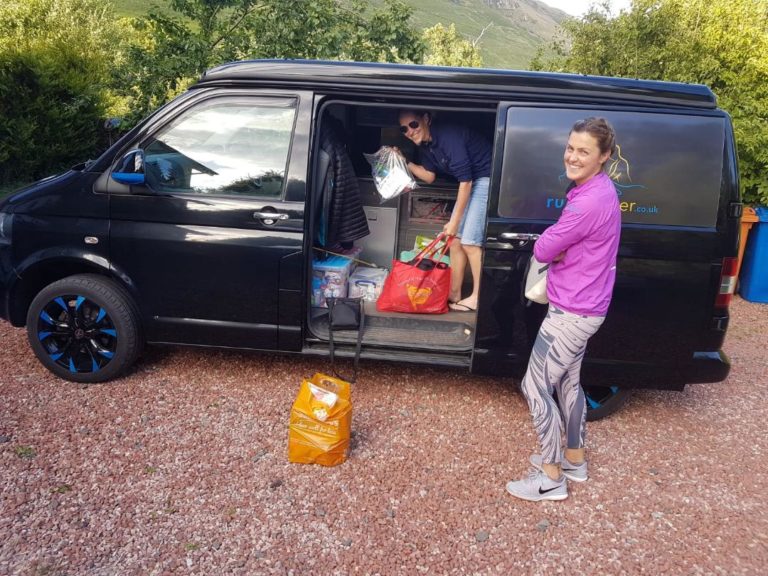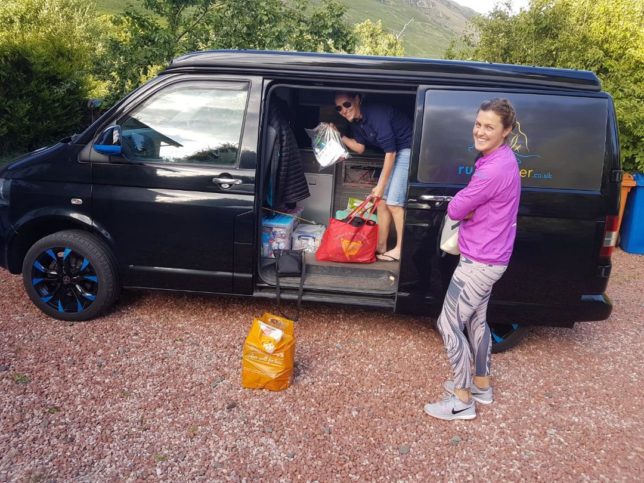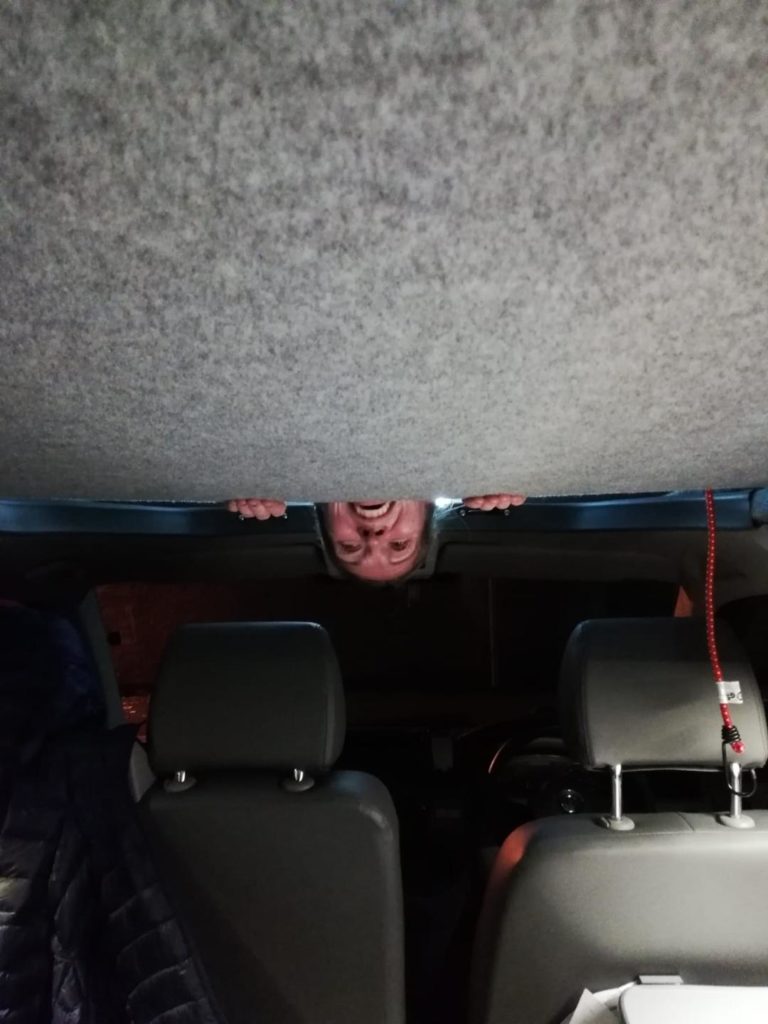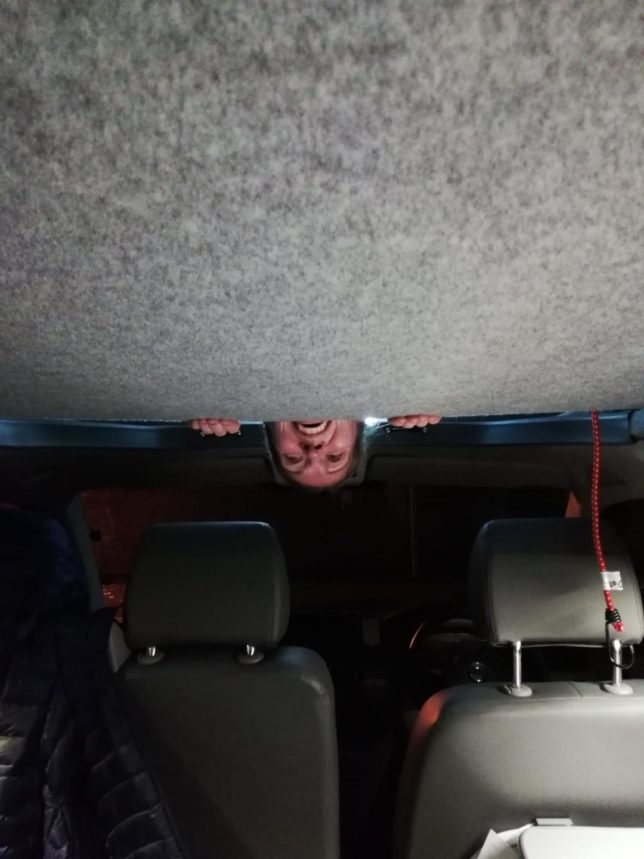 This was one of the only times in the race I actually felt worried about her as I had no idea how she would be feeling the next time I saw her.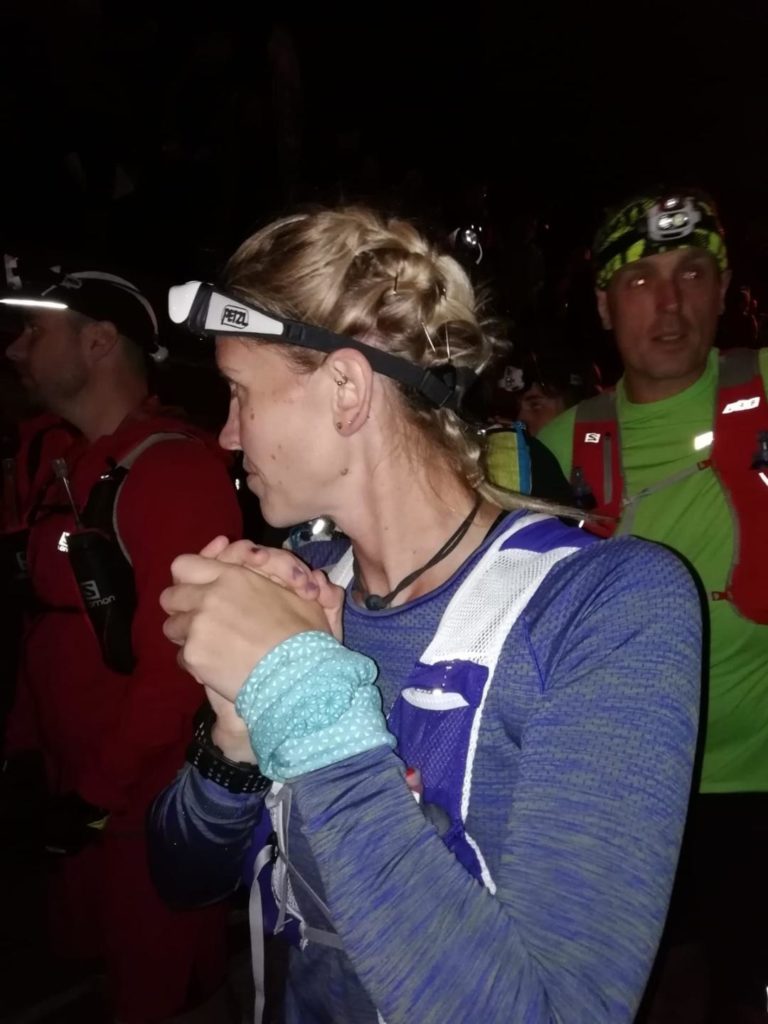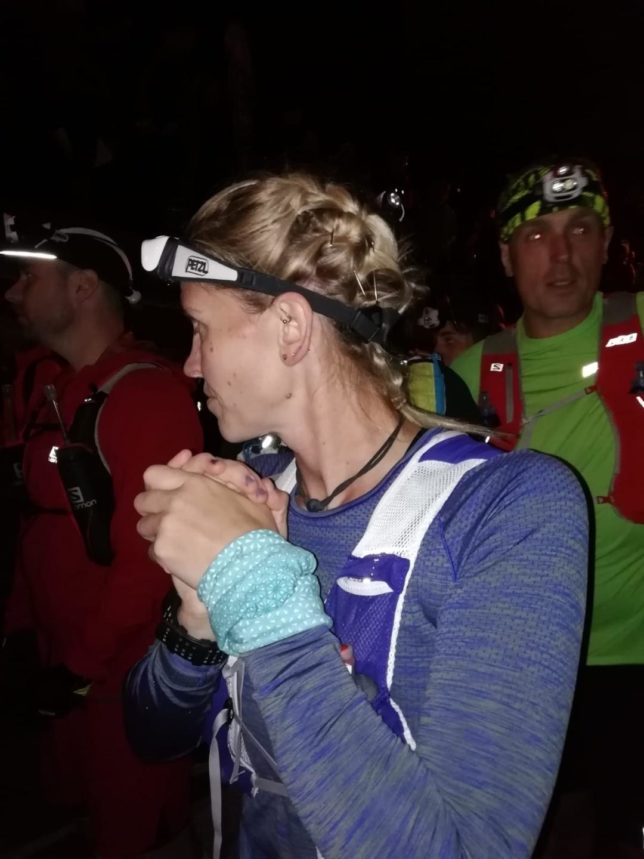 A short drive to Drymen and Neil parked up. I fell asleep no problem in the front of the van. Car sleeping is my speciality. Those 20 or so minutes were almost all I got until 24 hours later!
Neil was disappointed that his light saber wasn't working but not to worry as he had glow sticks. These weren't wholly necessary but made it easier for Iona to spot us and provided some entertainment.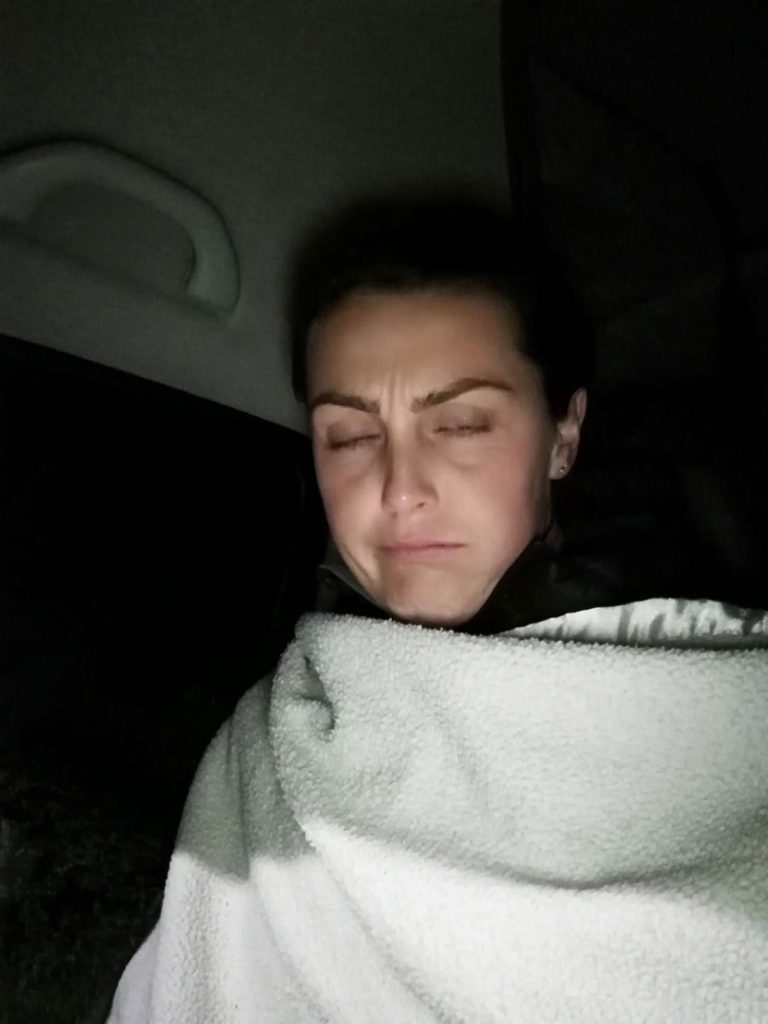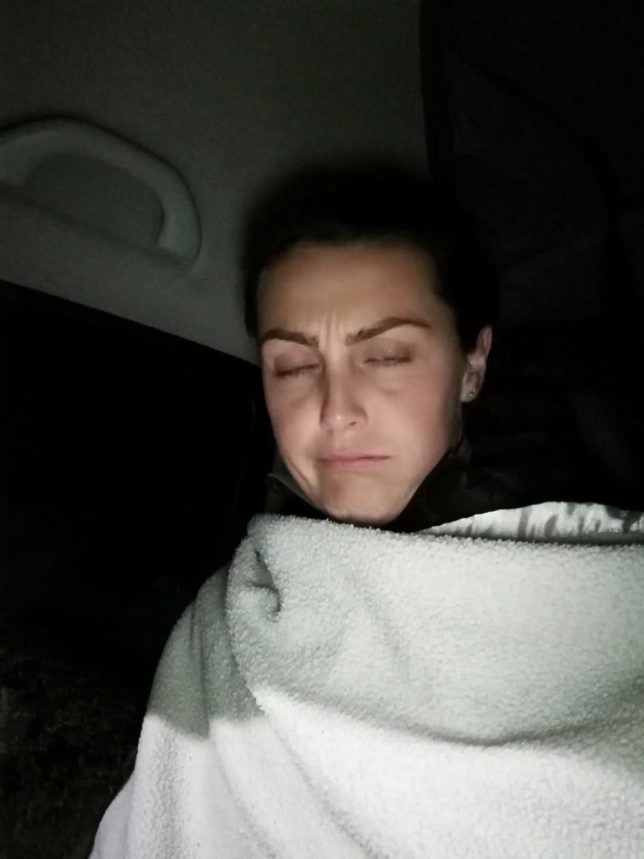 At 0255hours here she comes. Bang on target. Now nobody is ever going to win an ultra in the first 12 miles (well unless you are the actual race winner this year who lead the whole way) but it's a good indicator if you are overcooking the pudding. We changed one of her drinks bottles, Neil handed her a clif bar without the wrapper and off she went. Likely she tossed most of that into a bush but even a bite was better than none and she couldn't use the excuse that she couldn't get the wrapper off. She was smiling and we headed off to Balmaha to await her arrival at about 20 miles.
We were lucky on arrival there as we got a space next to the actual checkpoint. Neil and I were still full from dinner so had a cuppa in the van. We decided to get organised and have everything ready for Ionas arrival. Something we did at each CP thereafter.
We met with Dereks support crew here and it was nice to catch up with Stevo, Jonny and Rona #teamfish and we were to see them at most of the checkpoints thereafter. This was great as Derek, Iona and I have shared many a long run together so I was keen to see him along the way also.
Just after 0400hours I get a call from Iona, this means she is at the top of Conic Hill and will be with us shortly.
At that, Neil and I sprung into action and got her porridge ready, she wanted it to be set and cool enough to eat, along with her coffee warm enough to drink. She was still looking good and arrived at 0419, one minute ahead of schedule. She hadn't drunk a whole lot so this was something we needed to keep an eye on. Good news was that she had eaten half the bar Neil thrust at her as well as half a waffle and some sweets. Most of the porridge got eaten and she had her coffee and OJ. All this in 3 minutes and she was off again, ditching the head torch. She was in 51st position and 7th female.
We would see Iona again at Rowardennan. This is not an official checkpoint and crews don't need to go there but without that, it would be about 5 hours without seeing her, not something we could risk if she was struggling with her food.
We were lucky enough to see Iona running along as we drove past, we gave her the obligatory holler out the window.
We arrived at Rowardennan and quickly realised the midgies were in force here so the nets came out. We had plenty of time for another cuppa and cracked open the shortbread, we were feeling quite relaxed. Iona arrived at 0554hours, 6 mins ahead of schedule. She had moved to 46th place and remained 7th female. She'd had one bottle of juice but true to form she had eaten nothing. I can confirm that she was hydrated as the toilet situation was clarified. This was an important fuelling station and ¼ sausage roll eaten, 1 S cap taken, ½ a sandwich, a bottle of yazoo and 500ml of active root. Off she went at 0601hours, happy and no issues to report.
Neil and I agreed it was time for a visit to the golden arches, Neil being a real runner and a bit more healthy than myself hadn't had a McDonalds bacon roll before. He was about to get educated. We headed back along the Loch and on to Balloch. There were a few hairy moments as some oncoming drivers had underestimated just how narrow the road was and thought they could get a bus through!
We then headed off to Beinglas Farm.
The winding roads saw me nod off, it was either them or Neils chat, who knows. We arrived there and it seemed to be one car out, one car in. Not panicking as we knew we had plenty of time but also keen to get in as I had wanted to see some of the earlier runners coming through.
We got in to park the van and we met Dave Andrews support crew who told us Dave had already gone through and they were heading off to the next CP. Superb news as Dave had trained hard for this years race, he went on to finish in 17hrs 37mins and in 4th place. Not bad for an old boy!
I got a text from Iona at 0738hours telling me she was at at Inversnaid and reporting that she was exiting the drop bag section and all was good.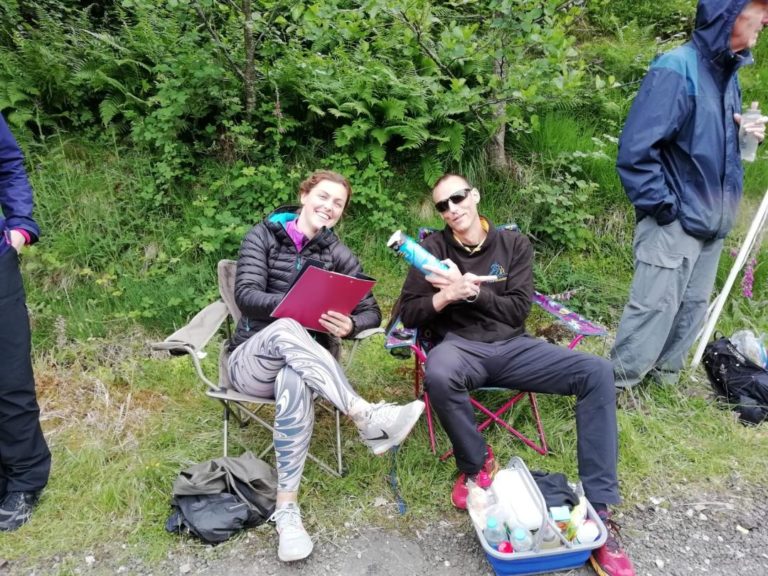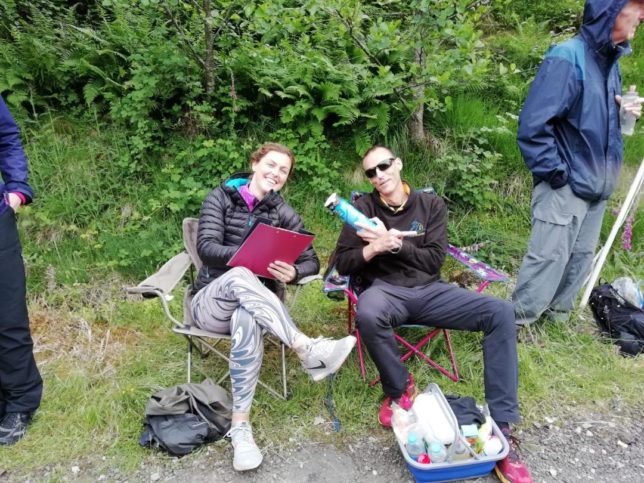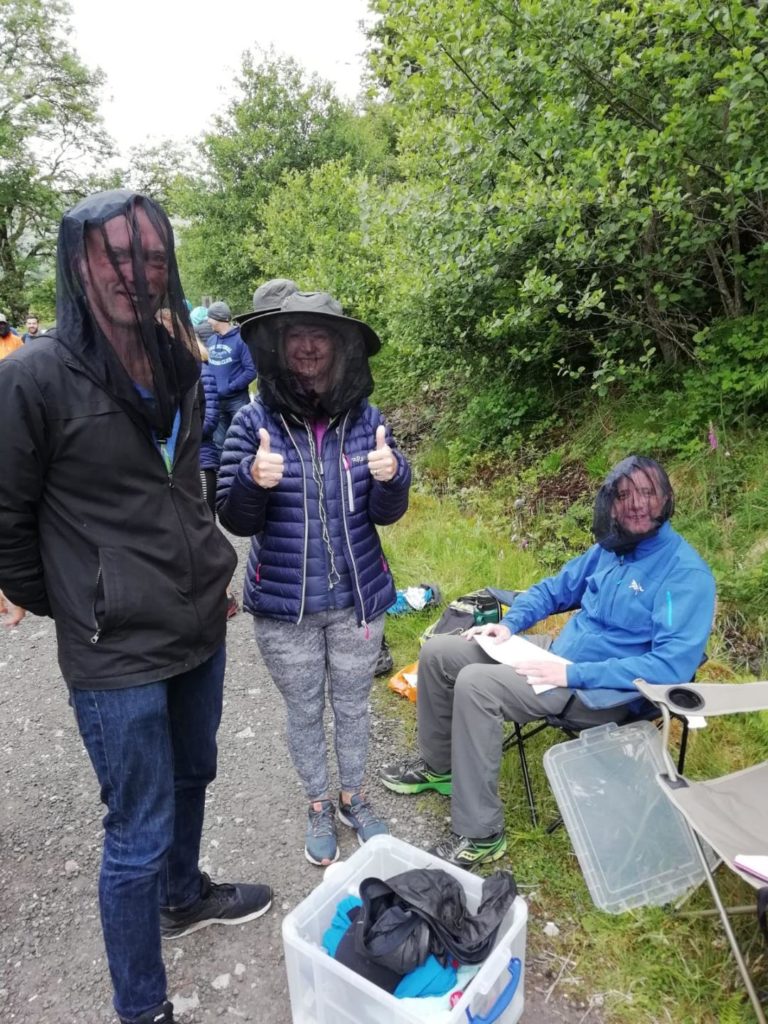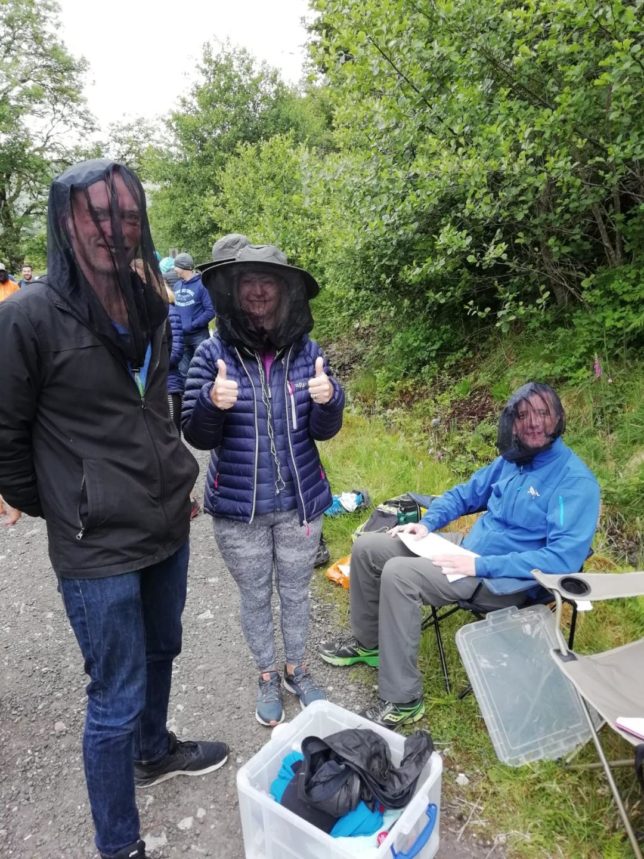 At 0913hours, Iona rocked up at Beinglas, 7 mins ahead of schedule. She'd had a strong run over the technical section and had managed to chum someone along there. This was always a good idea as it can become a slog otherwise. She had moved into 39th position and remained 7th female. She'd had some flapjacks and drunk most of her fluids. She had a sandwich and some juice, Dereks sloppy seconds of San Pellegrino which went down a treat! At 0916hours, she was off to tackle the rollercoaster section. Still smiling and not sure why she was feeling this good, convinced it wouldn't last. Another successful checkpoint.
Smug, we headed off to Auchtertyre. Driving along and seeing a marshall at the side of the road, we both commented about him being in the wrong place as that wasn't the course…only to realise that he was at the entrance to Auchtertyre and we were the nuggets who just drove past, quick u-turn and we got ourselves to the right place.
Nice to see Danny Byrne and his son Alfie who had come to see some of the runners. Rona made us all a cuppa in their fancy pants van and Stevo was filling in some of the tourists on the munros and railway line history. They looked impressed but looks can be deceiving!
I got a text from Iona to tell me she was making good progress and it was nice to know she was still with it enough to send a text.
At 1112hours she arrived, just under 20 mins ahead of schedule. She was thirsty and her hips a bit tight at this point. This was time for the weigh in. There was a slight drop in her weight but not concerning and to be expected. The food consumption was slowing down between CP's but she ate well here. ¾ pot of pasta, yazoo, OJ, coke and some chocolate roll. Little did I know that the OJ/milkshake combo would curdle a little! She'd moved into 34th position and 5th female. She also arrived 18 minutes too early for a support runner. It was never the plan to enlist my services here but it was a good indicator that she would not likely require one until a good bit later in the race.
At 1120hours, she was off.
We would see her again in a couple of miles. I messaged Kat who had arrived at Tyndrum and put in Ionas order of a solero ice cream. The weather was warm but thankfully not baking. Iona made it clear she was taking it nice and easy to Tyndrum. It is always nice to see a fresh face and seeing Kat was a boost for Iona.
At 1154, Iona arrived at Tyndrum and with the goods aka solero handed over, she was off. She knew she had plenty of time and could enjoy an easy run to Bridge of Orchy.
The plan was that I would commence my duties as support runner from here but I could only do so if she arrived at 1330hours or later.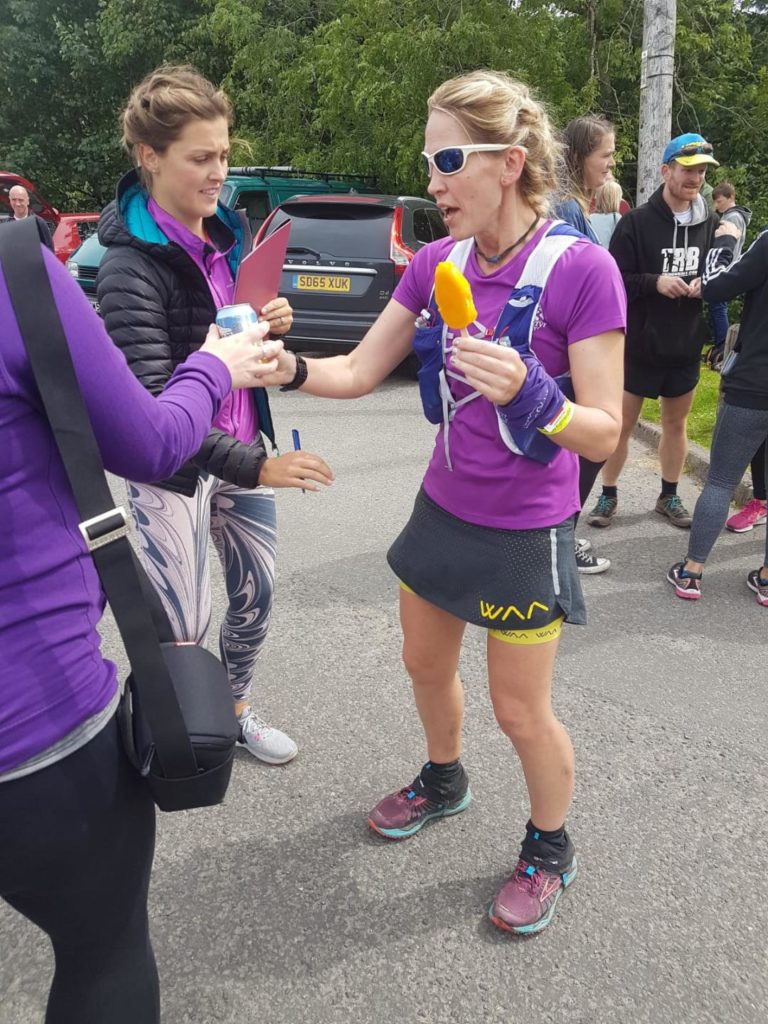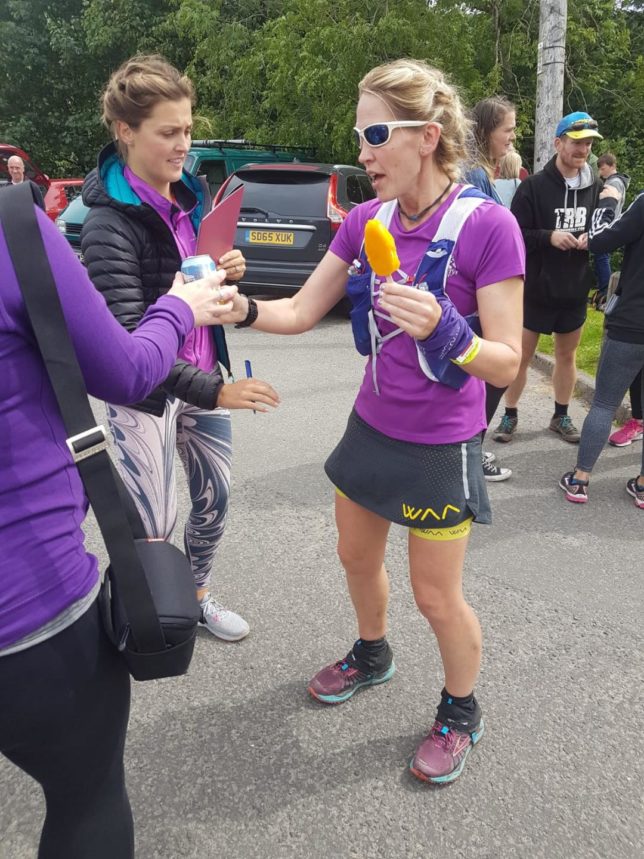 I also remembered Iona had wanted to brush her teeth at Auchtertyre but we had forgotten to do this, I knew I needed to remember this at Bridge of Orchy as Iona said it would make her happy. What the runner wants, the runner gets, albeit a little later than requested.
We pitched up there with plenty of time to spare and I saw Scott Robb coming in. He looked deflated and his wife Lisa told me he was thinking of dropping out. Keen to prevent this, I provided some words of encouragement and found he had a pretty big, albeit burst blister on the sole of his foot. I knew this wasn't going to end his race, compeed applied and off he went.
Iona arrived at 1314hours, ahead of schedule. She was still feeling good and it made no sense to wait to get a support runner when she was mentally in a good place and still pushing on and making progress. She had also moved into 33rd position and remained 5th female. She hadn't eaten, other than the lolly but had been taking on fluids. She brushed her wallys, ate well at the CP with a sandwich, choc custard pot and a babybell. She changed her top and donned the CH vest. This proved to be helpful for us spotting her coming thereafter. At 1321 hours she was off and keen to nab that jelly baby at the top of JB hill.
We decided to head along and meet her just before she approached Victoria Bridge. We spotted the green and orange bobbing down the hill and she was moving well.
Scott came down just before her and he got some water in his bottle from us and a wee tin of coke. He seemed to be in good spirits and I knew that he would be completing the race, he did so in 22hours.
At 1354hours, Iona met us at the bottom of Jelly baby hill and was ready to take on Rannoch Moor. That section of the path is relentless, more due to the fact you can see miles of the path ahead and it feels like you are making little progress.
It would be a couple of hours before we saw Iona again and Glencoe is a key CP which makes or breaks many runners. She was feeling a little sicky by this point and a bit disorientated and food was having to be forced a little but she wasn't complaining.
Kat, Neil and I arrived at Glencoe and Kat and I immediately went to get some food. At this point team Fish had just had their lunch and Rona was kicking herself for eating a baked potato after finding out they had none left for Derek. Anyone who has supported a runner knows the importance of meeting their needs! As it turns out, I don't think Derek was bothered.
We purchased Ionas Irn Bru and timed the chip ordering to perfection to ensure they were still warm when she arrived.
We met up with Anne, Sam and Jaden, Ionas mother in law, sister in law and nephew. I knew this would be a big boost for Iona seeing them. They were pleased to hear about Ionas progress and surprised but please to hear that she had been eating well, they clearly know her.
Knowing Iona would be approaching soon, I walked up the path to meet her.
I knew she was on the borderline for getting a support runner as the cut off was 1545hours and I wanted to see if she wanted to continue alone or take me with her. There was no doubt she was capable of continuing on her own but I also knew how much she disliked the run to the bottom of the staircase. By this point in the race, it is hard to keep pushing. Selfishly, I wanted to run as it was my last chance for a long run before my own race in 2 weeks time. This wasn't about me though and ultimately Iona's wishes were our command. Iona was keen to take me with her and I was buzzing.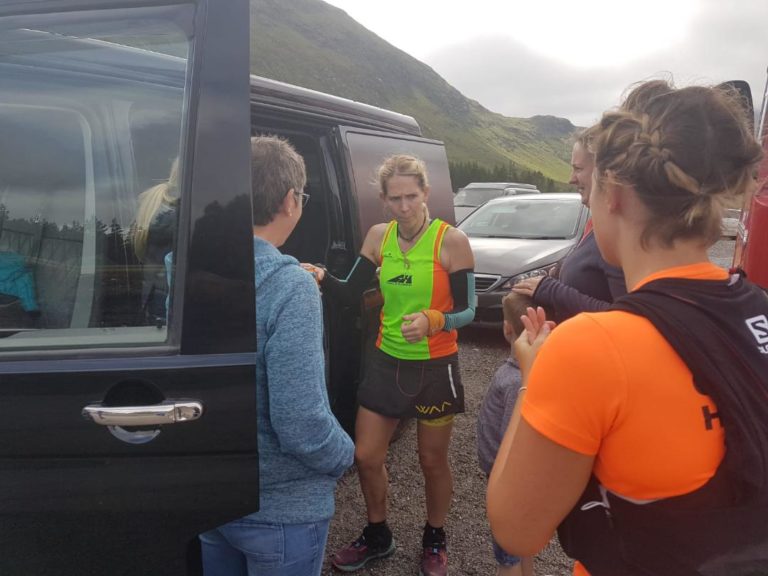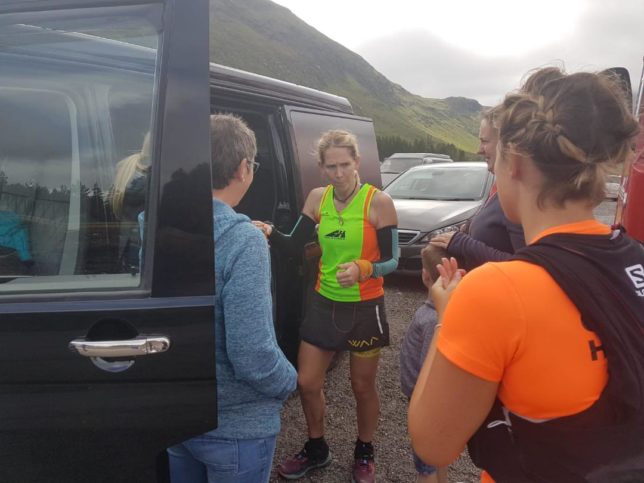 It was at this time I saw Morgan Windram, a lady who I first met at the Cateran 55 mile race in 2015, my first biggie. At that time, she was taking on the mammoth feat of running the 110 miles that year and we soon realised that she now lived where I had grown up and knew my sister. She also told me she was back to run the race after not being able to complete it previously, she was on a mission that year and off she went. I was inspired by her. However today wasn't her day, as is often the cruel nature of ultra running and she was walking down to Glencoe in a state of despair. Not sure whether to hug her or risk upsetting her, I felt I needed to do the former. I could feel my eyes filling up but I knew she'd be back with more fire in her belly.
I felt quite emotional as I thought about just how big this challenge was, it is easy to forget this when you see the smiley pictures but the months of training that lead up to this and running 95 miles continually for around up to 35 hours is a superhuman feat. I felt proud of Iona and the others that were taking this on.
It was 1545hours so by the time she was fed and watered, taking her handheld bottle at this point to give her back and shoulders a break, it was time to go. A few fellow Carnegie Harriers had turned up here to cheer on the runners, this was a kind gesture.
Iona was now in 32nd position and was 6th female, having run into Glencoe with another lady. She was still bang on target for 21hours.
Off we went. It's not easy to support run for someone, bearing in mind Iona was 70 miles into her race and I was fresh legged. I was keen to push her but careful not to break her, there was still a long way to go. We naturally got into a pace, between 14 and 15 min miles. We chatted about nothing and I ran slightly in front of her, constantly checking that I hadn't widened the gap to much, pulling back when I did and getting a regular thumbs up from Iona. I ran ahead to get the gates and before we knew it we had covered the 3 or more miles to the devils staircase.
I think it is important to know your runner well, the was I see it is that we are there to unleash their potential and enhance their race, it helps when you know what makes them tick.
Karen Wallace was there with Graham Connolly, who had both provided a fair bit of entrertainment for me earlier in the day and were supporting Scott Nicol. Karen was singing Beyonce as we approached "WHO RUN THE WORLD". I smiled away to myself and finished the line in my head "GIRLS". A quick hello to Kat and Neil and Iona ditched the handheld and took her backpack and off we went. We were ready for big climb 1 of 2 that was remaining. We power hiked up it and before we knew it we were at the top. Iona commented on the big green tent up there, I searched around for it only to be met with a massive stone that was clearly not a tent. Oh dear, that's the hallucinations started I thought! We pushed on, I reminded her to drink, she reminded me she was.
We skipped down the back of the staircase and I was pleased to see her moving well. We met with a man, who we later learned was Bob Allison who asked if we had a minute to spare for a photo. We were happy to oblige and giggled away like schoolgirls. He commented later that he had heard us chattering away and we seemed to be having a great time. This was very true.
Armed with some photos, I updated a couple of friends on Ionas progress. I had received lots of messages throughout the day asking how she was doing. Plus the Instagram story wouldn't update itself. By this point in the race we weren't seeing many other runners as the field had spread out.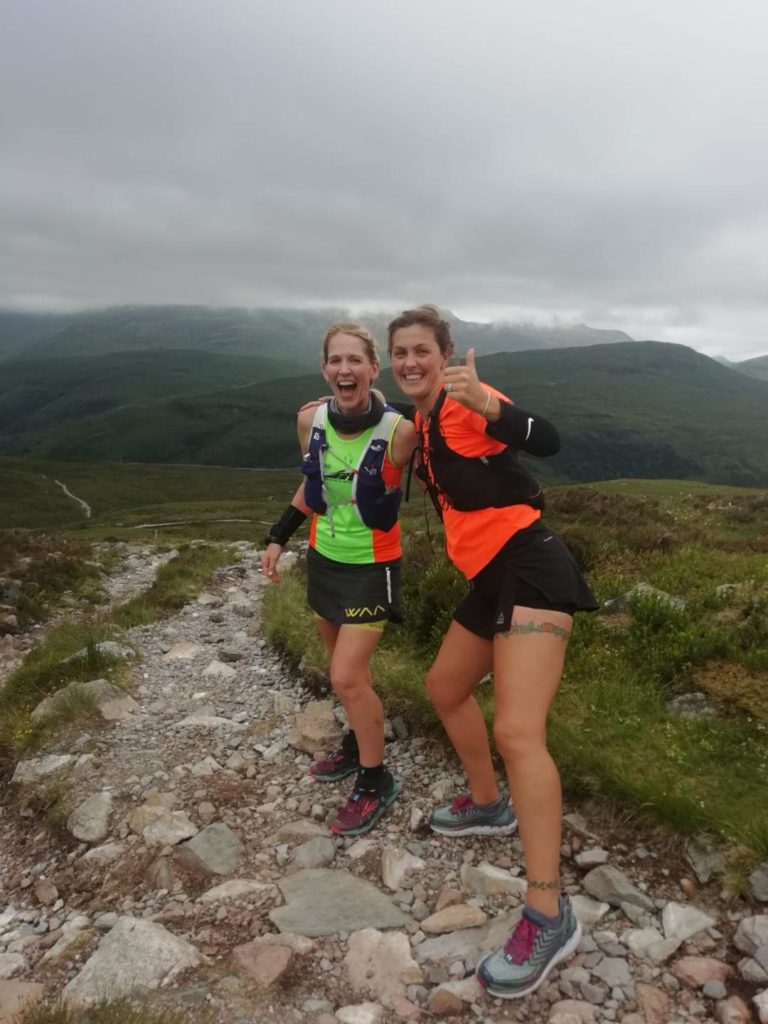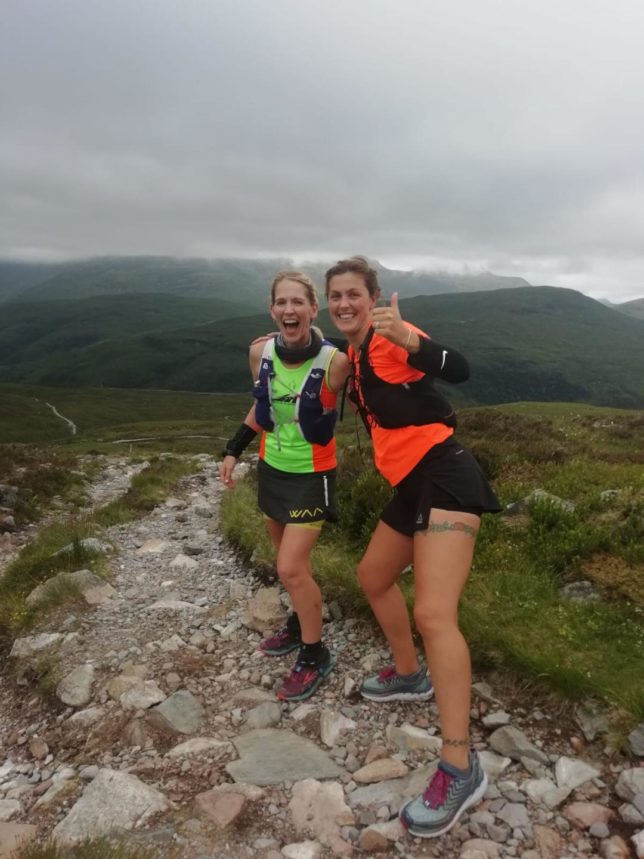 Iona and I had run this section on a training run in April and at that time we said we would remind ourselves during the WHW race that it was actually ok and plenty runnable. The addition of the new path made for some good running and before we knew it we were almost down at KLL. A quick call to Neil to update him and Kat and put the food and drink orders in.
At 1820 we arrive at KLL, 10 mins ahead of the cut off for a support runner. That was one thing with being on the cusp of 21 hours, you can get your support runner but you run the risk of being too fast for using them at the next CP. Iona had already made it clear that she wanted me on the last leg aka the final push so we would be here for 10 mins. A wise decision I thought as you could easily loose 10 minutes or more running solo on that section.
Iona was weighed in and then we ditched some of the foods in her bag that required chewing, that capability was long gone. She ate a muller rice and we looked over the pics that Bob had taken. It was surreal by this point and the hours had passed so quickly, we were having such a good time that we almost forgot the mammoth feat that was being taken on. Iona was now in 30th position and 4th female.
We left at 1830hours, a quick thumbs up to the marshalls to let them know we were leaving at the prescribed time. Neil confirmed it was 2030hours that the plan had us arriving at Lundavra. All noted boss!
We ran along the road to the bottom of "the climb", one which we both agreed is more enjoyable than the devils staircase. I'm sure many would disagree. Last big climb now complete, we were heading along Lairig Moor. I felt the miles ticked over here, I confirmed this by my watch pinging every mile and the sub 15 min miles. I nodded smugly and told Iona we were making good time. We ran all the flats and downs and agreed to run/walk the hills. I picked a point to run to and Iona complied.
Scott Nicol and his support runners caught up with us and Scott was moving well, so well that we lost sight of them before long and he finished in under 21 hours.
Before we knew it we could see Jeff Smith from the wilderness response who always has a stall with some fizz (of the non alcoholic sugary variety) and sweets. Iona selected a drink from the bar and off we went. We were about 86 miles in at this point and things were still good. Iona confirmed that she hadn't wanted to punch me and was happy with my level of pushing her on. I was pleased but not sure this would continue as she was going to get pushed hard(er) from lundavra to the finish!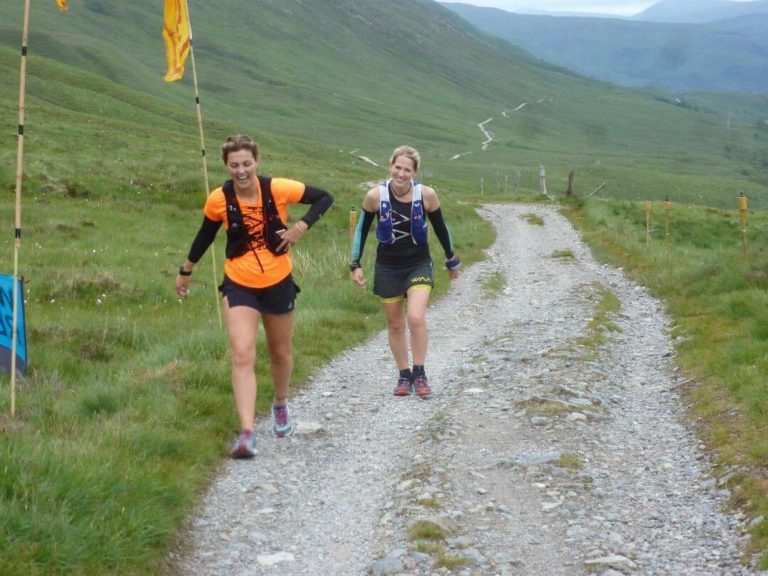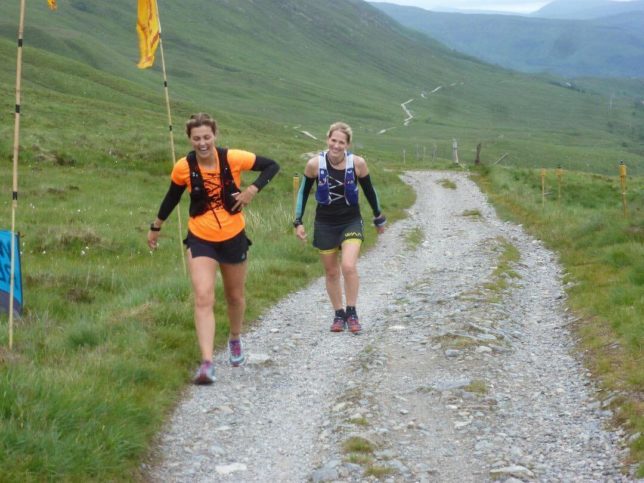 We soon saw the smoke from the bonfire but Iona still convinced it was "miles away" wasn't too jovial. I checked my watch and it was 2026hours, we then hit the CP at 2030hours, bang on!
I asked the boss for the stats and we had 90 mins to get to the finish for a 21 hr finish. I had a job to do and I wanted to do it well.
We left at 2033 after a quick refuel. Iona was sore by now and her hips tight, I could see her wince with every footstep. I knew the pain she was in but I also knew how determined she was. I reminded her that it would hurt regardless and I didn't want her to wake up tomorrow wishing she had pushed harder. She was to leave everything on the trail and that was what she did. I felt a mixture of pride and guilt as I pushed her on. We continued powering on, running where she could and walking when necessary. The pace didn't drop. I got a text from Kat to tell me that the next female was 5 mins behind at the last CP and it was up to me if I tell Iona or not. I didn't tell her until a mile to go. Iona was talking less by now and commented that I wouldn't want to crew for her again as she'd been grumpy. If this was her being grumpy then I was pretty sure I could handle it. Despite how she felt, she had been nothing but cheery as the photos prove.
We reached the fire track before we knew it and I told her to relax and let her legs tick over to get her down the hill. She moved well and was into a rhythm, we had about 4 miles to go. We reached the bottom of the fire track, I quickly checked my maps to see how far from the Braveheart car park we were, 0.8 miles, rough calculations told me we had 2 miles to go to the finish and 18 mins to get there. Iona gave it everything she had and we were onto the tarmac before we knew it. I told her the 5th female had been close behind but that she was not in sight, this pleased Iona and she asked if that was my reason for pushing her! I left Iona with ¼ mile to go and waited for her at the finish. She romped in in 21hrs 2 mins. Her goal was met!
The final weigh in was complete and now a much awaited seat. Cuddles from her family and she looked very fresh but quickly turned as her body realised what she had just put it through. Tea and toast were offered but the appetite wasn't there. She went for a lie down in the changing room and I was worried she would fall asleep there!
After a shower, we were back to the hotel. Iona's ankle was slightly swollen but all in all she was in good nick. Joined by Derek and Rona, we had some bubbles before hitting the hay and saying goodnight on another epic WHW race. I also have a new found appreciation for those that have supported me in previous years and I thank you all.